IT'S HERE. Today, The Whole30 Slow Cooker lands in a bookstore near you … or on your front porch, if you pre-ordered it!
If pre-order stats and social media reactions are any indicator, this is THE most anticipated Whole30 cookbook ever. It is the perfect time of year to pull out the slow cooker, and we can't wait to see the tasty and comforting meals you create from the recipes in this book.
The Whole30 Slow Cooker Tour
Then, she continues onto events in Kansas City, St. Louis, Minneapolis, Denver, Seattle and Portland. Some events require a ticket, which includes your signed copy of The Whole30 Slow Cooker. And some events are free, but require an RSVP. Click here to see the details for every tour stop, and to reserve your spot.
Order The Whole30 Slow Cooker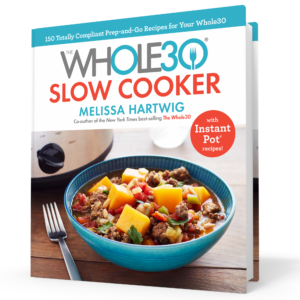 Save
Excerpted from The Whole30 Slow Cooker. Copyright © 2018 by Melissa Urban. Used by permission of Houghton Mifflin Harcourt. All rights reserved. Photography by Ghazalle Badiozamani. Whole30 is the legally registered trademark of Thirty & Co. LLC.

Shanna
Chief Content Officer
Shanna Keller, our Chief Content Officer, hails from Boise, Idaho, where she lives with her husband Alan and a poorly-behaved terrier named Olly. She has spent her career telling stories of life transformation on social, web, e-mail and print media platforms. In addition to celebrating Whole30 successes and stories online, Shanna loves to cook, read, and climb.