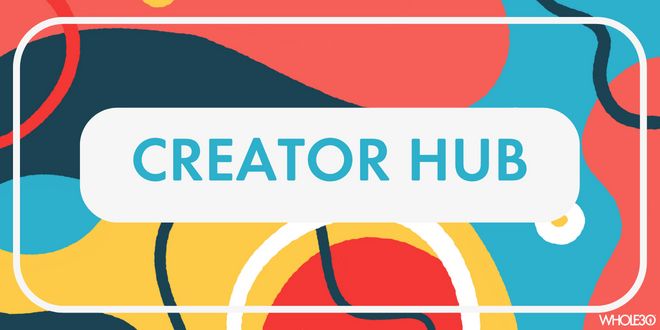 THE WHOLE30® CREATOR HUB
Add Your Unique Voice to Whole30
The Whole30 community includes millions of people with a wide variety of backgrounds, perspectives, and lived experiences. Our community also includes many talented individuals who have created recipes, Reels, videos, and articles to support the program, adding their unique voices and storytelling and inspiring others to make positive lifestyle changes.
We value working with creators that come from and represent our diverse Whole30 community, and are always looking to expand our network of talent, amplifying your creative expertise and unique perspective for our readers, fans, and followers. We accomplish this by establishing a transparent and equitable path for new Whole30 creators to join the community; and creating inclusive, safe spaces for our creators and community to interact.
This page is the place for you—the prospective Whole30 creator—to learn more about:
Our commitment to equitable and open pay practices
Resources to help you succeed with content creation
Answers to frequently asked questions
How to create content for and collaborate with Whole30
We look forward to hearing from you, and elevating the unique point of view you will bring to our Whole30 community.
Diversity, equality, and inclusivity (DEI) values shape everything we do at Whole30. Read more from co-founder Melissa Urban about Whole30's commitments to our creators and our DEI values.
Content Creator Rate Sheet
As part of our Diversity, Equity, and Inclusion efforts at Whole30, we aim to increase the diversity of our talent and develop and communicate a transparent and equitable compensation practice for our creators. As part of our ongoing commitment to build inclusive spaces for creators across all of our platforms, we have created a Content Creator Rate Sheet to serve as a guide for the minimum rates we offer for content creation. There may be exceptions for projects outside of the typical scope.
We will use this Rate Sheet as an anchor for all contracts going forward. Our hope is that the transparency and clarity here will empower both our internal team and external talent during discussions, and ensure mutually beneficial value in our storytelling.
The rates shared are on a per-project basis and do not represent an hourly rate. In determining these per-project payouts, we reviewed published industry standards and pitches we've received from creatives, and solicited feedback from our current community of creators. These figures will be evaluated on an ongoing basis (via creator feedback and monitoring industry trends) and updated as needed.
In offering compensation for a project, we take a number of factors into consideration. That list includes, but is not limited to:
complexity of styling
production value
type of medium
scope of project
requested turnaround time
experience level
the creator's connection to the Whole30 brand
The agreed fee outlined in the Creative Services Agreement will be paid to all Contractors via Bill.com Payments shall be due and payable within thirty (30) days of Deliverables being approved by Whole30.
Published December 1, 2022.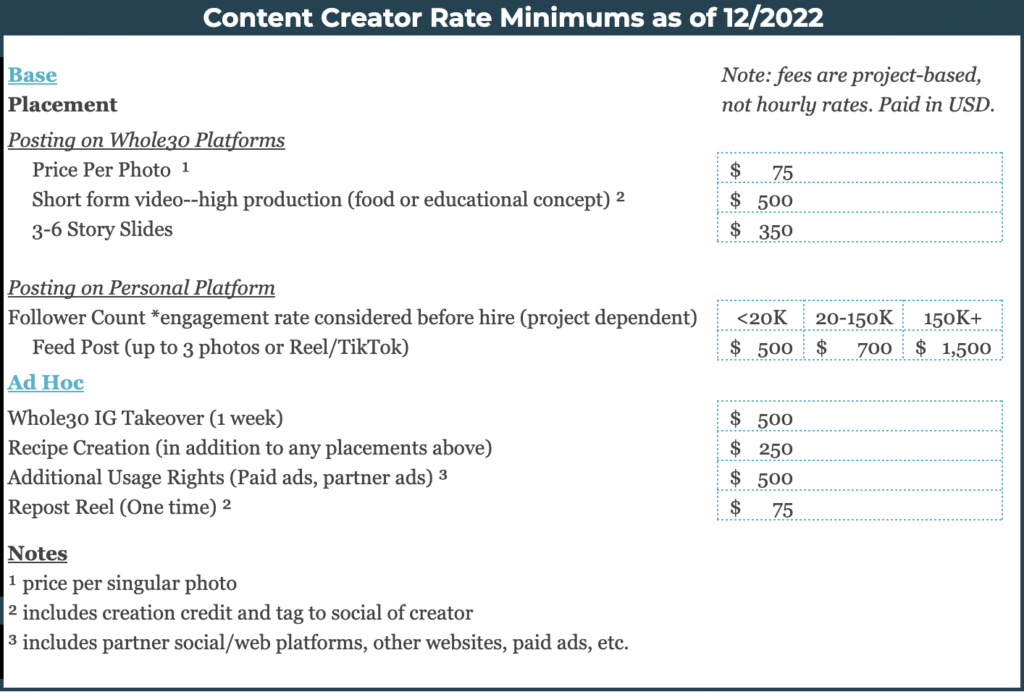 Creator FAQ
Is there a cap on how often a creator can work with Whole30?
No, there's no cap on how often you can work with us. We love developing long term relationships.
What are the minimum rates based on? or How are the minimum rates determined?
We've partnered with a handful of creators we've worked with previously to create a Creator Advisory Group to discuss fair compensation across all channels. Based off of the feedback from the panel, industry research and standards, and feedback we've received from other creators in the past alongside inter-departmental conversations, we selected minimum rates that we believe are fair. We will continue to update this to reflect changes in industry standards and from feedback we receive as we continue our work with creators.
Is there an opportunity to make more than the minimum? If so, what determines this?
Since these rates are a minimum, there is an opportunity to make more. We take style, difficulty of production, follower count (if the content is being posted on your feed), turnaround time, amongst other details, into account. Specificities of payment will be disclosed in all contracts.
Do you have to have a certain amount of followers to be a Whole30 creator?
No! We understand that a lot of content has nothing to do with followers or engagement rates. We do take certain metrics into account for some content types, such as posting to your personal feed for a campaign, but don't hesitate to submit your information if you're hoping to work with us as many of our projects are for content that will be shared from our owned channels.
Why is payment I received in the past different from what's on this rate sheet?
These minimum rates are for all contracts moving forward from December 1, 2022. Please know that we value everyone we have worked with in the highest regard and are hopeful that any and all conversation regarding fair & equal compensation will help us continue to grow and make the industry better for all creators.
How often should I submit my information via the form?
We keep all submissions on hand for our headquarters team to review so you will not need to resubmit unless you have new information to add or changes to make to your initial submission.
Want to collaborate with us?
If you're a creator and would like to be considered for future contract projects with Whole30, click here to fill out a simple Google form. We're particularly looking for copywriters, recipe creatives, food and lifestyle photographers, and Reels/TikTok creatives, but we often have opportunities for other creators as well! If you're a good fit for an upcoming project, we'll get in touch.