Recipe by: Carrie Kholi-Murchison
Photos by: Brian Kavanagh | The Sophisticated Caveman
Try these hearty Whole30 Spiced Braised Lamb Chops with Baby Bella Mushrooms. This dish feels a little more special than your standard weeknight meal and is sure to delight all that come to your table.

Looking for more lamb recipes? Try this Whole30 Lamb Curry.
Whole30 Spiced Braised Lamb Chops with Baby Bella Mushrooms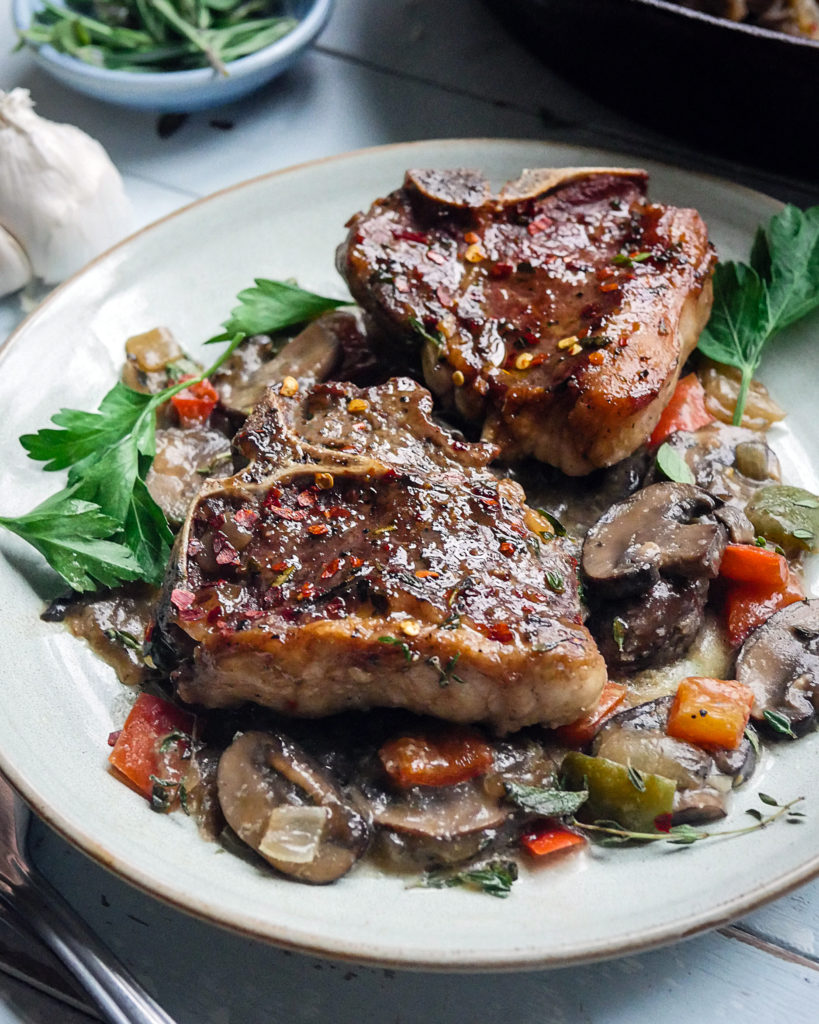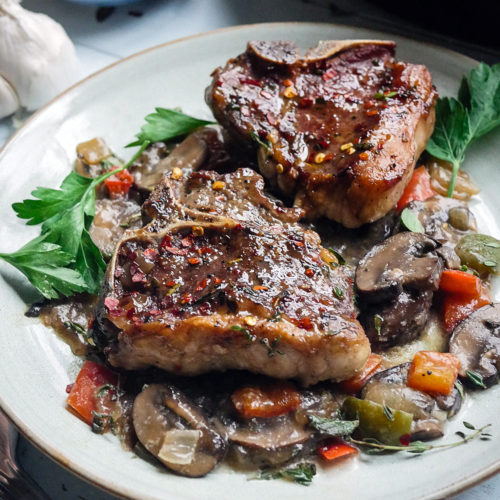 Spiced Braised Lamb Chops with Baby Bella Mushrooms
Ingredients
4

lamb chops

1

large

white or yellow onion

2

bell peppers

2

cups

baby bella mushrooms

1/4

cup

arrowroot powder

2

cloves

garlic, finely chopped

4

tbsp

coconut oil

2

tbsp

fresh herb blend of your choice coarsely chopped (suggested: oregano, basil, rosemary, thyme, parsley)

1/2

tsp

crushed red pepper flakes

salt and pepper
Instructions
SEASON both sides of each lamb chop generously with salt, pepper.

COMBINE garlic, fresh herbs, crushed red pepper flakes, and 2 tablespoons coconut oil in a big bowl. Stir until it makes a light paste.

ADD lamb chops to the bowl and rub the paste on both sides of the lamb chops. Let them rest for 30-45 minutes at room temperature.

HEAT a large frying pan or cast iron dutch oven/skillet (preferred) over medium-high heat. Add 2 tablespoons coconut oil, once hot add in the lamb chops.

SEAR seasoned lamb chops for 3-5 minutes on each side. Then remove and set aside.

ADD roughly chopped onions, peppers, and mushrooms to lamb chop fat and sauté for 5 minutes until onions translucent.

ADD arrowroot powder and stir to thicken slightly.

ADD lamb chops back into the pan/skillet/dutch oven. Turn the stove to low, and braise chops and veggies until the meat is tender.
You Might Also Like…
---
Recipe by Dr. Carrie Kholi-Murchison (Kholi). Kholi is Whole30's Director of People and Culture. She leads our diversity, equity, and inclusion initiatives across all Whole30 platforms. She's also a critical thinker, entrepreneur, and growth strategist with 10+ years experience defining brands and gathering and growing communities. She believes that every human being has the right and responsibility to confidently and creatively contribute to an equitable future for all. She expedites these contributions by working to enhance the quality of life for historically marginalized communities. As a taurus obsessing over wellness and – not just chasing, but – catching up to our dreams, she lives to help people manifest personal and professional shifts, create brave and welcoming space, and build for long-term sustenance.