This post is from Whole30 Coaches Stacie Hassing and Jessica Beacom, the Registered Dietitians behind The Real Food Dietitians.  If you'd like to submit a recipe, helpful tip, testimonial, or Whole30 article for consideration, email it to [email protected].

You might be surprised to hear that dietitians do the Whole30 too, but honestly, we're just like you. We get into ruts, deal with food sensitivities, and struggle with addictions to certain foods. Sometimes, even us experts need to reset our systems and examine our relationship with food.
Today, we're sharing our top 10 dietitian-approved tips on how to have a successful and enjoyable Whole30 experience. The first five strategies will set you up for Whole30 success, while the second five will support you during your Whole30 experience. We believe in practicing what we preach and so we've put these tips to the test through several fantastic rounds of Whole30, and we're confident they'll help you rock your Whole30, too.
[Tweet "Prepping for a #Whole30? Here are 10 dietitian-approved tips for Whole30 success."]
Before You Start
Set a date. Choose a day in the very near future (within 3-4 days), rather than weeks or a month from now. This prevents the "eat all the things" mentality that tends to sneak in when your brain knows that you're planning to dramatically change your nutrition habits. Once you set your date, share it with your family and friends, even posting it on social media if you like. (The @Whole30 Instagram community is a great place to find supportive and like-minded people.) Bonus: read more about choosing the right start date based on a variety of factors on page 17 in The Whole30.
Write down the reasons why you are committing to a Whole30. There are no right answers here; your why is unique to you. Dig deep and write down all of the reasons why you want to do a Whole30. Post the list somewhere where you'll see it every day. This will serve as a powerful reminder of why you started a Whole30 and why you're committed to finishing it.
Choose a positive mindset. Your mindset can make or break your Whole30. If you go into it with a self-pitying attitude or believe it's going to be hard, it's going to be hard. If you embrace the challenge with an open heart and mind, it will become easier. If you need help shifting your mindset, we recommend starting and ending your day by listing three things you're grateful for. This will help you appreciate new possibilities, opportunities and experiences.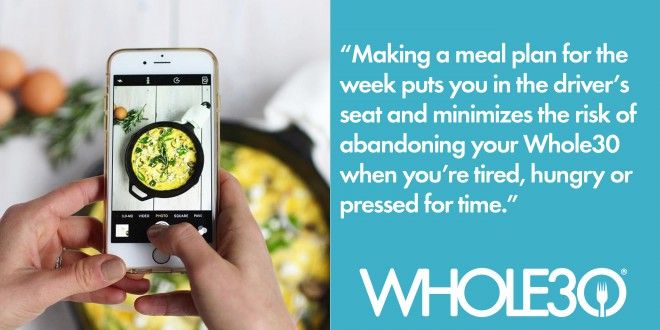 Build your capacity for "skillpower." Notice we didn't say "willpower"? According to this article in the Journal of Personality and Social Psychology, willpower is a rapidly diminishing resource that's easily depleted when you have to make too many food choices or when your blood sugar is low. Skillpower, on the other hand, involves coming up with ways to navigate around or avoid triggers that may cause you to choose to quit your Whole30, and eating proactively to keep your blood sugars stable.
One way to build your skillpower capacity is by removing any "trigger food" from your home; any non-compatible food you won't have the ability to say no to during your Whole30. We suggest donating or giving away unopened packages to your local food bank, but there may be a few items that you simply throw away. Chances are good that in your life after Whole30 you won't be returning to these foods and you'll continue to stock your kitchen with whole, nourishing foods that support your health and wellness.
Plan your meals. Making a plan for the week puts you in the driver's seat and minimizes the risk of abandoning your Whole30 when you're tired, hungry or pressed for time. It's also financially smart (see this post for grocery budgeting and shopping strategies). You can create your own meal plan using recipes from The Whole30 book or recipes from our website, Simply Nourished.
During Your Whole30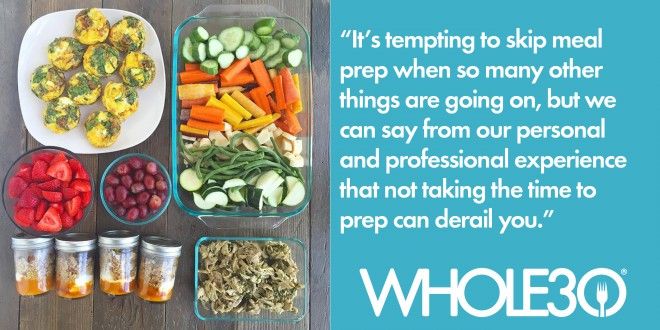 Set aside time each week for meal prep. We usually spend 1-2 hours on the weekend and another hour mid-week on meal prep. Cook some proteins, make a batch of soup and prep veggies for sautees and salads. If you're new to meal prepping, take it slow. Choose just three or four recipes to prep so you don't get overwhelmed. It's tempting to skip meal prep when so many other things are going on, but we can say from our personal and professional experience that not taking the time to prep can derail you.
Enhance your digestion: During the first week of your Whole30 it's not uncommon to experience changes in your digestion as evidenced by bloating, gas, diarrhea or constipation. You can avoid or minimize digestive discomfort by supporting the digestive process with one or more of the following suggestions:
Slow down and chew your food well.
Add a teaspoon or two of raw, unfiltered apple cider vinegar to a glass of water.
Take liquid bitters before meals.
Take a digestive enzyme supplement with meals.
Consider eating fewer raw vegetables and more cooked vegetables until your body adjusts to your new, nutrient-dense food choices.
Limit your intake of nuts and nut or seed butters to one serving a day.
Learn more ways to naturally improve your digestion here.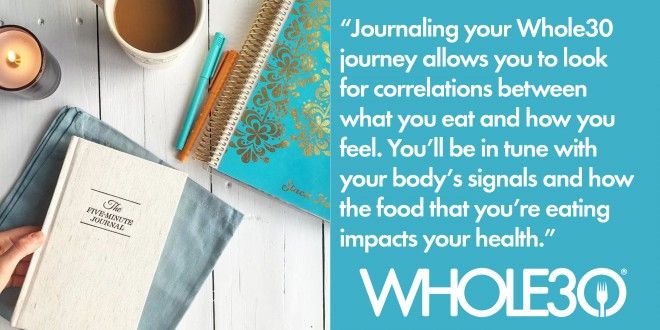 Journal everyday. Journaling your Whole30 journey allows you to look for correlations between what you eat and how you feel. It will  help you identify which foods make you feel your best and which ones you'd be better off avoiding. You'll be in tune with your body's signals and how the food that you're eating impacts your health.
Get outside and move. Getting out into nature is restorative, gets your blood pumping, improves your look on life, and brings you back to the present. When cravings strike, we use the outdoors as one of our "skillpowers" to remove ourselves from the trigger and refocus on our why. Moving doesn't have to mean strenuous exercise. In fact, movement can be anything you enjoy.
Get enough sleep. Prioritize 7-9 hours of sleep each night. That may feel indulgent, but keep in mind that sleep-deprivation sets you up for cravings and energy lows, forcing you to rely on that ever-diminishing willpower just to get through the day. Get your rest and help your hormones work for you, not against you. Having trouble sleeping? Read this article from sleep expert Dr. Kirk Parsley.
Change Your Life
When you find yourself in a rut or a craving strikes, revisit your list of whys and remember the reasons you committed to a Whole30 in the first place. Keep in mind that it is just 30 days. Trust the process and provide your body with a bounty of nourishing and wholesome foods in the amounts you need to feel satisfied. In the end, your dedication and commitment to your health and habits will pay off in spades.
You can do this, and if you ask us, we'll tell you that you're worth it. Because you are.
Header and post photos courtesy of Jessica Beacom and Stacie Hassing
---
Jessica Beacom is a Registered Dietitian Nutritionist and Certified LEAP Therapist in Boulder, CO. She's been practicing nutrition for more than 13 years helping those she works with find freedom from diets and calorie counting and find true health and wellness through a real food diet.
Stacie Hassing is a Licensed and Registered Dietitian from Minnesota striving to make a positive difference in as many lives as she can through sound nutrition and lifestyle guidance. She continuously preaches that nutrition begins within and more than anything is the foundation of our health and well-being.
Together, Jessica and Stacie run the website The Real Food Dietitians. Connect with Jessica and Stacie on Instagram.
Save