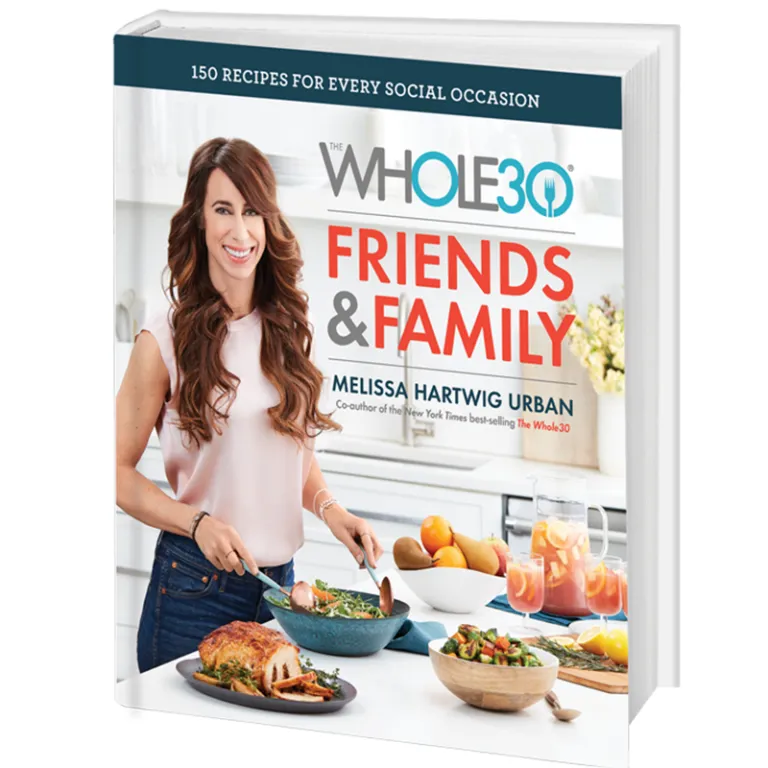 THE WHOLE30 FRIENDS & FAMILY
Whole30 Recipes For Every Social Occasion
22 menus and 150 recipes for every gathering, including snacks, dips, shareable bites, main courses, sides, and festive drinks
With four Whole30 cookbooks and thousands of free recipes, it's never been easier to make Whole30 meals at home, but navigating social gatherings can still feel daunting.
You can honor your health commitments while enjoying time with family and friends, and this book shows you exactly how. The Whole30 Friends & Family is packed with recipes for all of life's special moments—from birthdays to baby showers, barbecues to brunches. All of the recipes are Whole30 compatible, designed to mix and match to create the perfect menu whether you're hosting or contributing a dish as a guest. And in true Whole30 style, the recipes are creative, colorful, and so flavorful that your guests will never miss the added sugar.
The Whole30 Friends & Family will show you how to navigate gatherings, provide tips and tricks to make every social situation a success, and offer full menus for special occasions like dinner parties, date night, and Friendsgiving. These fun, creative meals will make social gatherings a breeze and let you effortlessly share your Whole30 experience with those you love.
How you know this book is for you
If you're struggling with keeping your Whole30 commitment during social events, The Whole30 Friends & Family is here to help. Navigate everyday social gatherings with 150 delicious, creative, recipes that everyone will love. Melissa Urban also shares her best tips for sticking with your Whole30 while hosting or being a guest.
I've received hundreds of messages from Whole30'ers asking me how to host a dinner party, navigate the office potluck, or participate in a family birthday party during your Whole30. So I wrote a book all about it, just for you.
The Whole30 Friends & Family empowers you to stay social while honoring your Whole30 commitment with delicious, creative, company-worthy dishes; and offers my best tips for navigating challenges during events.- Melissa Urban, Whole30 Co-Founder & CEO
DETAILS
Purchase: Amazon , B&N , Indie Bound , Powell's , BAM , Hudson , Indigo , Amazon.ca , iBooks , Google Play
We encourage you to purchase your Whole30 books from Black-owned bookstores. Click here to for a list of bookstores that carry our books.
For media requests, contact Breanne Sommer at Houghton Mifflin Harcourt.