THE WHOLE30 FRIENDS & FAMILY
150 Recipes for Every Social Occasion
Create the perfect menu for every gathering, including snacks, dips, shareable bites, main courses, sides, and festive drinks.

With four Whole30 cookbooks and thousands of free recipes, it's never been easier to make Whole30 meals at home, but navigating social gatherings can feel daunting. You can honor your health commitments while enjoying time with family and friends, and this book shows you exactly how. The Whole30 Friends & Family is packed with recipes for all of life's special moments, from birthdays to baby showers, barbecues to brunches. All of the recipes are Whole30 compliant, designed to mix and match to create the perfect menu whether you're hosting or contributing a dish as a guest. And in true Whole30 style, the recipes are creative, colorful, and so flavorful that your guests will never miss the added sugar.
The Whole30 Friends & Family will show you how to navigate gatherings, provide tips and tricks to make every social situation a success, and offer full menus for special occasions like dinner parties, date night, and Friendsgiving. These fun, creative meals will make social gatherings a breeze and let you effortlessly share your Whole30 experience with those you love.
---
Preorder Bonus: Get the Tailgating Menu Today
Can't wait to get your hands on The Whole30 Friends & Family? Preorder the book anytime before 10/15, and we'll send you an instant download of the Tailgating menu, plus exclusive discounts to some of our favorite Whole30 Approved partners. Simply preorder the book from your favorite bookseller, then complete the form at the link below. Claiming your preorder bonus will also subscribe you to the free, resource-packed Whole30 newsletter.
Click here to claim your preorder bonus.
I created The Whole30 Friends & Family for you. I've received hundreds of messages and comments from Whole30'ers just like you, asking me how to host a dinner party, navigate the office potluck, or participate in a family birthday party. This book empowers you to do exactly that and more … without sacrificing your Whole30 commitment (or being stuck with raw broccoli and ice water). – Melissa Urban
DETAILS
Purchase: Amazon, B&N, Indie Bound, Powell's, BAM, Hudson, Indigo, Amazon.ca, iBooks, Google Play
For media requests, contact Breanne Sommer at Houghton Mifflin Harcourt.
---
Preview the Book: Try These Recipes from the Family Game Night Menu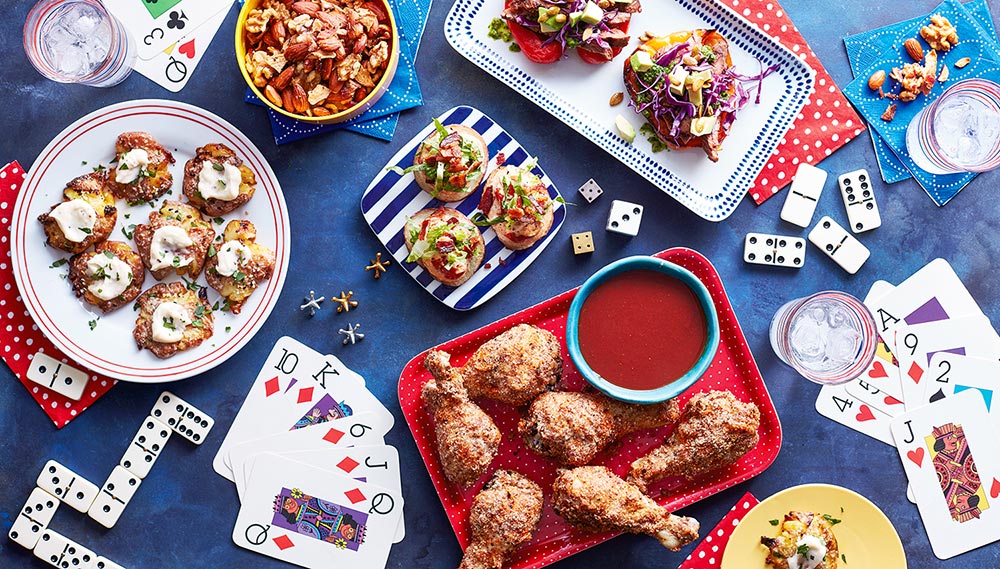 ---
Smashed Potatoes with Everything Seasoning and Garlic Mayo
PREP: 15 MINUTES | COOK: 20 MINUTES | ROAST/BROIL: 20 MINUTES | TOTAL: 60 MINUTES
INGREDIENTS
1 teaspoon dried onion flakes
1 teaspoon sesame seeds
1⁄2 teaspoon poppy seeds
1⁄2 teaspoon garlic powder
1⁄2 teaspoon salt
1⁄4 cup Basic Mayonnaise ( page 240) or Whole30-compliant mayonnaise
1 small clove garlic, minced
3⁄4 to 1 pound baby Yukon Gold or red potatoes
2 tablespoons Clarified Butter ( page 241) or ghee
2 tablespoons chopped fresh parsley
INSTRUCTIONS
ADJUST the oven racks so one is 4 to 6 inches from the broiler heat. Preheat the oven to 400°F. Line a large rimmed baking pan with parchment paper.
IN a small bowl, combine the onion flakes, sesame seeds, poppy seeds, garlic powder, and salt. Set aside.
IN another small bowl, stir together the mayonnaise and minced garlic. Set aside.
PLACE the potatoes in a medium saucepan. Add enough water to cover by 1 inch. Bring to a boil. Reduce the heat and simmer, stirring occasion- ally, until just tender, 20 to 25 minutes. Drain; return the potatoes to the saucepan. Add the butter and 2 teaspoons of the seasoning; gently stir to combine. Arrange the potatoes on the baking pan.
USE the bottom of a glass to smash each potato until about 1⁄2 inch thick. Roast on the upper rack for 17 to 20 minutes, until the potatoes are golden brown. Turn the oven to broil. Broil for about 3 minutes, until the potatoes are crisp on top.
ARRANGE the potatoes on a platter. To serve, spoon about 1 teaspoon of the garlic mayonnaise on each potato. Sprinkle with the remaining seasoning and the parsley.
---
Charred Pepper Steak Tacos with Citrus Chimichurri
PREP: 20 MINUTES | COOK: 15 MINUTES | STAND: 15 MINUTES | TOTAL: 50 MINUTES
INGREDIENTS
FOR THE CITRUS CHIMICHURRI
1 orange
1 lime
1 cup lightly packed, roughly chopped fresh parsley
1 cup lightly packed, roughly chopped fresh cilantro
1⁄3 cup extra-virgin olive oil
2 tablespoons red wine vinegar
1⁄4 cup chopped shallot
2 cloves garlic, coarsely chopped
FOR THE STEAK AND PEPPERS
2 red, yellow, and/or orange bell peppers, halved lengthwise and seeded
2 tablespoons extra-virgin olive oil
1⁄2 teaspoon ancho chile powder
1⁄2 teaspoon cumin seeds
1⁄4 teaspoon garlic powder
1⁄8 teaspoon salt
1⁄8 teaspoon black pepper
1 flank steak or skirt steak (8 to 10 ounces)
TO SERVE
Shredded cabbage Diced avocado Roasted and salted pepitas
INSTRUCTIONS
MAKE THE CITRUS CHIMICHURRI
REMOVE 1 teaspoon zest and 1 tablespoon juice from the orange. Remove 1⁄2 teaspoon zest and 1 teaspoon juice from the lime. In a blender or food processor, combine the orange juice and zest, lime juice and zest, parsley, cilantro, olive oil, vinegar, shallot, and garlic. Pulse several times, then puree until almost smooth. Transfer to a bowl and cover until ready to serve.
MAKE THE STEAK AND PEPPERS
ADJUST the oven racks so one is about 6 inches from the broiler heat. Preheat the broiler. Line a large rimmed baking pan with foil. Place the peppers on the foil, cut sides down, and drizzle with 1 tablespoon of the olive oil. Broil the peppers for about 8 minutes, until charred and just tender. Carefully enclose the peppers with the foil; let stand for 10 to 15 minutes. Peel and discard some of the charred skin.
MEANWHILE, preheat a grill or grill pan over medium-high heat. In a small bowl, combine the ancho chile powder, cumin seeds, garlic powder, salt, and pepper. Rub the steak with the remaining 1 tablespoon olive oil; sprinkle both sides with the seasoning.
GRILL the steak, turning once halfway through, for 7 to 8 minutes, or to desired doneness (145°F for medium). Transfer the steak to a cutting board; tent with foil and let rest for 5 minutes.
THINLY slice the steak.
FOR each taco, place four or five slices of steak inside a pepper half. Drizzle with the chimichurri. Top with cabbage, avocado, and pepitas.