You can now find the bestselling Whole30 Endorsed cookbook No Crumbs Left: Recipes for Everyday Food Made Marvelous on the shelf at your favorite bookstore, and you can find author Teri Turner on her US tour through the end of the month.
No Crumbs Left: Recipes for Everyday Food Made Marvelous will provide you with endless inspiration for cooking beautiful food during your Whole30 and beyond. But you don't have to take our word for it… try this recipe for Spicy Pepperoncini Beef from No Crumbs Left and see for yourself.
A Note from Teri of No Crumbs Left
This is great for weeknight eating, whether I'm doing Whole30 or just want something delicious. Quick and easy to prepare, it's such a satiating dish. For me, pepperoncini create Whole30 magic. Whether using them in a sauce or adding them to a stir-fry, they give that extra oomph and raise your dish up a level. Here the combination of salty and spicy is elevated by the pepperoncini to create a Whole30 sauce that is an absolute pleaser.
Spicy Pepperoncini Beef from No Crumbs Left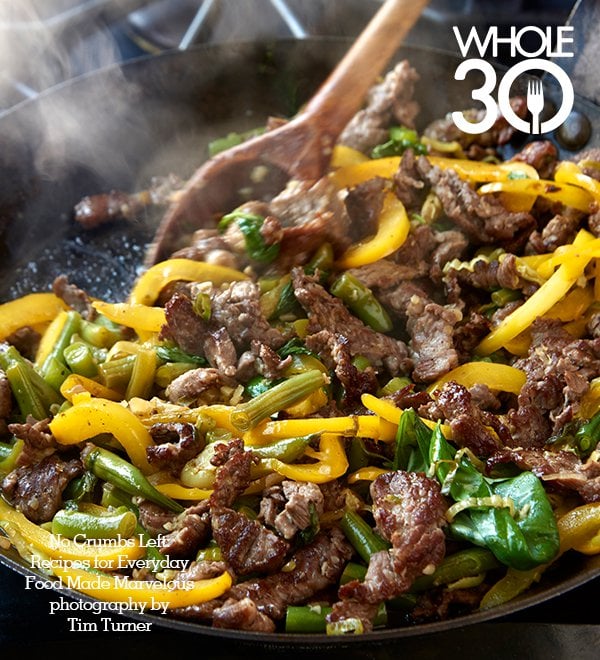 SERVES 4 | COOK TIME: 45 MINUTES
Ingredients
1 1/4 pounds skirt steak, thinly sliced across the grain into 3-inch pieces
4 tablespoons coconut oil, plus
1 teaspoon melted
2 teaspoons arrowroot starch
1 1/2 teaspoons kosher salt
1/2 teaspoon freshly ground black pepper
1/4 cup finely chopped shallots
1 1/2 cups thinly sliced yellow bell peppers
1/2 cup thinly sliced scallions
2 Thai chiles, seeded and sliced into thin rounds
1 cup quartered green beans, blanched (see recipe note)
1/2 cup stemmed and thinly sliced jarred pepperoncini
1 tablespoon pressed garlic
2 tablespoons coconut aminos
2 tablespoons brine from the jar of pepperoncini
1 cup fresh basil leaves
Instructions
IN a medium bowl, combine the steak, 1 teaspoon melted coconut oil, the arrowroot, 1 teaspoon of the salt, and the black pepper. Toss to coat thoroughly. Set aside for 5 minutes.
HEAT a large sauté pan over high heat. When hot, reduce to medium-high and melt 1 tablespoon of the coconut oil in the pan. Add half the steak and cook until seared, about 2 minutes. Flip and cook until browned, about 30 seconds. Transfer the steak to a large plate and set aside. Carefully wipe out the pan with a paper towel, then add 1 tablespoon of the coconut oil and repeat with the remaining steak. Set aside with the other cooked steak.
WIPE out the pan and return it to medium-high heat. Melt the remaining 2 tablespoons coconut oil in the pan. When the oil is hot, reduce the heat to medium, add the shallots, and cook, stirring, until beginning to brown, about 30 seconds. Add the bell peppers, scallions, Thai chiles, and remaining ½ teaspoon salt and cook, stirring, until the bell peppers begin to soften, about 1 minute. Add the green beans and cook, stirring well, until warmed through, about 1 minute more. Add the pepperoncini and garlic and cook, stirring, for 30 seconds.
RETURN the beef to the pan, along with any juices collected on the plate, and add the coconut aminos and the pepperoncini brine. Stir to combine, then reduce the heat to medium-low. Add the basil, stir again, and turn off the heat. Serve.
Recipe Note: Blanching
I adore blanching as a way to retain the taste, texture, and color of vegetables, to keep them bright and crisp for salads, crudité platters, or stir-fries. Submerge vegetables briefly in boiling salted water to cook only the outermost layer. Pull them out with a slotted spoon and put them directly into a large bowl of ice water to shock them and stop the cooking. When cool, drain and dry them. My favorite vegetables to blanch are sugar snap peas (1 minute) and asparagus (2 minutes).
Find No Crumbs Left: Recipes for Everyday Food Made Marvelous at Amazon, Barnes & Noble, Target, Walmart, and your favorite bookstore.
---
This post contains affiliate links, which means we make a small commission from purchases made via the link. Thank you for supporting our Whole30 partners!
Spicy Pepperoncini Beef is excerpted from No Crumbs Left: Recipes for Everyday Food Made Marvelous© 2019 by Teri Turner LLC. Photography © 2019 by Tim Turner. Reproduced by permission of Houghton Mifflin Harcourt. All rights reserved.