This Whole30 Curried Chickpea Salad is an easy cold lunch solution. It's gluten-free and dairy-free, as well as nut-free and vegan. Quick and easy to put together with only 10 minutes of hands-on prep time.
We use our Homemade Plant-Based Whole30 Mayo in this recipe, however, there is a Whole30 Approved vegan mayo you can buy through Primal Kitchen as well.
We love serving this on butter lettuce leaves. Butter lettuce has soft, flexible leaves that are perfect for a small wrap. You can also wrap this in a coconut wrap. Or, just grab a fork and enjoy it as is!
As long as you have a cold pack, this salad is nice and portable. It's a great one to pack for lunch at work or on the go. We take it with us in our Insulated Lunch Puffer.
About Chickpeas
Chickpeas are a legume and are also known as garbanzo beans. They are a great source of plant-based protein. One 15-ounce can of chickpeas has 21 grams of protein. Chickpeas can also provide a good source of fiber, with 21 grams of fiber per can as well.
Note about Protein: To make sure this salad had enough protein for four people, we added pepitas as well. Click here to learn more about how much protein you should be getting per meal on a Plant-Based Whole30.
For this Curried Chickpea Salad, we use roasted chickpeas. They are easy to roast in the oven. This gives them a great texture and full flavor. Also, using canned chickpeas is budget-friendly. They are easy to find in most grocery stores.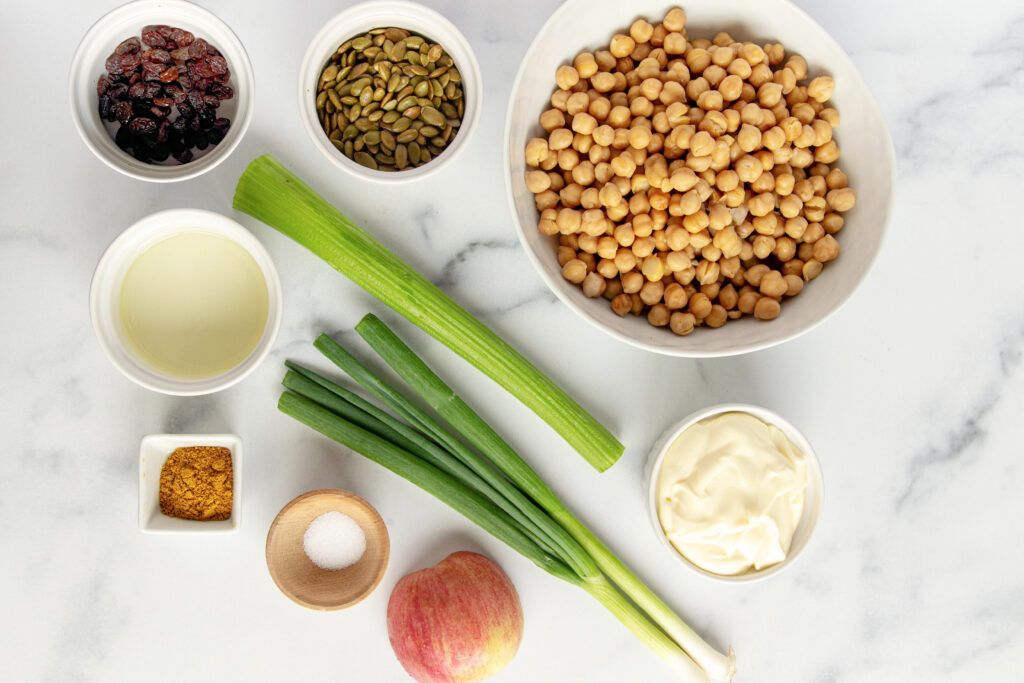 Substitutions
This Curried Chickpea Salad is very flexible. Add more or less of any item to your personal preferences! Here are some possible substitutions.
Use ½ cup quartered grapes instead of the finely chopped apples.
Use an equal amount of finely chopped red onion instead of green onions.
Use dried, unsweetened cranberries instead of raisins.
Curried Chickpea Salad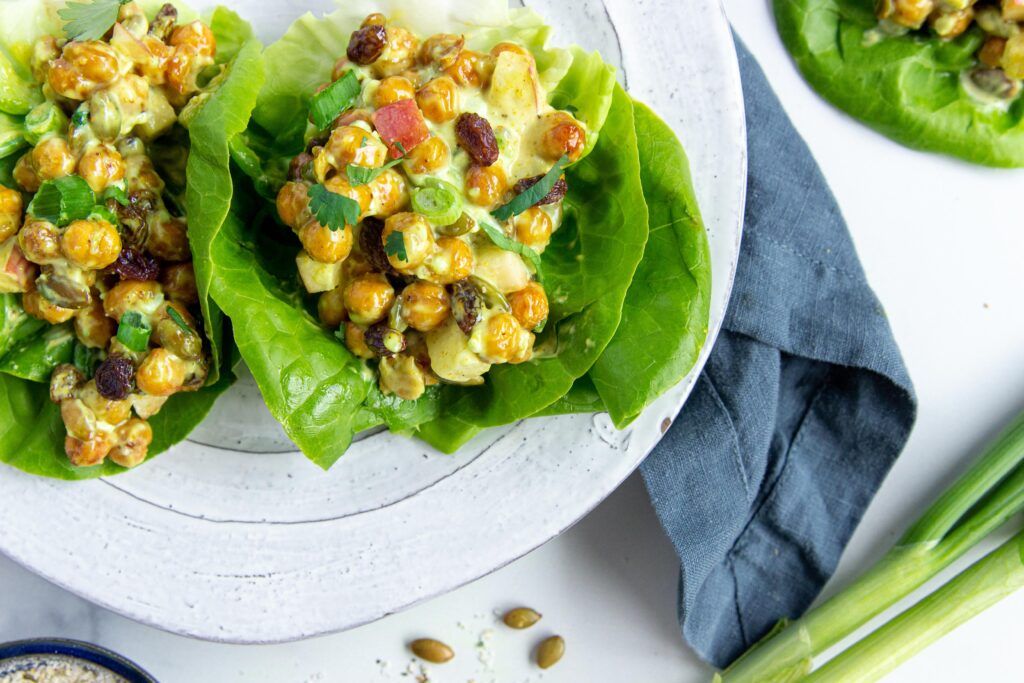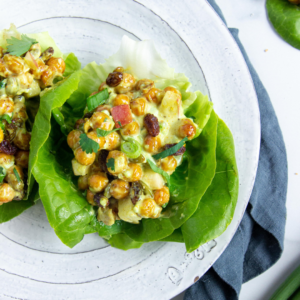 Curried Chickpea Salad
This Whole30 Curried Chickpea Salad is an the perfect plant-based cold lunch solution. Quick and easy with only 10 minutes hands-on prep!
Ingredients
2 (15)

oz

cans chickpeas

drained, rinsed & patted dry

2

tbsp

olive or avocado oil

1/4

tsp

salt

3/4

cup

plant-based mayo

1.5

tsp

curry powder

1/4

cup

finely chopped apple

1/4

cup

pepitas

2

tbsp

raisins

2

tbsp

thinly sliced green onion

2

tbsp

finely chopped celery
Optional for serving:
Butter lettuce leaves or coconut wraps
Instructions
PREHEAT oven to 425 °F degrees. Line a rimmed baking sheet with parchment paper.

SPREAD chickpeas onto baking sheet. Drizzle with oil, stirring until evenly coated. Sprinkle with salt.

BAKE at 425 °F for 25 minutes, stirring or shaking the pan halfway through. Set aside until cool.

COMBINE roasted chickpeas and all remaining ingredients in a large mixing bowl. Stir until well combined.

SERVE in a butter lettuce leaf or in a coconut wrap. Store remaining chickpea salad in a sealed container in the fridge for up to 5 days.