These jerk-seasoned jackfruit tacos boast big flavor. Paired with a perfectly balanced slaw, it is sure to transport your taste buds to the Caribbean.
What is Jackfruit?
Jackfruit comes from a tree in the fig, mulberry, and breadfruit family. Its origins can be traced back to the Western Ghats of southern India. It is one of the largest fruits and is comprised of thousands of flowers. Unripe green jackfruit has a very mild taste and a texture that makes it great as a meat substitute. It can take on any flavor you give, making them perfect for this recipe.
How to Prepare Jackfruit for Cooking
Canned jackfruit usually comes as green or ripe, be sure to get green jackfruit in brine and not ripe jackfruit in syrup. Once you open and drain the jackfruit, it is important to remove the core and seeds from the chunks as they are not edible and can make the dish turn out watery. Once those are removed, you can either shred with two forks or just use your hands.
What Can I Use for Taco Shells?
I prefer to use jicama slices as the vehicle for this taco. It's light and crispy, and its mild flavor allows the flavors of the taco to shine. Some may prefer to get a whole jicama and cut their own taco shells, but I get the precut ones from Trader Joe's. If you are not a fan of jicama or cannot find it locally, a lettuce wrap or Swiss chard leaf will work just fine.
Serving Suggestions
These jerk jackfruit tacos are fun and perfect for any social gathering. They are also great for lunch or a quick and easy dinner. You could also make a big batch for the week ahead and store in an airtight container in the fridge. Just be sure to consume within three days.
More tips:
You really need to keep an eye on the jackfruit as it cooks to make sure it doesn't burn. But if you want to really get the jerk essence, I would let the jackfruit get a little caramelized so it takes on a little more color.
Let the grocery store help you cut down on time. To make the slaw, I suggest getting a precut mix at the grocery store.
If you do not have vegetable stock on hand, replace with water. Just remember to taste for seasoning and adjust as needed.
Serve with a side of black beans for a full, high-protein, plant-based meal!
Try our easy Cashew Creme Fraiche to add even more zesty flavor to your favorite plant-based tacos!
Jerk Jackfruit Tacos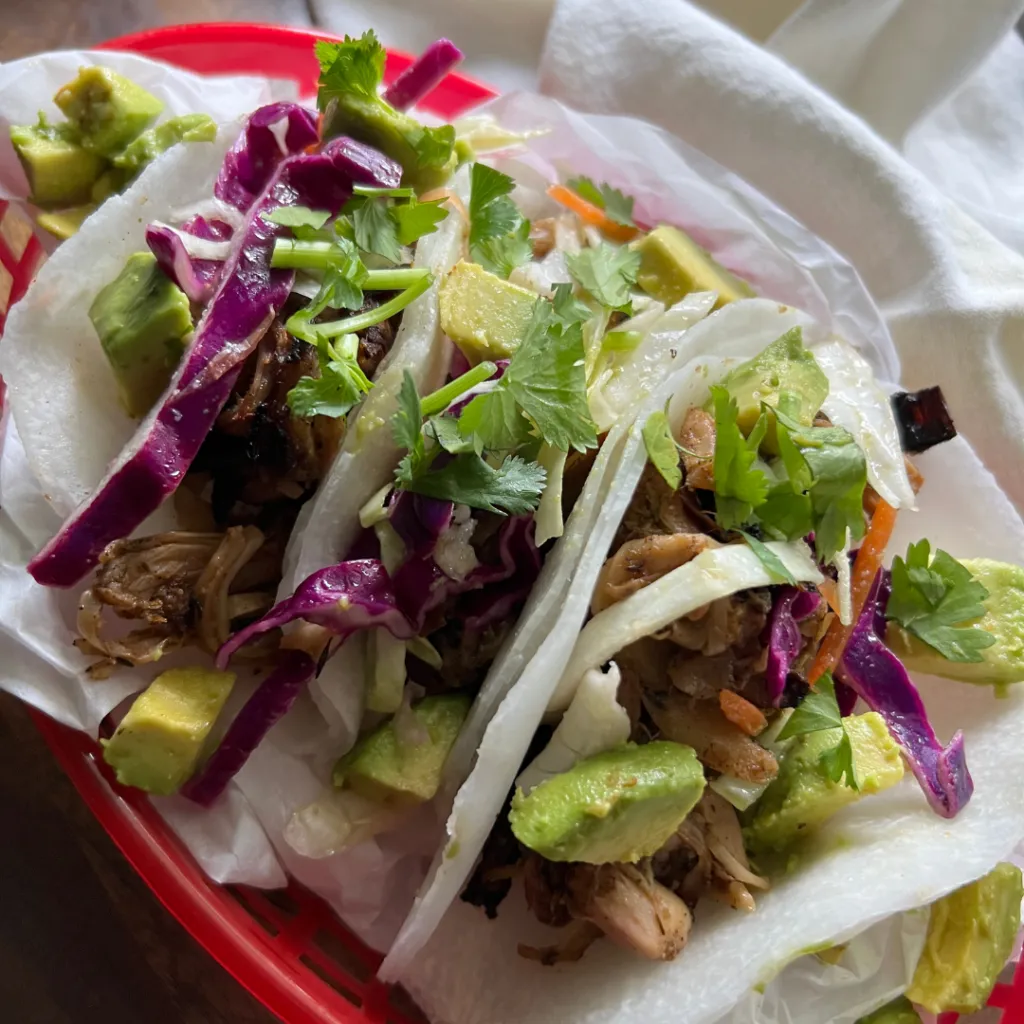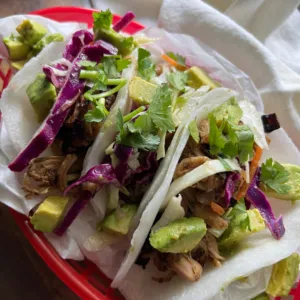 Jerk Jackfruit Tacos
Paired with a simple slaw, these Jerk-Seasoned Jackfruit Tacos boast big flavor — in little time. Transport your taste buds to the Caribbean!
Ingredients
2

cans green jackfruit

drained and shredded

2

tbsp

cooking oil

1/2

onion

chopped

3

stalks green onion

chopped

1

tbsp

all-purpose seasoning

1

tbsp

jerk seasoning

2

tsp

garlic powder

2

tsp

ground ginger

2

tsp

dried thyme

1/2

cup

vegetable stock

1/4

cup

coconut aminos

1

package cole slaw mix

3

tbsp

apple cider vinegar

3

tbsp

olive oil

1

tsp

garlic powder

1/2

avocado

diced

12

sliced jicama for "tortillas"
Instructions
DRAIN and shred jackfruit, then rinse. Once it is rinsed, shake off excess water.

HEAT a large skillet over medium heat. Add in cooking oil of choice, I suggest olive oil.

ONCE the oil is heated, add the onion and green onion, then mix. allow to sauté until fragrant, and the onion begins to look translucent.

ADD in shredded jackfruit, then stir to combine. Add in all-purpose seasoning, jerk seasoning, garlic powder, ground ginger, and dried thyme, then stir to combine.

POUR in vegetable broth and coconut aminos, then stir. Cover and cook for 15 to 20 minutes, stirring occasionally to prevent burning.

PREPARE slaw by adding slaw mix to a bowl. In a separate bowl, combine apple cider vinegar, olive oil and garlic powder, and stir until combined. Dress slaw with the vinaigrette and set aside.

PORTION out meat into the jicama shells and top with slaw and diced avocado.