This plantain and bean curry is a hearty one-pot dish that is filling and sure to be a winner at the dinner table. With flavors of curry and coconut milk, it's great for meal prep and is a quick dinner idea for weeknights when you have no time.
What are plantains?
Plantain is a cultivar of bananas, sometimes referred to as cooking bananas. While it is a fruit, it behaves more like a root vegetable than a banana, is very starchy, and cannot be eaten raw. While they are common in the Caribbean, West, and Central Africa, as well as Southern and Central America, Plantains are indigenous to Southeastern Asian countries. Plantains have varying levels of ripeness, starting from green unripe and very starchy to overripe, less starchy, and sweeter.
What beans should I use?
In this plantain and bean curry, I used red and white kidney beans but feel free to use any other bean you wish. If you want to keep it Caribbean, you can use black beans or pigeon peas. Other legumes that will work well are lentils and chickpeas.
Other things to know about this recipe
While cooked beans are preferred, canned beans can be used for convenience. If using canned beans, it's best to rice them off and drain them well, especially if using kidney beans. Kidney beans from the can have a natural red residue that will change the color of the curry.
Green unripe plantains are preferred for this recipe but feel free to use plantains at any ripeness. Keep in mind the sweeter the plantain, the less time it needs to cook. if using ripe plantains, add them during the last 5 or so minutes of the cooking process so they do not get very mushy.
Light coconut milk was used in this recipe but feel free to use full-fat coconut milk if you wish.
This is a great recipe to add greens to. Sometimes I add spinach or kale during the last few minutes of cooking to get them just wilted.
If you cannot find a compatible Carribean curry powder, just add turmeric to the one you can find. Carribean curry powder has more turmeric, so it's a bit more yellow. I love using the one from All Seasoning as well as all their spices.
Next up: Why is adding a variety of plant-based proteins beneficial?
Plantain and Bean Curry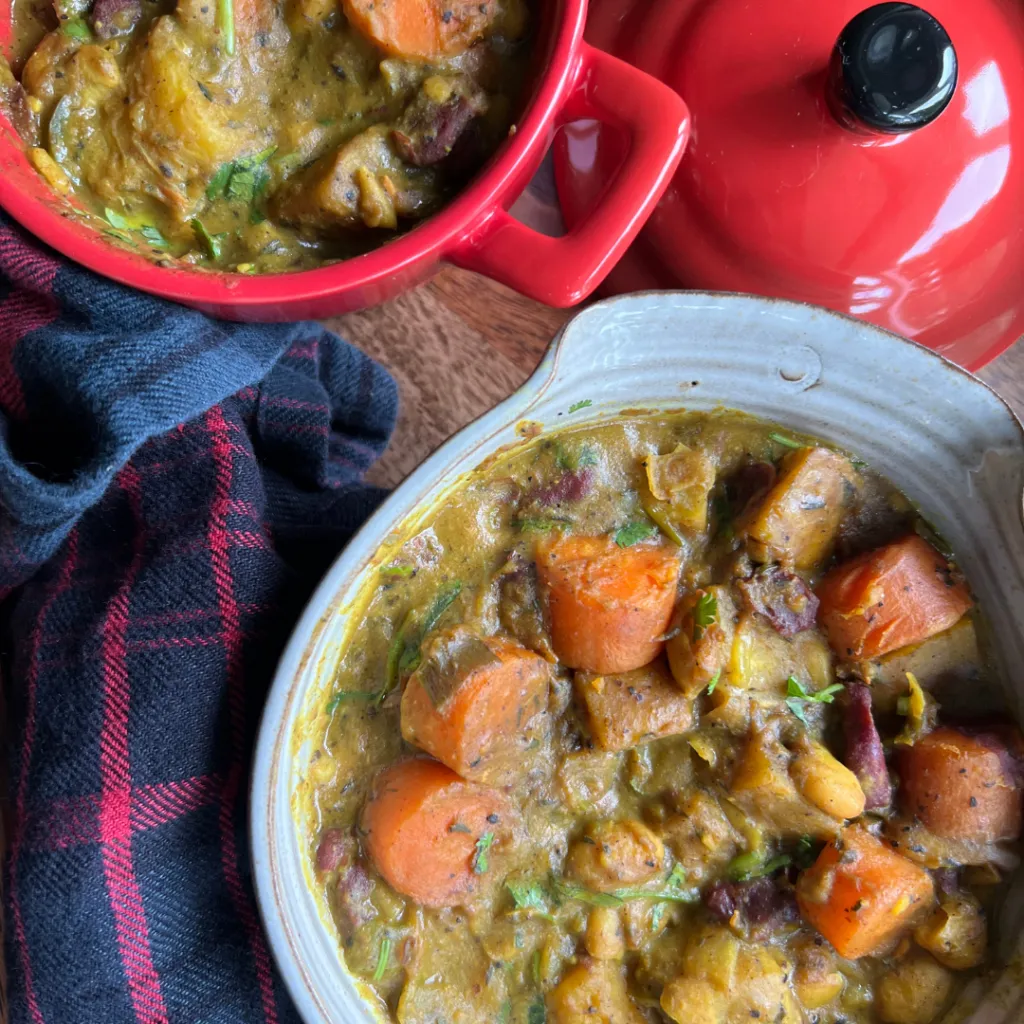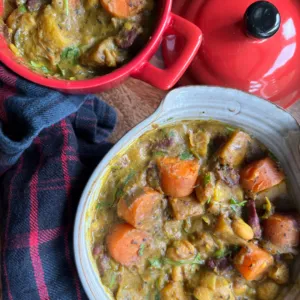 Plantain and Bean Curry
With flavors of curry and coconut milk, this Plantain and Bean Curry is a hearty one-pot dish great for meal prep and or a quick dinner.
Ingredients
2

plantains

peeled and diced

2

carrots

peeled and diced

2

tbsp

coconut oil

1/2

onion

diced

1/2

green bell pepper

diced

3

stalks green onion

chopped

2

tbsp

curry powder

divided

1

tbsp

all-purpose seasoning

2

tsp

ground ginger

2

tsp

garlic powder

2

tsp

dried thyme

1

can red kidney beans

drained and rinsed

1

can white kidney beans

drained and rinsed

1

lite coconut milk

1

cup

vegetable broth
Instructions
PEEL and dice plantain and carrots, then set aside.

HEAT a heavy bottom pot on medium heat. Once hot, add in coconut oil and let it melt. Once melted, add in 1 tbsp curry powder and let loom in the oil for 1-2 minutes. Then add in onion, green bell pepper and green onion. Sauté until onions are translucent.

ADD in the remaining 1 tbsp curry powder, all-purpose seasoning, ground ginger, garlic powder, and dried thyme. Stir to combine. Then add in kidney beans, coconut milk, and broth and stir.

COVER and let the liquid come to a boil, then reduce to a simmer. Simmer with lid on for 15 minutes, stirring occasionally.

SERVE by itself or with cauliflower rice.