Our @whole30recipes Instagram feed brings you delicious, Whole30 compatible recipes all day, every day. And, in our series, The Best of @Whole30Recipes, we bring our favorites to the blog.
You're three weeks into your #JanuaryWhole30, so you might be feeling a little bit of "egg-haustion" with your breakfast menu. It happens, and we're here to help. We've rounded up some up creative egg-less breakfast ideas to keep your taste buds happy during the home stretch of your Whole30.
[Tweet "Creative egg-less breakfast ideas for your #JanuaryWhole30. #Whole30 #Whole30Recipes"]
Strategies to Combat Egg Boredom at Breakfast
New recipes will help break you out of your breakfast rut, but here are a few other things to consider:
Stop thinking about breakfast as a special meal requiring special food. As Whole30 co-creator Melissa Urban discovered when she traveled throughout Scandinavia, in many places people eat the same stuff in the morning (fresh veggies, cold meats, salads and soups) as we would for our afternoon or evening meals. (This means that your dinner leftovers are totally fair game, and make for easy prep and clean-up.)
Explore the forum. Our Whole30 forum has a great thread on breakfast ideas. Some are unusual ("My first week, I threw some chunks of leftover meat in a container with some raw veggies and a scoop of homemade mayo"), while others are more traditional (like a sausage, sweet potato, and spinach hash). You're bound to find something to inspire your morning meal.
Batch-cook your breakfasts over the weekend. There are several recipes in The Whole30, like Melisa's Chicken Hash on page 228 or Sweet Potato Soup on page 300, that translate well to batch-cooking and make for a delicious breakfast. Our recipe for Bangers and Mash comes together quickly, and the sausage is easy to freeze for future meals; with pre-cooked sausage patties on hand, you only have to make a salad or steam some veggies for a complete Whole30 breakfast.
Now that you've got some tips and tricks under your belt… onto the recipes.
Egg-less Breakfasts from @Whole30Recipes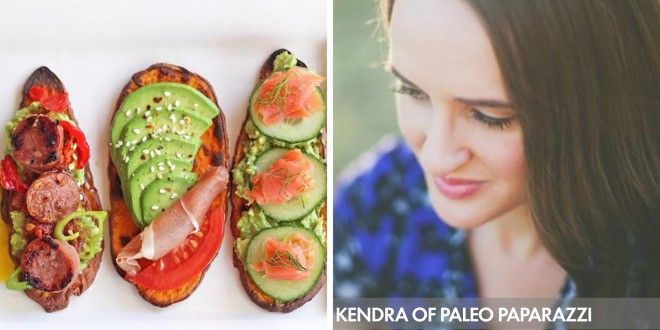 Sweet Potato "Toasts" From @PaleoPaparazzi
Ingredients
Sweet Potato
Your choice of toppings, including:
Guacamole
Salsa
Pepper slices
Proscuitto
Avocado slices
Tomato slices
Whole30-compatible Smoked Salmon (be sure to check your labels)
Cucumber slices
Whole30-compatible Sausage (be sure to check your labels)
Instructions
PREHEAT oven to 400. Line a baking sheet with parchment paper.
SLICE sweet potato into 1/4″ an inch slices (a mandolin slicer helps to make uniform slices). Coat both sides of sweet potato with oil and lightly sprinkle with salt.
COOK for 30 minutes, flipping after 20 minutes.
SET oven to broil and continue to cook for one minute on each side, until toasty.
TOP with your favorite combinations of ingredients listed above.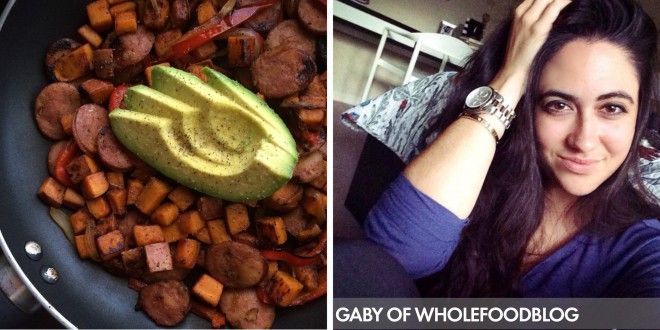 Sweet Potato and Sausage Hash from @WholeFoodBlog
Ingredients
1 Medium Sweet Potato
1 Whole 30 compatible pre-cooked sausage link (be sure to check your labels)
1/2 large red bell pepper, sliced
1/4 large sweet onion, sliced
Avocado
Coconut oil
Salt, pepper, garlic powder, cumin, cinnamon
Instructions
HEAT a nonstick skillet over medium heat.
WASH and dry sweet potato and dice into small cubes. Add 1-2 tsp of coconut oil to the pan, and then add the diced sweet potato. Season with 1/4 tsp salt, 1/8 tsp pepper, 1/8 tsp garlic powder, 1/8 tsp cinnamon and a dash of cumin.
STIR the contents of the pan to distribute spices, then cover pan. Cook for 5-7 minutes, stirring a few times.
ADD peppers and onions and season lightly with more salt and pepper. Cover again and cook for 7-10 minutes, stirring a few times. When potatoes are cooked through (check by stabbing them with a fork), add a sliced sausage link to pan.
SAUTE uncovered for 5-7 minutes or until sausage is heated through and browned on the outside. Garnish with sliced avocado and serve.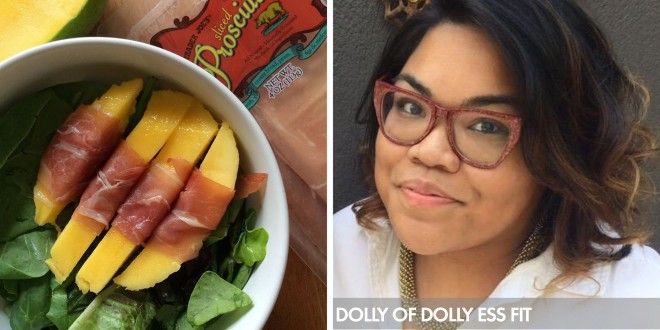 Prosciutto-Wrapped Mango from @DollyEssFit
Note, this breakfast doesn't have as much protein as we'd normally recommend, but it's perfect for our pregnant Whole30'ers who have a tough time with meat in the morning
Ingredients
1 Mango
1 package Whole30-compatible prosciutto
Salad greens of choice (baby spinach, baby kale, arugula, etc.)
Instructions
PEEL Mango and slice into thick, long spears.
WRAP prosciutto around mango. Serve over a bed of salad greens and enjoy.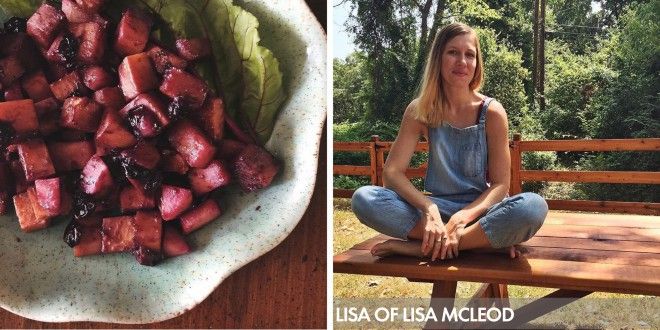 Sweet Potato and Blueberry Hash from @LisaMcLeod
Ingredients
1 large sweet potato, peeled and diced small
1 granny smith apple, peeled and diced small
1 tsp cinnamon
1/2 tsp ground ginger
1/4 cup blueberries
2 tbsp coconut oil
Water
Instructions
TOSS a peeled and diced sweet potato in 1 tsp of cinnamon in a mixing bowl.
HEAT 2 tbsp of coconut oil in a large skillet over medium heat. Add the sweet potato to the skillet, and simmer and stir for about a minute or two. Add 2 tbsp of water to skillet, and cover for about 5 minutes.
MEANWHILE, toss the diced apple in 1/2 tsp of ground ginger.
REMOVE skillet lid, and add the apple. Simmer and stir for about a minute, and then toss in the blueberries. Give it all another big stir, then cover again for another 4 minutes. You may need a little more water to continue steaming.
WHEN the potatoes are soft, and the apples still slightly crisp, it is done! The blueberries are going to bleed their sweet flavor, and turn this dish purple. It's like painting with food! Serve warm with your favorite Whole30-compatible protein.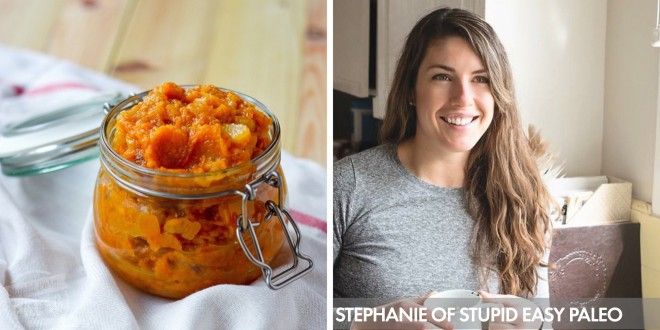 Sweet Potato and Apple Mash from @stupideasypaleo
Ingredients
2 pounds sweet potatoes
1/2 pound apples or 1 cup unsweetened store-bought applesauce (check your labels!)
Generous pinch of sea salt
1 tbsp ghee, optional
Leftover protein of your choice
Instructions
PREHEAT oven to 400F, and line a baking sheet with parchment paper or aluminum foil. Roast the sweet potatoes for about an hour. Remove from oven and let them cool.
IF you're making the applesauce from scratch, do this while the sweet potatoes are roasting. Peel and dice the apples. Put into a small pot with a 2–3 tablespoons of water and cover with a lid. Cook over medium-low heat until the apples are very soft. Remove the lid and cook until most of the water has evaporated.
PEEL the skins off the sweet potatoes. Combine with the applesauce in a large bowl and mash with a hand masher until it's to your desired texture, or use a food processor.
ENJOY warm or cold! This makes a great breakfast on the run, served with leftover protein from dinner.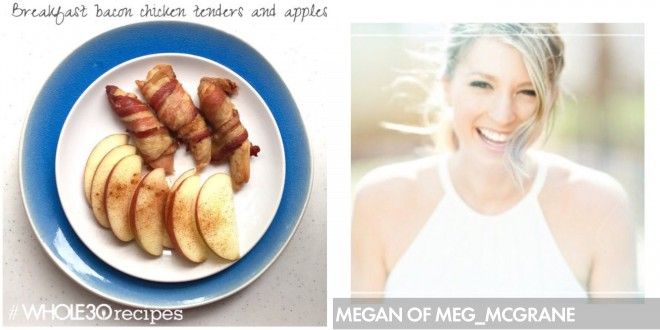 Breakfast Bacon Chicken Tenders and Apples from @meg_mcgrane
Ingredients
8 boneless skinless chicken tenders
1 package of Whole30-compatible bacon
Instructions
PREHEAT oven to 375F. Wrap one piece of bacon around each individual chicken tender, wrapping in a diagonal fashion so it covers the length of the tender.
LINE up tenders on a baking sheet and drizzle with olive oil.
PLACE in the oven for 55 minutes until chicken is cooked through and bacon starts to crisp on the outside. Serve with leftover veggies or a fresh green salad and a side of fruit.
[Tweet "Suffering from #Whole30 egg-haustion? Egg-free breakfast ideas! #JanuaryWhole30 #Whole30Recipes"]
Save