Our @whole30recipes Instagram feed brings you delicious, Whole30 Approved recipes all day, every day. And, in our new series, The Best of @Whole30Recipes, we'll be bringing them to our blog! Each week, we'll feature a new mini-collection of our favorite recipes. This week, we've got a special collection of recipes to make your Thanksgiving both healthy and delicious.
Appetizers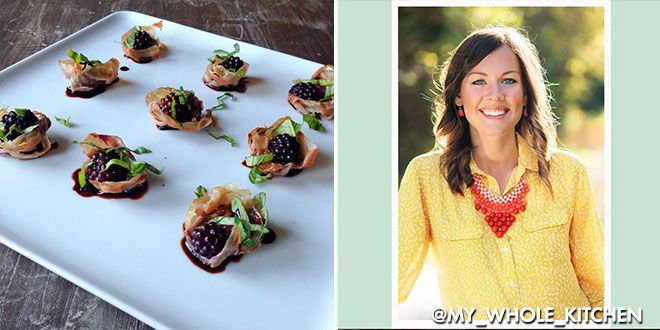 Blackberry Prosciutto Cups, @my_whole_kitchen
Oil of choice
1 pkg. compatible prosciutto
1 package blackberries
1/2 C. fresh basil, chopped
Balsamic Reduction sauce
Balsamic Reduction:
1 1/2 cups balsamic vinegar
2 tbsp olive oil
Place vinegar in small saucepan and bring to a boil. Reduce to ½ cup. Keep an eye on this as you can burn it if it reduces too fast. Better to under reduce than over reduce, or it will get rock hard when it cools. Once reduced, pour into small bowl, add 2 tbsp. olive oil, and stir to combine.
Preheat oven to 400 degrees. Coat the cups of a mini muffin pan with oil. Then line with pieces of prosciutto. Place a blackberry in each cup and bake for 10 minutes. Remove from oven and let cool for about 5 minutes. Remove from cups, drizzle with balsamic reduction and top with fresh basil.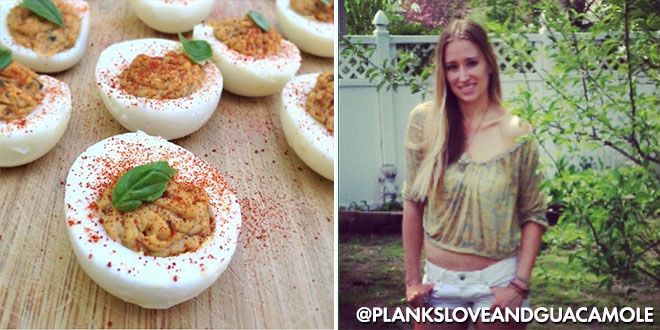 Sundried Tomato and Macadamia Pesto Deviled Eggs, @planksloveandguacamole
1 dozen hard boiled eggs
1/4 cup homemade whole30 compatible mayo
1/3 cup fresh basil
1/3 cup sundried tomatoes
1/3 cup macadamia nuts
1 tbsp extra virgin olive oil
1 tbsp lemon juice
Paprika to garnish
Boil and cool eggs. Add the basil, sundried tomatoes, macadamia nuts, extra virgin olive oil and lemon juice to a food processor. Blend until combined into a grainy pesto. Add mayo and yolks to the food processor. Blend until smooth. Pipe or scoop filling into hard boiled whites. Sprinkle with paprika.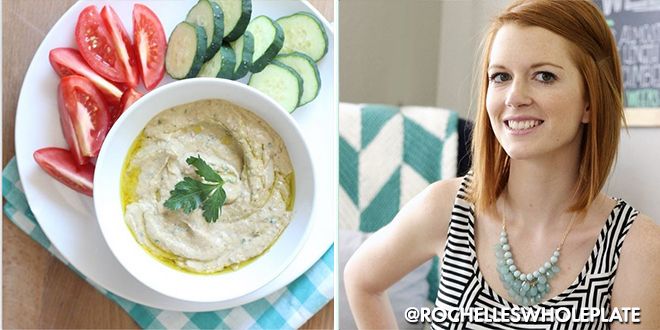 Baba Ganoush, @rochelleswholeplate
1 medium eggplant
2 heaping tablespoons tahini (make sure it's gluten free and with no additives!)
juice of half a lemon
1 garlic clove, smashed
1 tablespoon olive oil, plus more for drizzling
1/8 teaspoon chili powder
1/8 teaspoon smoked paprika
2 tablespoons fresh parsley
Salt, to taste
Preheat oven to 400 degrees. Prick the eggplant with a fork, then char the skin of the eggplant on all sides by placing it on the direct flame of a gas burner. (If you don't have a gas stove, you can place it under the broiler.) Place the eggplant on a baking sheet and bake for 30-45 minutes, until it's completely soft and you can pierce the eggplant with a paring knife and meet no resistance. Remove from oven and let cool. Once cool, slice the eggplant in half the long way and scrape all the insides into a food processor with the remaining ingredients. Purée until smooth. Serve with vegetables, grilled meat, or as a salad dressing.
Salads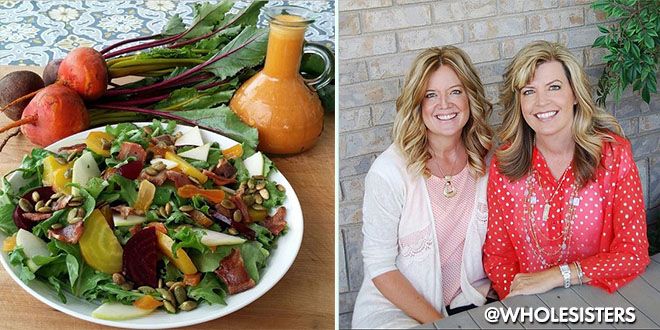 South Jordan Beet Salad, @wholesisters
Spring salad mix
Golden beets, cooked and sliced
Red beets, cooked and sliced
Dried apricots, make sure they contain no sugar
Apple, sliced (we used ginger gold but any variety will work)
Bacon, cooked and chopped (whole30 compatible with no sugar)
Toasted pumpkin seeds
Dressing:
1 cup light olive oil
1 1/4 cup organic orange juice
1/2 cup champagne vinegar
1 tbsp lemon juice
1 tsp paprika
1/8 tsp cayenne pepper
2 tsp garlic, minced
1 tsp salt
Mix the above ingredients in a blender and blend until well incorporated.
Combine all ingredients in a large serving bowl or platter. Serve with orange vinaigrette dressing.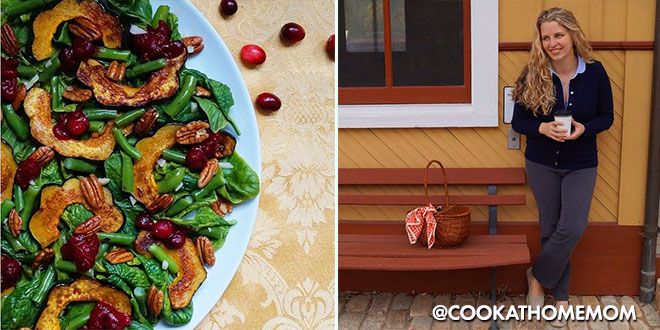 Roasted Acorn Squash Salad, @cookathomemom
2 acorn squash
1 bag of fresh baby spinach
2 tsp olive oil, divided
1 medium bunch of green beans
1 clove garlic
1 cup toasted pecans
1 tsp salt
1/4 tsp red pepper flakes
4 tbsp compatible cranberry sauce
Preheat oven to 425. Cut acorn squash in half lengthwise and scoop seeds from the flesh using a spoon. Slice each half across to make 1/2 inch wide slices. Lay slices flat on a cookie sheet and brush lightly with olive oil and season lightly with salt and pepper. Cook for about 4-6 minutes on each side until golden. Wash and dry green beans. Peel and mince garlic clove. Heat 1 tsp olive oil in a pan over medium heat and add garlic & green beans. Cover and allow to steam until bright green, stirring occasionally, about 5 minutes. Season with salt, pepper and red pepper flakes. Spread spinach on a large plate, then lay slices of squash on top. Top with pecans and green beans and cranberry sauce.
Soups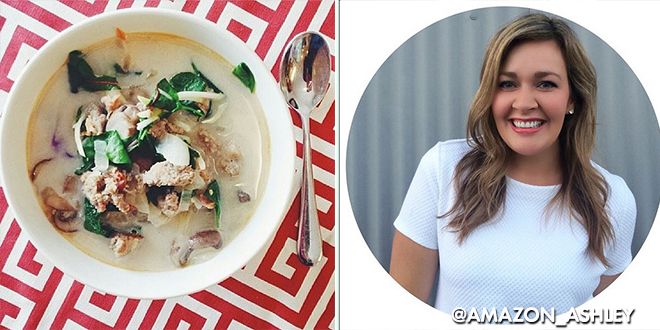 Whole30 Zuppa Toscana, @amazon_ashley
1lb Italian sausage
3 parsnips, peeled and cut into 1/4 inch slices
1 small package baby bello mushrooms, chopped
1 large onion, chopped
2 garlic cloves, minced
3 cups kale, chopped
24 oz chicken broth
6 cups water
1.5 cups coconut milk
Slice sausage into small pieces. Brown sausage in the large soup pot. Add chicken broth and water to pot and stir. Place onions, parsnips, mushrooms, and garlic in pot. Cook on medium heat until vegetables are cooked through. Salt and pepper to taste – you will need a generous amount. Turn to low heat. Add kale and cream, stir together. Simmer for about 10min and serve.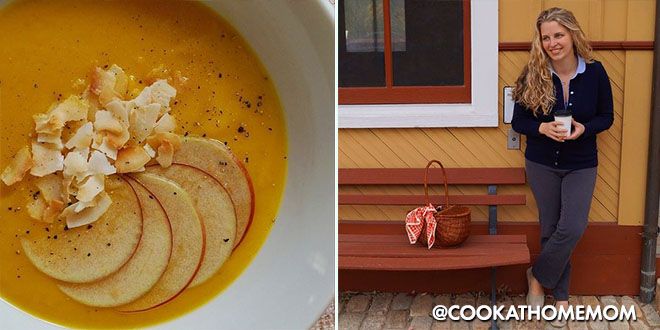 Butternut Squash and Apple Soup, @cookathomemom
(Serves 4)
1 medium butternut squash
1 medium shallot, diced
1/2 tsp grated ginger 1
red apple, sliced
2 tbsp apple cider vinegar
1 tbsp evoo
1/2 tsp turmeric
1/4 tsp curry powder
1/2 c light coconut milk
3 – 3 1/2 c water
1/4 c unsweetened coconut flakes
1 tbsp olive or coconut oil
Preheat oven to 350. Cut squash in half and scoop out seeds. Place face-down on a cookie sheet and bake 40-50 minutes, until softened enough that you can easily cut through with a knife. Allow to cool then remove flesh from skin. Place coconut flakes on a cookie sheet, sprinkle with sea salt, and bake, stirring every minute for about 3-5 minutes or until beginning to brown. Sautée shallot and ginger in oil for about 2 minutes over medium heat. Stir in apple cider vinegar and cook another 2-3 minutes. Add squash, 3/4 of the chopped apple (I leave skins on but feel free to remove), turmeric, and curry powder and cook for about 3 minutes. Add the coconut milk and water and bring to a simmer, stirring occasionally for about 10-15 min. Blend together with an immersion blender or food processor until smooth and creamy. Season with salt and pepper to taste and garnish with remaining slices of apples and coconut.
Potatoes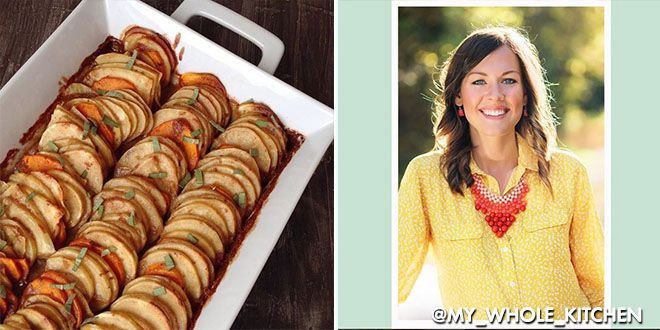 Sweet Potato Gratin, @my_whole_kitchen
4 lg. sweet potatoes, peeled/sliced
2 tbsp ghee, melted
Salt to taste
2 cups gravy
Fresh rosemary, for garnish
Gravy (about 6 cups):
2 tbsp ghee
1 large shallot, minced
1/2 tsp ground sage
1/2 tsp ground thyme
2 tbsp balsamic vinegar
3 c bone broth (chicken, beef or turkey)
2 c coconut milk, divided
1/2 c coconut cream
1 c cashews, raw/soaked
1 tbsp lemon juice
1/4 tsp salt + more to taste
Place cashews in small bowl and cover with water, soak 6 hrs. Drain and put cashews in food processor with lemon juice, 1/4 tsp salt, and 1 cup of coconut milk. Blend until creamy, about 2-3 minutes. Set aside. In large pot melt ghee on medium heat, add shallot and caramelize. Add sage and thyme, and balsamic vinegar, and stir until fragrant. Add bone broth, remainder of coconut milk and the "cashew cream" mixture. Stir and simmer for 5 more minutes. Add more salt to taste.
Preheat oven to 375. Peel and thinly slice sweet potatoes. Brush a 9×13 baking dish with ghee around the bottom and sides. Line the pan with layers of sliced sweet potato. Once aligned, brush the potatoes with remainder of melted ghee, sprinkle generously with salt and pepper. Bake for 30 minutes. Remove from pan and pour gravy evenly over the top. Bake for another 30 minutes. Sprinkle top with fresh rosemary. Serve.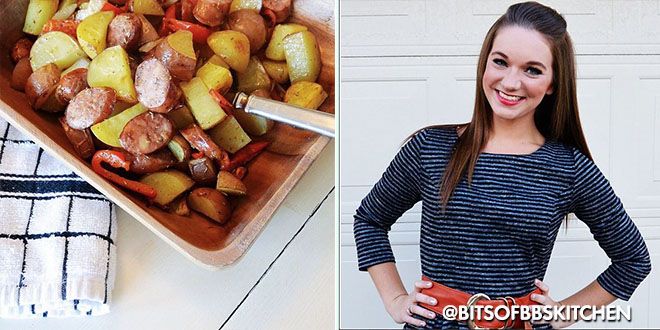 Roasted Potatoes with Sausage and Peppers, @bitsofbbskitchen
4 red potatoes, washed and diced
4 gold potatoes, washed and diced
1/2 an onion (any color works!) sliced into thick chunks
One red pepper, washed and diced
1 package of Aidells Chicken Apple sausage, diced
2-3 TBS of avocado oil
Dried rosemary and thyme to season
Preheat oven to 375 degrees. Wash and chop potatoes, bell pepper, onion, and sausage. Place in a large bowl. Add oil, rosemary, and thyme seasoning to taste preferences. Mix well and lay flat in a baking sheet. Place in oven and bake for 35-45 minutes, until potatoes are fork tender and browning.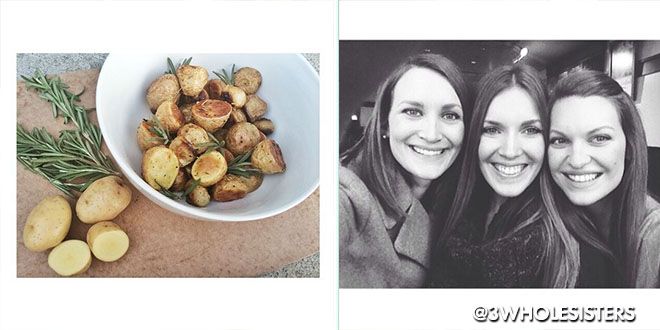 Rosemary Potatoes with Caramelized Onions, @3wholesisters
Two pounds of small potatoes (any – I used small gold ones)
2/3 pound of pearl onions
3 TBS. olive oil + some to coat the pan
1 TBS. dried rosemary
2 tsp. salt
1 tsp. pepper
Preheat the oven to 400* and prepare a large baking sheet by spraying it with olive oil (just enough to coat – I use a Misto sprayer). Scrub the potatoes in water then cut them into 1 1/2 – 2 in. cubes to ensure that they are evenly sized. Pat them dry then leave them on the counter for a bit to make sure that they are completely dry. Prepare the onions by cutting off each end and removing the papery outside layer. In a large bowl combine the potatoes, onions, salt & pepper – then crush the rosemary before putting it in the bowl as well (I just use my fingers). Finally, pour the olive oil over the mixture and combine thoroughly – I always just use clean hands and go to town, as this coats everything the best. Pour the mixture onto your prepared pan, and bake for 45 – 60 minutes flipping every 20 minutes.
Vegetables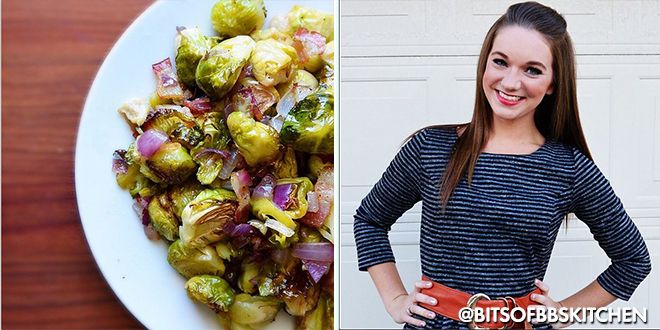 Bacon Brussels Sprouts, @bitsofbbskitchen
Brussels sprouts (I usually use around two pounds)
Whole30 compatible bacon (between 2-4 strips)
1/2 a red onion
Oil of choice (ghee or clarified butter is my preference for this dish though)
Preheat oven to 400 degrees. Wash Brussels sprouts, trim off ends that are too tough to eat and remove any outer leaves that may come off. Cut the brussels sprouts in half and place on a greased cookie sheet. Dice the onion and add to the cookie sheet. Cut bacon into quarter inch slices and add to the cookie sheet. Melt 2 tsp of oil and pour over cookie sheet. Mix the ingredients well to coat everything evenly. Place in oven for 30 to 35 minutes until fork tender.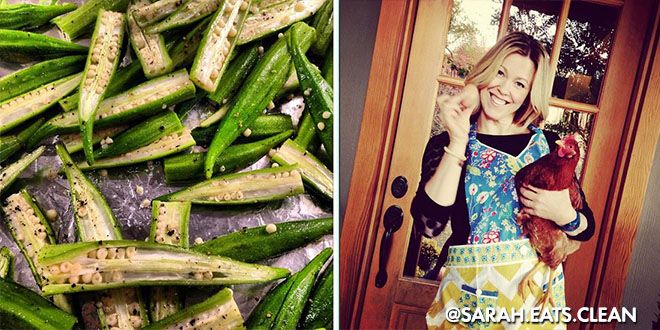 Oven Roasted Okra, @sarah.eats.clean
1 c okra for each person
Avocado or olive oil
Salt and pepper to taste
Wash okra well. Cut the tops off and slice lengthwise into halves and quarters. Toss lightly in oil, salt and pepper. Transfer okra to a lined cookie sheet. Spread the okra out evenly in a single layer and roast on the top shelf of the oven at 400 degrees for 15-20 minutes. Shake the pan once or twice while roasting to rotate.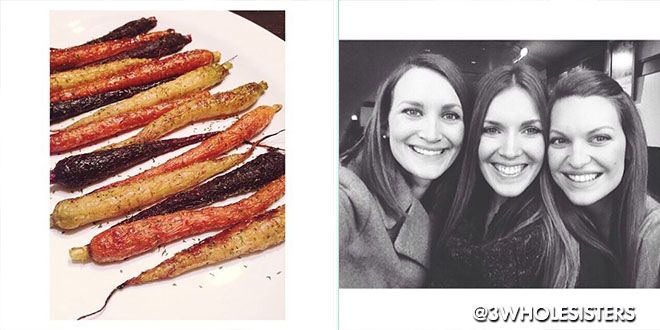 Roasted Rainbow Carrots, @3wholesisters
1 bunch small orange carrots
1 bunch small white carrots
1 bunch small purple carrots
2 Tbsp balsamic vinegar
2 Tbsp olive oil
Salt to taste
Dried parsley to garnish
Preheat oven to 400 degrees. Line a baking sheet with foil, and grease foil with an approved oil. Remove tops of carrots, wash and pat dry, place in a large bowl. Whisk together balsamic vinegar and oil in a small bowl. Pour over carrots, and coat evenly. Lay carrots on baking sheet, sprinkle with salt and bake for about 35 mins, flipping halfway through. Garnish with parsley and serve immediately.
After Dinner
Fruit platter, @cookathomemom
Finish your meal with a stunning fruit platter like this one. Choose fruits that are in season for the best flavor and value. In the fall, look for apples, pears, pomegranates, kumquats and grapes.
For more Thanksgiving recipe ideas: check out A Healthy Whole9 Thanksgiving, read this roundup of Mel J.'s favorite Thanksgiving recipes, or browse Michelle Tam's Nom Nom Paleo Thanksgiving menu.
Melissa Urban
Co-Founder / CEO
Melissa Urban is a 7x New York Times bestselling author (including the #1 bestselling The Whole30) who specializes in helping people establish healthy boundaries and successfully navigate habit change. She has been featured by the New York Times, People, the Wall Street Journal, Forbes, The Today Show, and Good Morning America, and is a prominent keynote speaker on boundaries, building community, health trends, and entrepreneurship. She lives in Salt Lake City, UT with her husband, son, and a poodle named Henry.