The holiday season is upon us, which means you're most likely spending a lot of time over the next several weeks grocery shopping, planning and prepping. When we asked the Whole30 community what kind of holiday resource would be most helpful this year, they said lots of yummy Whole30 recipes and holiday success strategies.
Most people in our community choose not to do a Whole30 during the holidays; in fact, we typically don't recommend it. But you likely have learnings from a previous Whole30 experience that you want to apply during Thanksgiving. For example, you've realized you don't tolerate gluten, so you're on the hunt for a Whole30 alternative to traditional turkey stuffing. Or, perhaps you're working hard to maintain your food freedom habits, and you're afraid that the plethora of treats and sweets available over the long holiday weekend will bring your Sugar Dragon roaring back to life.
So, consider this your Thanksgiving Mega Roundup. We asked our Whole30 Coaches to share their Holiday success strategies, and we've linked delicious recipes from some of our favorite recipe creatives below. Don't forget to connect with our Whole30 community on Instagram and Facebook for daily support and encouragement.
Holiday Success Strategies from Our Whole30 Coaches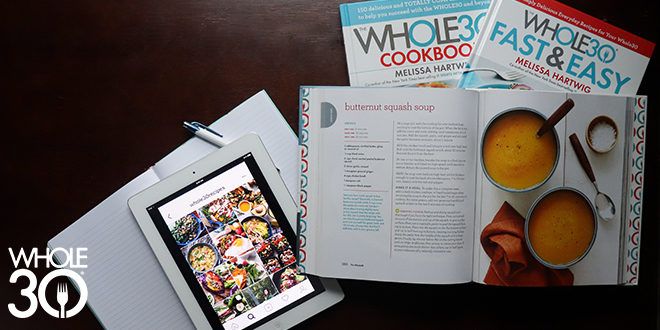 "My number one tip is to eat a big breakfast that morning. Eggs, lots of greens, starchy carbs and some fat. This helps me not dive into to the appetizers when I arrive at my family's house for dinner. I feel more clear minded and I can make clear and clean decisions of how to fill my plate." – Jennifer Woods Maloney
"If you're going as a guest to someone's house, I recommend you offer to bring one or two dishes to the meal that are Whole30 compatible. That's the best way I've found to maintain my Whole30 commitment (or my food freedom habits!) over the holidays." – Kelly Finn
"Not drinking, but not wanting to attract lots of questions about that choice? I find it easiest when going to any party to bring some LaCroix or hint water and some cut limes. Grab a fancy glass from your host that screams COCKTAIL, and plop your lime garnish on the side." – Debbie Marlowe
The most helpful thing for me is to take the focus off of the food. I challenge myself to have one meaningful conversation with each guest. This keeps me engaged and circulating around the room. I am so busy chatting and looking for my next connection that I don't have time to miss the dessert table. – Kate Baldacci
"Don't try to 'save your calories' for your Thanksgiving meal. This approach makes sticking to your Whole30 or food freedom habits more challenging because you're hangry by the time the meal is served. Instead, have a balanced meal or two before your gathering. That way you're able to enjoy the occasion and make good choices." – Stephanie Greunke
Thanksgiving Recipe Roundup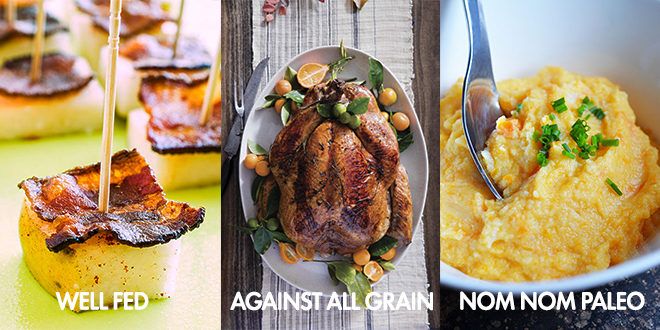 Hosting Thanksgiving for the first time? Check out our Holiday Dinner menu in The Whole30 (starting on page 380). Our Holiday Dinner menu is a Whole30 take on all of your favorite classics, and the recipes are straightforward and easy to follow.
Mel Joulwan's known for her creative take on traditional favorites. Her Thanksgiving collection includes such recipes as Bacon and Pear bites, which sound like a much better start to the meal than your grandma's cheese ball and dry crackers. She also helpfully notes which recipes are Whole30 compatible.
Bringing a Whole30 compatible dish to share at Aunt Barb's Thanksgiving meal? This collection of Whole30 side dish recipes from Physical Kitchness should be right up your alley.
Michelle Tam is the boss of holiday meal planning, and her Thanksgiving resources do not disappoint. Her free A Very Nomtastic Paleo Thanksgiving eBook contains a countdown planner, foolproof recipes, and step-by-step photos for each recipe. Be sure to check each recipe for Whole30 compliance, if that is a concern for you (many of her recipes are in line with the Whole30 rules).
Looking for gluten-free recipes to add to the desert table? While not Whole30 compatible, we love Danielle Walker's Against All Grain desert recipes. If you're practicing your food freedom, and would like to have a worth-it treat to celebrate on Thanksgiving Day, we absolutely recommend Danielle's recipes. She also has quite a few Whole30 compatible recipes for the standard Thanksgiving fare.
Melissa Urban
Co-Founder / CEO
Melissa Urban is a 7x New York Times bestselling author (including the #1 bestselling The Whole30) who specializes in helping people establish healthy boundaries and successfully navigate habit change. She has been featured by the New York Times, People, the Wall Street Journal, Forbes, The Today Show, and Good Morning America, and is a prominent keynote speaker on boundaries, building community, health trends, and entrepreneurship. She lives in Salt Lake City, UT with her husband, son, and a poodle named Henry.