Very few foods are as beloved when cooked crispy as they are transformed into what can accurately, but not flatteringly, be called a mush. But the humble potato is one such food—and there is, Indeed, a potato recipe for every occasion. From side dishes to soups, hashes to meatless mains, you'll find potatoes working to make your meals hearty and satisfying.
The versatility of a spud is matched only by the joy it can bring in potato recipes of all sorts—especially during the holidays. Whether sweet, white, purple, or golden, potatoes pair perfectly with any gathering of friends and family.
Read on for potato-preparation tips, and five fun, easy potato recipes. Use this information to help you deliver delight this holiday season—or, let's be real, any day of the year.
Tips for a More Perfect Potato Dish
Potatoes are pretty foolproof. They are, by default, delicious. But there's an opportunity for transcendence.
There's plenty you can easily do to maximize the flavor, texture, and overall eating experience of your potato dishes. Consider the following suggestions next time you dig into your sack of spuds.
Select the right type for the task
Sure, in many cases, you can substitute sweet potatoes for white potatoes, or golds for reds. And that's totally fine! (Their flexibility alone speaks volumes for potatoes.) But properly matching potato variety to preparation can make the most of your recipe.
It all starts with the starch.
The more of this carbohydrate in the potato, the less moisture, and the flakier texture. High-starch potatoes (like the reliable Russet) are best baked, mashed, or roasted until crispy. Second in starch, the all-purpose potatoes—gold, white, and purple, to name a few—balance starch and moisture. They're great mashed, roasted, or in just about anything, really. High-moisture potatoes are the least starchy. You've maybe heard red, fingerling, or new potatoes called waxy—and that's what we're talking about here. Those potatoes are also harvested younger, have thin skin, and are great roasted or in dishes where you need a firmer texture.
And then there's the choice between sweet and white potatoes. Though from different botanical families, the two types are pretty interchangeable in various potato recipes. Sweet potatoes are high in starch and fiber. And they're especially good mashed, baked, or roasted. As a general rule, you should turn to sweet potatoes if you desire a subtle sweetness, more beta-carotene, or more caramelization out of the oven. (Click here for a deep dive on how to pick the perfect potato!)
Reckon with the peel
To eat or not to eat? That is the question. Do you eat the skin, or pull out your peeler? The answer is far more dish-dependent than nutritional.
I'm sure we've all heard the skin of a potato contains most of its nutrients—and it does have fiber, potassium, and vitamin C. But the skin doesn't house all of the potato's nutritional value. The flesh of a potato still packs a surprising nutrient payload.
Since solid (if diminished) amounts of fiber, potassium, and more remain, the skin decision is more about taste and application. And that's determined by personal preference and the texture you desire in the recipe you're making. So now you can make the most informed decision about what's best for your dish, with less worry about what you're missing!
Find the best flavor pairs
Potatoes are easygoing and highly collaborative. That's why they make a superb partner for so many different ingredients and work as a side to many mains.
When you're working without a recipe, this ability is a huge help. You know the mild flavor of the potatoes aren't overshadowing your herby, spicy, tangy, savory, or sweet additions. Just think about your favorite potato side dish. The crispy, crunchy, or creamy texture provides a luscious backdrop for various tangy dips and sauces, rosemary, garlic, chives, and so much more.
So the easy-going potato lets you focus on how the other flavors in your improvised dish play off each other. You can also more easily design your potato side dish to complement or contrast the other food you're serving.
5 Whole30 Hearty Holiday Potato Recipes
Potatoes make an easy, delicious plus-one for your holiday festivities. That's why they're a great option to satisfy your potluck obligations for a gathering of friends or family. And there's no limit to the number of potato dishes that can fill your holiday table. So pick from our five favorite holiday potato recipes—or make them all.
Garlic Smashed Potatoes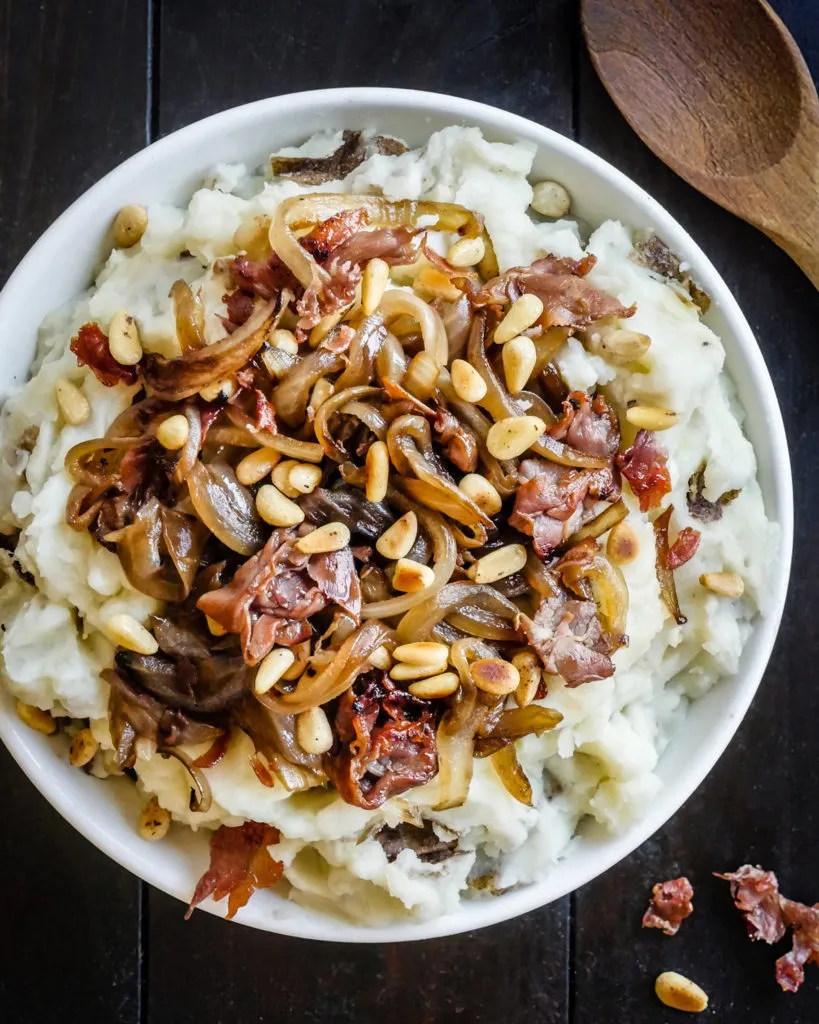 If you want leftovers of this creamy, savory smashed potato dish, you'd better stash some in a good hiding place. Otherwise, this perfect potato side dish won't make it to the fridge.
Mashed Sweet Potatoes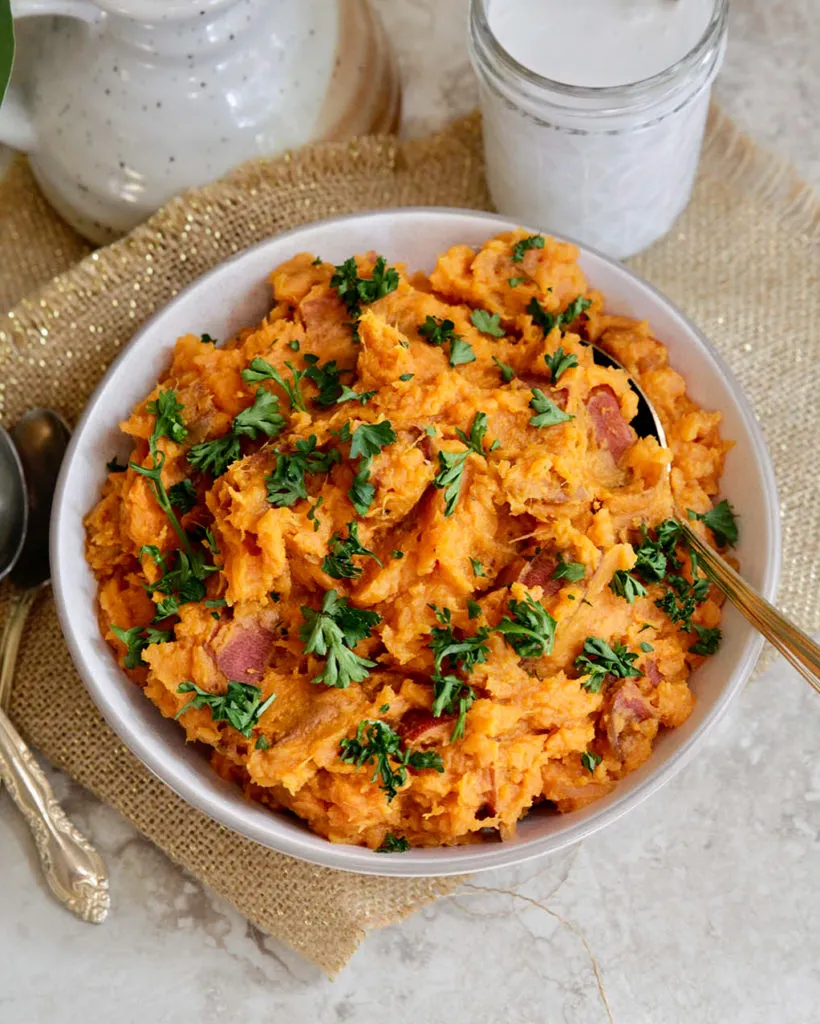 Check out this subtly sweet reboot of an absolute classic. Heap on this hearty, nourishing side dish to add color and comfort to your holiday plate.
Try this sweet and savory side.
Hasselback Sweet Potatoes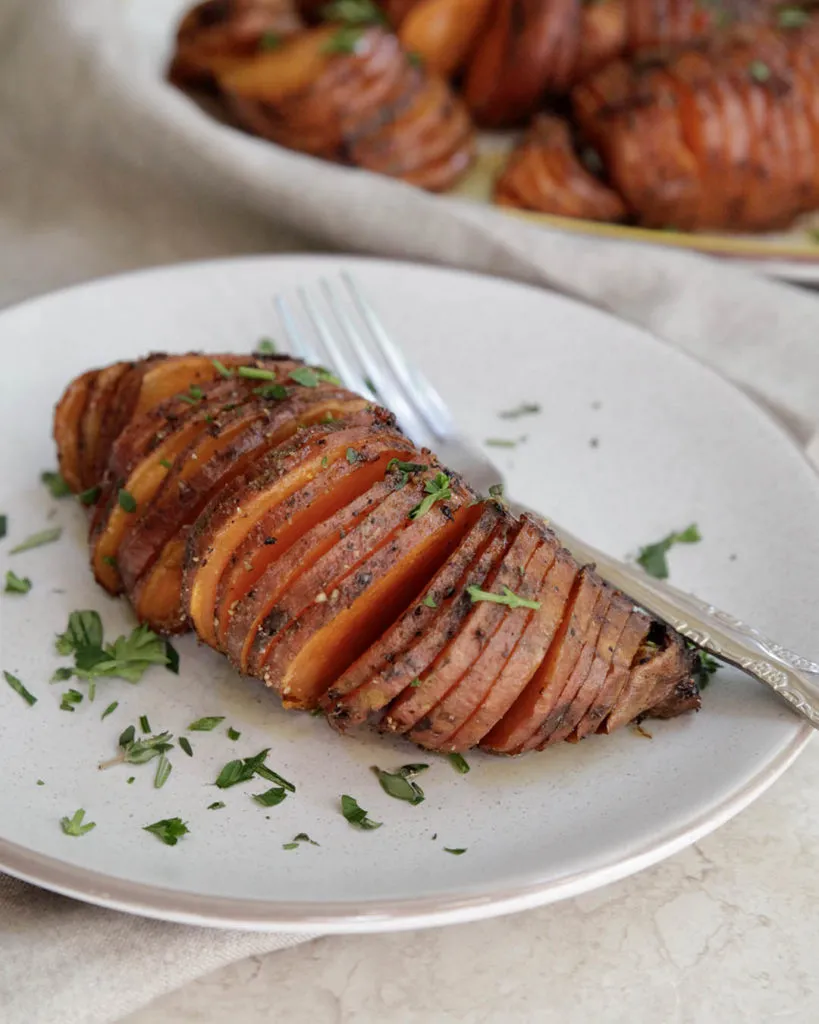 This sweet potato side dish does look cool. But Hasselback sweets also provide a textural contrast—creamy inside with crispy bits on the outside—to prove this recipe is more than aesthetically pleasing.
Feast on a beautiful baked potato.
Duck Fat Potatoes with Gremolata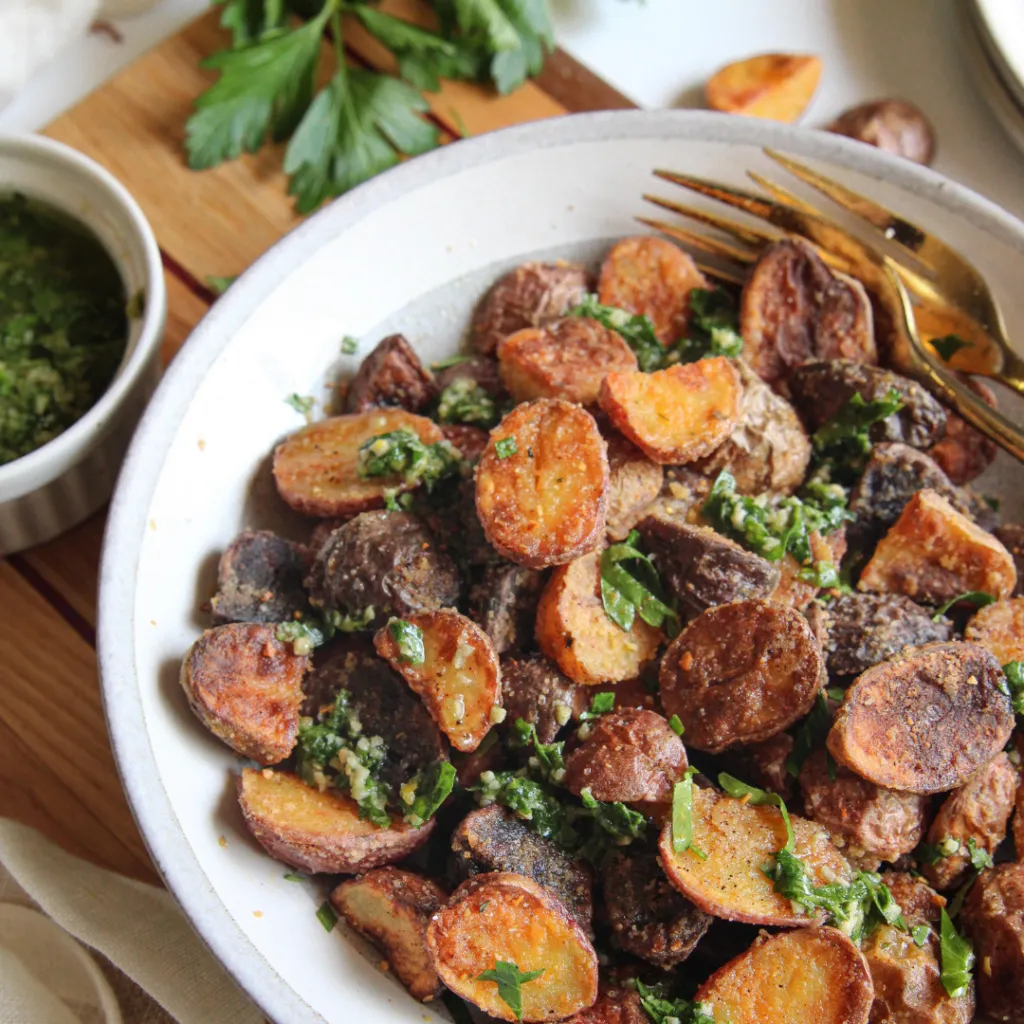 Ready to take your roasted potatoes to a new level? Two key ingredients give these potatoes an amazing golden crust, while a simple Gremolata sauce adds bright, zesty flavor and a gorgeous pop of color.
Get ready for crispy potato perfection.
Roasted Sweet Potato Soup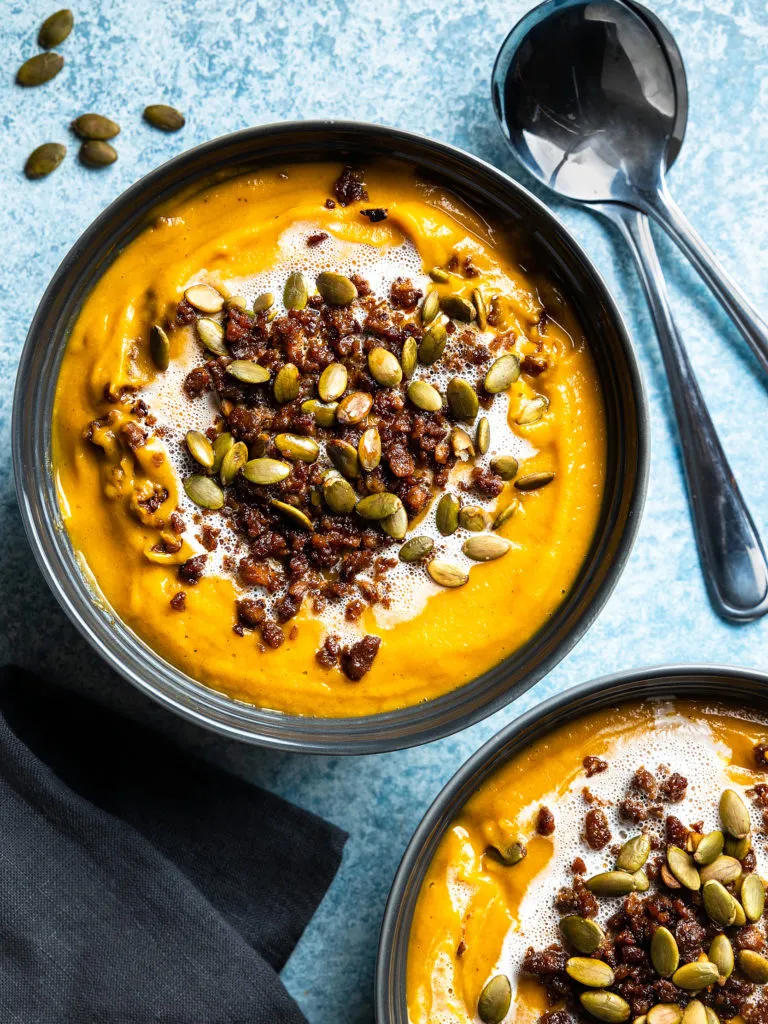 Each spoonful of your new favorite soup delivers a big flavor punch in a silky smooth package. You'll be bowled over by a mix of spicy jalapeno, warming ginger, and slight sweetness.
Puree your way to a spectacular soup.
Hot Artichoke-Parsley Dip with Roasted Fingerling Dippers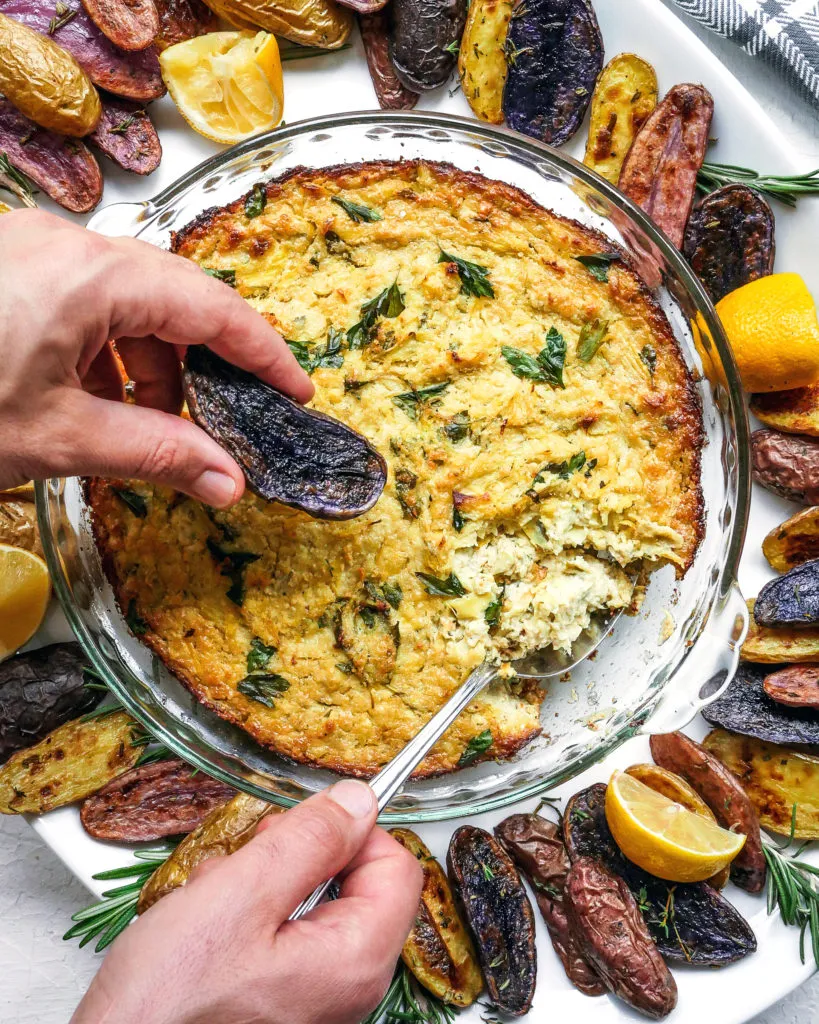 A Whole30 twist on a tried-and-true dinner party crowd-pleaser gives potatoes a new job as a dipper—transporting artichoke goodness directly to your mouth.
Dip into a unique way to use potatoes.
Whole30 Pesto Scalloped Potatoes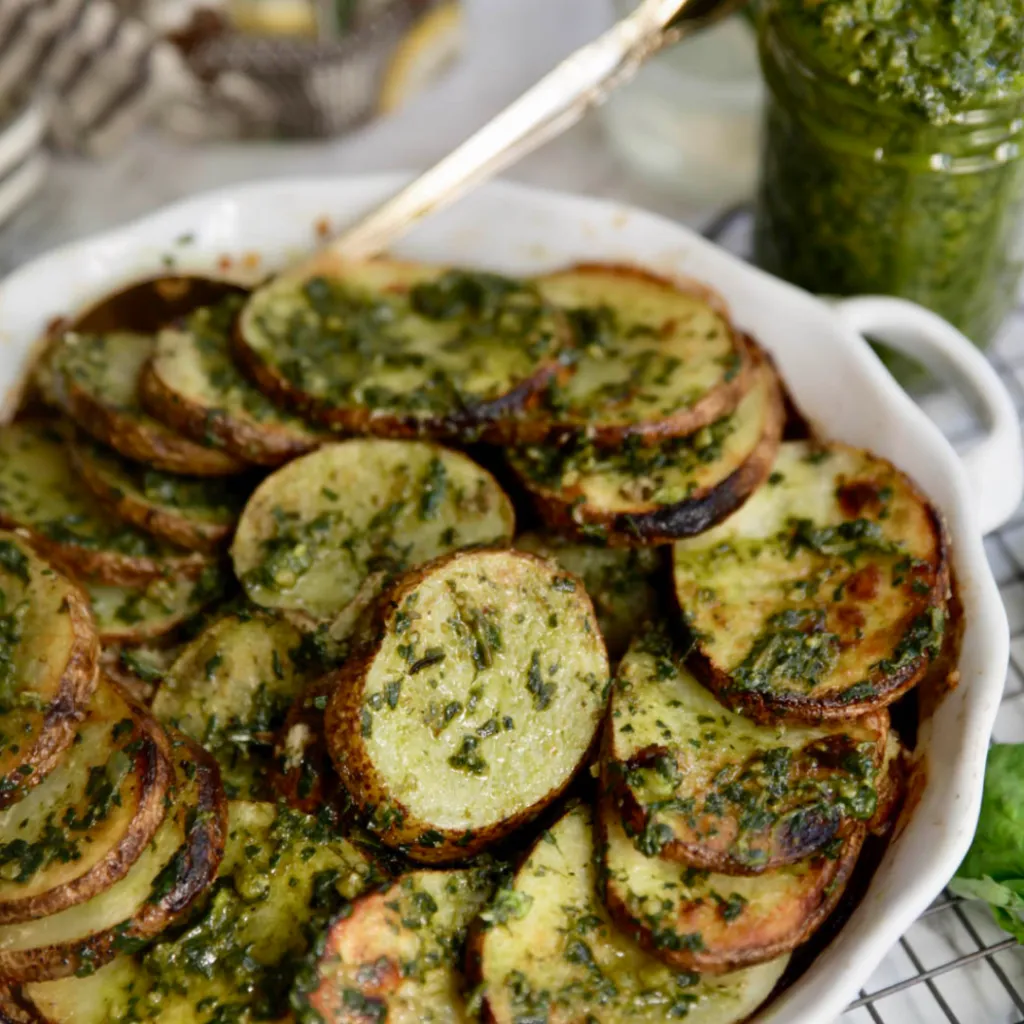 A Whole30 twist on a tried-and-true dinner party crowd-pleaser gives potatoes a new job as a dipper—transporting artichoke goodness directly to your mouth.
Dip into a unique way to use potatoes.
Whole30 Loaded Baked Potato Casserole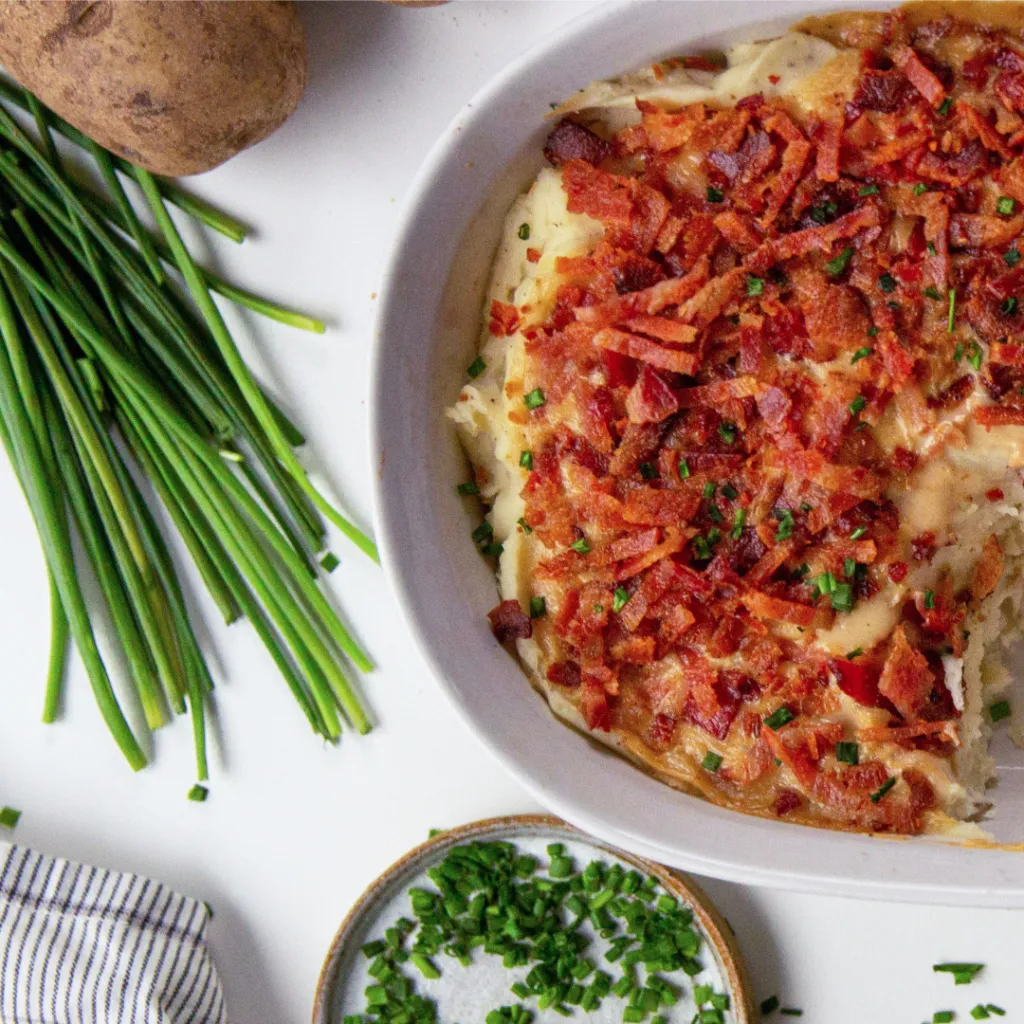 This easy Whole30 Loaded Baked Potato Casserole features a creamy potato base, "cheesy" sauce, bacon, and chives. Perfect for a make-ahead and freeze side for your holiday table!
Dip into this dairy-free indulgence.
Whole30 Roasted Rainbow Potatoes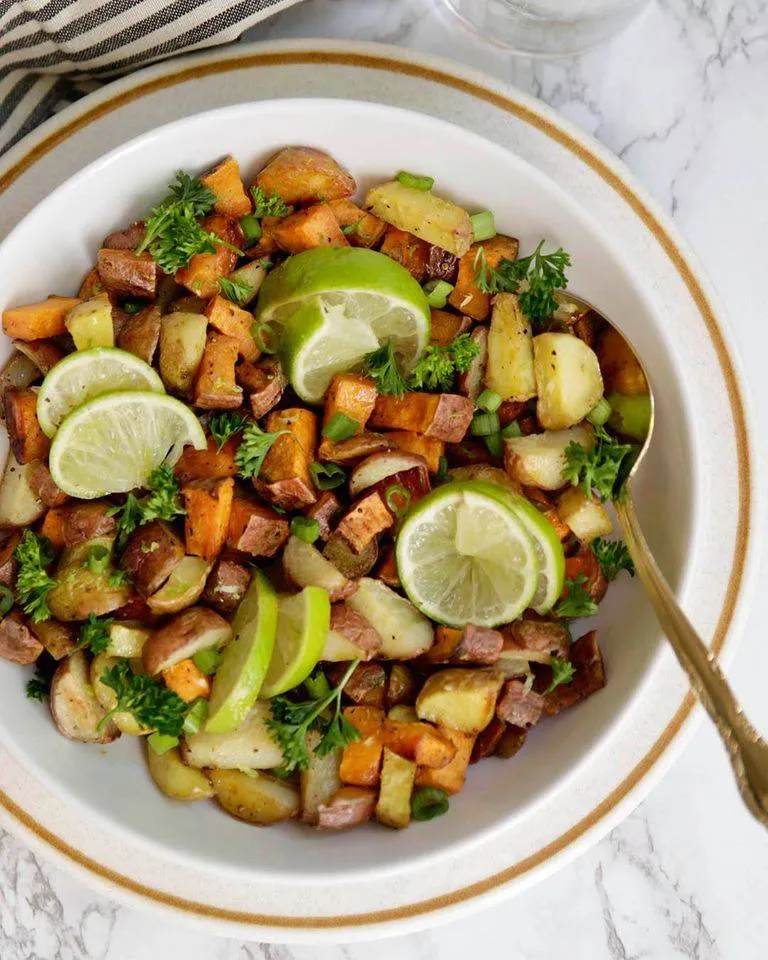 Make these crispy roasted rainbow potatoes with lime zest, for a rich, tangy side dish.
Our favorite way to taste the rainbow.
Crispy Whole30 Smashed Potatoes with Peas, Lemon & Herbed Aioli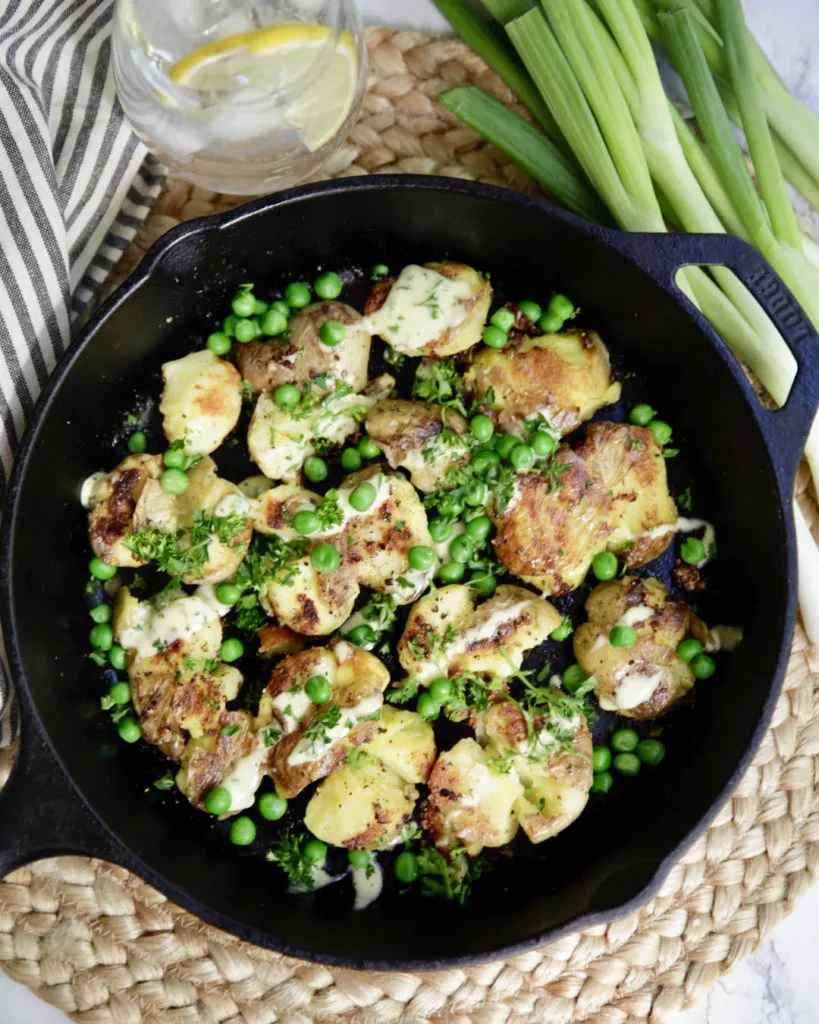 Baby gold potatoes are parboiled, then smashed and crisped to perfection in a cast iron skillet. Top with a tangy herbed aioli and tender peas, and you have a side fit for royalty!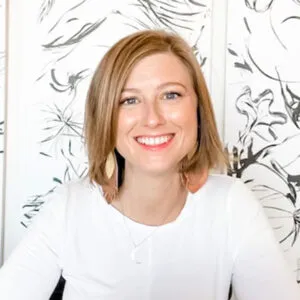 Liz Parrent
Senior Manager, Whole30 Recipes
Liz Parrent is Whole30's Senior Manager, for Whole30 Recipes content.She comes to Whole30 with over a decade of CPG and content marketing experience in the health and wellness space. Having been a part of Primal Kitchen's founding and pre-acquisition team, Liz holds a deep passion for the Whole30 community and the transformative power of a whole foods-focused lifestyle.