Try this Whole30 Hot Artichoke-Parsley Dip with Roasted Fingerling Dippers from The Whole30 Friends & Family. Crisp-baked fingerling potatoes are the perfect vehicle for this creamy warm dip. Nutritional yeast gives it an awesome cheesy flavor.
Try out this Garlic Shrimp with Sweet Potato Noodles.
Try This: Whole30 Hot Artichoke-Parsley Dip with Roasted Fingerling Dippers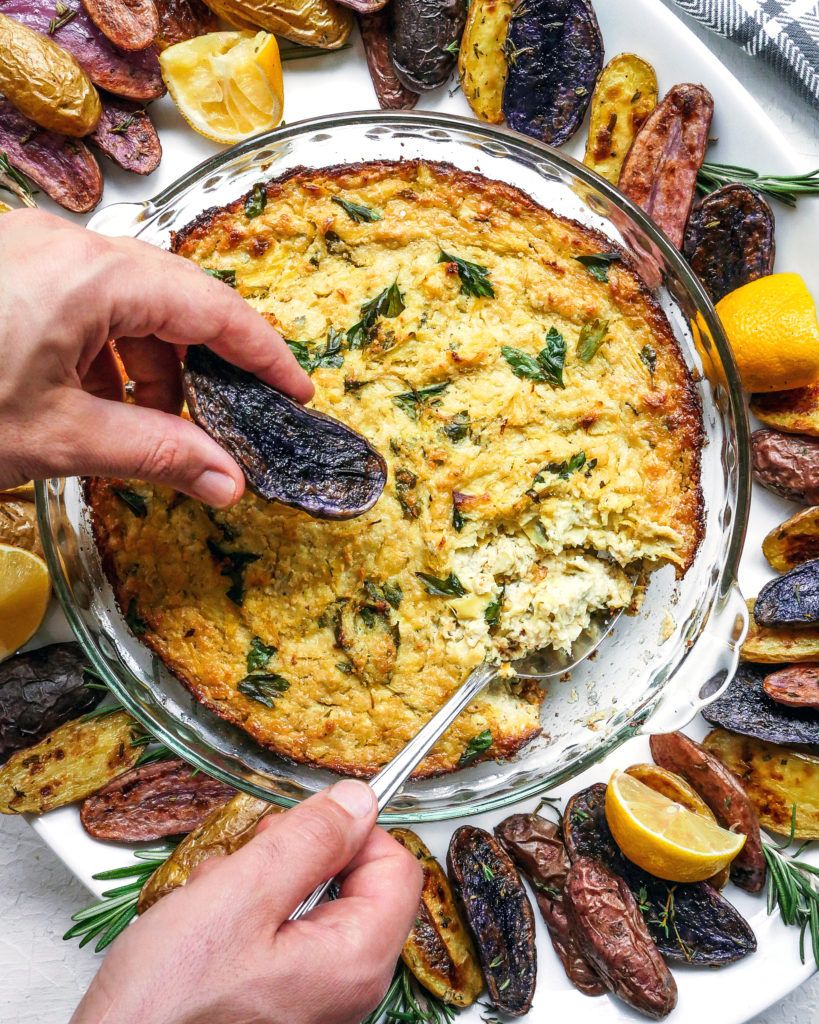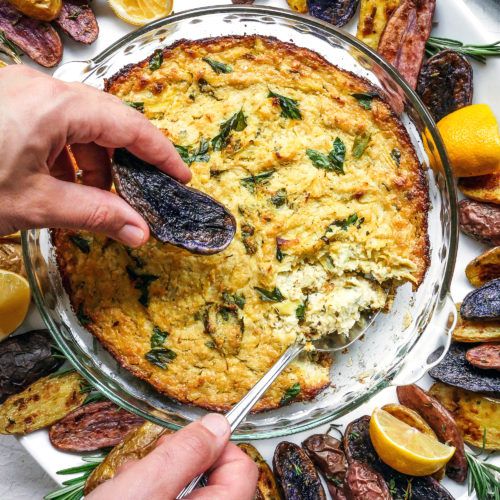 Whole30 Hot Artichoke-Parsley Dip with Roasted Fingerling Dippers From The Whole30 Friends & Family
Make this Hot Artichoke-Parsley Dip with Roasted Fingerling Dippers for your next get-together. Your guests will fall in love with this savory dish.
Ingredients
1

cup

raw cashews

1½

pounds

fingerling potatoes

halved lengthwise

2

tablespoons

extra-virgin olive oil

1

tablespoon

chopped fresh rosemary

2

teaspoons

chopped fresh thyme

1

teaspoon

salt

1

teaspoon

black pepper

1

cup

Mayonnaise

Grated zest and juice of 1 lemon

2

tablespoons

nutritional yeast

2

cloves

garlic

chopped

1

9- to 12-ounce package frozen artichoke hearts, thawed and drained, or 2 (14-ounce) cans Whole30-compatible quartered artichoke hearts, drained

1

cup

lightly packed fresh parsley leaves
Instructions
RINSE the cashews and drain. Place the cashews in a bowl and add enough water to cover by 1 inch. Cover the bowl and let stand for 4 hours or up to overnight. Drain the cashews and rinse under cold water. Set aside.

PREHEAT the oven to 400°F. Line a large rimmed baking pan with parchment paper.

PLACE the potatoes in a large bowl. Drizzle with olive oil and sprinkle with the rosemary, thyme, ½ teaspoon salt, and ½ teaspoon pepper; toss to coat. Arrange in a single layer on the baking pan, cut sides down. Roast for about 25 minutes, until the potatoes are tender and bottoms are lightly browned.

MEANWHILE, combine the soaked cashews, mayonnaise, ½ cup of water, lemon zest and juice, nutritional yeast, garlic, and the remaining ½ teaspoon salt and ½ teaspoon pepper in a blender or food processor. Cover and pulse until finely chopped and then puree until smooth, about 2 minutes. Roughly chop the artichoke hearts. Add the artichokes and parsley to the blender or food processor. Cover and pulse until the artichokes and parsley are finely chopped. Transfer the mixture to a 9-inch glass pie plate.

BAKE for 25 to 30 minutes at 160°F, until the top is lightly browned and heated through. Serve hot with the potatoes for dipping.
THE WHOLE30 FRIENDS & FAMILY
With four Whole30 cookbooks and thousands of free recipes, it's never been easier to make Whole30 meals at home, but navigating social gatherings can still feel daunting.
You can honor your health commitments while enjoying time with family and friends, and this book shows you exactly how. The Whole30 Friends & Family is packed with recipes for all of life's special moments, from birthdays to baby showers, barbecues to brunches. All of the recipes are Whole30 compatible, designed to mix and match to create the perfect menu whether you're hosting or contributing a dish as a guest. And in true Whole30 style, the recipes are creative, colorful, and so flavorful that your guests will never miss the added sugar.
The Whole30 Friends & Family will show you how to navigate gatherings, provide tips and tricks to make every social situation a success, and offer full menus for special occasions like dinner parties, date night, and Friendsgiving. These fun, creative meals will make social gatherings a breeze and let you effortlessly share your Whole30 experience with those you love.
DETAILS
Purchase: Amazon , B&N , Indie Bound , Powell's , BAM , Hudson , Indigo , Amazon.ca , iBooks , Google Play
Excerpted from The Whole30 Friends and Family © 2019 by Melissa Urban. Reproduced by permission of Houghton Mifflin Harcourt. All rights reserved.
You Might Also Like…
---
Melissa Urban
Co-Founder / CEO
Melissa Urban is a 7x New York Times bestselling author (including the #1 bestselling The Whole30) who specializes in helping people establish healthy boundaries and successfully navigate habit change. She has been featured by the New York Times, People, the Wall Street Journal, Forbes, The Today Show, and Good Morning America, and is a prominent keynote speaker on boundaries, building community, health trends, and entrepreneurship. She lives in Salt Lake City, UT with her husband, son, and a poodle named Henry.