These Whole30 garlic smashed potatoes are made creamy with ghee and coconut milk and topped with caramelized onion, crisped prosciutto, and toasted pine nuts. They're fancy enough for a special occasion or a holiday, but simple enough for a weeknight dinner.
This is a preview recipe from Cooking Whole30, the updated, revised, and enhanced edition of The Whole30 Cookbook by Melissa Urban. It is available in the U.S., everywhere books are sold. Click here for more information about this project.
Photos by: Brian Kavanagh | The Sophisticated Caveman
Whole30 Garlic Smashed Poatotes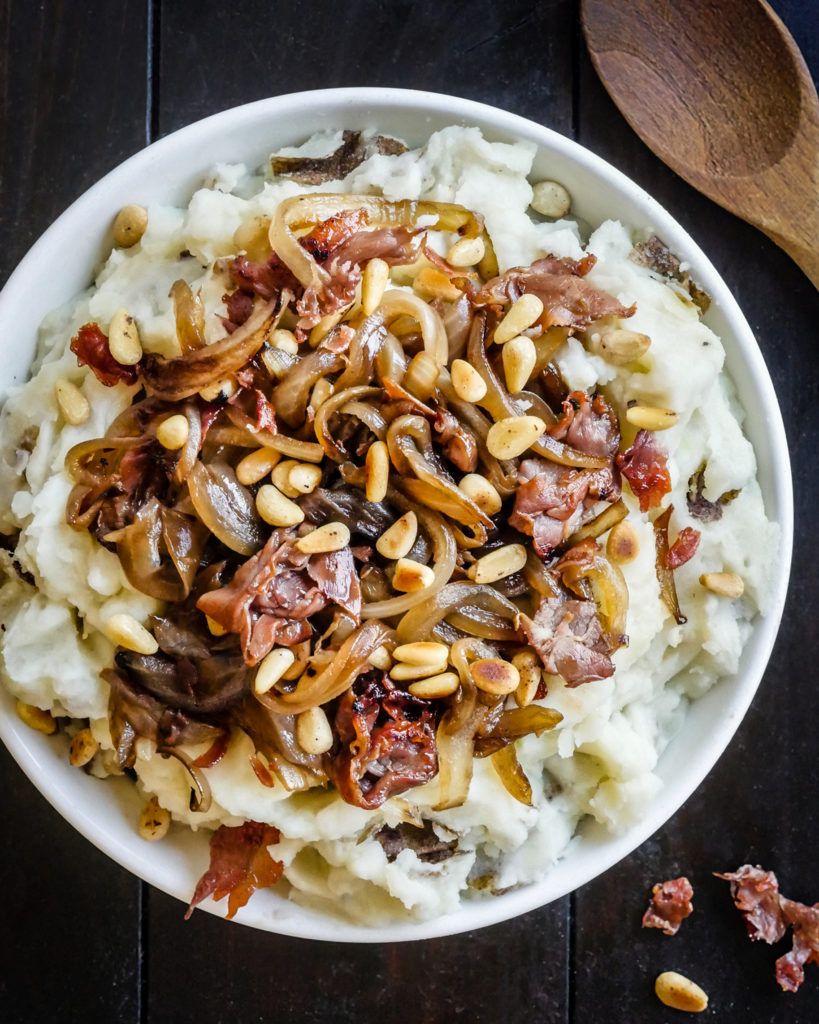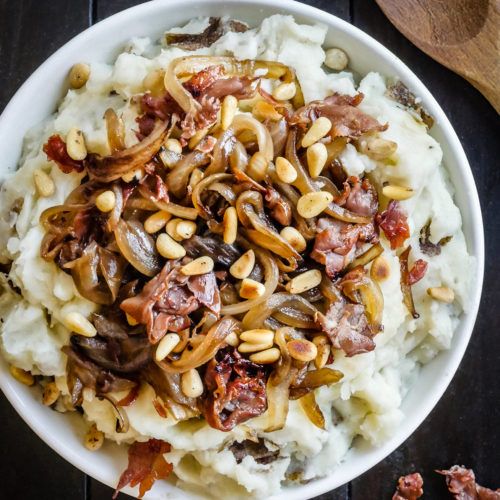 Whole30 Garlic Smashed Potatoes
Ingredients
2 large russet potatoes (1/2 pound)
2 cloves garlic, sliced
1 tablespoon Clarified Butter or ghee,melted
1/2 teaspoon salt
2 tablespoons full-fat coconut milk
4 thin slices prosciutto, or 3 slices Whole30-compatible bacon, chopped
1 sweet onion, quartered lengthwise and thinly sliced
1 tablespoon balsamic vinegar, Chicken Bone Broth, or Whole30-compatible chicken broth
1 tablespoon pine nuts, toasted
Instructions
BRING a pot of lightly salted water to a boil.

ADD the potatoes and garlic and cook until tender, 20 to 25 minutes.

DRAIN.

MASH with a potato masher or hand mixer.

STIR in the butter and salt.

With a wooden spoon or hand mixer, BEAT in the coconut milk

COVER and keep warm.

Meanwhile, in a large skillet, COOK the prosciutto over medium heat, stirring occasionally, for about 3 minutes.

ADD the onion and cook, stirring frequently, until the prosciutto is crispy and the onion is tender and brown on some of the edges, about 8 minutes more.

ADD the vinegar to the pan and stir to scrape up the browned bits on the bottom.

SPOON the onion mixture over the mashed potatoes and sprinkle with the pine nuts.
Cooking Whole30
Over 150 Recipes for the Whole30 and Beyond
Previously published as The Whole30 Cookbook, this bestseller is revised, updated, and available in paperback for the first time. 
The groundbreaking Whole30 program has helped millions of people transform their lives by bringing them better sleep, more energy, fewer cravings, and improved digestion, creating a foundation of good habits and restoring a healthy relationship with food. In this cookbook (previously published as The Whole30 Cookbook) best-selling author and Whole30 co-creator Melissa Urban delivers over 150 recipes to help readers prepare delicious, healthy meals for their Whole30 and beyond.
Cooking Whole30 has been completely revised and updated to be in line with Whole30's diversity, inclusion, equity, representation, and accessibility efforts.
Say good-bye to mundane meals with Cooking Whole30. These mouth-watering recipes will help you reset your health while filling your life with delicious good food." — DANIELLE WALKER, New York Times best-selling author, Against All Grain and Meals Made Simple
DETAILS
Purchase: Amazon , B&N , Indie Bound , Powell's , BAM , Hudson , Indigo , Amazon.ca , iBooks , Google Play
You Might Also Like…
Melissa Urban
Co-Founder / CEO
Melissa Urban is a 7x New York Times bestselling author (including the #1 bestselling The Whole30) who specializes in helping people establish healthy boundaries and successfully navigate habit change. She has been featured by the New York Times, People, the Wall Street Journal, Forbes, The Today Show, and Good Morning America, and is a prominent keynote speaker on boundaries, building community, health trends, and entrepreneurship. She lives in Salt Lake City, UT with her husband, son, and a poodle named Henry.