Today's recipes are courtesy of Whole30 alumni Maria Barton (Maria Makes and @mariamakesstuff on Instagram)
Intro from Whole30 Co-Creator Melissa Urban
I recently gave a lecture on dining out and travel at the Soulstice retreat in Park City, UT. During my presentation, I was asked how to handle an invitation to a pot-luck while you were on the Whole30. My answer? Bring something you can eat, include some protein to keep you satiated, and make sure your dishes are dressed to impress, so you can give everyone a taste of how delicious and satisfying your Whole30 food can be.
When Maria's recipes hit my in-box, I realized these were the perfect pot-luck fare! It's a complete meal in case the other items are sugar, grain, soy, or dairy-laden, and it's delicious enough to impress even the toughest Whole30 critic. (Plus, you get to use the Ranch Dressing from The Whole30, and I'll take any excuse to eat that.)
Without further ado, we present the perfect pot-luck, courtesy of Whole30 alumni Maria Barton.
Grilled Chicken Wings Two Ways (Garlic Basil & Buffalo Ranch)
Serving size: 20 wings, requires 12-24 hours marinate time
Ingredients
2 packs of 10 chicken drumettes (or wings)
3 cloves garlic, finely minced
2 Tbsp fresh basil, chiffonade (cut into thin ribbons; see page 146 of The Whole30)
1/2 tsp garlic powder
1/2 tsp cayenne pepper
1/2 tsp chipotle chili powder
2 Tbsp extra-virgin olive oil, divided
salt & pepper
1/3 cup Frank's RedHot (or your favorite Whole30-compatible hot sauce)
2 Tbsp Ranch Dressing (page 316 of The Whole30)
Instructions
Split the raw wings between two gallon-sized resealable plastic bags. To one bag, add the minced garlic and fresh basil. Drizzle in 1 tablespoon of olive oil and season with salt and pepper. Seal the bag and smush the chicken wings around so they are all coated with the seasoning.
To the other bag, add the garlic powder, cayenne pepper, and chipotle chili powder. Drizzle in 1 tablespoon of olive oil and season with salt and pepper. Again, seal the bag and smush the chicken wings around so they are all coated with seasoning.
Put the wings in the refrigerator to marinate for 12-24 hours.
When you are ready to cook, pre-heat your grill to low-med (between 300 and 400 degrees.) Saturate a folded up paper towel with olive oil, then use grill tongs to wipe it across the grill grates, greasing the grill.
Remove the wings from the plastic bags and place on paper towels. Pat the tops of them until they are as dry as possible so they get nice and crispy on the grill. Cook the chicken wings on the grill for 15-20 minutes, turning every 5 minutes or so and moving them around every so often if your grill cooks unevenly. You want them to get nice and evenly browned. A word of caution: chicken wings have a lot of skin, which hold a lot of fat. They can cause flare-ups while grilling, so be careful.
The wings are done when an instant-read thermometer registers 165 degrees, or the meat is no longer pink. Remove the wings from the grill and place on a foil-lined cookie sheet or serving plates. For the garlic basil wings, top them off with some fresh basil and serve. For the buffalo wings, mix up a quick sauce using Frank's RedHot and the Ranch Dressing. Toss or brush the wings with the sauce mixture and serve.
Sweet & Sour Rainbow Slaw
Servings: 12 (Serving Size: ~1 cup)
Ingredients
For the slaw:
1 12oz bag broccoli slaw
1 16oz bag tri-color cole slaw mix
1 cup red onion, finely diced
1 granny smith apple, peeled, cored, finely chopped
1/2 – 3/4 cup raisins and/or dried cranberries (no added sugar, or sweetened with apple juice)
1/2 cup roasted sunflower seeds, slivered almonds, or walnuts
For the dressing:
1/2 – 3/4 cup Basic Mayonnaise (page 179, The Whole30)
1/3 cup apple cider vinegar
Juice from an 8oz can of pineapple chunks
2 Tbsp Dijon mustard*
1/2 tsp turmeric
1/2 tsp black pepper
1/2 tsp salt
*Watch out for white wine or sulfites in Dijon! You can also sub a Deli Style or Spicy Brown mustard, if you can't find a compatible Dijon.
Instructions
In a large bowl, combine the dressing ingredients with a whisk. Then add the slaw, broccoli florets, raisins/cranberries, sunflower seeds, and red onion. Fold all ingredients together until slaw is completely coated with dressing. Taste and adjust seasonings if desired.
TIP: If you allow the slaw to sit in the refrigerator for a few hours, it softens up a bit and the flavors come together. This will keep in the refrigerator for a few days, but if you plan to keep it longer than two, wait to add the raisins and nuts/seeds just before serving.
All photos courtesy of Maria Barton.
---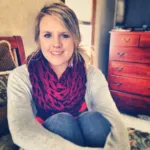 Maria Barton is a fledgling blogger, Whole30-er, home chef, DIY-er, gardener, wife, dog mom, soon-to-be former "fat kid for life." You can find more delicious recipes at http://mariamakes.com/whole30 and connect with her at @mariamakesstuff on Instagram.
Melissa Urban
Co-Founder / CEO
Melissa Urban is a 7x New York Times bestselling author (including the #1 bestselling The Whole30) who specializes in helping people establish healthy boundaries and successfully navigate habit change. She has been featured by the New York Times, People, the Wall Street Journal, Forbes, The Today Show, and Good Morning America, and is a prominent keynote speaker on boundaries, building community, health trends, and entrepreneurship. She lives in Salt Lake City, UT with her husband, son, and a poodle named Henry.