This Warm Harvest Salad is a delicious and beautiful side dish to any holiday or cozy meal. Not only is it Whole30-compatible (gluten-free, dairy-free, soy-free), but it has egg-free, nut-free, and vegan options, so it can be a dish enjoyed by whoever is at your table!
The warm salad starts with a sheet pan roasting of a few fall favorite vegetables – butternut squash and Brussels sprouts. Add pecans halfway through the roasting time to prevent them from burning. While vegetables and pecans are roasting, it's a great time to seed your pomegranate.
One trick to know for any kale salad is to massage your kale. Kale is wonderfully nutrient-dense but can be a little tough in texture. So, after removing the kale leaf from the stem and cutting the kale into smaller pieces, add a small drizzle of olive oil. Start with just 1 teaspoon – you don't want the kale to be so oily the dressing slides off it. Then use your hands to massage the oil into the kale for 1-2 minutes. The kale will soften in texture and brighten in color.
Substitutions:
To make this nut-free, use 1 cup of pumpkin seeds instead of pecans.
To make this egg-free and vegan, use a vegan balsamic dressing
To speed up the preparation, use bagged pre-cut butternut squash and pre-seeded pomegranate seeds.
This salad is delicious served warm, with the freshly-roasted sheet pan veggies served on massaged kale and eaten immediately. If you're planning ahead, keep the components separate and heat the roasted veggies before serving. Alternatively, this dish also tastes delicious cold!
We've dressed this beautiful bounty in Primal Kitchen Balsamic Vinaigrette, but this salad will pair equally well with any Whole30-compatible favorite!
Warm Harvest Salad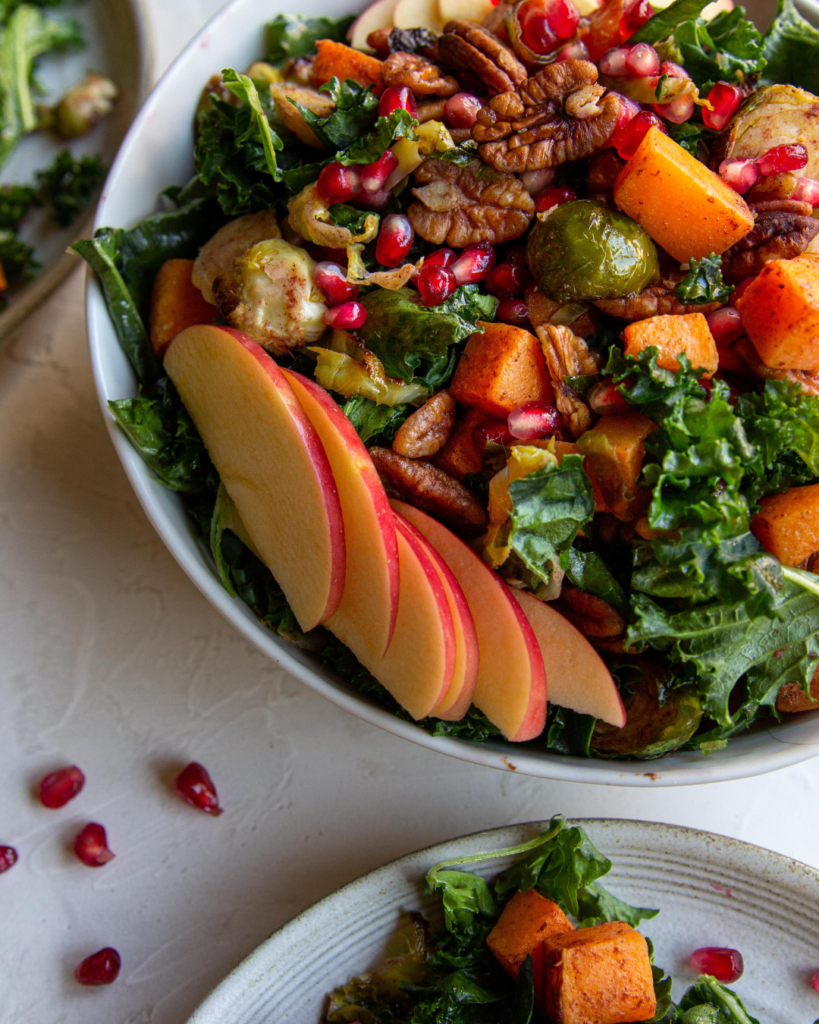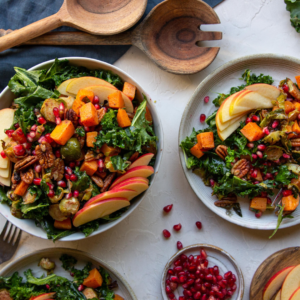 Warm Harvest Salad
Chockfull of roasted fall veggie favorites, this Warm Harvest Salad is a delicious and beautiful side dish to any holiday or cozy meal.
Ingredients
4

cups

butternut squash cubes

small ½" pieces

1

lb

Brussels sprouts

3

tbsp

+ 2 tsp olive oil

divided

2

tsp

ground cinnamon

1 ½

tsp

salt

divided

1

large bunch of kale

1

cup

whole raw pecans

1

large Fuji apple

1

large pomegranate

seeded

Whole30-compatible Balsamic Dressing
Instructions
PREHEAT oven to 400 degrees. Line a rimmed baking sheet with parchment paper.

CUT butternut squash into small pieces, if needed. Trim off the end of the Brussels sprouts and slice each Brussels sprout into 4 slices.

TOSS squash and Brussels sprouts with olive oil. Then toss with ground cinnamon and salt. Spread evenly on the prepared baking pan.

PREPARE pecans while vegetables are roasting. Toss pecans with 1 teaspoon oil and then ½ teaspoon salt.

REMOVE vegetables from the oven after 20 minutes. Top with pecans, stir, and return to the oven for an additional 10 minutes, until veggies are tender and pecans are lightly browned.

PREPARE kale by removing it from the stems and chopping. Drizzle with 1 teaspoon olive oil and massage the oil into the kale until the kale is tender. You can add an additional teaspoon of oil for this if needed but only use just as much oil as needed.

COMBINE roasted veggies and kale when ready to serve. Top with thinly sliced apple and pomegranate seeds. – don't slice until just before serving to prevent browning, or toss with 1 teaspoon lemon juice before placing on the salad- Serve or toss with compatible balsamic dressing and enjoy!
You Might Also Like…
Some links used in this post are affiliate links, meaning Whole30 makes a small commission off of purchases made via our link. Thank you for supporting our Whole30 partners.
---
Autumn Michaelis
Recipe Creator | Whole Food for 7
Autumn Michaelis is an ACSM Certified Exercise Physiologist, with a B.S. in Exercise Science from BYU. Though exercise was her first love in the health world, nutrition has become her passion. She created the blog Wholefoodfor7, sharing easy and budget-friendly Whole30, Paleo, and gluten-free + dairy-free recipes for families. In August 2022, Autumn released the newest Whole30 Endorsed cookbook, Whole Food for Your Family. She is mom to 5 boys (yes 5!) and when not in the kitchen can be found adventuring, hiking, and tearing up the dance floor.