Today, we're sharing a Whole30 twist on standard BBQ fare from The Whole30 Fast & Easy Cookbook. This knife-and-fork open-face sandwich feature the flavors of a classic Southern-style BBQ sandwich without the high sugar and carb content—and with nutrient-rich sweet potatoes. This dish would be perfect for upcoming Memorial Day celebrations or graduation parties; the chicken can be made a few days ahead of time. Simply store it in a covered container in your refrigerator, and reheat and assemble the "sandwiches" when it's time to serve.
Shredded Barbecue Chicken on Sweet Potato "Buns"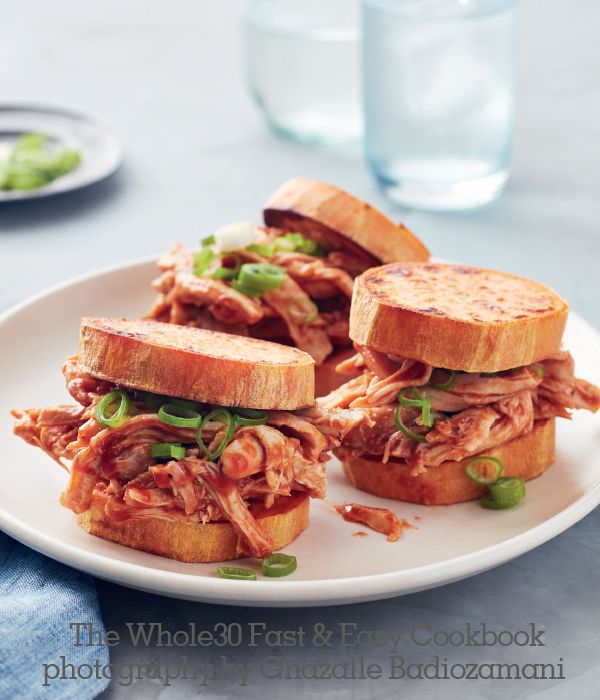 Ingredients
For the Chicken
2 tablespoons Clarified Butter (page 283) or ghee, melted
2 cloves garlic, minced
2 teaspoons Whole30-compatible hot sauce
1/2 teaspoon salt
1/4teaspoon black pepper
1 1/2 pounds boneless, skinless chicken thighs
1 cup Whole30-compatible barbecue sauce
For the Sweet Potato Buns
2 large sweet potatoes (about 3 pounds; see Tip), peeled
2 tablespoons extra-virgin olive oil
1/4 teaspoon salt
1/3 cup thinly sliced green onions
Instructions
MAKE the chicken: In a 3 1/2- or 4-quart slow cooker, stir together the butter, garlic, hot sauce, salt, and pepper. Add the chicken and turn to coat the pieces. Cover and cook on high for 3 to 4 hours.
TRANSFER the chicken to a cutting board and discard the cooking liquid. Shred the chicken with two forks then return to the slow cooker. Stir the barbecue sauce into the chicken. Cover and cook on high until heated through, about 10 minutes.
MAKE the sweet potato buns: Meanwhile, preheat the oven to 400°F. Line a large baking sheet with parchment paper. Cut six 1/2-inch-thick rounds from the widest portion of each sweet potato. In a large bowl, toss the sweet potato rounds with the olive oil and salt and place in a single layer on the pan. Bake until the potatoes are tender, about 20 minutes.
SERVE the barbecue chicken on sweet potato buns and top with green onions.
Note: Choose sweet potatoes that are round in the middle to cut the best rounds for the buns. You will have ends from each sweet potato that are too small to use for the rounds, but don't throw them away! Simply chop and cook with olive oil, salt, and black pepper in a skillet for an easy side dish the next day.
Excerpted from The Whole30 Fast & Easy. Copyright © 2017 by Melissa Urban. Used by permission of Houghton Mifflin Harcourt. All rights reserved.
Shanna
Chief Content Officer
Shanna Keller, our Chief Content Officer, hails from Boise, Idaho, where she lives with her husband Alan and a poorly-behaved terrier named Olly. She has spent her career telling stories of life transformation on social, web, e-mail and print media platforms. In addition to celebrating Whole30 successes and stories online, Shanna loves to cook, read, and climb.