Our @whole30recipes Instagram feed brings you delicious, Whole30 compatible recipes all day, every day. And, in our series, The Best of @Whole30Recipes, we bring our favorites to the blog.
Super Bowl Sunday is a magical time to gather all of your favorite people to eat delicious food and watch two good teams run, throw, and tackle to determine which one is the best team. What are the rules of this particular expression of sportsing? Which teams are competing? Who is performing at the halftime show? These are questions that we can't answer. But we can help you with the food.
[Tweet "Did somebody say Sportsing? 12 Super Bowl party-ready recipes on the #Whole30 blog!"]
Is it possible to offer a Whole30-compatible menu at your Super Bowl party? And will your guests love everything you serve? Now you're asking all of the right questions. And the answers are: Definitely yes, and absolutely yes.
The Whole30 Cookbook has an entire Nibbles and Drinks section (flip to page 267), and many of those recipes are perfect for your Super Bowl party. We also scoured our Whole30 Recipes Instagram feed to find some tasty ideas from some of our favorite Whole30 recipe contributors. So no matter which team you're rooting for to score the points, you'll end up with the big win at the end of the night.
Wings are a Must, Right?
From The Whole30 Cookbook: Crispy Angry Chicken Drummies (page 268) served with Dump Ranch dressing (page 261)
Sweet and Sticky Wings from Primal Palate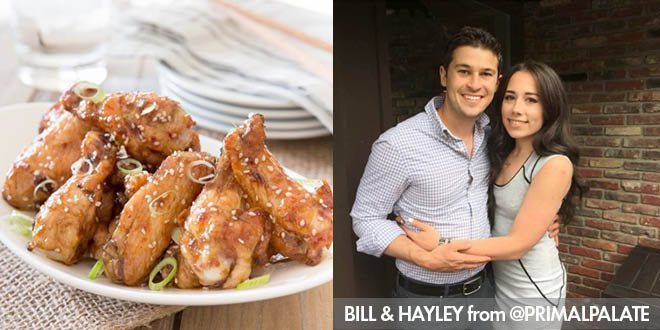 Ingredients
2 lb Chicken Wings, Buffalo Cut
1 1/2 tsp Himalayan Pink Salt
3/4 cup Coconut Aminos
1/4 tsp ground Ginger
1/4 tsp Granulated Garlic
1/4 tsp Onion Powder
1/8 tsp Red Pepper Flakes, optional
Instructions
PREHEAT oven to 450 degrees F.
Place the wings with the thicker skin side up on a rimmed baking sheet with wire racks (which helps promote even cooking).
SPRINKLE the wings liberally with fine Pink Himalayan Sea Salt (or salt of your choice).
BAKE the wings for 45 minutes.
WHEN the wings have 12 minutes left to bake, start the sauce. Heat a medium to large skillet over medium heat, and add the coconut aminos. Add in the ginger powder, garlic granules, onion powder, and red pepper flakes (if desired). As the sauce begins to bubble, stir. Continue to stir periodically as the sauce bubbles. Reduce the heat as needed to avoid reducing it too quickly.
Note: The sauce will be reduced properly when it gets a little thick, and when you push it around the pan with a silicone scraper, it takes a few seconds to fill back in behind the utensil. Reduce heat to low until the wings are done cooking.
PLACE the wings in a large heatproof bowl, and pour the sauce over them. Stir to evenly coat with the sauce, and serve!
Wrap It In Lettuce
Slow Cooker Buffalo Chicken from The Kitcheneer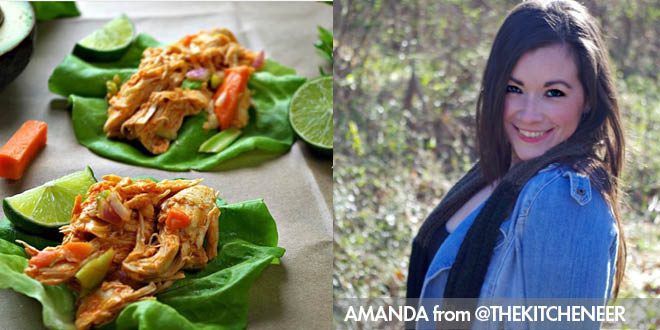 Ingredients
2-4 boneless chicken breasts
1/2 cup of compatible buffalo sauce
Toppings:
1/4 cup chopped red onion (optional)
2 celery stalks, diced (optional)
3 baby carrots, diced (optional)
Butter lettuce leaves for serving
Green onion to garnish
Instructions
PLACE chicken breasts in a slow cooker. Top with buffalo sauce. Cook on low for 6-8 hours
SHRED chicken with 2 forks Optional: mix chicken with carrots, onion, and celery
SERVE the chicken with lettuce leaves so that your guests can create their own "wraps."
Buffalo Chicken Sliders from Epicure Annie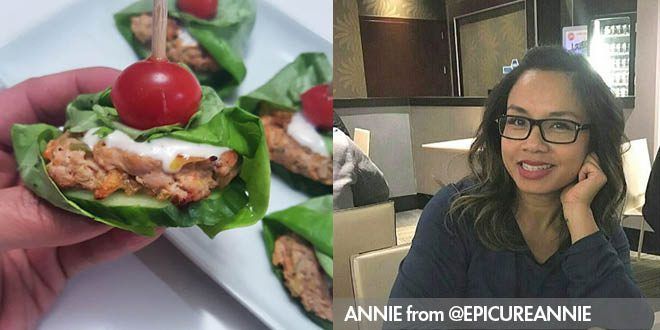 Ingredients
1 lb lean ground chicken
1/4 C chopped celery
1/4 C chopped carrots
1/4 C chopped red onion
3 Tablespoon compatible hot sauce
2 Tablespoon coconut oil
Salt and Pepper
Cherry Tomatoes
Cucumber Slices
Butter Lettuce Leaves
Whole30 Compatible Ranch
Note: to save time, pulse the celery, carrots and red onion in your food processor until they are finely diced. Be careful not to over process or the mixture will become mushy.

Instructions
MIX all the veggies together and cook on medium heat with 1 tablespoon of oil.
ADD cooked veggies to the chicken, pinch of salt and pepper, then add hot sauce and mix well.
Wipe down your pan from the veggies, and add 1 tablespoon oil.
SCOOP 1- 1/2″ of mixture and cook on low-medium heat for 2-3 minutes on each side until cooked through, flattening when you turn over.
Once cool, stack sliders against a cucumber slice and wrap in a lettuce leaf. Secure the bite with a toothpick topped by a cherry tomato. Serve with Whole30 compatible Ranch.
The Chili Bowl
From The Whole30 Cookbook: Beef and Sweet Potato Chili (page 33)
From The Whole30 Slow Cooker: Smoky Sweet Potato Chili (page 90)
Slow Cooker Pumpkin Chili from The Real Food RDs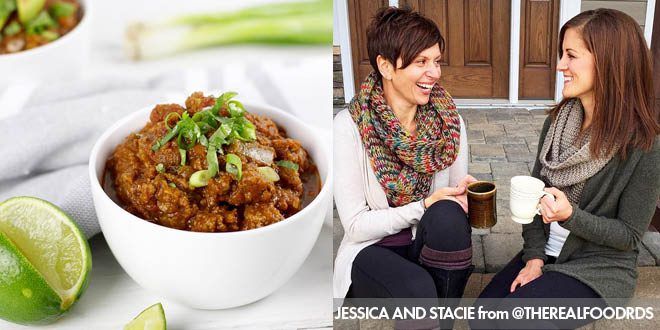 Ingredients
1 Tbsp Beef Tallow or coconut oil
2 cups chopped yellow onion (about 1 large)
1 medium green bell pepper, diced
6 cloves garlic, minced
1 1/2 pounds grass-fed ground beef or bison
1 28-oz can crushed tomatoes
1/2 6-oz. can tomato paste
1 14-oz. can pumpkin puree
1/2 – 1 cup chicken broth or water
2 1/2 tsp. dried oregano
1 1/2 Tbsp. chili powder
1/2 tsp. cayenne, optional
1 1/2 tsp. ground cinnamon
1 tsp. ground cumin
1/2 – 3/4 tsp. sea salt
1/8 tsp black pepper
Instructions
HEAT a large pot or Dutch oven over medium-high heat. Add oil and saute the onions and peppers, stirring occasionally, for about 7 minutes or until onions start to soften. Add the garlic and cook an additional 30 seconds or until fragrant.
ADD the ground beef. Use a spatula or spoon to break it up as it cooks. Cook until meat is nearly cooked through, about 8-10 minutes. Transfer meat mixture to the slow cooker. Add remaining ingredients and stir.
SET heat to LOW and cook for 6-7 hours.
SERVE with desired toppings such as: Lime wedges, diced avocado, fresh cilantro and/or hot sauce.
No Fork Needed
From The Whole30 Cookbook: Guacamole-Stuffed Mini Peppers (page 271)
Barbacoa Stuffed Bell Peppers from Pretend Its A Donut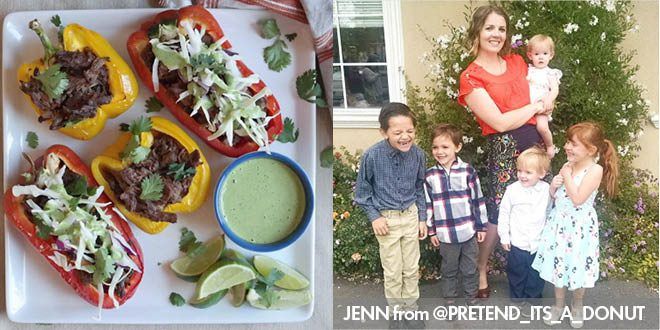 Ingredients
2-4 lbs chuck roast, cut into large chunks
3 cloves garlic, minced
1 small can chopped green chilis (make sure they are compatible)
1 small red onion, diced
1/4 c lime juice
1-2 tablespoon chipotle powder
1 tablespoon cumin
1 tablespoon oregano
2 bay leaves
2 tablespoon apple cider vinegar
1/2 c of water
4-6 bell peppers, halved
Shredded cabbage or lettuce (optional)
For the cilantro-lime dressing
Juice of 1 lime
2 tablespoon compatible mayo
1 tablespoon red wine vinegar
Bunch of cilantro
1 clove of garlic, minced
2 tablespoon oil
Instructions
PLACE beef into the slow cooker and add all other ingredients, except dressing and bell peppers
COOK for 8 hours on low.
ONCE time is up, take chuck roast out, shred it, then add it back to the slow cooker.
COOK bell peppers, slice in half and stick in a 400° oven. Roast for 10 min, then remove and stuff all that delicious barbacoa into each pepper slice.
TOP with shredded cabbage or lettuce and cilantro lime dressing.
To Make the Dressing
PLACE all of the ingredients into a blender and blend!
The Crowd-Pleaser: Meatballs
From The Whole30 Cookbook: Classic Pork Meatballs (page 102)
Fried Chicken Meatballs from Mel Joulwan of Well Fed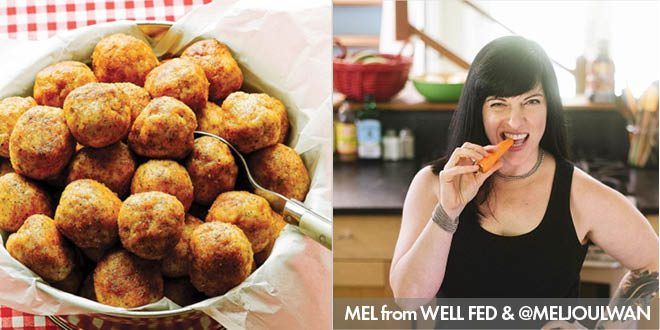 Ingredients
For the Meatballs
1 1/2 lbs ground chicken
1 tsp salt
1/2 tsp black pepper
2 Tbsp extra-virgin olive oil
For the Coating
3 Tbsp tapioca starch
1/2 tsp salt
1/2 tsp smoked paprika
1/4 tsp black pepper
1/4 tsp rubbed sage
1/4 tsp granulated garlic powder
1/4 tsp granulated onion powder
pinch dried marjoram
pinch ground cayenne
pinch ground cloves
Instructions
PREHEAT oven to 425F. Line a rimmed baking sheet with parchment paper. Season the chicken. Place chicken, salt, and pepper in a mixing bowl; mix well.
MAKE the balls. On a plate, mix all the coating ingredients with a fork. Moisten your hands with cold water, measure rounded Tbsp of chicken and roll into balls. Roll each ball in the coating mix, then set aside on the baking sheet.
COOK the balls. Place 1 Tbsp oil in a large, nonstick skillet over high heat, 2–3 minutes. Put half the meatballs in a single layer in the pan. Cook until they're browned on all sides, 4–5 minutes total. Transfer to the baking sheet. Add 2 tsp oil to the pan and brown the remaining meatballs; transfer to the baking sheet. Put the baking sheet in the oven until cooked through, about 10 minutes.
Quick Bites
From The Whole30 Cookbook: Spicy Cacao-Orange Almonds (page 275)
Baked Coconut Shrimp & Mango Jalapeño Sauce from Bazaar Lazarr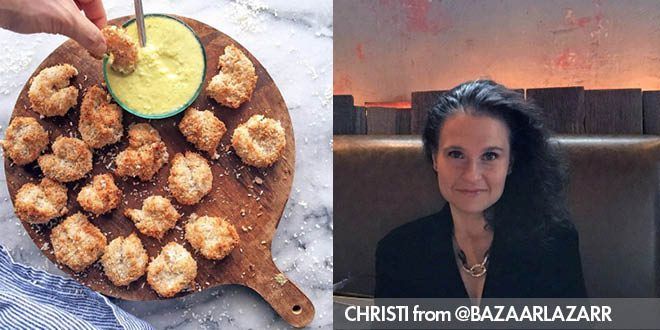 Ingredients
1 lb large shrimp, peeled and deveined
3 Eggs, beaten
Almond Meal
Unsweetened Shredded Coconut
Sea Salt & Black Pepper
Coconut Oil
1 cup Mango, chopped
1/3 cup Full Fat Coconut Milk
1 tbsp. Lime Juice
1 Jalapeño, diced
Instructions
PREHEAT your oven to 400°F. Line a baking with parchment paper, and place a wire rack inside the baking sheet. GREASE your wire rack with coconut oil
ADD the almond meal to a bowl and season to taste with salt and pepper. CRACK the eggs into a second bowl
PLACE the shredded unsweetened coconut in a third bowl. Assembly line time. Line the bowls up in order: almond meal, egg, and coconut. Dredge each shrimp in almond meal, dip in eggs, and then coat in coconut.
PLACE on wire rack. Repeat for all of your shrimp. Bake for 10 minutes on each side.
COMBINE the mango, lime juice, jalapeño, and coconut milk in a blender, and blend until smooth. Remove shrimp from oven and serve with mango sauce!
Save
Save
Save
Save
Save
Save
Save
Save
Save
Save
Save
Save
Save
Save
Save
Save
Melissa Urban
Co-Founder / CEO
Melissa Urban is a 7x New York Times bestselling author (including the #1 bestselling The Whole30) who specializes in helping people establish healthy boundaries and successfully navigate habit change. She has been featured by the New York Times, People, the Wall Street Journal, Forbes, The Today Show, and Good Morning America, and is a prominent keynote speaker on boundaries, building community, health trends, and entrepreneurship. She lives in Salt Lake City, UT with her husband, son, and a poodle named Henry.