If you're planning to do a Whole30 in July (and you're in Canada or the U.S.) don't be intimidated by the fact that there's a national holiday at the beginning of the month. July is the perfect month to maintain your Whole30 commitment and truly enjoy the day with family and friends. In fact, for a few years, we ran official "group" Whole30s throughout the month of July and thousands of Whole30'ers embraced the challenge together.
[Tweet "A GIANT #Whole30 Recipes Round-up for Canada Day/4th of July. #whole30recipes"]
We rounded up 14 (yep, count 'em) recipes from our @Whole30Recipes feed on Instagram, perfect for celebrating the day in Whole30 style. Choose your favorites from the following categories below to create your perfect party menu. Even your non-Whole30 friends will love these dishes… and honestly, unless you tell them the recipe is Whole30, they probably won't even know the difference.
From our Whole30 team to you, we wish you a safe and happy holiday.
Main Dishes
Spicy Burgers with Caramelized Onions & Grilled Romaine from Paleo Paparazzi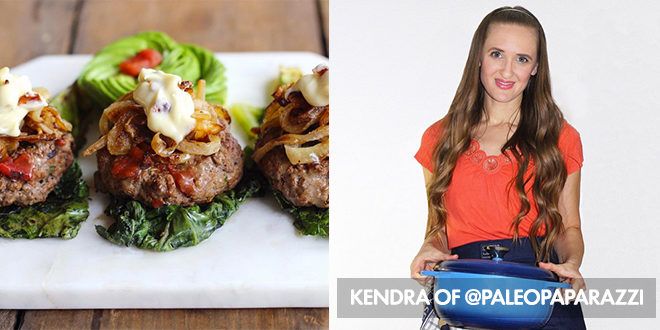 Ingredients
1 lb ground beef (grass-fed recommended)
1 large yellow onion
1 head of romaine, cleaned and leaves removed
2 tbs beef tallow, divided (or cooking fat of choice)
1 tbs compatible salsa or pico de gallo
1 tbs Whole30 Approved or compatible hot sauce
1/2 tbsp garlic power
½ tsp salt
½ tsp pepper
1/8 tsp smoked paprika (optional)
For Serving
Whole30 Approved mayo
Avocado, sliced
Instructions
WARM 1 tbs tallow in a frying pan over medium-low heat. While tallow is heating up, remove papery peel on onion & chop thinly-sliced rounds (a mandolin works well for this). Then, slice the rounds in half.
ADD onions to the heated pan & slowly caramelize (about 25-30 mins). Keep an eye on onions to be sure they don't burn, & periodically stir them. While onions are cooking, prepare a sauté/grill pan for the burgers by adding 1 tbs Beef Tallow & preheat over medium-low heat.
MIX together grass fed beef, hot sauce, salsa & spices in a large bowl. Form beef mixture into equal size patties.
COOK burgers in preheated pan (5 minutes each side, or until done to your taste). Remove & let rest 4-5 minutes. Remove onions from heat & set aside while burgers rest.
RETURN the burger pan to the stove and use the leftover tallow to grill up your romaine leaves over medium-high heat until wilted (about 1-2 mins on each side).
SERVE burgers on top of grilled romaine leaves topped with caramelized onions & a dollop of mayo & sliced avocado.
Chili Lime Shrimp Skewers from Bazaar Lazarr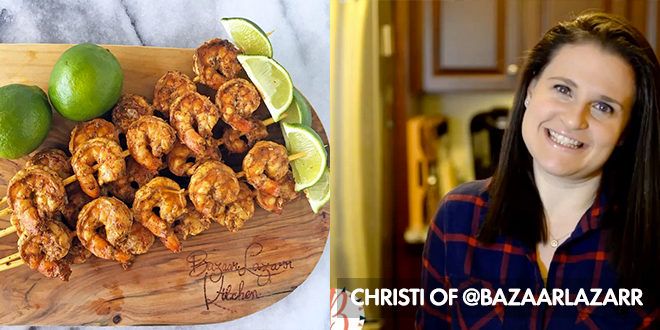 Ingredients
25 large shrimp, peeled and deveined
1/2 cup garlic-infused olive oil (regular olive oil will do, just add 2 more large cloves of crushed garlic)
1/4 cup fresh squeezed lime juice
2 tbsp. chili powder
2 garlic cloves, crushed
1 tbsp. ginger, chopped
1/2 tsp. red chili flakes
5 wooden skewers, soaked
Limes for serving
Instructions
MIX your olive oil, lime juice, chili powder, garlic cloves, ginger, and red chili flakes in a lidded container large enough to fit your shrimp. Add in shrimp, cover container, and shake it so that the shrimp get coated in the marinade
Refrigerate for a minimum or two hours. Meanwhile, prepare your grill (I used a stovetop grill) by oiling your grill gate and setting it to medium heat.
WHEN ready, thread five shrimp to each skewer. Once your grill is hot, add the skewers and cook for 1 minute and then flip and cook for an additional minute or until shrimp is cooked through
Southwest Sausage and Pineapple Skewers from Perry's Plate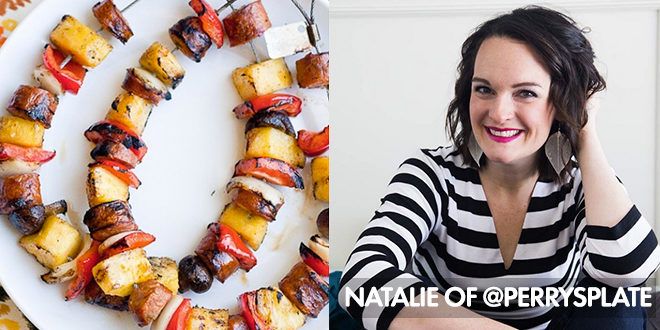 Ingredients
1 large sweet onion, peeled, halved, then cut into large chunks
4-5 cups of grilling vegetables cut into large chunks (mushrooms, bell peppers, zucchini, summer squash, eggplant, etc.)
1 whole pineapple
1 1/2 pounds compatible pre-cooked sausage (like Whole30 Approved Pederson's Kielbasa or Aidell's Chicken & Apple Sausages)
3/4 teaspoon ground cumin
3/4 teaspoon garlic powder
3/4 teaspoon chili powder
3/4 teaspoon sea salt
1 lime
3 Tablespoons of avocado oil
Instructions
COMBINE the onion and grilling vegetables in a large bowl. Slice the ends and peel off the pineapple. Quarter it, cut the core pieces out, and chop the pineapple into 1-inch pieces. Add the pineapple chunks to the bowl of vegetables. Cut the sausage into 1-inch pieces.
MIX together the seasoning, juice from the lime, and the oil in a small bowl. Pour it over the vegetables and toss to coat.
PREHEAT your grill or grill pan to medium-high heat. Thread the sausage, vegetables, and pineapple onto metal skewers.
GRILL for about 10-12 minutes, flipping halfway through, until grill marks form and vegetables are cooked through and have charred spots. Serve immediately.
Chili Lime Chicken Wings from Real Food With Dana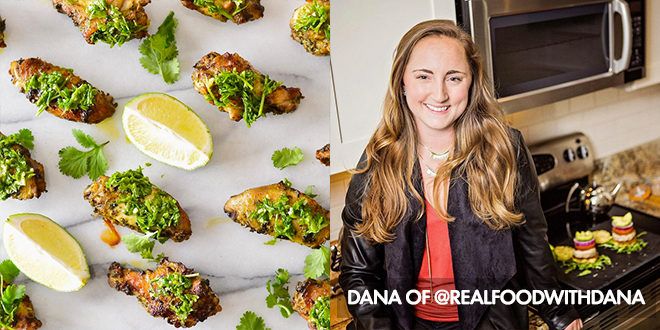 Ingredients
2 lbs chicken wings
1 tsp black pepper
1 tsp sea salt
1 tsp chili powder
1 tsp ground cumin
½ tsp cayenne pepper
2 handfuls fresh cilantro
Juice of 1 lime (2 Tbsp)
2 Tbsp olive oil
3 tsp minced garlic
Instructions
PAT the chicken dry. Poke each chicken wing with a fork.
MAKE the spice mix and rub it in to each drumstick. Take all the remaining ingredients (lime juice, cilantro, olive oil, garlic) and create a smooth paste by pureeing in a blender.
POUR the marinade all over the chicken In a large resealable bag or container. Marinate in the fridge for at least 4 hours to overnight.
Preheat the oven to broil on high. Place the chicken on a cookie sheet with a wire rack on top. Broil on high for 5-7 minutes per side (take them out to turn them over with a fork), until the skin begins to crisp up a bit.
TAKE the tray out and put aluminum foil over the whole tray (seal the sides on the baking dish) and bake for another 25 minutes at 325 degrees. Serve and devour!
Veggie Sides
Tomato, Prosciutto and Pesto Salad from Primal Gourmet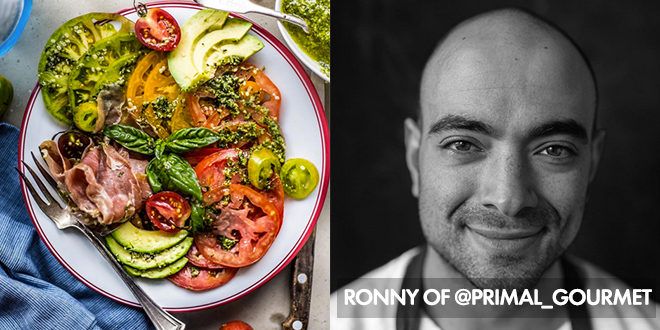 Ingredients
2l bs heirloom tomatoes (sub any tomato you like)
4 oz Whole30 compatible Prosciutto di Parma (most prosciutto is compatible; the ingredient list should say simply, "pork and salt.")
2-3 tbsp hemp hearts – for garnish
salt and pepper
Instructions
SLICE tomatoes in 1/2″ slices and layer in a serving dish. Slather tomatoes with the pesto. Top with Prosciutto di Parma, sliced avocado and hemp hearts. Serve the salad immediately!
Salade Marocaine from Salad and Sandals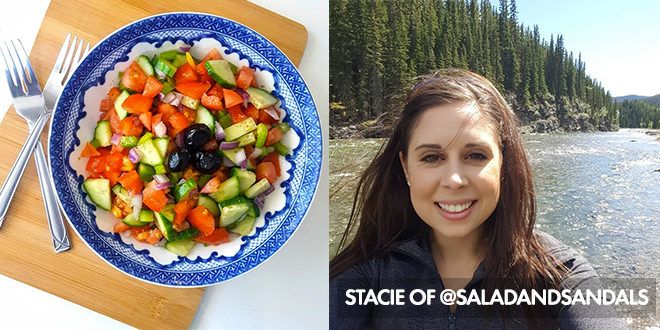 Ingredients
1/2 cucumber
1/2 green pepper
2 tomatoes
1/4 cup red onion
1 tbsp Argan oil (be sure the oil is food-grade. Can sub olive or walnut oil.)
1 tbsp olive oil
1/8 tsp each of: cumin, salt, & pepper
Black olives – optional
Instructions
DICE all the vegetables and combine in a bowl. Add the oil(s) and seasonings. Toss & garnish with a few black olives and/or a slice of lemon.
Zucchini "Pasta" Salad from Whole Life Full Soul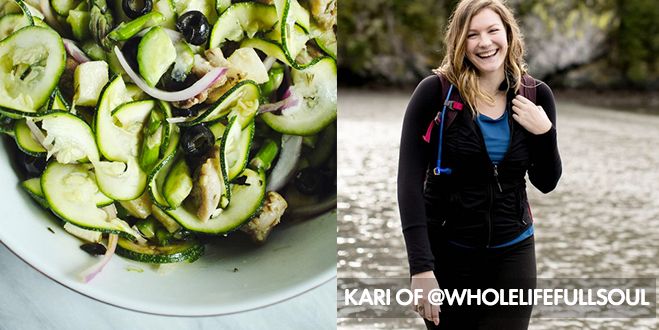 Ingredients
1 lb chicken thighs or breast cubed
2 sprigs Rosemary chopped
1/2 tablespoon garlic powder
1/4 tsp sea salt
2 large zucchini spiralized with the large blade
1/4 red onion sliced thinly
1 cup Persian cucumbers chopped
1 cup asparagus chopped
1 cup jicama chopped
1 cup sliced black olives
2 tablespoons olive oil
1 tablespoon balsamic for dressing
Instructions
ADD 1 tablespoon olive oil to a pan on medium heat. Cube the chicken, and combine the chicken with rosemary, garlic powder and sea salt. Once the pan is hot, add in the chicken and let cook for 5 minutes to get nice and crispy.
WHILE the chicken cooks is the perfect time to chop and spiralize all of your veggies! Add them to a big salad bowl.
ONCE the 5 minutes is up stir chicken and allow to cook on all sides for another 10 minutes. Once finished allow for the chicken to cool completely before adding to the salad or it will cook the veggies!
ADD the chicken to the veggies, then add the remaining olive oil and balsamic. Stir to combine, serve or store for later!
Grilled Romaine Salad with Ginger Dressing from Cook At Home Mom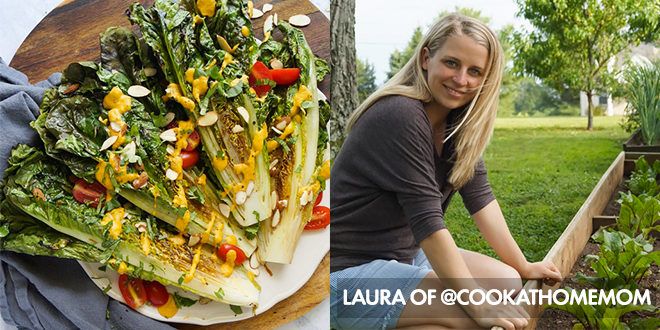 Instructions
For the Grilled Romaine
3 heads of romaine
1 T. olive oil
¼ cup sliced almonds
2 T. fresh cilantro
½ cup sliced cherry tomatoes
For the Ginger Dressing
4 celery stalks
1 carrot, peeled and roughly chopped
1/2 onion
zest of one lemon
2 tbsp lemon juice
1 tbsp tahini
1 cloves garlic, peeled
1 inch ginger, peeled
2 dates
1/3 to 1/2 cup coconut aminos
1/3 c olive oil
1/4 tsp Whole30 Approved or compatible hot sauce
1/2 tsp salt
1/4 tsp pepper
Instructions
To Grill The Lettuce
BRING your grill to a medium heat. Slice the romaine into halves, then rinse each half and pat dry with a paper towel. Gently brush the cut side of the lettuce with oil. Place cut side down on the grill and cook for about 3-4 minutes or until just beginning to char.
FLIP and cook for another 1-2 minutes, then remove from the grill. Drizzle with ginger salad dressing (see below) and top with almonds, tomatoes, and cilantro. Serve immediately.
Note: When you grill the lettuce, it shrinks a good amount. Count on needing extra lettuce for this salad than you would use if serving raw lettuce for salad.
To Make The Dressing
ADD all ingredients to your blender or food processor, and blend until smooth.
Note: If you don't have a strong blender or food processor, omit the carrot and substitute an extra tomato.
Snacks and Drinks
Spicy Pineapple Jicama Guacamole from Eat the Gains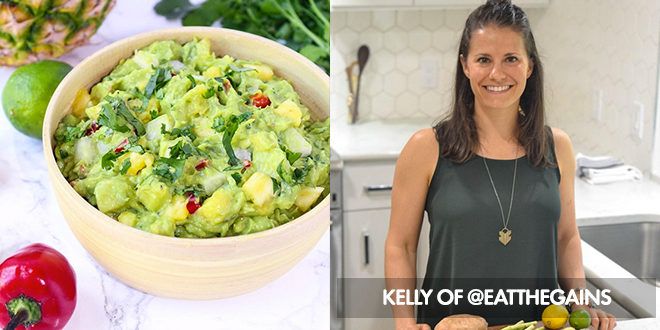 Ingredients
3 large avocados
3 tablespoons lime juice
1/2 cup cilantro, finely chopped
1 1/4 cup pineapple, diced
3/4 cup jicama, diced
2 cherry peppers, diced (about 1/3 cup)
1/2 teaspoon garlic powder
1/2 teaspoon red pepper flakes
salt and pepper
Instructions
REMOVE pit from the avocados and place flesh in a medium-sized bowl. Add lime juice and cilantro and mix well until mostly smooth, but some chunks still remain. Add remaining ingredients and stir to incorporate. Dip your favorite raw or blanched veggies of choice and enjoy!
Veggie and Sausage Appetizer Plate from No Crumbs Left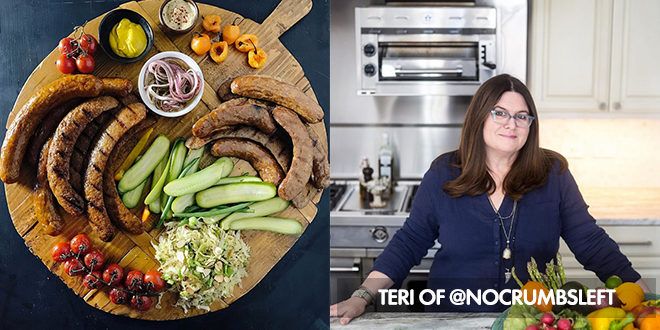 Ingredients
For Pickled Veggies
10 cloves garlic
2 cups white vinegar
6 teaspoons kosher salt
Bunch of fresh dill sprigs
1 teaspoon celery seed
3/4 teaspoon coriander seed
1 teaspoon mustard seed
1 teaspoon peppercorns (black, pink or mixed)
and, veggies of choice including:

Kirby cucumbers, quartered or halved
Carrots, peeled and cut into strips or halved lengthwise
French green beans
Cauliflower
Red peppers
Chilis, or jalapeños
For the Cole Slaw
1 head cabbage
3/4 cup sesame seeds
1-2 bunches scallions, sliced thin
1/2 cup sliced almonds
For the Dressing
2 T mango puree
1/2 cup coconut oil
1/4 cup toasted sesame oil
1/2 tsp pepper
2 T rice vinegar
3 T coconut aminos
For the Sausages
Your favorite Whole30 compatible sausages, including Pederson's Kielbasa, Aidell's Chicken and Apple Sausage, or sausages available to you via your local butcher or meat market
Directions
For the Pickles
BRING 4 cups of water to boil. Reduce the heat so the water simmers and add the garlic and cook for 5 minutes. Then add the vinegar and salt and raise the heat to a boil, stirring until the salt dissolves. Remove from heat.
PLACE a few sprigs of dill in each mason jar. Divide the seeds and peppercorns among the jars. Place the garlic from the brine into each jar. Pack the jars with the vegetables of your choice.
BRING the brine back to a boil and pour it over the vegetables, being sure to cover completely, let cool and refrigerate.
For the Coleslaw
SHRED cabbage. Toss with scallions and refrigerate. Toast sesame seeds and almonds in the oven at 325 degrees until golden.
MIX all dressing ingredients together well. Just before serving, toss the cabbage with the dressing and toasted nuts.
For the Sausages and Board
GRILL sausages according to your taste. Allow to cool to room temp, then slice lengthwise. Assemble the platter with pickled veggies, sausages and coleslaw, and serve.
Dill Sauerkraut Deviled Eggs from Sophisticated Caveman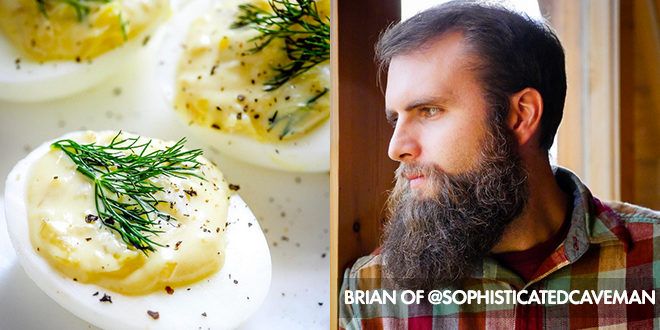 Ingredients
6 eggs
1/4 cup mayonnaise (homemade or Whole30 Approved)
1/4 cup sauerkraut, drained
1 tablespoon fresh dill
1/4 teaspoon garlic powder
1 teaspoon lemon juice
sea salt and black pepper to taste
Instructions
ADD one inch of water to a large pot and bring it to a boil. Place the eggs in a steamer basket and lower them into the pot. Cover the pot and steam for 12 minutes. Remove the eggs and plunge them into a bowl of ice water.
PEEL the eggs and slice them in half. Gently scoop out the yolks into a small mixing bowl. Add the mayo, sauerkraut, dill, garlic powder. Add salt and pepper to taste and mix well.
SPOON the yolk mixture back into the egg halves. Top each egg with a sprig of dill and fresh cracked black pepper.
Red, White and Blue Stuffed Strawberries from Paleo Paparazzi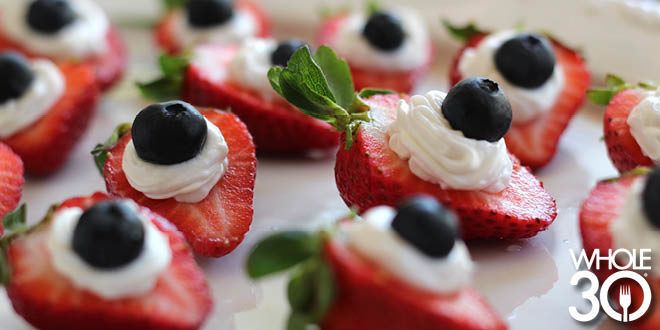 Ingredients
1-1 lb. package of strawberries
1- 6 oz. clamshell of blueberries
1 can full-fat coconut milk (using just the cream from top of can)
Instructions
WASH and slice your strawberries in half.
SCOOP just the cream from the top of your coconut milk can (not the liquid) and place into a ziplock bag.*
SNIP off one corner of the bag and pipe a small amount onto the sliced strawberry.
TOP with a blueberry and transfer to a serving platter.
*If your house is warm, you'll need to place your can of coconut milk in the fridge the night before, so the cream hardens at the top.
Coconut and Lime Refresher from Cook At Home Mom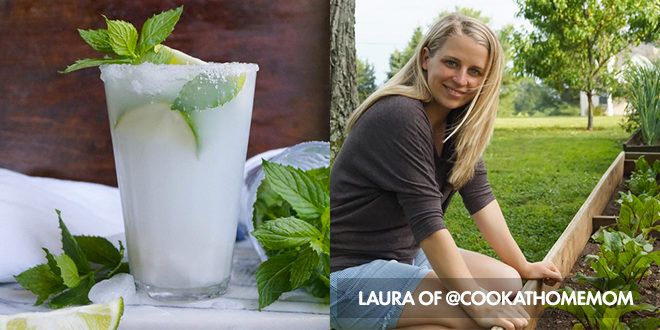 Ingredients
1/2 cup coconut milk (I use full fat, but whatever compatible kind you have will work)
1 small lime
1 can of Lime flavored Lacroix (or whatever flavor you'd prefer)
15-20 mint leaves
1/4 cup flakey sea salt (optional)
Instructions
SALT rim the glasses (optional) by cutting the lime in half and run one piece along the edge of each glass. Pour sea salt in a shallow dish and dip each glass in.
DIVIDE the mint leaves among 2 tall glasses. Juice the lime and pour half into each glass. Muddle the mint leaves into the lime juice, then pour 1/4 cup of coconut milk into each glass. Add ice to the glasses, then top off with lime flavored Lacroix until full (be careful as you pour – bubbles!). Garnish with extra lime slices and mint.
Watermelon Agua Fresca with Lime and Mint from Snacking Kitchen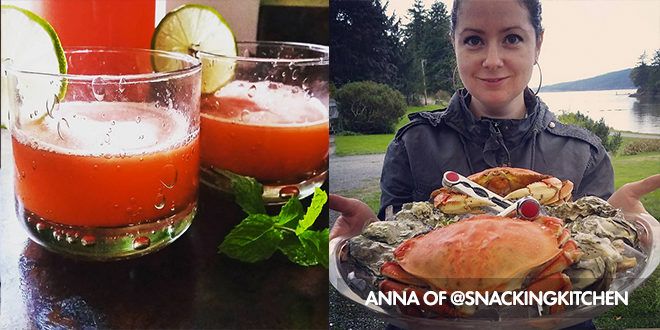 Ingredients
1/2 watermelon
2-4 cups water
1 tablespoons mint leaves
1/2 lime, juiced
Instructions
PUREE all ingredients in a blender until smooth. Strain and refrigerate.
SERVE with lime and mint garnishes. Optional, top off with sparkling water.
Some links in this post are affiliate links, meaning Whole30 makes a small commission on items purchased via these links. Thank you for supporting our Whole30 Approved partners.
Save
Save
Melissa Urban
Co-Founder / CEO
Melissa Urban is a 7x New York Times bestselling author (including the #1 bestselling The Whole30) who specializes in helping people establish healthy boundaries and successfully navigate habit change. She has been featured by the New York Times, People, the Wall Street Journal, Forbes, The Today Show, and Good Morning America, and is a prominent keynote speaker on boundaries, building community, health trends, and entrepreneurship. She lives in Salt Lake City, UT with her husband, son, and a poodle named Henry.