Our @whole30recipes Instagram feed brings you delicious, Whole30 compatible recipes all day, every day. And, in our series, The Best of @Whole30Recipes, we bring our favorites to the blog.
Are you celebrating Easter Whole30-style this year? Don't worry about missing out on the Peeps-and-Creme Eggs Easter basket hoopla. Instead, focus on seasonal, flavorful, satisfying recipes that take advantage of the fresh spring produce popping up in grocery stores, like artichokes, snap peas, and an abundance of fresh herbs. We've rounded up some of our recent favorites, focusing on traditional flavors and including not one, but two different lamb preparations. Mix and match from the following recipes to create your own delicious Whole30 Easter dinner—with this much flavor, you won't even miss that hollow chocolate bunny. (Why are the ears always stale, anyway?)
[Tweet "Fresh, seasonal, Easter-ready recipes today on the #Whole30 blog. #Whole30Recipes"]
Starters and Salads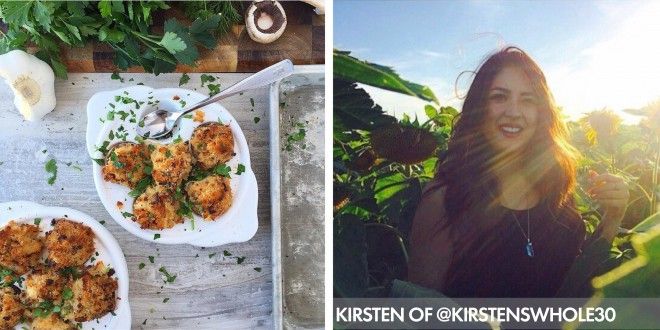 Melt-In-Your-Mouth Crab Stuffed Mushrooms from @kirstenswhole30
Ingredients
3/4 cup lump crab meat (fresh, frozen or canned, check for non-compatible ingredients)
2 Tbsp Whole30 compatible mayo
12 white button mushrooms, cleaned, stems removed
2 Tbsp ghee
1/2 cup yellow onion, finely diced
2 large cloves garlic, minced
Salt and pepper
2 Tbsp coconut flour (or almond flour) plus more to sprinkle on top!
Parsley to garnish
Instructions
PREHEAT oven to 420°F. Place mushrooms in prepared baking dish topside-down so they are ready to fill.
CHOP up the mushroom stems, set aside.
COMBINE crab meat and mayo in a bowl, set aside.
SAUTE onions and finely chopped mushroom stems in ghee on medium-low heat until brown and caramelized. Add garlic until fragrant (about 30 seconds) and season with salt and pepper.
ADD coconut flour to onion mixture by the tablespoon. This will absorb the leftover moisture in the pan. Combine this cooked mixture with the crab/mayo and adjust seasoning to your taste. Once combined, start stuffing those mushrooms sky high! Top with a sprinkle of coconut flour; this will give a nice crunchy topping.
BAKE for 20-25 minutes until mushrooms are cooked and tops are golden brown. Garnish with finely chopped parsley and enjoy!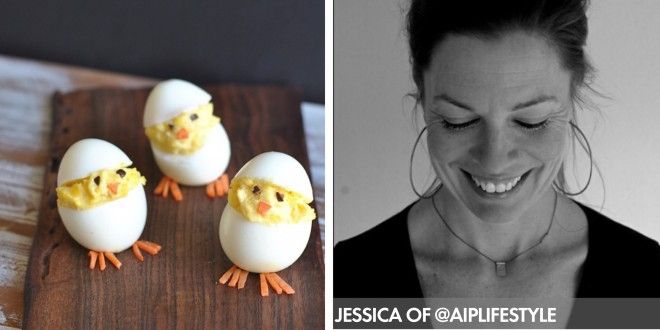 Easter Egg Chicks from @AIPLifestyle
Ingredients
6 eggs (this will make 6 chicks)
1/4 cup homemade mayo, or your favorite Whole30 Approved or compatible mayo
Salt and pepper to taste
1 Whole30 compatible olive, cut into tiny bits
1 carrot, cut into slivers
Instructions
CUT eggs crosswise, cutting off about one-quarter of the egg. This creates a larger egg white "bottom" and a smaller egg white "hat."
SCOOP out yolk. Combine yolk and mayo in a small bowl and add salt and pepper to taste.
FILL an egg white "bottom" with yolk mixture. Gently top with the"hat" and garnish with olive and carrot to create eyes, nose and feet. Continue until all six chicks have been created.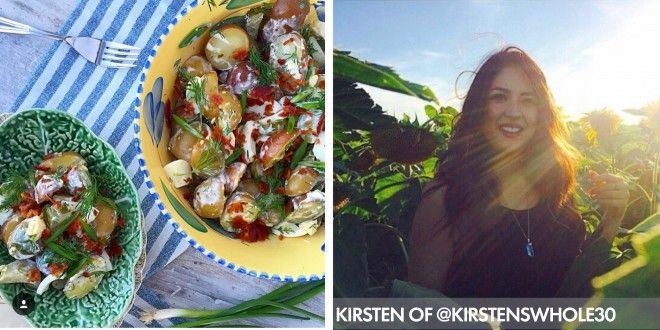 German Potato Salad from @kirstenswhole30
Ingredients
1.5 lbs creamer potatoes (baby potatoes), halved
4 slices prosciutto, cooked until crispy and crumbled
4 hard boiled eggs, chopped
3/4 cup chopped dill pickles, about 2 large (be sure to check your label for Whole30-compatible pickles)
1/4 cup fresh dill
1/4 cup compatible mayo
1 heaping teaspoon compatible dijon mustard (Whole30-compatible mustard can be difficult to find. Regular mustard or ground mustard is an adequate substitution.)
1/8 cup compatible dill pickle brine
Instructions
COMBINE the mayo, dijon mustard, and brine. Set aside.
BOIL potatoes until fork tender, or about 20 minutes. Drain and transfer to large salad bowl. Add eggs and pickles and fold in salad dressing. Cover and let chill in the refrigerator for 1 hour.
BEFORE serving, mix in dill, scallions, and crispy prosciutto. Enjoy!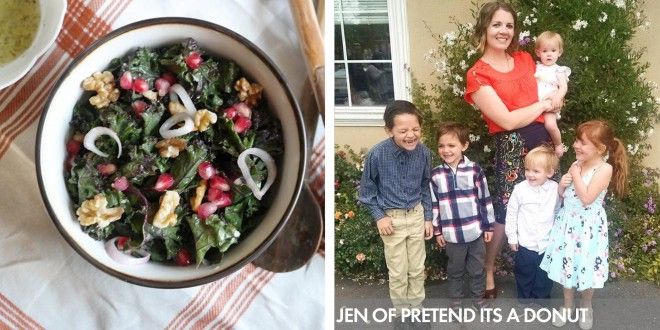 Lemon Tarragon Kale Salad from @pretend_its_a_donut
Ingredients
1 big bundle of kale (spinach would work well also)
1 shallot, thinly sliced
1/2 cup walnuts
1/2 cup pomegranate seeds (or dried cranberries, but check for added sugar)
Optional: avocado slices
For Dressing:
Juice of 1 small lemon
Your favorite oil (I used avocado oil)
1 1/2 tsp dried tarragon
Instructions
CUT your kale into pieces and place in a bowl. Slice the shallot thinly and add to bowl. Chop walnuts if necessary and add. Add either the pomegranate seeds or dried cranberries.
MIX your lemon juice and tarragon together in a small bowl. While stirring, slowly pour in your oil until it's reached the consistency you like. Add more tarragon if you need to.
DRIZZLE dressing over salad and toss. Finish with some fresh pepper and enjoy!
Entree Course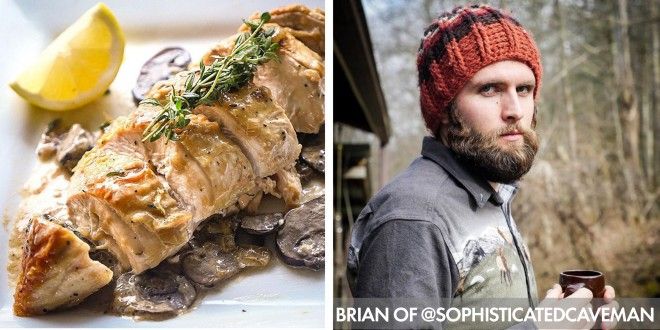 Pan Roasted Chicken Breast With Creamy Mushroom Sauce from @sophisticatedcaveman
Ingredients
2 chicken breasts, bone-in and skin on
2 tablespoons coconut oil
1 cup chicken stock (homemade or Whole30 compatible)
1/2 cup full-fat coconut milk
1 shallot, diced
1 cup baby bella mushrooms, sliced
2 tablespoons fresh thyme
1 teaspoon arrowroot powder
2 teaspoons fresh lemon juice
sea salt
black pepper
Instructions
PREHEAT the oven to 350º.
PAT chicken breasts dry with a paper towel and season liberally with sea salt and black pepper. Heat the coconut oil in a cast iron skillet over medium-high heat. Place the chicken skin-side down in the skillet and cook undisturbed for about 10 minutes, until skin is crisp and golden brown. Flip the chicken over and sauté for a few minutes on the other side.
TRANSFER the skillet to the oven. Roast the chicken until it is cooked through (when the thickest part registers at 165°), about 20-25 minutes. Remove the chicken breast from the pan and set aside. Return the skillet to medium-high heat and add the shallot. Sauté until it's translucent, about five minutes.
ADD the sliced mushrooms and thyme. Sauté until the mushrooms are tender, about 3 minutes. Pour in the chicken stock, scraping up any browned bits in the pan. Add the coconut milk, arrowroot powder, and salt and pepper to taste.
REDUCE heat and simmer until the sauce is thickened, about 8 minutes. Remove the sauce from the heat and squeeze in the fresh lemon juice. Serve the sauce over sliced chicken. Enjoy!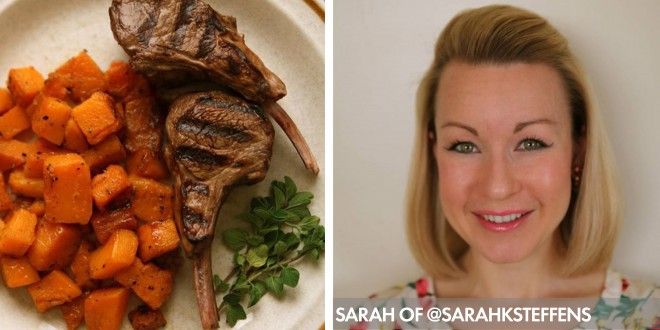 Grilled Lamb Chops from @sarahksteffens
Ingredients
2 Tbs ghee
1 Tbs coconut oil
8 lamb chops
2 Tbs balsamic vinegar
2 Tbs coconut aminos (optional)
1 Tbs sea salt
Black pepper to taste
Fresh herbs to garnish (Sarah used oregano)
Instructions
PREHEAT oven to 350 degrees. Place lamb chops in a shallow bowl and allow to sit in marinade of 1 Tbs. balsamic vinegar, 1 Tbs coconut aminos and 1 tsp. of sea salt.
HEAT a grill pan or a medium sized skillet to medium high with remaining 1 Tbs. ghee. Add lamb chops to the hot grill pan and grill for 2 minutes per side (do not move them once they are on the pan, except to flip. Keeping them still will allow them to get those great grill lines).
TRANSFER to the oven and finish cooking your lamb for about 5-10 minutes. Lamb chops are small and cook quickly but error on the side of less cooking time as you can always stick them back in the oven if you prefer more well done meat.
PLATE your lamb and add some fresh herbs (snip them over your whole plate with kitchen scissors).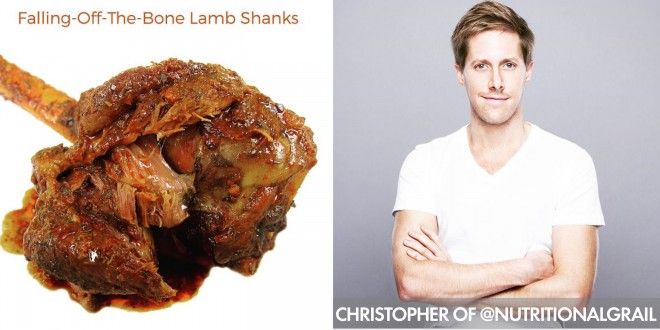 Falling-Off-The-Bone Lamb Shanks from @nutritionalgrail
Ingredients
4 lamb shanks (about 10 to 15 ounces each)
3 cloves garlic, pressed
1/4 cup tomato paste
2 cups water
2 tablespoons mixed dried Italian herbs (basil, rosemary, thyme, oregano, etc.)
2 tablespoons cumin
Salt and pepper
Instructions
Note: For this recipe you can use a slow cooker or a stove-top pot with a heavy lid. This recipe benefits from gentle cooking for a long time. The actual cooking time depends on your equipment, but should be at least 4 hours. You'll know it's ready when the meat is so tender that it would fall from the bone with very little effort.
BRING a saute pan to medium-high heat. Brown the lamb shanks on all sides.
MIX the tomato paste, water, garlic, Italian herbs, and cumin with about 3 pinches of salt and some freshly milled black pepper.
FOR STOVE TOP: Bring this mixture to boiling, then add the lamb shanks, cover the pot, and reduce heat to the lowest setting possible.
FOR SLOW COOKER: ADD the tomato mixture and the lamb shanks. Cover and turn to "high" setting. After one hour, reduce to "low" setting and continue cooking.
WHILE cooking, periodically spoon some of the liquid over the meat.
Vegetable Dishes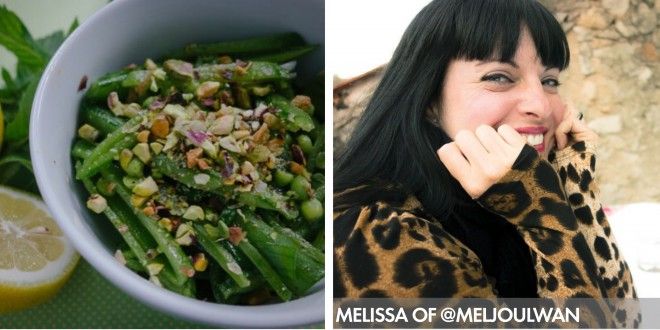 Snap Peas with Lemon, Mint, and Pistachios from @meljoulwan
Ingredients
1 tablespoon extra-virgin olive oil
grated zest and juice of 1/2 lemon
1/8 teaspoon ground cumin
1/8 teaspoon salt
1/8 teaspoon ground black pepper
1 pint snap peas
2 scallions
7-10 mint leaves
1/8 cup shelled pistachios, coarsely chopped
Instructions
MIX olive oil, lemon juice, cumin, salt, and pepper in a large bowl. Set aside.
CUT the snap peas, scallions, and mint leaves into julienne slivers lengthwise and place in the bowl with the dressing. Add the pistachios.
TOSS to combine. Allow flavors to meld about 10-15 minutes before eating.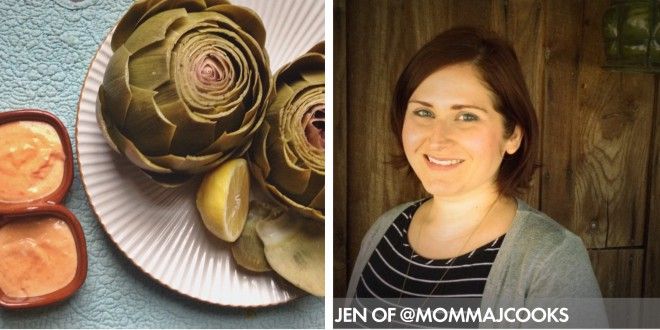 Steamed Artichokes and Roasted Red Pepper Aioli from @mommajcooks
Ingredients
For Artichokes:
2-4 artichokes
1 lemon, cut in half
2 cloves of garlic, thinly sliced
For Aioli:
1 red bell pepper, seeded and roughly chopped
½ jalapeño pepper, seeded and roughly chopped
1 teaspoon olive oil
1 egg yolk, at room temperature
1 clove garlic, minced
1 cup light olive oil
Salt & pepper, to taste
Instructions
For Artichokes:
CUT the bottom off so that the artichoke sits flat and cut off the top third. Use kitchen shears to snip off the thorny tops of the remaining leaves. Place them in a stock pot, bottom side up, and squeeze the lemon all over the artichokes.
THROW the halves right into the pot and scatter the garlic on the bottom. Add water and fill it about 1/3 of the way.
BRING up to a boil, then turn heat down to a simmer and cover pot to steam. Allow to cook for 20-30 minutes, or until artichokes are easily pierced with a fork right through the center of the bottom.
REMOVE from cooking liquid and let cool slightly before serving.
TO EAT artichokes: Peel off individual leaves, give it a little dip, and scrape leaf between teeth so to remove the "meat" on the bottom. Leaves will get more tender as you move through to the center. Once you get to there, scrape away the fuzzy choke with a butter knife or spoon. The bottom of the artichoke is the most decadent part. Cut it apart and eat! Enjoy!
For Aioli:
PREHEAT oven to 425. Place peppers in a single layer on a parchment-lined baking sheet. TOSS with 1 teaspoon of olive oil and season with salt & pepper.
TOSS with 1 teaspoon of olive oil and season with salt & pepper.
ROAST in oven, until tender and caramelized, about 10-12 minutes. Let cool, and place in the bowl of your food processor, or a good, powerful blender. Add egg yolk and garlic.
BLEND until smooth. Scrape down sides, and then with processor going, drizzle in oil s-l-o-w-l-y. This process should take a couple of minutes.
ADD salt and pepper to taste. Serve alongside steamed artichokes and chow down.
Marinades and Sauces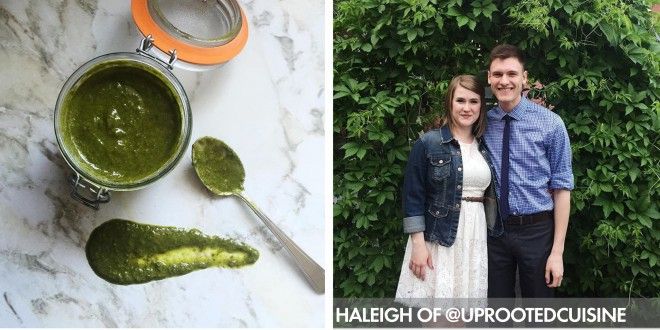 Chimichurri Sauce from @uprootedcuisine
Recipe Note: You may substitute fresh mint in place of cilantro in this recipe, making it the perfect accompaniment to lamb. Feel free to play around with your herb combinations in this very versatile sauce.
Ingredients
1 Cup Italian parsley, packed
1 1/2 Cups cilantro (or mint!), packed
4 cloves of garlic
2 Tsp dried oregano
3/4 Tsp pink Himalayan salt
1/8 Cup red wine vinegar (be sure to check for added sulfites)
1/4 Cup lemon juice (be sure to check for added sulfites)
3/4 Cup Extra virgin olive oil (EVOO)
Instructions
COMBINE all ingredients except EVOO in blender or food processor fitted with blade attachment.
BLEND for about 1.5 minutes on low or until combined and there are no large chunks.
SCRAPE down the sides of the vessel.
CONTINUE blending and add EVOO in a steady stream.
TRANSFER to a sealable glass container or mason jar and store in refrigerator for up to one week.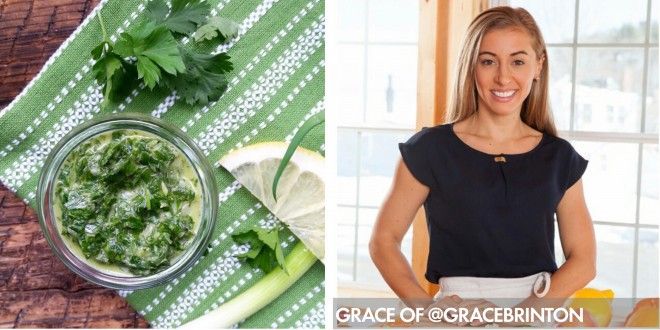 Razzle Marinade from @gracebrinton
Ingredients
1 well-packed cup of fresh herbs, such as a mixture of basil, parsley, cilantro and scallion. Be sure to use mint if cooking lamb!
4 cloves garlic
Zest and juice of 1 lemon
¼ cup extra virgin olive oil
2 tsp Red Boat fish sauce
½ tsp salt
Optional Additions:
1 shallot
1 Tbl fresh grated ginger
1 tsp cumin
1 tsp paprika
Instructions
BLEND all ingredients in a blender, then chill until ready to use.
STORE in the fridge for 3 days.
[Tweet "Eleven Easter-ready recipes on the #Whole30 blog today #Whole30Recipes #Whole30Holidays "]
For the original Easter Dinner meal plan (complete with hour-by-hour preparation and cooking timeline), check out the Fancypants "Family Lamb Dinner" meal on page 374 of The Whole30.
Jen Kendall
Whole30 Approved Program Manager
Jen Kendall, our Whole30 Approved Program Manager, is a born and raised Floridian who now lives in Utah with her husband Quinn and their two-year-old boy Easton. She graduated the University of Florida in 2010 from the College of Journalism and Communications and has a strong interest in nutrition, health and exercise. Jen has an insatiable appetite for travel and adventure and also loves books, spending time in the kitchen cooking and experimenting with recipes, Crossfit, and enjoying as many days as possible in the outdoors year-round.