Our @whole30recipes Instagram feed brings you delicious, Whole30 compatible recipes all day, every day. And, in our series, The Best of @Whole30Recipes, we bring our favorites to the blog.
It's summertime in the U.S., which means tons of fresh produce and light, bright flavors. We've rounded up a selection of our recent favorite recipes posted on our @Whole30Recipes feed lately that we think embody summertime cooking.
[Tweet "Eight light + refreshing summertime recipes, collected from our Whole30 Recipes contributors "]
Choose your favorite from the list below and give it a go this week. Or if you're feeling extra adventurous, try them all! We made sure to include tasty dips and sauces; creative ways to enjoy fresh veggies; and a few "throw it on the grill" favorites.
Cauliflower Hummus and Crudite from Kari's Full Soul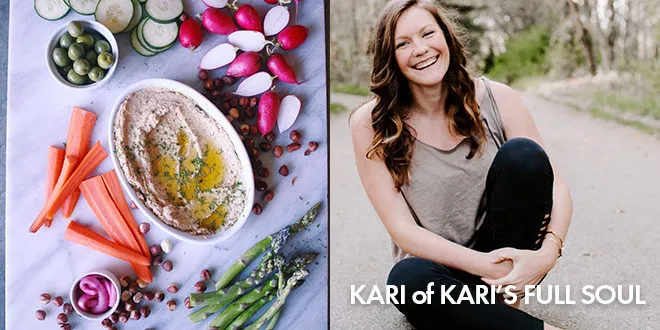 Ingredients
1 large head cauliflower cut into florets
1/2 cup extra virgin olive oil
2 tablespoons tahini
Juice of one lemon
1/2 teaspoon salt
Fresh Italian parsley and olive oil for garnish
Vegetable crudites for dipping
PREHEAT the oven to 400. Wash and chop the cauliflower into small florets. Add parchment to the baking sheet, place the cauliflower on the baking sheet with a touch of olive oil. Place in the oven for 30 minutes.
PLACE the cauliflower in a high speed blender or food processor. Blend on high until it starts to form a creamy paste. Stop the machine and push down the excess on the sides, add the lemon juice, and tahini and the olive oil. Blend until completely smooth. You may need to scrape down the sides of the blender to get everything incorporated, in the end you should have a creamy dip.
GARNISH and enjoy with your favorite veggies.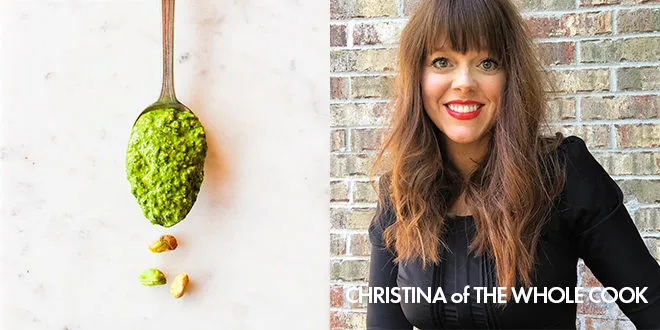 Ingredients
3 cups packed fresh basil
1/4 cup shelled pistachios
3 tbsp lemon juice
1 clove garlic
1/2 tsp salt
1/3 cup olive oil, extra virgin
Instructions
ADD basil, pistachios, lemon juice, garlic, and salt to a food processor or high powered blender.
TURN ON the blender and slowly pour in your olive oil.
BLEND until pistachios are no longer chunky and sauce is smooth. For a thick pesto 1/3 cup of olive oil is perfect. You can use up to 1/2 cup if you prefer a thinner consistency.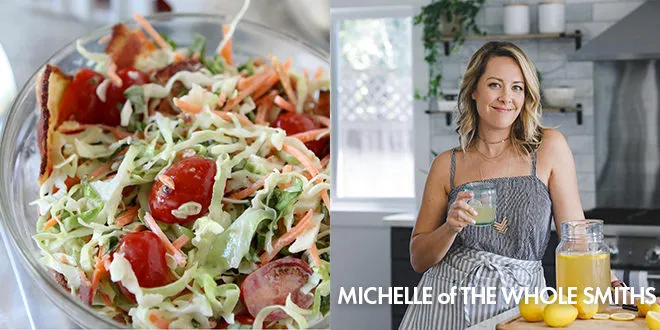 Ingredients
6 C. shredded cole slaw
1 C. shredded carrots
1/4 C. chopped basil
8 slices of cooked compatible bacon
1 C. cherry tomatoes halved
1 C. a whole30 compatible mayonnaise (see the demo in my stories for an easy one)
1/4 C. white balsamic vinegar
1/4 tsp. dry mustard powder
Salt and pepper to taste
Instructions
ADD four slices of bacon to a high powered blender or food processor and pulse until you have bacon bits. Chop other 4 pieces roughly and set aside
IN a small bowl, whisk mayonnaise, white balsamic vinegar, mustard powder and salt until fully combined
ONCE whisked, add bacon "bits" to dressing and stir to combine
IN a large bowl add slaw mix, carrots, basil, tomato halves and roughly chopped bacon. Pour dressing over and toss to coat.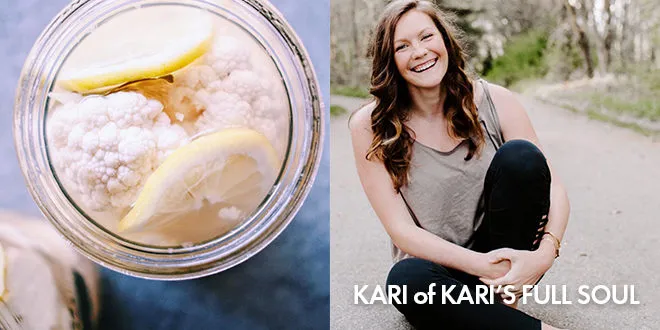 Ingredients
1 head cauliflower
2 cups water
1 cup apple cider vinegar
1 cup lemon juice
Sliced lemon
1 tablespoon fennel seed
4 bay leaves
½ tablespoon sea salt
Instructions
CUT up the cauliflower and place in the mason jars with sliced lemons and bay leaves.
POUR the water, vinegar, lemon juice, fennel seed and sea salt into a pot. Turn on high and bring to a boil. Simmer for 2 minutes until salt is dissolved.
LADLE the hot liquid into the mason jar. Let cool and sit before putting the lid on. Once only slight warm add the lid. If you seal it right away while still hot it can seal and preserve them for longer storage as well.
LET the mason jar sit on the counter until completely room temperature, then place in the fridge. Let sit for 2 hours and they will be good to start eating, but they are best when they sit overnight.
THEY will last in the fridge for 1-2 weeks.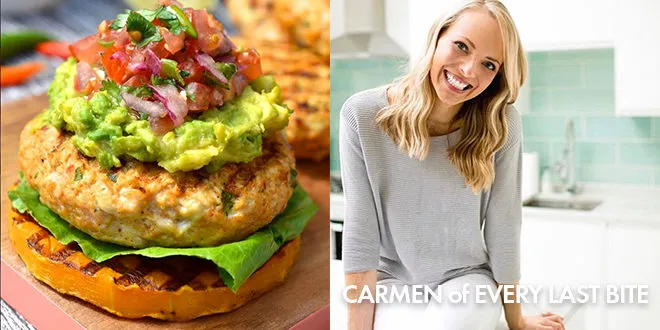 Ingredients
For the Patties
500grams ground chicken
1/2 a red onion, finely minced
1 tbsp cumin
1 tsp smoked paprika
1 clove garlic
1 egg
3 tbsp almond flour
juice and zest from 1 lime
1 jalapeño finely diced
1/4 cup cilantro roughly chopped
For the Salsa
2 large tomatoes seeded and chopped
1/2 a red onion finely chopped
1/4 cup chopped fresh cilantro
1 jalapeño finely chopped
juice from 1 lime
pinch of salt
For the Burger Toppings
2 lettuce leaves
5 slices butternut squash
1 tsp olive oil
1 avocado
Instructions
IN a bowl combine the salsa ingredients and stir. Taste and add more lime juice or jalapeño as desired. Set aside.
COMBINE all of the ingredients for the patties in a bowl, blend well with your hands and then form 5 to 6 patties.
MASH the avocado with a fork until its broken into small chunks.
PEEL the butternut squash and slice into approximately 1/2 inch thick rounds. Lightly brush the circles with olive oil
HEAT a grill to medium high heat. Grill the butternut squash for approximately 3-4 minutes per side until grill marks appear and the squash is slightly tender.
GRILL the patties for approximately 6 minutes per side until cooked through.
TO serve top a butternut squash circle with lettuce, a chicken patty, smashed avocado and salsa. Serve warm.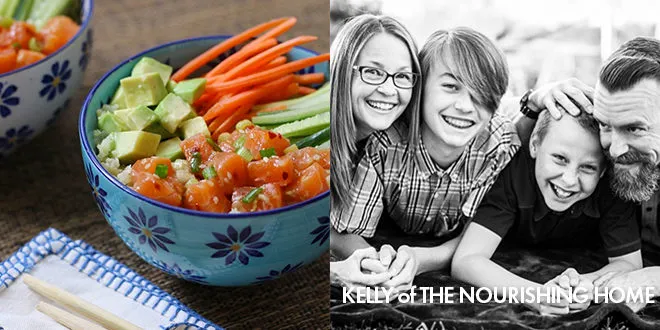 Ingredients
For the Salmon Poke Bowl
6-8 oz sushi-grade salmon, diced
1 1/2 cups cooked cauli-rice
Toppings: Diced avocado, julienned carrots and cucumber
Optional: 1 pack seaweed, torn into small bits
For the Poke Sauce
3 Tbsp coconut aminos
1 tsp toasted sesame oil
1 tsp rice vinegar
1/4 tsp minced garlic
1/4 tsp fresh grated ginger
2 Tbsp thinly sliced green onions
Pinch or two of red pepper flakes
Instructions
IN a small bowl, whisk together the poke sauce ingredients. Add the diced salmon and toss well to combine; set aside.
IN a serving bowl, add the precooked cauli-rice, veggies and seaweed (if using).
TOP with the salmon; drizzling the extra poke sauce over the top of the bowl. Enjoy!
Note: If sushi-grade salmon isn't available in your area, or you're not into raw fish, no worries! You can always grill up a filet of wild-caught salmon, add it to the bowl of veggies and drizzle with this scrumptious poke sauce.
Garlic Balsamic Chicken Kabobs from The Whole Cook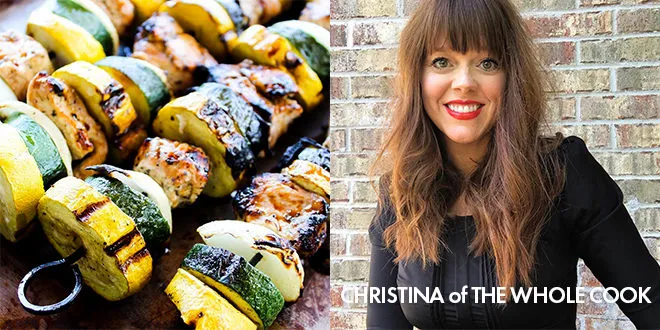 Ingredients
For the Chicken
4 chicken breasts
1/4 cup balsamic vinegar
1/8 cup olive oil, extra virgin
1/4 tsp garlic powder
1/2 tsp salt
1/4 tsp pepper
1 tsp dried basil
For the Veggies
2 zucchini
2 yellow squash
2 white or yellow onions
2 tbsp olive oil, extra virgin
Salt & pepper
Instructions
CUT chicken breasts into large chunks. Toss the chicken in a large ziploc bag with marinade ingredients. Squeeze out excess air and zip closed. Marinade for 30 minutes or more.
SLICE zucchini, squash, and onion into large chunks. (My squash and zucchini slices are about 1 inch thick.) Coat your veggies with the olive oil, salt, & pepper. (I do this by spreading mine out on a baking sheet and tossing with my fingers.)
SKEWER your veggies and chicken. GRILL on medium heat for 5 -7 minutes, flip, and grill other side for another 5-7 minutes or until chicken is cooked through. Serve!
OPTIONAL: If you're feeling extra fancy (I know sometimes I do) you can whip up a balsamic glaze to drizzle on top of the kabobs as you're plating. Just add 1/2 cup of balsamic vinegar to a small pot. Heat to boiling. Reduce heat to low. You'll end up with small bubbles around the perimeter as it gently simmers. Let it continue simmering for about 10 minutes. Stir occasionally as it thickens. Drizzle over kabobs and you're sure to wow guests!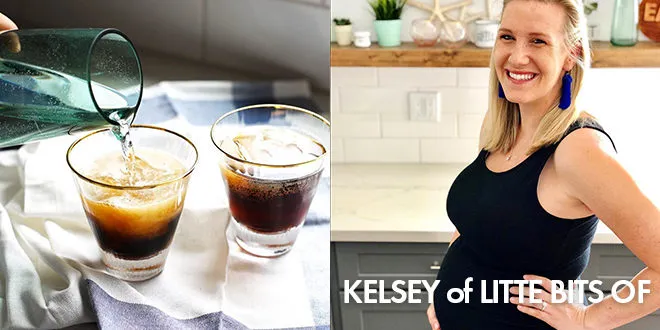 Ingredients
1 part cold brew concentrate
2 parts plain sparkling water
Instructions
POUR cold brew concentrate over ice then top with sparkling water.
Melissa Urban
Co-Founder / CEO
Melissa Urban is a 7x New York Times bestselling author (including the #1 bestselling The Whole30) who specializes in helping people establish healthy boundaries and successfully navigate habit change. She has been featured by the New York Times, People, the Wall Street Journal, Forbes, The Today Show, and Good Morning America, and is a prominent keynote speaker on boundaries, building community, health trends, and entrepreneurship. She lives in Salt Lake City, UT with her husband, son, and a poodle named Henry.