Made By Whole30 Buffalo Vinaigrette: it's not JUST for salad! We used it in this Whole30 Buffalo Chicken Chili to complement creamy Hannah potatoes and savory chicken. It adds just the right kick of peppery, bright heat and flavor.
This hearty and filling chili is packed with protein, healthy fats, and nutrient-dense ingredients, making it a perfect meal for those following a Whole30 or paleo diet. Plus, it's easy to make and can be stored in the fridge for up to three days, making it an excellent option for meal prep.
You'll need some ghee, onion, garlic, and ground chicken to start. Sauté the onion and garlic in a large stockpot or Dutch oven until soft and fragrant, then add the ground chicken and spices. Stir in the diced sweet potato, tomato sauce, tomato paste, and Whole30 Buffalo Vinaigrette, and let the mixture simmer until the potato is soft and the flavors have melded together.
For extra pizazz, stir in fresh cilantro, scallions, and diced avocado for added texture and flavor. Then, finish things off with a squeeze of fresh lime juice for an extra burst of citrusy goodness!
Mix it up!
One of the great things about this recipe is its versatility. Customize it to your liking by adding in your favorite vegetables or adjusting the spice level to suit your taste. And if you're not a fan of ground chicken, you can easily swap it out for ground turkey or beef.
In addition to being delicious and satisfying, this Whole30 Buffalo Chicken Chili is also a great source of nutrition. The chicken provides a healthy dose of protein, while the sweet potato offers fiber and vitamin A. The Whole30 Buffalo Vinaigrette adds a tangy kick, and the avocado provides healthy fats to keep you full and satisfied.
If you're looking for a healthy, flavorful, and easy-to-make meal perfect for cooler weather, this Whole30 Buffalo Chicken Chili is worth trying! So why not whip up a batch today and enjoy a delicious and nutritious meal sure to warm you up from the inside out?
Looking for more tasty Whole30 chili recipes? Try this Smoky Sweet Potato Chili.
Whole30 Buffalo Chicken Chili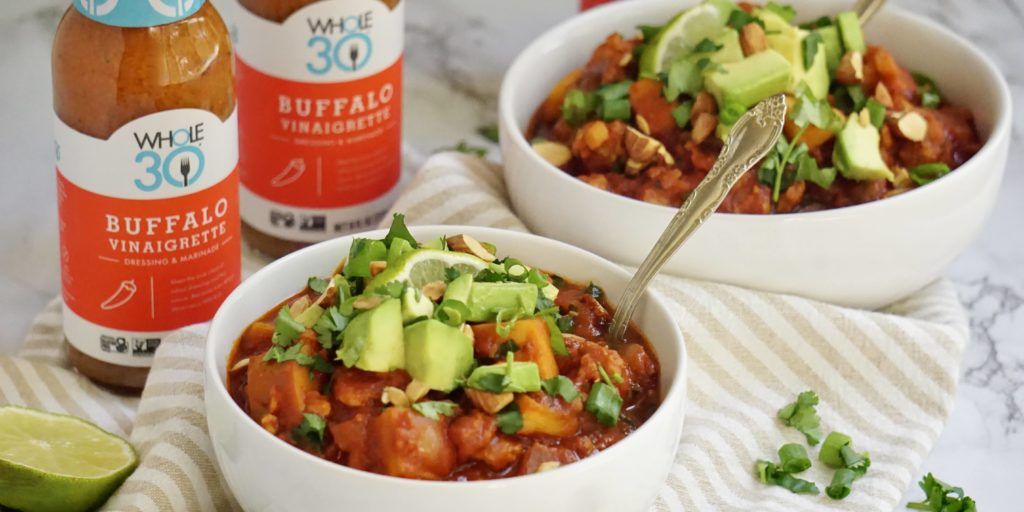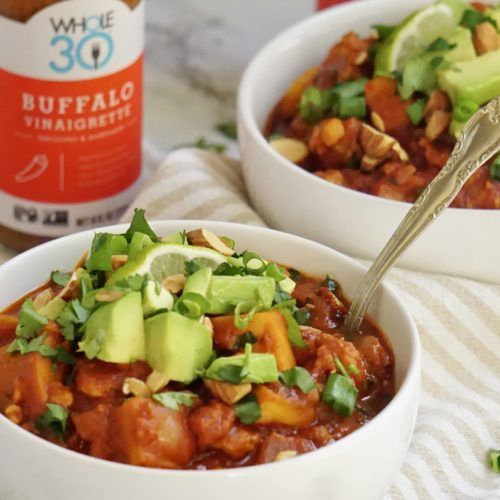 Whole30 Buffalo Chicken Chili
Ingredients
1

tbsp

ghee

1

medium yellow onion

,peeled and diced

3

medium garlic cloves

,peeled and minced

1

lb

ground chicken

1

tsp

sea salt

1/2

tsp

black pepper

1

tbsp

ground cumin

1

tbsp

chili powder

1

large Hannah sweet potato

1

14.5 oz can of tomato sauce

1

6 oz can of tomato paste

2

cups

chicken broth

1

cup

Whole30 Buffalo Vinaigrette

1/2

cup

fresh cilantro

,minced

2

whole scallions

,minced

1

medium avocado

,peeled and diced
Instructions
Heat ghee to a large stockpot or Dutch oven set to medium-low heat. Add onion and garlic and sauté until soft, about 5 minutes.

Add the ground chicken in the stockpot or Dutch oven and allow to cook with the onion and garlic, breaking up with a wood spoon, about 5 minutes. Season with sea salt, black pepper, ground cumin and chili powder.

Stir in diced Hannah sweet potato, chicken broth, tomato sauce, tomato paste and Whole30 Buffalo Vinaigrette and lower the heat to a simmer.

Allow to simmer, covered, until potato is soft, stirring every 5 minutes or so, for about 30 minutes total.

Remove from the heat and stir cilantro, scallion and diced avocado. Garnish with a squeeze of fresh lime juice.

Serve between 4, storing any leftovers in the fridge for up to 3 days
You Might Also Like…
---
Sarah Steffens
Recipe Developer
Sarah Steffens, our Recipe Developer, has a B.A. in Business Administration, Public Relations from The Master's University in Southern California. After years of experimenting with nutrition and recipes in her own kitchen, she now works as a Personal Chef and Food Photographer in Sacramento, creating meals that support her client's intention to physically and mentally thrive. She has catered several independent film sets, making it her goal to optimize the energy and well-being of each creative crew. You can find many of Sarah's recipes in various Whole30, Paleo and Keto cookbooks. When Sarah is not cooking and styling recipes, you can find her enjoying a long walk, working on creative projects with loved ones or exploring beautiful Northern California.