This Whole30 smoky sweet potato chili is a special preview recipe from The Whole30 Slow Cooker by Melissa Urban. It is complex and delicious, with sweet and savory notes, the perfect winter meal. It does call for a specialty ingredient: smoked salt.
Smoked salt is a type of salt that has been cold smoked over wood chips, giving it a distinct smoky flavor and aroma. It's a great way to add depth and complexity to dishes, and it works incredibly well in this Whole30 Sweet Potato Chili Recipe. While it's certainly not crucial that you use smoked salt in this dish (the recipe works just fine with regular salt), it's a fun ingredient to have on hand, and most larger supermarkets stock it. With just a sprinkle, it adds a new flavor dimension to simple roasted vegetables and meats.
This Smoky Sweet Potato Chili is a unique twist on a classic that is sure to become a household favorite!
Whole30 Smoky Sweet Potato Chili
Photos by: Brian Kavanagh | The Sophisticated Caveman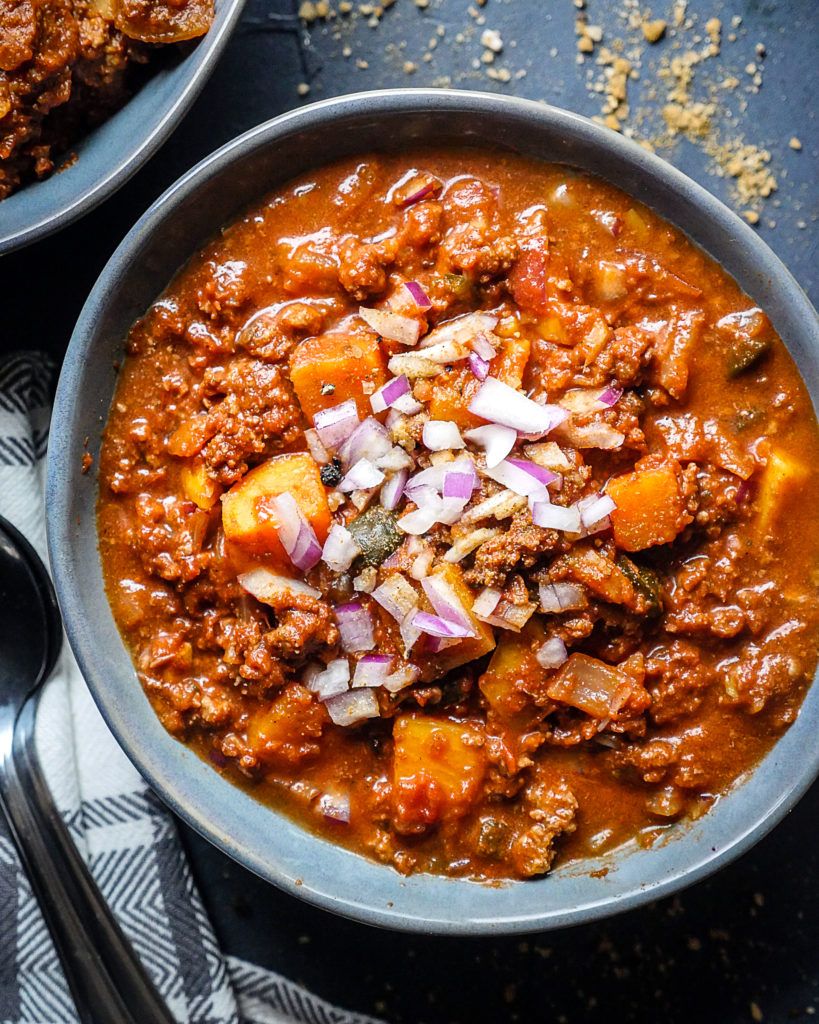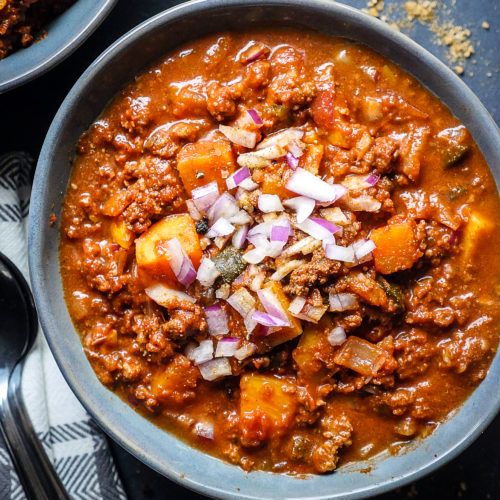 Whole30 Smoky Sweet Potato Chili
Ingredients
1 1/2 pounds lean ground beef
1 medium red onion, chopped
1 poblano pepper, seeded and diced
2 large sweet potatoes, peeled and cut into 1/2-inch cubes (4 cups)
1 can (10.75 ounces) Whole30-compatible tomato puree
1 can (15 ounces) Whole30-compatible crushed tomatoes
2 cups Whole30-compatible tomato juice
2 tablespoons cider vinegar
1 tablespoon chili powder
1 1/2 teaspoons smoked paprika
1 teaspoon cumin
1 teaspoon garlic powder
1/2 teaspoon allspice
1/4 teaspoon cayenne pepper
1 teaspoon smoked salt or regular salt
Finely chopped red onion (optional)
Instructions
In a large skillet, COOK the beef over medium-high heat, stirring with a wooden spoon, until browned, about 10 minutes.

DRAIN off the fat.

TRANSFER the beef to a 4- to 5-quart slow cooker. Add the onion, poblano pepper, sweet potatoes, tomato puree, crushed tomatoes, tomato juice, vinegar, chili powder, smoked paprika, cumin, garlic powder, allspice, cayenne, and salt to the cooker. Stir to combine.

COVER and cook on low for 8 hours or on high for 4 hours.

If desired, TOP servings with chopped onions.
The Whole30 Slow Cooker
All-New Recipes for Your Slow Cooker and Instant Pot
Designed to get you out of the kitchen fast, so you can enjoy all the benefits of your Whole30
Co-creator Melissa Urban is making it even easier to achieve Whole30 success, with delicious slow cooker and Instant Pot recipes that turn ingredients into delicious, hearty meals while you're out and about. You'll find delicious no-fuss dinners that cook while you work; roasts that transform into tacos, salads, and soups for easy meals throughout the week; and satisfying one-pot dishes that make prep and clean-up a breeze.
Details
You Might Also Like…
Melissa Urban
Co-Founder / CEO
Melissa Urban is a 7x New York Times bestselling author (including the #1 bestselling The Whole30) who specializes in helping people establish healthy boundaries and successfully navigate habit change. She has been featured by the New York Times, People, the Wall Street Journal, Forbes, The Today Show, and Good Morning America, and is a prominent keynote speaker on boundaries, building community, health trends, and entrepreneurship. She lives in Salt Lake City, UT with her husband, son, and a poodle named Henry.