Soup should be a few things: filling, non-fussy, simple to make and it should not break the bank. This hamburger soup fits the bill. It's chock-full of affordable and easy-to-find ingredients that should be available at your local grocery store, no trips to a specialty grocery store needed.
We make it about once a month through the winter and it's always comforting and satisfying. As the person doing the cooking I like a filling and delicious recipe that I don't have to spend a bunch of time on, but will be happy to eat and have on hand for leftovers for a few days, too.
If that's not enough of an argument in favor of this recipe, this soup also freezes like a dream, so it's perfect as a make ahead and stash recipe. (Although we usually just eat it every night until it's gone!)
Whole30 Hamburger Soup
Recipe by Shannon Canaday
Photos by Brian Kavanagh | The Sophisticated Caveman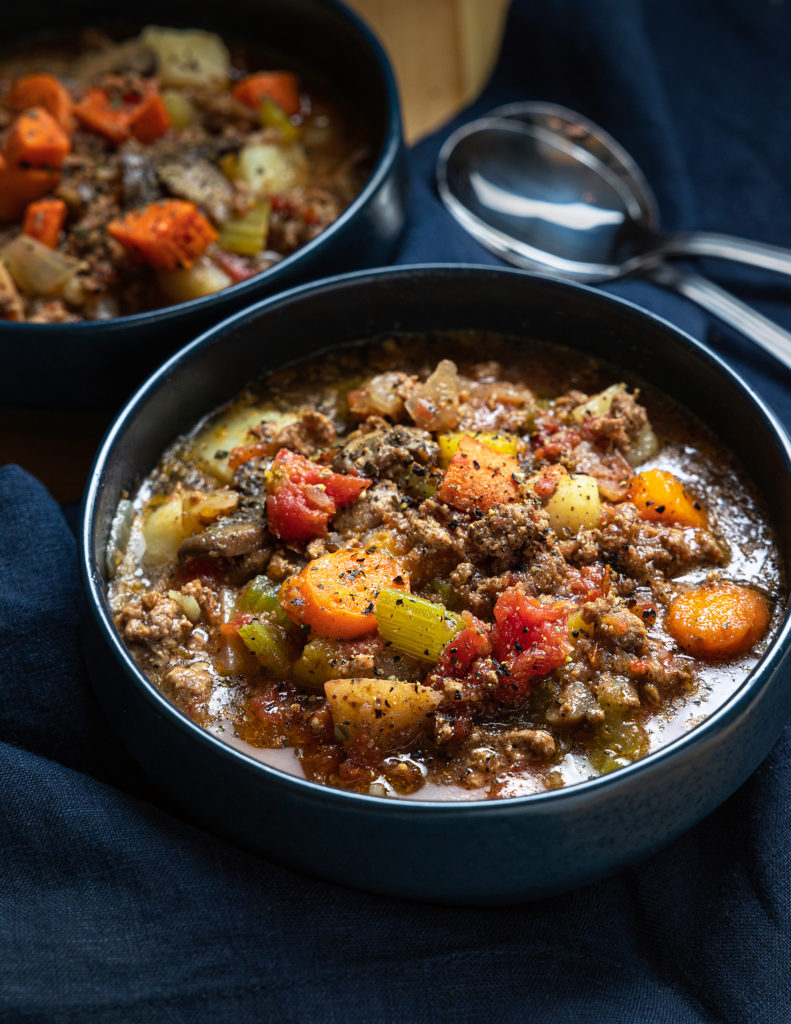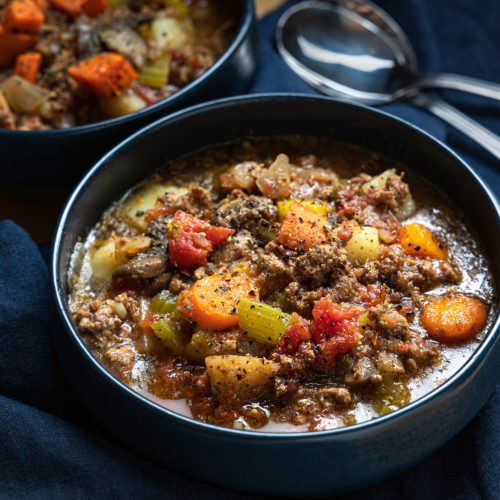 Whole30 Hamburger Soup
Ingredients
2

lbs

ground beef

1

large onion

,diced

1 28

oz

can diced tomatoes

,drained

2

cans

muschrooms

,drained

4

cups

beef broth

3

large carrots

,diced

5

red potatoes

,diced

3-4

celery

,dced

1

tsp

parsley

1

tsp

thyme leaves

1

tsp

oregano

salt, pepper and cayenne to taste
Instructions
Brown ground beef. Drain if needed.

Add onions, celery, carrots and potato and mix together.

Add diced tomatoes and seasonings.

Add beef broth (see note).

Bring to boil and reduce to simmer for at least a couple of hours but more like all day.
Notes
Notes: This is another recipe from our family archives! My mom used to make this for our church soup kitchen/potlucks and it was always the first one gone! It's hearty, budget conscious and time friendly! In our household I make a soup every Sunday from October to mid-May and along the way I've learned a couple things about how to make a thick soup without using a traditional "thickener". My first tip is to use red potatoes as they seem to have a more creamy starch to them when cooked. This starch naturally thickens the soup and gives it a really nice mouthfeel. My second tip is to wait until ALL your ingredients are in the pot before adding any sort of stock or broth and then add only enough to just barely cover the meat and veggies. The veggies will soak up liquid while they cook, leaving you with a reduced and very flavourful broth. Keep an eye on it while it simmers and add broth as needed….you may not need the full 4 cups. We prefer our soups thick and stew-like so if you do as well, try these two tips and let me know how it goes!
You Might Also Like…
Shannon Canaday
Whole30 Community Management
Shannon Canaday moderates the Whole30 forum and Facebook page. She lives in Chilliwack, British Columbia in Canada with her husband. Shannon comes to us from a 20-year career where she's acted as an Account Manager for major national brands, a Customer Service Representative and an Administrative Coordinator. She enjoys a mostly quiet life of cooking, reading and entertaining and loving on family. She can also be found most often on a sunny day riding her Harley Davidson around the absolute glory that is the Fraser Valley.