Sponsored by Pederson's Farms
Hey there! Neil Dudley, VP of Pederson's Farms, here. I'm so happy that you're joining us for the #JanuaryWhole30. I wanted to pop in and let you know about three ways our team at Pederson's Farms wants to help you stay prepped and eating well through your Whole30.
1 | We're Passionate about Pork
Whether you're currently doing the #JanuaryWhole30 or planning to start one soon, we've created more than 20 Whole30 Approved® pork products to support you. Pederson's products are easy to find … they have the Whole30 Approved logo right on the label and are available online and in stores everywhere.
I don't mean to brag, but we produce some really awesome, responsibly-raised, high-quality pork. Our pork tastes delicious and is raised without the use of antibiotics or growth stimulants, and never fed any animal by-products. Our products are minimally processed with no artificial ingredients, preservatives, nitrates/nitrites, gluten, lactose, or MSG … and wait for it … no sugar! As in "no sugar bacon?" You bet. We're famous for it.
2 | Our Whole30 Meal Prep Box Makes Meal Planning Easy
I know the idea of Whole30 meal planning can be a bit daunting at first. Preparing to prep and cook nearly all of your meals at home means you need to find compatible recipes and compatible proteins to keep you going all month long. That's why we offer our Ultimate Whole30 Meal Prep Box.
This Box was designed give you peace of mind when it comes to finding compatible, high-quality protein. It stocks your freezer with 10 of our most popular Whole30 Approved pork products in one easy order. The pricing works out to about $3.50 per meal … it's hard to beat that deal! Plus, when you purchase a bundle, we'll donate $10.00 towards our ongoing effort to support children with Type 1 Diabetes.
3 | We like tasty Whole30 recipes just as much as you do
In fact, we've created a 7-day Whole30 Meal Prep Guide stuffed with delicious Whole30 recipes. We'll share that for free when you order a Whole30 Meal Prep Bundle. It's full of delicious, satisfying, easy recipes inspired by the phenomenal Whole30 community. Want proof? I'm sharing 3 of my favorites in this blog post … just scroll down!
But first … enter to win a free Whole30 Meal Prep Bundle HERE & we'll give you coupon for $15.00 off
BLT Ranch Salad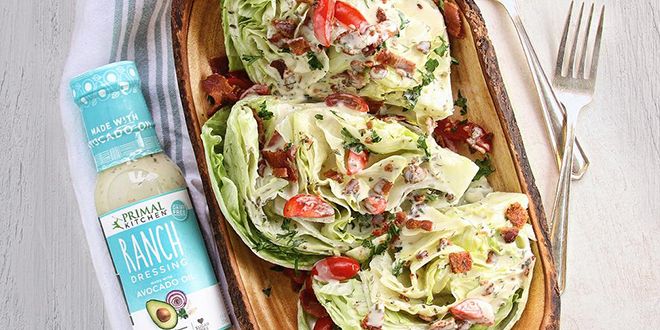 (Save or bookmark it here!)
Ingredients
1 pound Pederson's No Sugar Bacon
4 tablespoons Primal Kitchen Ranch Dressing
One head iceberg lettuce
1/2 cup cherry tomatoes
Coarse salt
Cracked pepper
Instructions
PREHEAT oven to 400-degrees.
PLACE bacon slices on a baking tray and bake until desired crispiness. Set aside to cool.
CHOP a head of iceberg lettuce into quarters and cut the cherry tomatoes into halves,while the bacon cools. When the bacon is cool, chop it into bits or small pieces.
PLACE the lettuce wedges cut sides facing up, then sprinkle with bacon bits and tomato halves.
DRIZZLE with ranch dressing and add salt and pepper to taste
Italian Sausage Egg Pizza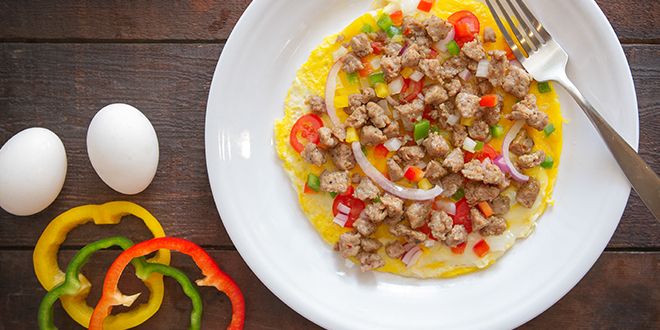 (Save or bookmark it here!)

Ingredients
1 package of Pederson's Italian Sausage
2 large eggs
1/2 cup cherry tomatoes
1/2 each of green, red, & yellow bell peppers
1/2 small yellow onion
Coarse salt
Cracked pepper

Instructions
DICE your peppers and onion into 1/8-inch pieces, then set aside.
BROWN the Pederson's Italian Sausage in a skillet over medium heat, until fully cooked through.
CRACK eggs in a bowl and whisk until combined.
HEAT a small nonstick skillet on medium-low heat and add the eggs. Stir gently until small "curds" begin to form.
LOWER heat and continue to cook undisturbed until the eggs are cooked through, then carefully transfer to a plate without breaking or folding the egg "crust".
SPRINKLE the eggs with the desired amount of sausage, peppers, and onions.
SEASON with salt and pepper to taste.
Deli Ham Sushi Style Bites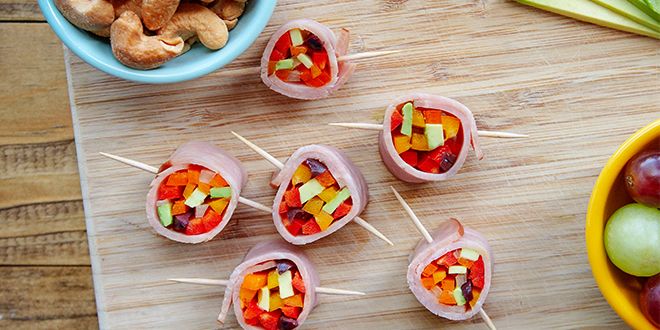 (Save or bookmark it here!)

Ingredients
8 slices of Pederson's Farms Black Forest Ham
1 small cucumber
1 avocado, pitted, peeled and sliced into 16 pieces
1 purple onion, sliced into thin strips
1 red bell pepper, sliced into thin strips
1 orange bell pepper, sliced into thin strips

Instructions
LAY a piece of deli meat on work service.
ARRANGE a small handful of the veggies (bell peppers, onion, and cucumber) along the bottom third of the deli ham.
LAY 2 slices of avocado over top.
STARTING from the bottom, roll tightly to enclose the veggies.
LAY the roll seam-side down and cut into 6 pieces using toothpicks to hold each "roll" together.
REPEAT with the remaining ham and veggies.
Let them Eat Bacon (and Ham, and Sausage…)
There you have it! The Ultimate Whole30 Meal Prep Box from Pederson's Farms is the perfect solution to finding tasty proteins that will make your Whole30 recipes shine. I wish you all of the best with your #JanuaryWhole30.
Grab your $15 coupon HERE.
This post was sponsored by Pederson's Farms. Thank you for supporting our Whole30 partners!
Melissa Urban
Co-Founder / CEO
Melissa Urban is a 7x New York Times bestselling author (including the #1 bestselling The Whole30) who specializes in helping people establish healthy boundaries and successfully navigate habit change. She has been featured by the New York Times, People, the Wall Street Journal, Forbes, The Today Show, and Good Morning America, and is a prominent keynote speaker on boundaries, building community, health trends, and entrepreneurship. She lives in Salt Lake City, UT with her husband, son, and a poodle named Henry.