Our @whole30recipes Instagram feed brings you delicious, Whole30 Approved recipes all day, every day. And, in our series, The Best of @Whole30Recipes, we'll be bringing them to our blog! Each week, we'll feature a new mini-collection of our favorite recipes. This week, we're giving you even more ingredient meals!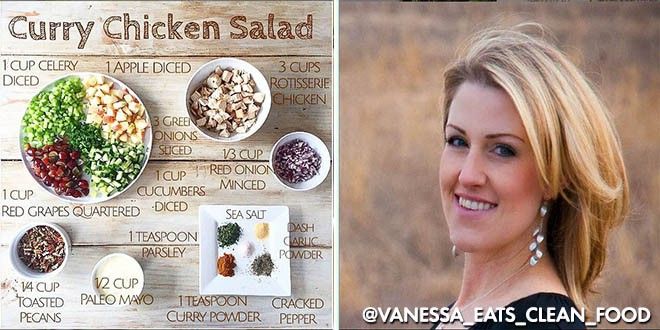 Curry Chicken Salad, @vanessa_eats_clean_food
Complete ingredient list in photo.
You'll need a sharp knife, a cutting board, and a bowl. Mix everything in a large bowl, grab a spoon and dig in! Or, you can impress your lunch guests and serve this on lettuce leaves. Easily serves 3-4, depending on portion size! Remember, you can adjust the seasonings to suit your taste buds. You can follow Vanessa on Instagram at @vanessa_eats_clean_food.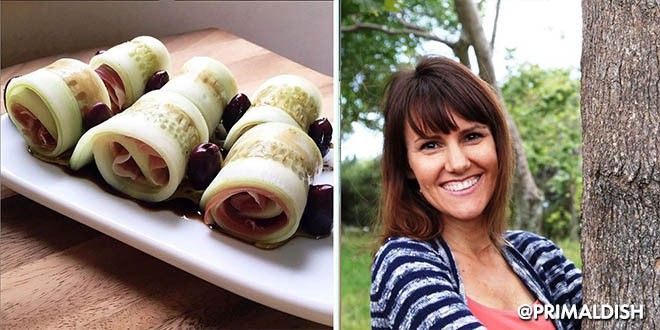 Cucumber and Prosciutto with Olives on Skewers, @primaldish
1 cucumber, peeled and julienned (or sliced very thin) lengthwise into 6 slices
3 slices of prosciutto, cut in half lengthwise into 6 slices
8 kalamata olives
1 teaspoon Extra Virgin Olive Oil
1 tablespoon balsamic vinegar
Salt & pepper to taste
2 skewer sticks
Start with one olive on the end of each of your skewers. Next, lay the cucumbers slices flat on a tray or plate. Place one slice of prosciutto on top of each cucumber, then roll it up and carefully stick the skewer through the middle of the cucumber roll. Repeat, placing an olive in between each cucumber roll, and then repeat on the second skewer. Once you have two loaded skewers on your plate, whisk together olive oil and vinegar and drizzle over the top. If desired, add salt & pepper. Find more recipes like this at www.PrimalDish.com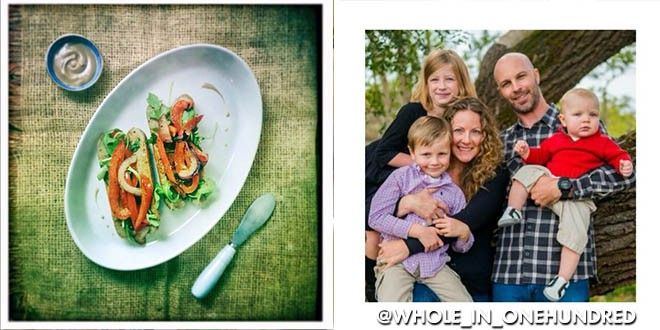 Sausage, Onion and Pepper Sandwich, @whole_in_onehundred
2 compatible Italian Sausages
1/2 Red onion- sliced
1/2 Bell pepper
Baby arugula
Dijon- read your labels! Annie's is a great compatible brand
Start by slicing the Italian sausages lengthwise down the middle, but don't cut all the way through. Pan sear for a couple of minutes on each side until the edges are crispy and browned. Set aside. Next take your sliced pepper and onion and sauté in olive oil till soft and fragrant. Pile the sausages high with baby arugula, caramelized onion and peppers, and Dijon. Find more recipes like this on Instagram at @whole_in_onehundred.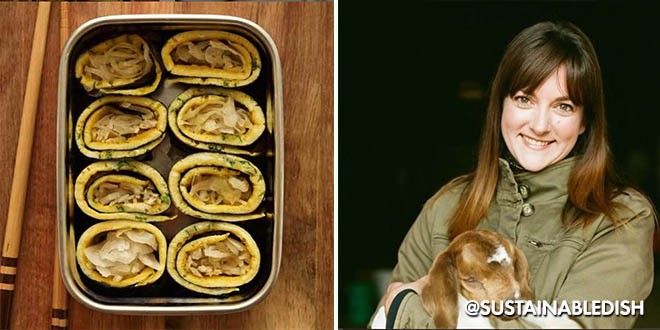 Effortless Egg Rolls with Pickled Vegetables, @sustainabledish
Makes two rolls (one lunch serving)
4 pastured eggs
1 scallion, diced
1 tsp butter, bacon fat or coconut oil for frying
2 toasted nori wrappers
4 TBS sauerkraut (use your favorite kind – I really like Wildbrine Madra Curry & Cauliflower in this recipe)
1 TBS fish roe for garnish (optional)
A square shaped omelet pan works nicely with this dish, but is not necessary.
Mix two of the eggs and half of the diced scallion in a bowl. Heat a skillet over medium heat. Heat the fat in the pan, then pour the egg in the pan. Cook until just set. When done, place on a sheet of nori. In the center of the egg, place 2 TBS sauerkraut and lay it lengthwise. Roll the seaweed and eggs up, including the sauerkraut. Garnish with fish roe if you wish. Use toothpicks to hold wraps in place if you're traveling with them.
Find more delicious recipes from Diana at Sustainable Dish, or in her Whole30-approved books: Paleo Lunches and Breakfasts on the Go, and The Homegrown Paleo Cookbook.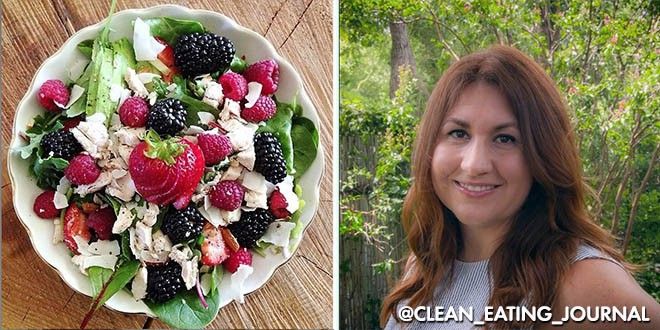 Summer Salad, @clean_eating_journal
Start with your favorite salad base (arugula, kale, baby spinach, romaine). Add any protein (chicken, salmon, shrimp, tuna salad, chicken salad, canned fish or meat, hard-boiled eggs). Include some seasonal fruits (berries, peaches, watermelon, apples, grapes, jicama). Throw in more veggies for crunch (cucumber, red onion, diced peppers, celery). Sprinkle some chopped nuts (pecans, almonds, cashews, sunflower seeds). Top with EVOO + lemon juice or balsamic, or your favorite #Whole30 dressing from @tessemaes. DONE.
Find more from Deanna on Instagram at @clean_eating_journal.
Have a favorite from the @whole30recipes feed? Is there a collection you'd like to see? Let us know in comments!
Melissa Urban
Co-Founder / CEO
Melissa Urban is a 7x New York Times bestselling author (including the #1 bestselling The Whole30) who specializes in helping people establish healthy boundaries and successfully navigate habit change. She has been featured by the New York Times, People, the Wall Street Journal, Forbes, The Today Show, and Good Morning America, and is a prominent keynote speaker on boundaries, building community, health trends, and entrepreneurship. She lives in Salt Lake City, UT with her husband, son, and a poodle named Henry.