This 4-part Soup Sunday cooking series comes from Ali Rakowski of intersectioncoaching.com, and the author of Bowls of Love. If you'd like to submit a recipe, helpful tip, testimonial, or Whole30 article for consideration, email it to [email protected].
I am thrilled to share a soup recipe perfect for the holiday season. You can make this recipe as a first course or side dish for your dinner parties and family festivities this month. Whole30 fans and naysayers alike will be blown away by the richness and flavor in this simple, delicious soup.
My sweet potato bisque recipe (along with dozens of other seasonal, Whole30-compatible soups) can be found in my cookbook. If you are looking for a creative holiday gift for anyone who believes in infusing their cooking with love, grab a copy of the book, some cute mismatched bowls, and a wooden spoon. You will have the perfect gift basket with a unique touch!
[Tweet "#Whole30 is celebrating Soup Season with @AliRakowski #SoupSunday #bowlsoflove"]
Grandmas In Training
The official title of this soup is "G.I.T. Sweet Potato Bisque." You may have heard of girls naming their groups of friends (like the Queen Bees in the movie Mean Girls). In college, two of best friends and I started our own group called the G.I.T.s. Our nickname stood for "Grandmas in Training," and we wore our name loud and proud. A bit nontraditional for college sorority girls, we celebrated our love for cooking, quality time, and sharing stories.
Last week I turned 30, and everyone asked me how it felt. I've always been an old soul, and many would agree my true age is closer to 82. I felt great knowing that I am finally catching up. I urge all of you to celebrate your inner G.I.T. and try out this nourishing soup with your friends and family this holiday season.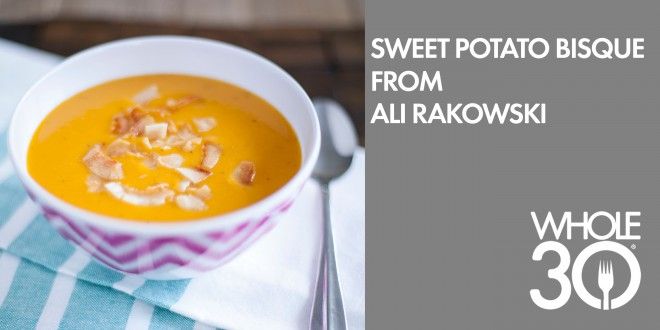 G.I.T Sweet Potato Bisque
Serves: 4
Prep time: 15 minutes
Cook time: 60 minutes
Ingredients
1.5 Tbsp. olive or coconut oil
2 large sweet onions, chopped
2 Tbsp. garlic, chopped
½ tsp. sea salt
¼ tsp. pepper
4 medium or 6 small sweet potatoes, peeled & cubed
4 cups chicken stock, vegetable stock, or water
8 oz. full-fat coconut milk
½ cup unsweetened coconut flakes, lightly toasted
Instructions
HEAT oil over medium heat in a large soup pot. Add onions, garlic, sea salt, and pepper, and cook for 10 minutes, stirring often.
ADD sweet potatoes and cook for another 10 minutes, stirring often.
ADD stock or water to the pot and bring to a boil. Once boiling, simmer covered over medium-low heat for 30 minutes.
REMOVE from heat and allow the soup cool for a few minutes.
PUREE the soup until smooth. Add the coconut milk and stir until well combined.
GARNISH with lightly toasted coconut flakes.
Don't forget to check out the other posts in this 4-part Soup Sunday cooking series from Ali Rakowski!
Article photos courtesy of Erica Gannett

---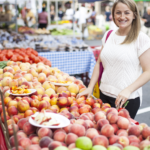 Ali Rakowski is a Stamford, CT health coach and author of the Whole30-friendly cookbook Bowls of Love. You can find more Whole30-compatible recipes on Ali's website www.intersectioncoaching.com, and you can share your #bowlsoflove with her on Instagram @ali_kristen and on Twitter at @alirakowski.
Save
Shanna
Chief Content Officer
Shanna Keller, our Chief Content Officer, hails from Boise, Idaho, where she lives with her husband Alan and a poorly-behaved terrier named Olly. She has spent her career telling stories of life transformation on social, web, e-mail and print media platforms. In addition to celebrating Whole30 successes and stories online, Shanna loves to cook, read, and climb.