This easy Instant Pot Lemony Chicken Soup is as comforting as a hug from a friend. Full of classic chicken soup flavor, and a little extra zip from lemon, this is a recipe you'll want on repeat all year long.
While many chicken soup recipes get their flavor by simmering chicken in water, this one uses chicken bone broth or stock as the base instead. The result is a rich, collagen-packed broth that is as nutritious as it is flavorful.
This Whole30 Chicken Soup recipe is simple but includes a few key steps to bump up the "wow factor."
First, we're searing both sides of the chicken directly in the Instant Pot until the skin is golden and a bit crispy. Once that's done, you'll set the chicken aside and throw in the mirepoix (this is your carrot, celery, and onion mix) to sauté in those yummy brown bits.
Now, for the UMAMI! Once the onions are translucent, add your tomato paste and allow to caramelize with the veggies for just a minute or two before adding the rest of the chicken soup ingredients. This includes plenty of lemon juice, lemon zest, and chicken broth, followed up with a fresh herb bundle to tie things up.
This hearty lemon-infused chicken soup makes 4-6 healthy servings and freezes beautifully for days you want to show your future self some love.
Speaking of future you, don't forget to save that chicken carcass to make homemade bone broth for your next batch! (This recipe from Nom's Nom Paleo is one of my favorites.)
No Instant Pot? No Problem! This soup cooks up just as nicely in a slow cooker.
Just use a deep pan to brown your chicken and saute your veggies, then transfer to your slow cooker and cook on low for 6-8 hours, or until your chicken is fork tender and shreds easily.
Instant Pot Lemony Chicken Soup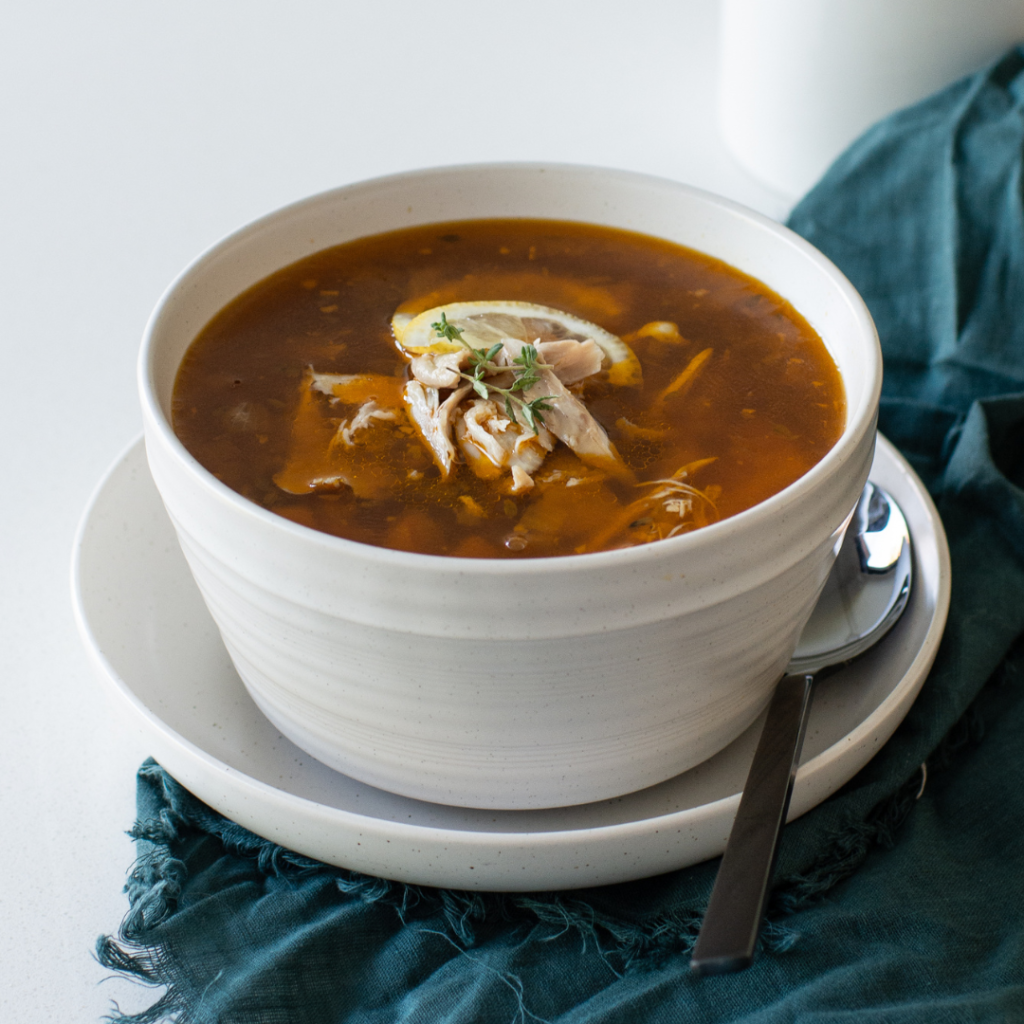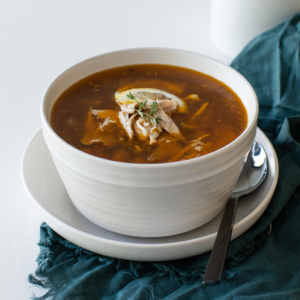 Instant Pot Lemony Chicken Soup
Equipment
1 Instant Pot and steamer basket

Baker's twine
Ingredients
2

tbsp

ghee or avocado oil

1

4 lb. whole chicken

2

tsp

kosher salt

plus more to season

1

tsp

black pepper

1

medium to large onion

chopped

3

medium carrots, or two large

chopped

3

celery ribs

chopped

3

cloves of garlic

peeled and crushed

2

tbsp

tomato paste

2

qt

chicken broth

fresh lemon juice, 2-3 lemons depending on the size

zest from 1 lemon

3

springs each of thyme, fresh sage and rosemary

tied in a bundle with baker's twine
Instructions
SEASON chicken inside and out with 2 teaspoons kosher salt and ¼ teaspoon pepper, then tuck the wings behind the back.

ADD 2 tablespoons of ghee or avocado to the pressure cooker, and hit the "sauté" function on your Instant Pot. Once the fat is hot, give the pot a swirl to coat the bottom and sear the chicken breast-side down in the center of the pot for 5 minutes or until skin is golden and slightly crispy. (And no worries if the skin sticks or tears! This is just a trick to deepen the overall flavor of the soup. (Hat-tip to Nom Nom Paleo for this!)

FLIP your chicken and cook for another 5 minutes.

TRANSFER chicken to a plate and toss in the chopped onions, celery, carrots, garlic cloves, and a sprinkle of kosher salt. Cook for 3-5 minutes or until onions are translucent.

STIR in 2 tablespoons of tomato paste and cook for about 30 seconds.

TURN OFF the sauté function and add your 2 quarts of chicken broth or stock, lemon zest, and lemon juice, scraping up any browned bits that have collected on the bottom.

ADD a steamer insert to the bottom of the Instant Pot and nest your chicken on top, breast-side up, then toss in your herb bundle.

COVER and pressure cook on high for 30 minutes.

TURN OFF your Instant Pot and immediately release the pressure manually. Open the lid, toss the herb bundle, and transfer the chicken to a plate or carving board and allow to cool enough to remove the skin and shred the meat. Make sure to discard the skin, but I highly recommend saving the rest to make homemade bone broth!

ADD shredded chicken back to the pot and give everything a stir.

SEASON with additional salt and pepper, if desired.

ENJOY within 3-4 days, or freeze leftovers.