This oven-baked Whole30 meatball recipe is the cozy, hearty, savory dinner dish of your dreams. You'll create the gravy from pan drippings, then bake the meatballs bake in the gravy, which yields tender, delicious meatballs and a perfectly-thickened gravy to serve them with. Serve over mashed potatoes, and alongside your favorite roasted veggie or green salad for a complete Whole30 meal. Created by Lindsey Van Cleave, this recipe has been liked and shared thousands of times on Instagram. Give it a try and discover why.
Oven-Baked Whole30 Meatballs with Mom's Gravy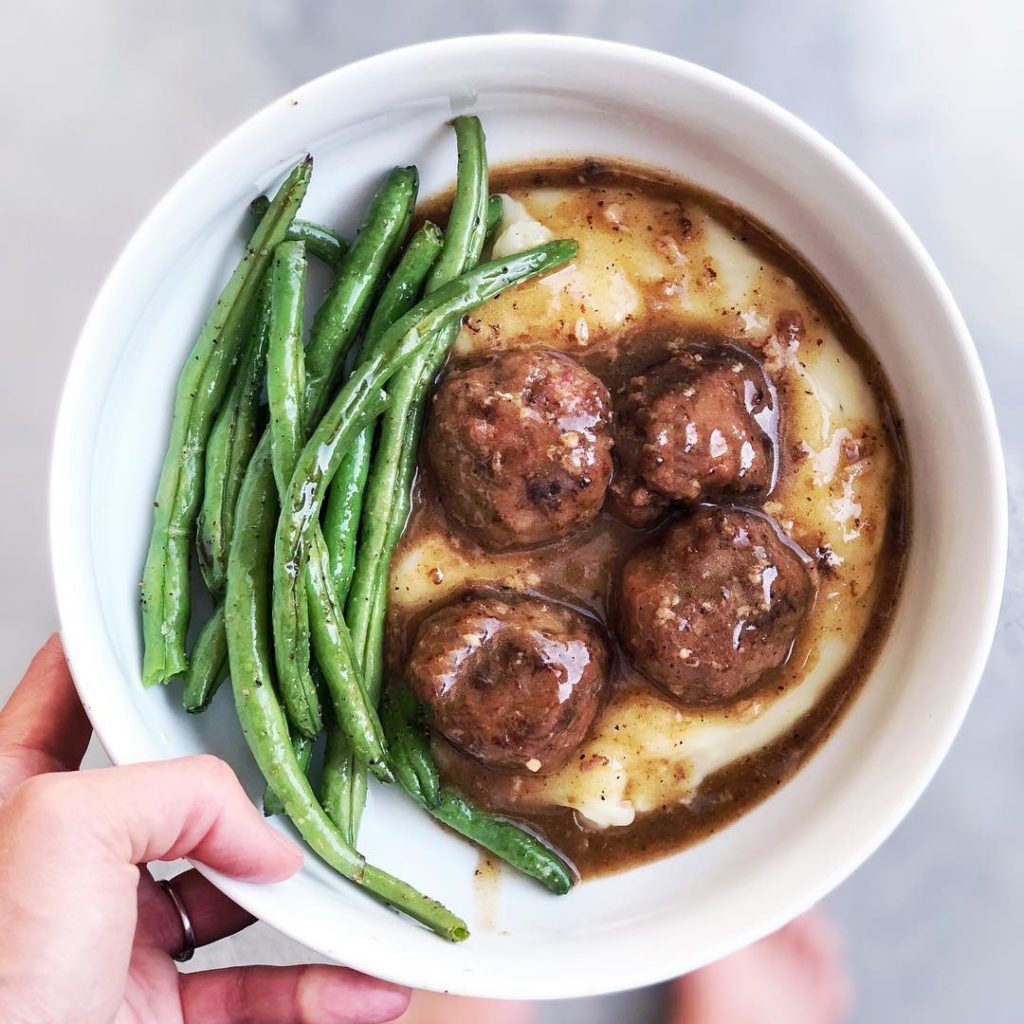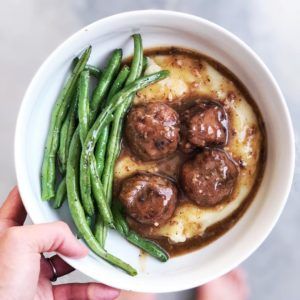 Oven-Baked Whole30 Meatballs with Mom's Gravy
Ingredients
Meatballs
1

lb

ground beef

½

lb

ground Italian pork sausage

1

tbsp

dried minced onion

½

tsp

garlic powder

½

tsp

ground black pepper

¼

tsp

kosher salt

½

tbsp

coconut aminos

1

egg

½

tsp

fish sauce

½

tsp

distilled white vinegar
Gravy
Pan drippings

1

cup

beef broth

¼-½

tsp

Kosher salt

(Start with 1/4 tsp and add more slowly if desired)

¼-½

tsp

ground black pepper

(Start with 1/4 tsp and add more if desired)

¼

tsp

garlic powder

2

tbsp

cassava flour

½

cup

water
Instructions
Meatballs
Preheat oven to 350 degrees

In a bowl, mix together all meatball ingredients and roll into about 1.5″ balls. Mine usually makes 14 meatballs

Take a few spoonfuls of cassava flour and spread out on a plate. Roll each meatball in the flour, making sure they are just lightly coated.

In a medium sized skillet, heat up 1 Tablespoon of avocado or olive oil to about medium heat (You want your pan to sizzle when you add the meatballs)

Add in enough meatballs that you're not crowding your skillet, and brown on all sides. You're not cooking them through, but browning them. This takes about 5 minutes per batch. Work in batches until all of your meatballs have been browned. If needed, add more oil to your pan if it gets dry during the process

Placed browned meatballs into a casserole dish with a lid. Mine is a 2.5 quart and fits everything nicely.
Gravy
Keeping your pan drippings after browning the meatballs, add beef broth, kosher salt, ground black pepper, and garlic powder. Bring to a nice simmer and allow to cook for about 5-6 minutes

While that is simmering, mix 2 Tablespoons of cassava flour with 1/2 cup of warm water to make a "slurry".

Turn up the heat on the gravy and slowly pour in the slurry while constantly whisking. Your gravy will start to thicken. Remove from heat when you've reached a nice thick consistency.

Grab your immersion blender and place it in the gravy and blend until the gravy is a nice thick creamy light brown color. Tip: You may have to tip your pan a bit to pool the gravy enough to get it to blend. Just keep your blender head flat to the bottom of the pan if you do this.

Pour the gravy over the meatballs, cover, and bake in the over for 30 minutes.

Remove from the oven and allow to rest about 20 minutes before serving (They will be piping hot!) Tip; Your gravy may seem thin when you remove the dish from the oven. It will thicken back up as it rests and cools a bit.

Serve over mashed potatoes. Enjoy!
You Might Also Like…
---