Our @whole30recipes Instagram feed brings you delicious, Whole30 Approved recipes all day, every day. And, in our  series,  The Best of @Whole30Recipes, we're bringing them to our blog! Each week, we feature a new mini-collection of our favorite recipes.  This week, we're bringing you simple but incredible recipes to make your first week of Whole30 delicious, without overwhelming you.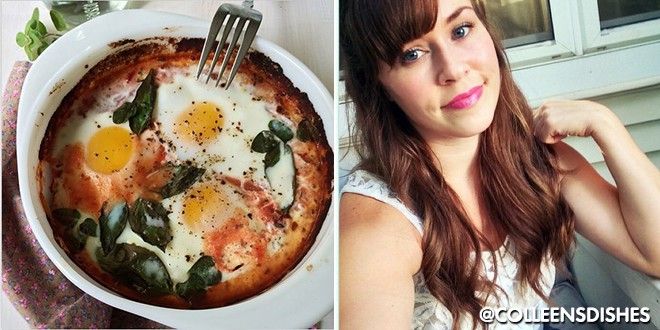 Quick Italian Baked Eggs, @colleensdishes
1 can compatible tomatoes (14.5oz) I used diced
3 eggs
1/2 T Italian seasoning
1/2 T garlic powder
1/2 T onion powder
Salt to taste
Fresh ground pepper
Fresh Italian herbs (I used basil and oregano)
Swirl of full fat coconut milk
Preheat oven to 425 degrees. In an oven safe bowl, add can of tomatoes. Mix in all of the seasoning and give it a little taste for salt. Top with 3 fresh eggs, a swirl of coconut milk, fresh ground pepper, and bake for 25 minutes or until whites are firm.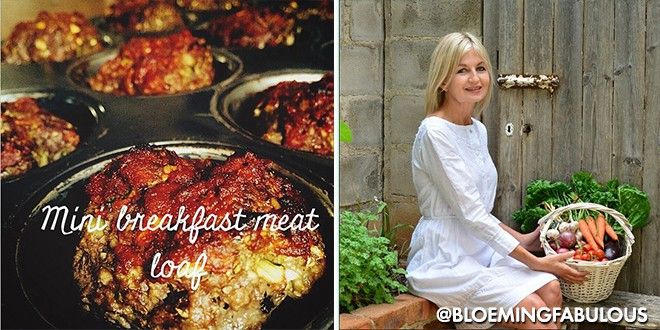 Mini Breakfast Meatloaves, @bloemingfabulous
1 lb/500g ground beef
4 big zucchini, finely grated
6 tbsp tomato paste, divided
½ tsp dehydrated garlic
½ tsp chili flakes (optional)
1 tsp each ground cumin and paprika, divided
1 Tbsp oil of choice, plus oil for pan
Salt and pepper to taste.
Preheat oven to 350 F/180 C. Gently mix beef, zucchini, 3 tbsp tomato paste, ½ tsp each of cumin and paprika, chili flakes if desired, and oil.. Oil a muffin pan and shape round balls of the mixture and place the individual 'loaves' in the muffin pan. To glaze the loaves, mix 3 tbsp of tomato paste with a half a teaspoon each of cumin & paprika, and salt and pepper to taste. Spread over each mini loaf. Bake for approximately 30 minutes making sure the glaze doesn't burn. Spoon the lovely juices which bake out of the loaves over them when serving with either an egg or a green salad,or both!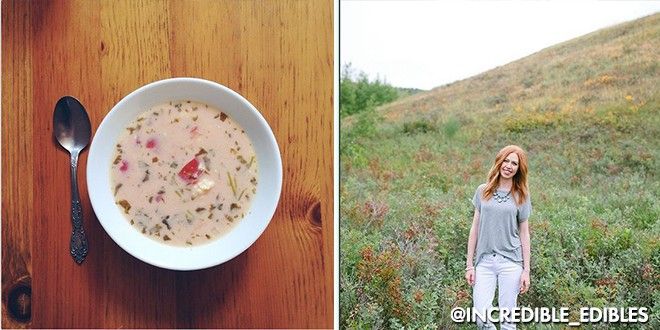 Cilantro Coconut Shrimp Soup, @incredible_edibles
1.5 lbs shrimp
1 Tbsp coconut oil
1 onion, chopped
3-4 cloves of garlic, minced
2 c fresh cilantro
1 c canned coconut milk
4 c water
Juice of 1 lemon
½ Tbsp salt
14 oz diced tomatoes
Dash cayenne pepper (optional)
Peel shrimp and cut them in halves or thirds. In a saucepan, add coconut oil, onion, garlic, and cilantro on high heat. Once onions start to become translucent, add coconut milk, shrimp, water, lemon juice, salt, and cayenne if desired. Cook for about 10 minutes, or until shrimp are cooked through. Turn off heat and add tomatoes, more cilantro, and some scallions to garnish.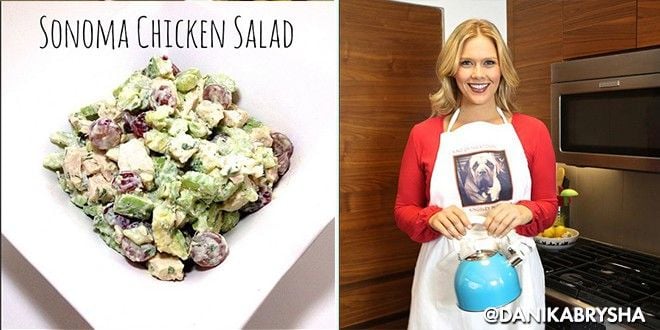 Sonoma Chicken Salad, @danikabrysha
Makes 4 servings:
2 large cooked chicken breasts (organic, free-range if possible), diced
1 cup red grapes, halved
1 cup celery, chopped
1 avocado, diced
Sauce:
1/2 cup Whole30 Mayo (recipe at whole30.com)
2 Tbsp fresh dill, minced
2 Tbsp fresh chives, minced
1/2 tsp garlic powder
Salt and Pepper to taste
In a small bowl, whisk together all sauce ingredients. You can also do this in a food processor, pulsing a few times. Depending on desired consistency, you can add a teaspoon or two of water or unsweetened coconut milk to thin the sauce.  In a separate bowl, combine chicken, grapes, and celery.  Using a large spoon,combine salad mixture (except avocado) with sauce.  Add avocado last, as to not smash it into guacamole salad.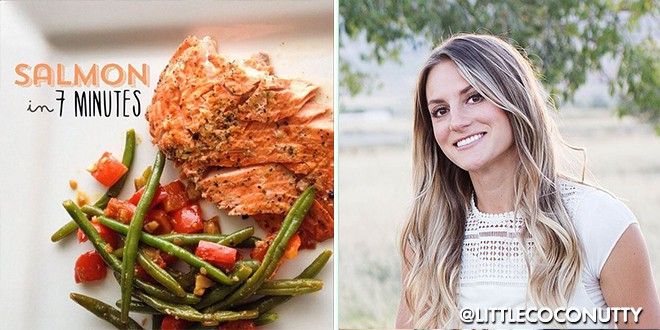 7 Minute Salmon, @littlecoconutty
Salmon fillet for each person
Avocado oil
Trader Joe's 21 Season Salute, Adobo Seasoning, or your favorite seasoning blend
Season fish with a tiny bit of avocado oil (do not use excess oil or it can catch on fire), salt, and the seasoning of your choice. Flip so it's skin up. Broil 6 inches under broiler for 4 mins. Pull out of oven and peel skin off and flip. Cook another 3 mins or until fish flakes.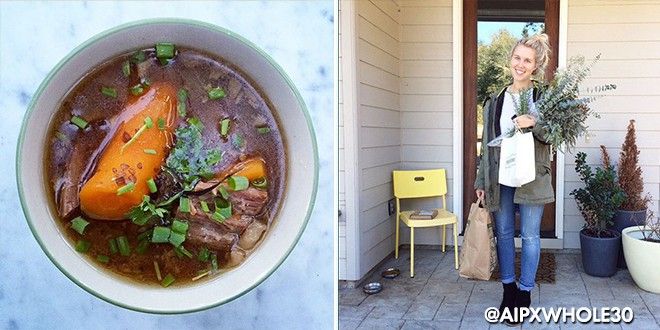 Crock Pot Roast Beef, @aipxwhole30
1 Chuck Roast (3-4 pounds)
1 carton beef broth (make sure it has no sugar and only clean ingredients . Pacific Foods offers a great "bone broth")
5 carrots, roughly chopped
1 onion, chopped into 1/4" pieces
3 cloves of garlic, smashed
3 pieces of rosemary, leaves removed from the stem
Salt to taste
Chopped parsley/green onion to garnish
Combine all ingredients in your crock pot and then cook on low for 8-10 hours.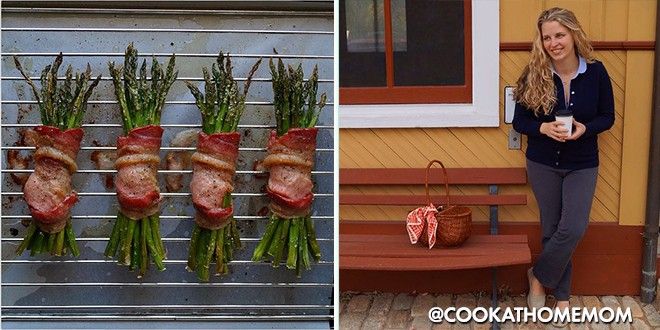 Bacon (or Prosciutto) Wrapped Asparagus, @cookathomemom
Serves 4
1 lb or 1 large bunch asparagus
4 slices bacon (no sugar added) or prosciutto
1 tbsp olive oil
1/8 tsp salt
1/8 tsp pepper
Preheat oven to 400. Wash and pat dry the asparagus. Separate into four equal sized bunches. Wrap each with a slice of bacon or prosciutto, overlapping as little as possible. This will prevent undercooked meatand allow as much fat to render as possible. Use a toothpick if necessary on the underside of each bunch to help hold the meat together. Lay each bunch on a slotted pan or use a cooling rack on top of a cookie sheet (this allows the fat to drip away from the bacon). Drizzle with olive oil. Place in the oven for 8-10 minutes or until the bacon is cooked well and the asparagus is crispy. Sprinkle with pepper and salt to taste and enjoy!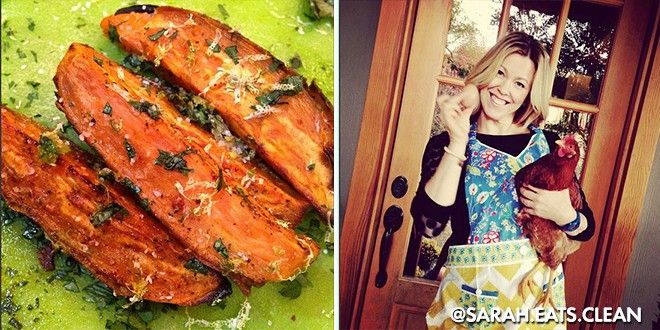 Cilantro Lime Sweet Potato Wedges, @Sarah.Eats.Clean
3 Sweet Potatoes
Oil to coat potatoes
¼ cup cilantro, finely chopped
Zest from 1 Lime
Sea Salt
Wash sweet potatoes.  Add the sweet potatoes to a large pot of cold salted water. Bring to a boil over medium-high heat and cook the potatoes until just tender, about 15 minutes. Drain the potatoes and let cool until they can be handled. Cut potatoes into wedges.  Try to keep all of your wedges about the same size. Line a baking sheet with aluminum foil and heat oven to 425°. Toss the potatoes, oil and sea salt to taste. Roast for 10-12 minutes, until golden brown.  Remove from oven and sprinkle with lime zest and cilantro. Serve warm.
Have a favorite from the @whole30recipes feed?  Is there a collection you'd like to see? Let us know in comments!
Melissa Urban
Co-Founder / CEO
Melissa Urban is a 7x New York Times bestselling author (including the #1 bestselling The Whole30) who specializes in helping people establish healthy boundaries and successfully navigate habit change. She has been featured by the New York Times, People, the Wall Street Journal, Forbes, The Today Show, and Good Morning America, and is a prominent keynote speaker on boundaries, building community, health trends, and entrepreneurship. She lives in Salt Lake City, UT with her husband, son, and a poodle named Henry.