We're always on the search for side dishes that are quick and easy to pull together, and this recipe for Whole30 Roasted Radishes and Rainbow Carrots from Irvin Lin of Eat the Love is this week's winner. Radishes are a versatile root veggie, but are often overlooked, as most of us have only been introduced to them in their raw state. Irvin tells us, "Radishes can be a polarizing vegetable, with their sharp peppery bite. If you're not a fan of raw radishes, perhaps roasted radishes will change your mind. The vegetable mellows in the heat, caramelizing slightly on the pan, turning into a buttery bite of delight. I roasted radishes with Brussels sprouts on my blog Eat the Love, but here I paired them with rainbow carrots for a little earthy sweetness. I think I might actually like these better!"

Pair this dish with Piri Piri Chicken from The Primal Gourmet.
Recipe and photo by Irvin Lin of Eat The Love.
Whole30 Roasted Radishes and Rainbow Carrots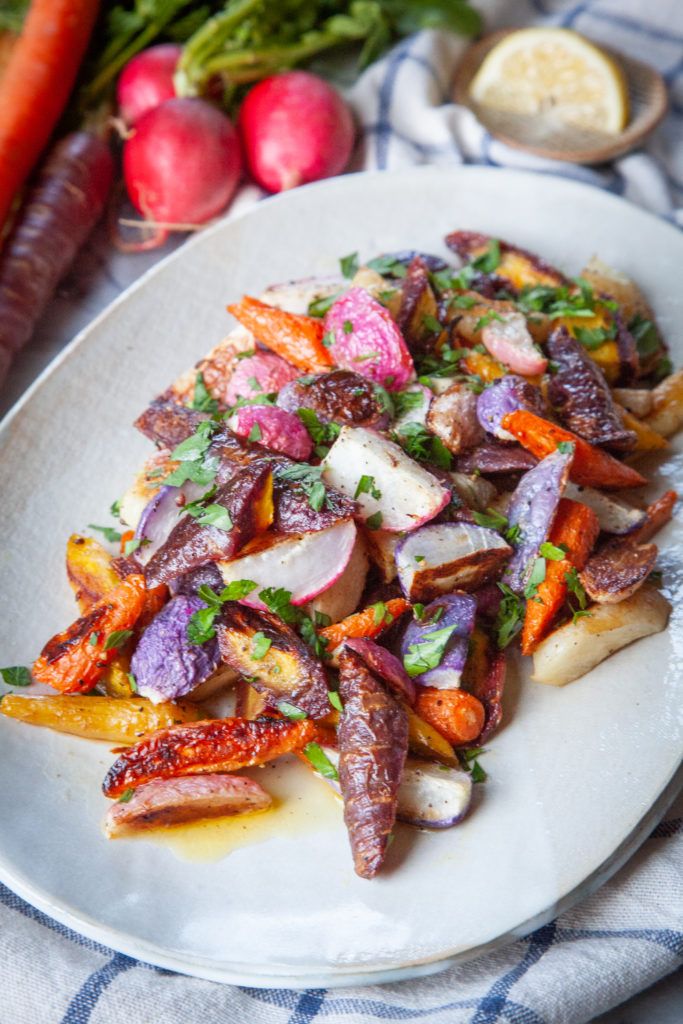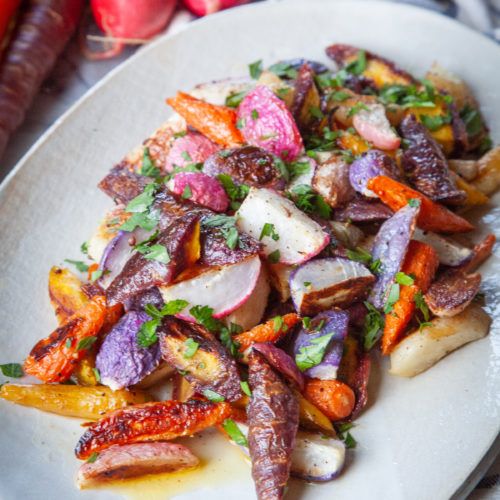 Whole30 Roasted Radishes and Rainbow Carrots
You can use any radishes for this dish, but I picked Easter egg radishes, which aren't a specific type of radish, but rather the name for a bundle of different radishes collected together.
Ingredients
1

pound

radishes

1

pound

carrots

4

tablespoons

ghee

divided

1

teaspoon

kosher salt

1

teaspoon

fresh ground pepper

1

teaspoon

fresh lemon juice

1

teaspoon

chopped Italian parsley.
Instructions
Preheat the oven to 450°F.

Trim the radishes of their greens and wash thoroughly, as they can be sandy.

Cut any radishes that are large in half or quarters.

Trim the carrots of their greens, if they are still attached. Scrub or peel the carrots, then cut them to roughly the same size as the radishes, about the size of baby carrots.

Place vegetables in a bowl.

Melt the ghee on the stovetop or a microwave.

Spoon half the ghee over the vegetables and sprinkle with salt and pepper. Toss to coat.

Pour the vegetables onto a rimmed baking sheet. Roast for 16 to 18 minutes, or until the bottom and edges of the vegetables are golden brown.

Move warm vegetables to a serving dish. Drizzle remaining melted ghee, lemon juice and parsley over vegetables.

Add additional salt and pepper to taste if necessary, then serve.
You Might Also Like…
---
Irvin Lin
Recipe Creator | Eat the Love
Irvin Lin established his nationally recognized blog Eat the Love in 2010. He is former graphic designer and art director turned IACP award-winning photographer, acclaimed food writer, experienced recipe developer, blue-ribbon baker, and in-demand public speaker. His blog was a finalist for the 2017 IACP Digital Media Award for Best Recipe Blog.Lin's work has been featured in Best Food Writing 2014, Better Homes and Gardens, The Kitchn, Fine Cooking Magazine, O – Oprah magazine, Food 52, PBS Food, The Counter and the official Pinterest Blog. His first cookbook, Marbled, Swirled and Layered, was named one of the best baking cookbooks of 2016 by the New York Times. He is an ongoing contributor to Simply Recipes. He currently resides in San Francisco with his husband. When he's not developing recipes or writing about food, he's in the ceramic studio, making his own custom plates and props for his food photography.