This is the second post in our Summer on a Stick recipe series. Maria Barton of Maria Makes shares some of her favorite grilled kabob recipes to heat up your summer.
Time to soak those skewers and fire up the grill again! I love the idea of grilled fruit, and pineapple is right up there at the top of the list. It pairs perfectly with pork and red peppers in this recipe, and I don't think you could get a prettier color combo. These kabobs are nice and spicy from the red pepper flakes, and the sesame oil, coconut aminos, and fresh ginger and garlic lend an Asian flare.
[Tweet "#Whole30 Summer grilling w/ Maria Barton: Sweet & Spicy Pork Kabobs #Whole30Recipes"]
I used thick cut pork chops since that's what was on sale, but you could also use pork shoulder or pork loin! As always, once these are grilled you can strip the skewers and add everything to a huge, fresh salad if you're craving some greens.
Mix up the marinade the day before (or the morning you plan to make these for dinner), so the ginger, garlic, and red pepper flakes can get the party going, then marinate the pork for 30 minutes or so right before cooking. I also like to cut up the veggies and pineapple in advance to make dinner that much easier.
Stay tuned for more tastiness-on-a-stick to come!
Spicy Asian Pork & Pineapple Kabobs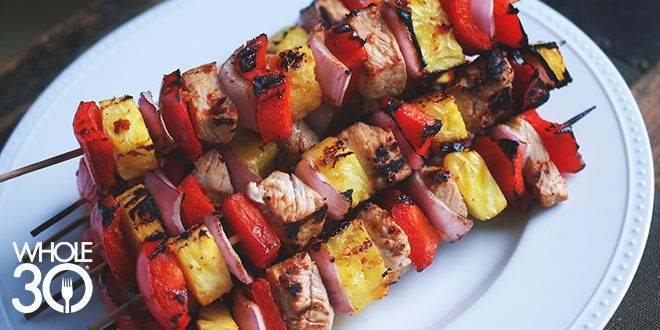 Ingredients
For the Pork Marinade
2 Tbsp coconut aminos
1 Tbsp rice vinegar
1 Tbsp sesame oil
1 Tbsp freshly grated ginger
2 cloves garlic, ground into a paste, salt for grinding
1 tsp red pepper flakes
For the Kabobs
1.5 – 2 lbs pork chops, shoulder, or loin
2 red bell peppers
1 fresh pineapple, peeled, cored, sliced
1 large red onion
Olive oil
Salt & Pepper to taste
Instructions
SOAK bamboo skewers in water for a couple of hours so they don't burn on the grill.
PEEL and finely chop the garlic. Sprinkle it with salt and use the back of a knife to grind it into a paste.
PEEL a knob of ginger using a spoon (sounds silly, but it's the best way!), then pop it in the freezer for a bit to make it even easier to grate.
IN a small jar, combine marinade ingredients and sit the jar in the refrigerator for a couple of hours so the flavors can combine.
CUT pork into bite-sized pieces (about 1" cubes). Add to a medium zip-top bag. About 30 minutes before you are ready to put together the skewers, add 2/3 of the marinade to the pork and sit the remaining 1/3 aside.
CHOP the peppers and red onions into about 1 inch squares. To prepare the pineapple, cut the top and bottom off, then cut into quarters and remove the core from each piece. Cut the fruit away from the hard skin, then cut each quarter in half lengthwise so you end up with 8 long pieces. Slice pineapple about a half inch thick.
ASSEMBLE the kabobs by threading the pork, pineapple, and veggies onto the skewers, alternating in whatever pattern strikes your fancy. Place the kabobs on a foil-lined cookie sheet and drizzle with the remaining marinade from earlier.
PREHEAT the grill to medium-high heat. Grease the grates using grill tongs and a paper towel that is bunched up and saturated with olive oil.
GRILL the kabobs for a total of about 10 minutes, turning every couple of minutes. The kabobs are done once they have some nice grill marks and the pork reaches an internal temperature of 145 degrees F.
REMOVE from the grill and enjoy!
Some links in this post are affiliate links, which means Whole30 makes a small commission on items purchased via these links. Thank you for supporting our Whole30 Approved partners.
---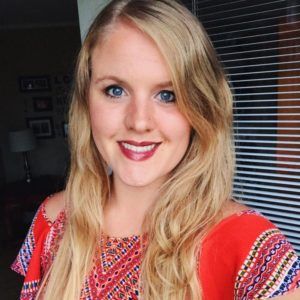 Maria Barton is a home chef, blogger, DIY-er, gardener, wife, and dog mom who is working on finding balance in her life after Whole30. You can find more delicious recipes at MariaMakes.com and connect with her at @mariamakesstuff on Instagram or on Facebook.
Save
Save
Save
Save