This easy Ham and Hash Brown Casserole is a delicious way to use up leftover ham or just get your family fed and full! The dairy-free, gluten-free sauce gets its rich flavor from sauteed vegetables blended into a creamy sauce. We also love the time-saving and budget-friendly use of frozen hash browns and peas for the base of this casserole.
But if you ask us, what really makes this Whole30 casserole is what's on top. Nutritional yeast is dusted on for a touch of "cheesy" flavor, and almond flour mixed with melted ghee creates a mouth-watering, crunchy topping that'll have everyone fighting for seconds.
This Whole30 Ham and Hashbrown Casserole is kept grain- and gluten-free by using shredded potatoes for the base. Can't do potatoes? Use an equal amount (3 cups) of fresh riced cauliflower instead!
Ham and Hashbrown Casserole Swaps:
Use another dairy-free milk of choice instead of coconut milk. As other nut milks are usually thinner in texture, increase starch to 7 tablespoons to keep the sauce thick.
We don't recommend using tapioca starch in this recipe, as it will make the sauce tacky.
If you need a nut-free option, omit the almond flour crumble topping. Instead, just top the casserole with nutritional yeast, cover with foil, and bake. Remove foil for the last 15 minutes of baking to brown.
This dish serves 8, making it a foolproof (and delicious!) way to feed a crowd or munch on all week. Do future you a favor by making a double batch to pop in the freezer for a rainy day when you just don't feel like cooking.
Ham and Hash Brown Casserole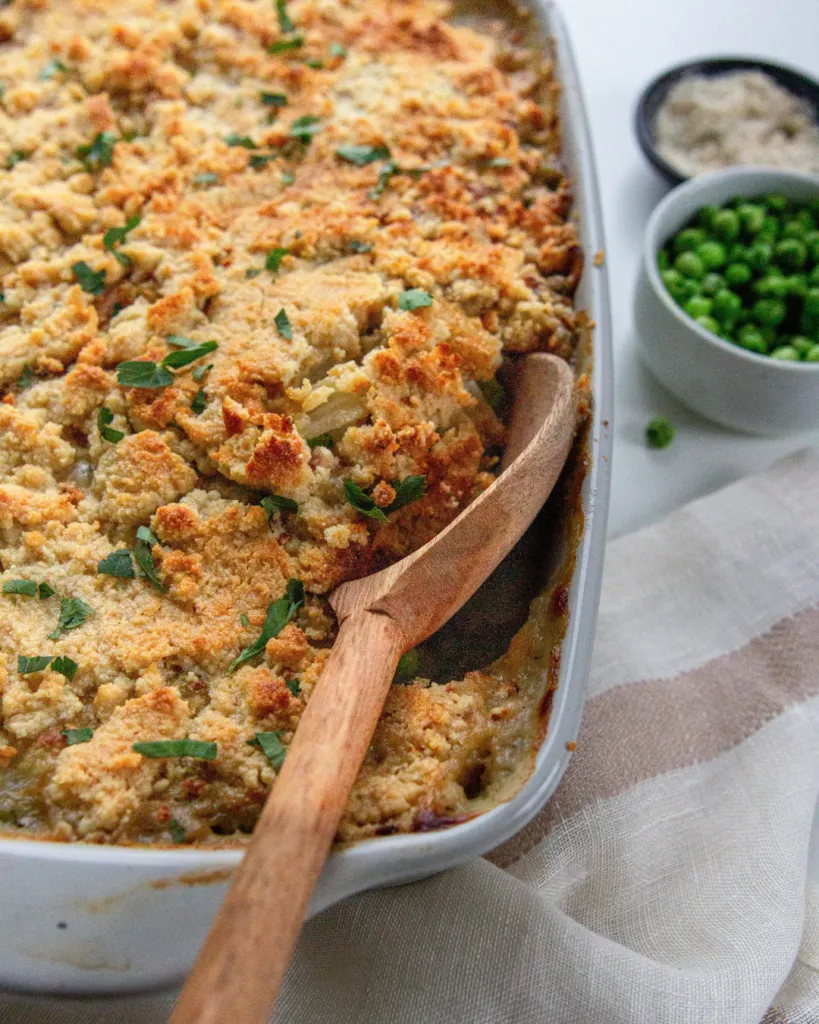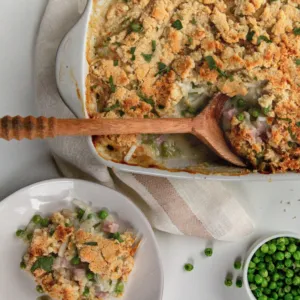 Ham and Hash Brown Casserole
Ingredients
Sauce
6 tbsp ghee
1 large sweet onion diced
3 stalks celery diced
2 tbsp minced garlic
1 cup chicken broth
1 cup full-fat canned coconut milk
6 tbsp potato or arrowroot starch
1 ½ tsp salt
½ tsp pepper
Casserole Base
1-pound bag compatible frozen hash brown potatoes
2 cups diced cooked ham
2 cups frozen peas
Topping
3 tbsp nutritional yeast
2 cups almond flour
¾ cup melted ghee
Instructions
PREHEAT oven to 350 °F.

MELT ghee in a large saucepan over medium heat. Add diced onion, celery, and garlic. Cook until onion is translucent, about 7-8 minutes.

WHISK together chicken broth, coconut milk, starch, salt and pepper.

ADD broth mixture to the sauteed vegetables. Cook for 3-4 minutes until sauce thickens, stirring regularly. This combination will be thick.

BLEND the sauce in a blender or food processor until smooth. The vegetables should be fully blended into a creamy sauce.

COMBINE in a large 9×13 casserole dish the frozen hash browns, ham, and peas. Top with blended sauce and stir until well combined.

SPRINKLE top of the casserole with the nutritional yeast. In a small bowl, combine with a fork the almond flour with the melted ghee to create the topping. This topping will not be crumbly, more of a paste, but do your best to crumble small pieces of it over the top of the casserole.

BAKE uncovered for 1 hour, until the topping is brown and potatoes are tender. Cool on the counter for 10 minutes before serving.
Freeze for later
PREPARE casserole by following the directions up to the last step before baking.

CREATE an air-tight seal over the casserole by using a layer of plastic wrap and a layer of foil before storing in the freezer. (If your casserole dish has a compatible, freezer-friendly, airtight lid, we still recommend adding a layer of plastic wrap fitted closely to the contents of the dish to prevent freezer burn.)

STORE in the freezer for up to 3 months.
Prepare Frozen Casserole
THAW frozen casserole in the fridge for 24 hours.

PREHEAT oven to 350 °F.

BAKE the casserole uncovered for 1 hour, until the topping is brown and potatoes are tender. Cool on the counter for 10 minutes before serving and enjoy!
You Might Also Like…
Autumn Michaelis
Recipe Creator | Whole Food for 7
Autumn Michaelis is an ACSM Certified Exercise Physiologist, with a B.S. in Exercise Science from BYU. Though exercise was her first love in the health world, nutrition has become her passion. She created the blog Wholefoodfor7, sharing easy and budget-friendly Whole30, Paleo, and gluten-free + dairy-free recipes for families. In August 2022, Autumn released the newest Whole30 Endorsed cookbook, Whole Food for Your Family. She is mom to 5 boys (yes 5!) and when not in the kitchen can be found adventuring, hiking, and tearing up the dance floor.