Ring in spring with the newest addition to our Instant Pot Pressure Cooker recipe series. This counter top appliance is popular among our Whole30 community, and Whole30 compatible Instant Pot recipes are one of our most-requested resources on social media. Sarah Steffens, our in-house recipe creative, is sharing her favorite recipes for nourishing, delicious Instant Pot dishes—Whole30 compatible, of course!
Our Whole30'ers in the Northern Hemisphere are gradually making the shift from winter boots and snowfalls to raincoats and blooming gardens. But while temperatures are rising, evenings are often still brisk, the perfect opportunity to enjoy a few last comforting soup recipes before we start grilling all of the things, all of the time.
[Tweet "A fresh and green @InstantPot stew to ring in spring! Recipe on the #Whole30 blog now."]
With that in mind, we're sharing this warm and delicious spring stew recipe from Sarah Steffens, a filling yet satisfying Whole30 dinner for those early spring evenings.
Spring Stew with Lamb and Asparagus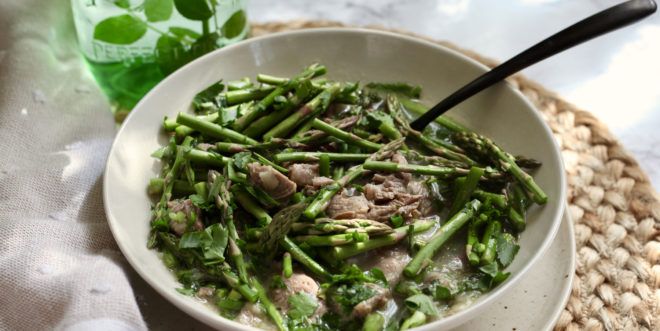 Ingredients
1 Tbs. of ghee (I used Whole30 Approved Tin Star Foods)
1 lb. of lamb stew meat, diced in bite-sized pieces
1 yellow onion, peeled and diced
4-6 fresh garlic cloves, peeled and minced
1 cup of bone broth (we like EPIC Provisions Homestyle Savory Chicken broth)
2 tsp. of sea salt
1/2 tsp. of black or white pepper
1 lb. of fresh asparagus, tough ends trimmed and chopped in 1" pieces
1/4 cup of tahini
Juice and zest from 1 lemon
1/2 cup of fresh parsley, minced
1/2 cup of fresh mint, minced
Instructions
ADD ghee, lamb, onion, garlic, bone broth, sea salt and pepper to your Instant Pot and toss well to ensure all the ingredients are distributed evenly. PLACE the lid on and set the steamer valve to "Sealing."
PLUG in your Instant Pot and set it to the "Meat/Stew" at "High Pressure" for 15 minutes. When the timer has reached "0" minutes, allow the steam to naturally release for an additional 30 minutes.
REMOVE the lid and stir in the asparagus, tahini, lemon juice and zest, parsley and mint. Serve between 4 bowls and enjoy!
Some links in this post are affiliate links, meaning Whole30 makes a small commission on items purchased via these links. Thank you for supporting our Whole30 Approved partners.
---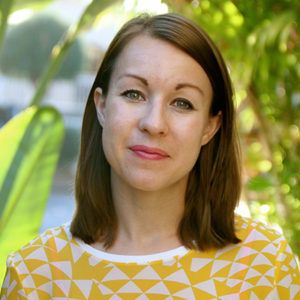 Sarah Steffens has a B.A. in Business Administration, Public Relations from The Master's College in Southern California. After years of experimenting with nutrition and recipes in her own kitchen, she now works as a Personal Chef in Los Angeles, cooking meals that support her client's intention to physically and mentally thrive. She has catered several independent film sets, making it her goal to optimize the energy and well-being of each creative crew. She is the in-house recipe creative for the Whole30, and the creator of the Savor and Fancy blog. When Sarah is not cooking Whole30 and Autoimmune Protocol meals, she is likely exploring mid-century sites in L.A., taking photographs, listening to an audio book or hiking at Griffith Park.