Our @whole30recipes Instagram feed brings you delicious, Whole30 Approved recipes all day, every day. And, in our series, The Best of @Whole30Recipes, we'll be bringing them to our blog! Each week, we'll feature a new mini-collection of our favorite recipes. This week, we're bringing you bright and flavorful recipes that are a perfect fit for your Easter – or any other Spring – gathering.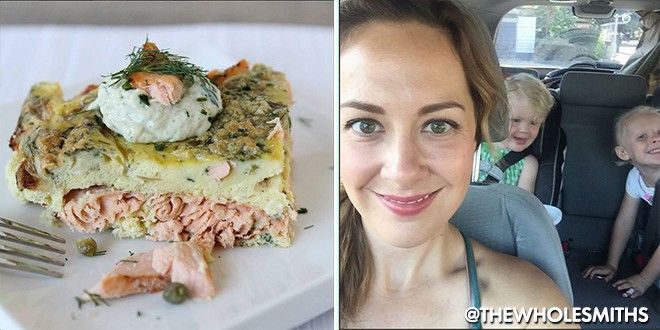 Salmon Fritata, @thewholesmiths
Ingredients:
5 lbs. salmon
10 eggs
1/2 a small onion
2 Tbsp ghee
1 Tbsp. chopped dill
1 Tbsp. chopped capers
1 tsp. chopped chives
Caper + Dill Mayo*
salt + pepper
Directions:
Preheat oven to 375. Heat ghee in large frying pan on medium-high heat. Cut salmon into small sized fillets (use kitchen scissors, it's much easier!). Salt and pepper each side of the salmon. Once ghee is hot slowly place salmon fillets down into hot pan. Let cook for about 5 minutes, until the salmon is cooked about 2/3 of the way through and no longer sticks to pan. DO NOT try to remove it too early or the salmon will stick. Flip salmon and cook for an additional 3 minutes, until cooked through. Remove from heat.
Lightly grease a baking dish with butter or ghee to prevent sticking. In a separate bowl, thoroughly whisk together eggs, dill, capers, chives and a pinch of salt and pepper. Break salmon fillets into large chunks and arrange into greased baking dish, if all of the pieces don't fit feel free to stack some. Pour egg mixture over salmon. Lightly wiggle the baking dish to ensure the egg is evenly spread.
Bake in 375* oven for 30 minutes, until center is no longer wet. Pull out and let rest for 10 minutes before serving. Top with Caper + Dill Aioli.
For Caper + Dill Aioli: Combine 1/2 C. of mayo, 2 Tbsp. dill, and 1 Tbsp of capers and pulse a few times with hand blender until mixed.
Find more recipes from @thewholesmiths on her Instagram feed.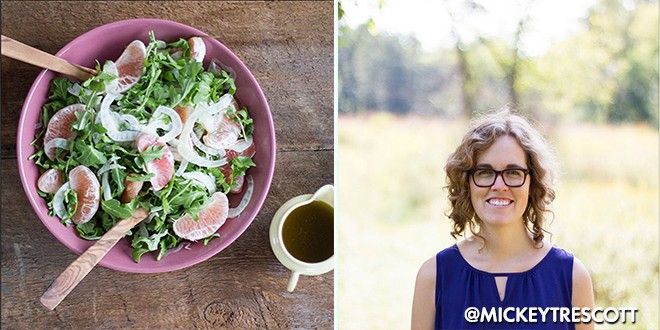 Early Spring Salad, @mickeytrescott
Ingredients:
1/4 cup extra virgin olive oil
1 lemon, juiced
1 tablespoon apple cider vinegar
1/4 teaspoon ginger powder
1/4 teaspoon sea salt
4 cups arugula
1 large or 2 small grapefruits, peeled and sectioned
1 fennel bulb, sliced thinly with a mandolin or sharp knife
Place the olive oil, lemon juice, apple cider vinegar, ginger powder, and sea salt in a small bowl and whisk to combine. Set aside. Place the arugula, grapefruit sections, and fennel slices in a large bowl and toss with the dressing just before serving.
Find more recipes from @mickeytrescott on her Instagram feed.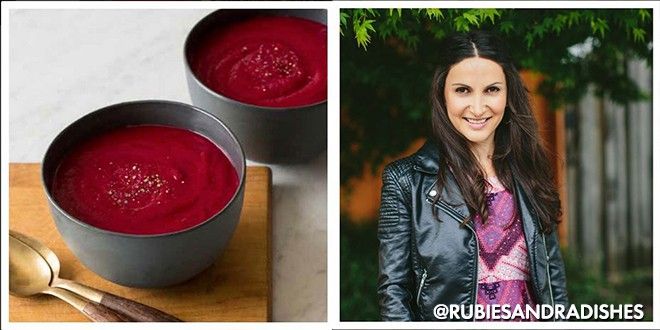 Caramelized Onion and Beet Soup, @rubiesandradishes
Ingredients:
2 lbs. fresh beets, peeled and chopped
5 cups chicken broth, divided
1⁄2 tsp sea salt
1⁄4 tsp pepper
2 tbsp ghee
1 large onion, thinly sliced
1 carrot, peeled and diced
Place the beets in a large stockpot. Add 4 cups of chicken broth, salt and pepper. Cover and cook for 45 minutes or until beets are tender. Meanwhile, heat the ghee in a large skillet over medium heat. Sauté the onion and carrot, constantly stirring until carrots are tender and onion is soft, and they give off a sweet aroma. Once onion and carrots are soft, add them to the beets and broth. Let the soup cool a little bit, then transfer to a blender, add the additional broth and blend until smooth. Place the soup back into a pot and adjust salt and pepper to taste. Bring back to a simmer and serve.
Find more recipes from @rubiesandradishes on her Instagram feed and at www.rubiesandradishes.com.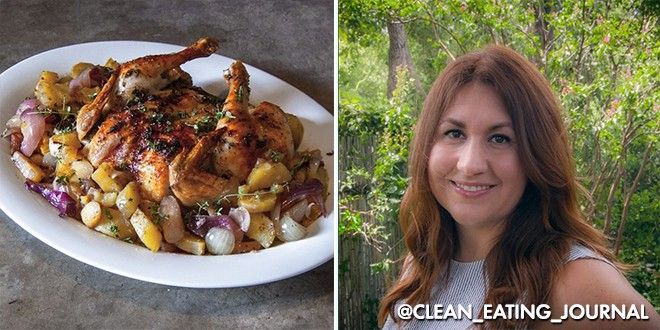 Butterflied Chicken with Roasted Vegetables, @clean_eating_journal
Ingredients:
3 large carrots, peeled and chopped into 1″ chunks
3 medium onions (white, red, or a medley of both), coarsely chopped
3-4 sweet potatoes (I prefer Hannah sweet potatoes. They are more firm and less sweet than the traditional orange ones), peeled and chopped into large chunks
6 garlic cloves, crushed and peeled
coarse salt + pepper
1 orange
1 whole chicken
1 Tbsp fresh or dry thyme, plus more for garnish
4 Tbsp avocado oil or ghee
1 lemon
Preheat oven to 425 degrees. Fill the bottom of an oven safe high-rimmed dish with onions, carrots, sweet potatoes. Add a dash of salt + pepper, and 4 crushed garlic cloves. Combine with vegetables. Slice half of the orange into rings, peel, place on top of the vegetables. Discard the peels. Butterfly the chicken by removing the backbone with a sharp knife or kitchen shears. Lay the chicken skin side up on your work surface; apply firm pressure with your hands to flatten it. Rub the chicken with the 2 remaining garlic cloves, salt, pepper and thyme. Place the chicken on top of the vegetables. Squeeze the lemon and the remaining half of the orange over the chicken. Drizzle oil or ghee over the chicken and vegetables. Cook for 1 hour, or to your desired doneness.
Find more recipes from @clean_eating_journal on her Instagram feed.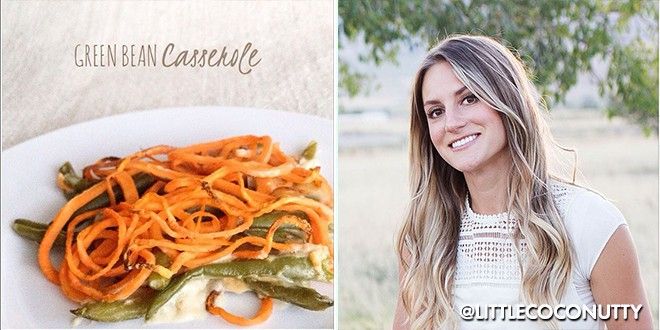 Green Bean Casserole, @littlecoconutty
8 C of green beans
1 sweet potato,
12 oz of soaked cashews (4-24 hours in water)
1 c water
1 c compatible chicken broth,
5 cauliflower florets
1/2 yellow onion
1 tsp of bacon grease
1 tsp of ghee
salt and pepper to taste.
Slice onion and caramelize with fat in a skillet over low-med heat. Steam green beans and cauliflower till tender. Put cauliflower in blender with 1/3 c water and half of the caramelized onions and blend till smooth. Put cashews and water in high powered blender and blend until smooth. Mix 1 c of cashew sauce with chicken broth and 2/3 c of blended cauliflower and pour into skillet. Add 1 tsp bacon grease – or another cooking fat, 1 tsp ghee and salt and pepper to taste. Bring to a simmer, add the rest of the caramelized onions and the steamed green beans,­ and mix well. Pour into a 9×13 baking dish. Grate or spiralize sweet potato and gently coat with oil. Cover the casserole with sweet potatoes and sprinkle some salt on top. Bake at 375 for 25-30 mins. Broil for the last few minutes to get the potatoes a little crunchy.
Find more recipes from @littlecoconutty on her Instagram feed.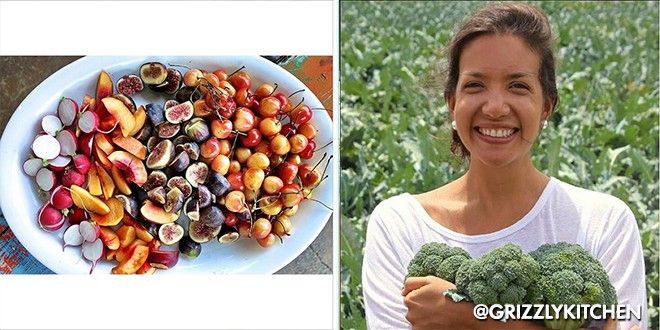 Fruit platter, @grizzlykitchen
Finish off your meal with a gorgeous seasonal fruit and vegetable platter. This one showcases figs, cherries, radishes and peaches, but you can build yours with whatever is delicious in your area.
Find more recipes from @grizzlykitchen on her Instagram feed and at www.thegrizzlykitchen.com.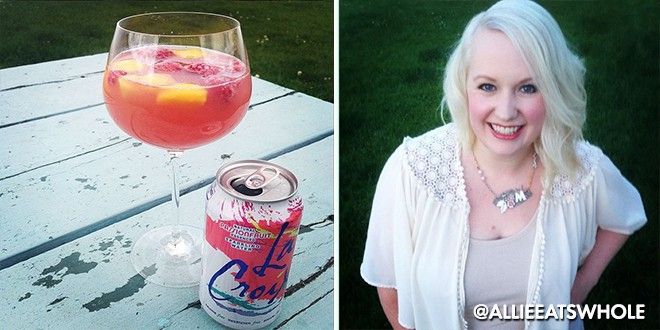 Tropical Spring Mocktail, @allieeatswhole
Per person:
2 oz guava (or other spring-inspired) kombucha
6 oz passionfruit LaCroix
¼ c frozen tropical fruit, like mango
Combine the kombucha and LaCroix. Add the frozen fruit to each glass before service.
Have a favorite from the @whole30recipes feed? Is there a collection you'd like to see? Let us know in comments!
Melissa Urban
Co-Founder / CEO
Melissa Urban is a 7x New York Times bestselling author (including the #1 bestselling The Whole30) who specializes in helping people establish healthy boundaries and successfully navigate habit change. She has been featured by the New York Times, People, the Wall Street Journal, Forbes, The Today Show, and Good Morning America, and is a prominent keynote speaker on boundaries, building community, health trends, and entrepreneurship. She lives in Salt Lake City, UT with her husband, son, and a poodle named Henry.