These Whole30 Loaded Plantain Fries are about to become your new favorite summer recipe! This dish comes together in no time and is perfect for any meal or gathering as an appetizer. It's sure to bring a Caribbean vibe.
What are plantains?
Plantain is a cultivar of bananas, sometimes referred to as cooking bananas. While it is a fruit, it behaves more like a root vegetable than a banana, as it is very starchy and cannot be eaten raw. While they are common in the Caribbean, West, and Central Africa, as well as Southern and Central America, Plantains are indigenous to Southeastern Asian countries. Plantains have varying levels of ripeness, starting from green unripe and very starchy to overripe, less starchy, and sweeter.
What ripeness should the plantain be?
Preferable green or just turning yellow. The more yellow the peel is, the riper the plantain. Typically, a starchier plantain will hold up more to frying and gives more of the traditional feeling of fries. If the plantain is just turning yellow, it will be a little bit easier to peel and will have a slightly sweeter taste. Stay away from ripe or over-ripe plantains for this recipe.
Do I have to fry the plantain in oil?
You do not. The fries can be made either in the oven or air fryer. Preheat to 400 degrees Fahrenheit, toss plantain in 1 tablespoon of olive oil and 1 teaspoon salt, then cook for 10-15 minutes in the air fryer, or 20-25 minutes in the oven. If going the oven route, use the convection bake setting for best results.
Things to know about this recipe:
Keep each component separate until ready to serve. This is so the plantain doesn't get too soggy. All components can be made ahead and reheated if needed before serving.
If the jerk aioli is not loose enough, feel free to add some more coconut aminos, 1 teaspoon at a time, until desired consistency is reached. Use a zip lock bag with the tip cut off if you want to get a good drizzle effect.
The longer you can have the onions pickle, the better. You'll want to double the recipe because you'll want to put them on everything!
Whole30 Loaded Plantain Fries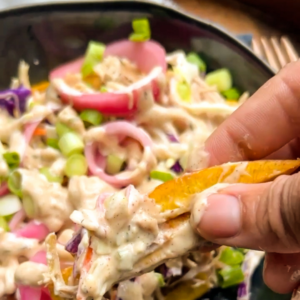 Whole30 Loaded Plantain Fries
Topped with carnitas, homemade coleslaw, and jerk aioli, these Whole30 Loaded Plantain Fries bring Carribean vibes and a whole lot of flavor!
Ingredients
Fries
2

plantains

peeled and cut into fry shape

1/4

cup

coconut oil

salt to taste
Pickled Onions
1

red onion

sliced into thin, even-sized rings

1

cup

water

1

cup

apple cider vinegar

1

date

1

tsp

salt
Jerk Aioli
1

cup

compatible mayonnaise

1

tbsp

compatible jerk seasoning

1

tbsp

coconut aminos
Slaw
1

package premade coleslaw mix

1

tbsp

olive oil

1

tbsp

apple cider vinegar

1

tsp

garlic powder

1

tsp

black pepper

1

tsp

mustard
Carnitas
1

package, pre-cooked carnitas from Trader Joe's

or homemade

1

stalk green onion, chopped for garnish

optional
Instructions
PREPARE fries by heating oil in a large skillet over medium heat. When hot, add in plantain fries.

USE a wooden spoon or tongs to turn fries occasionally so they don't burn. Allow fries to cook for 7-10 minutes or until just golden brown on all sides.

REMOVE fries to a paper towel-lined plate. Allow to drain oil, then add salt to taste.

MAKE pickled onions by adding water, vinegar, salt and date into a small saucepan. Over medium-high heat, allow the mixture to heat up and stir until the salt is dissolved. Do not allow mixture to come to a boil.

ONCE heated, add sliced onion to a Pyrex dish or large heat-safe mason jar. Pour contents of the saucepan over the onion and use a spoon or fork to make sure the onion is submerged in the pickling liquid.

LET the pickled onion sit covered on the counter for 20-30 minutes. They are ready to eat at this point. They can then be placed in the fridge.

MAKE jerk aioli by adding all the ingredients to a mixing bowl, then stirring to combine.

MAKE slaw by mixing oil, vinegar, garlic powder, black pepper, and mustard in a large bowl. Add prepackaged coleslaw mix, then combine.

COOK carnitas according to package instructions, then shred using two forks.

TO ASSEMBLE, add down a layer of plantain fries, then add carnitas. Add the slaw, pickled onion and drizzle on the jerk aioli. Add green onion for garnish if desired.
Andy McIntosh
Recipe Creator | Triangle Traveling Caveman
Andy McIntosh (he/him) is a flight attendant and recipe developer who shares Jamaican and Caribbean dishes as well as travel tips across his social media channel, TriangleTravelingCaveman. He moved from Jamaica just before he turned 15 and has lived in many major US cities including NYC, Phoenix, Houston and Chicago. His grandfather was a butcher, while his grandmother and mother taught him everything he knows about cooking.Andy has a passion and love for sharing recipes that are as traditional as you can get – but with Whole30 compatible ingredients. His goal is to show that doing a Whole30 doesn't mean giving up Jamaican and Caribbean food.