Creamy coconut milk and a generous helping of spices makes this Whole30 Sweet & Spiced Curried Beef Stew shine. The best part of this recipe is that it comes together in one large pot and can simmer slowly throughout the day, building your anticipation for a delicious dinner.
Whole30 Sweet & Spiced Curried Beef Stew
Recipe by: Carrie Kholi-Murchison
Photos by: Brian Kavanagh | The Sophisticated Caveman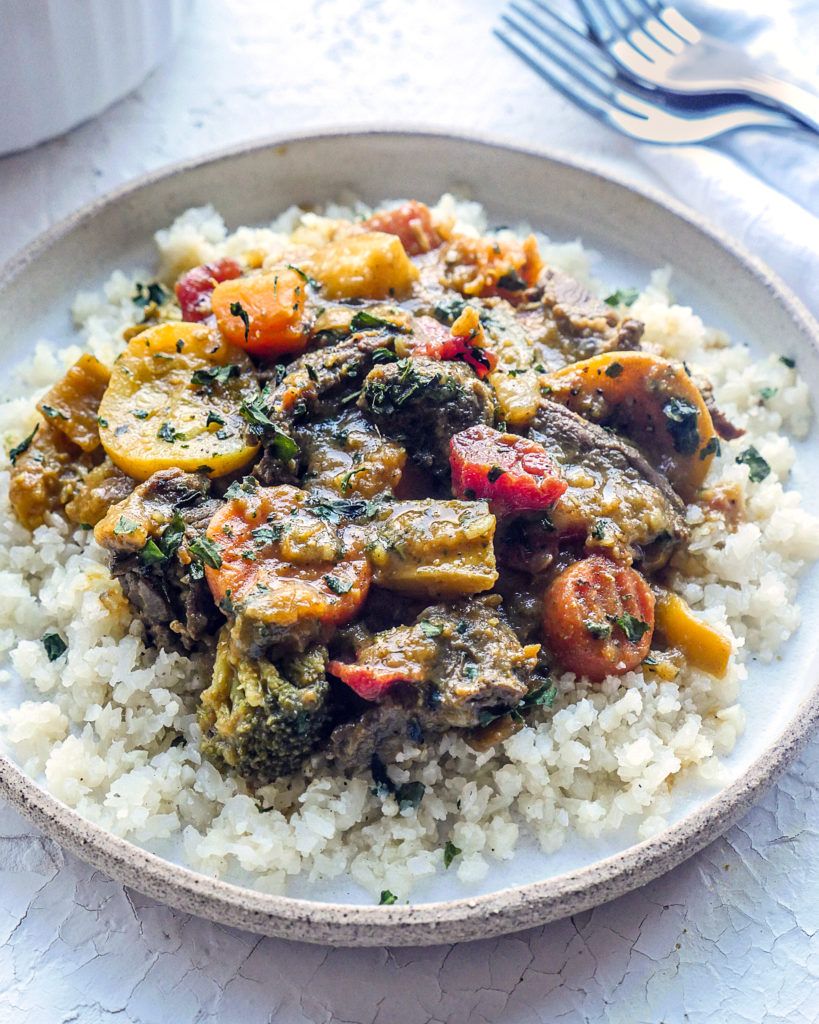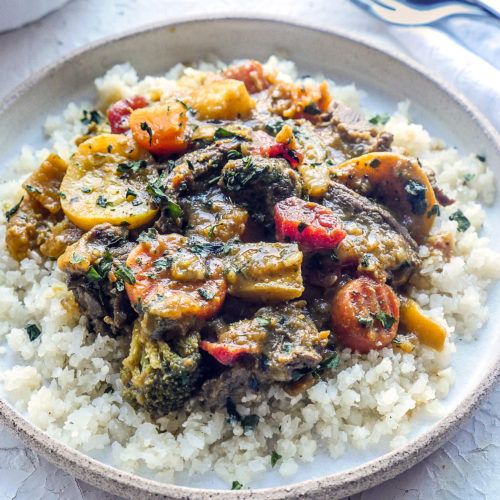 Whole30 Sweet & Spiced Curried Beef Stew
Ingredients
2

pounds

beef, cut into 1/2-inch pieces

2

whole bay leaves

2

whole medium onions, chopped coarsely

2

large bags or 2 large cans of frozen vegetables

(I use 1 bag of frozen Mediterranean vegetables and 1 large can of mixed vegetables)

2

cloves garlics, chopped finely

1

pound

golden potatoes, scrubbed and cut into 1/2-inch pieces

1/2

jar Saucy Lips Pineapple Thai Handcrafted Gourmet Sauce

1

can unsweetened coconut milk

1

cup

beef broth

1

cup

water

2

teaspoons

salt

1

teaspoon

black pepper

1

teaspoon

garlic powder

1

teaspoon

dry chopped basil

1

pinch

ground ghost pepper

(or whatever level of spice works for your tastebuds)

1

teaspoon

tomato paste

2

tablespoon

seasoning salt

(I use Laila Ali Spices Soulful Seasoning)

3

tablespoons

coconut oil

2

tablespoons

curry powder

1

tablespoon

grated fresh ginger or ginger paste

1

tablespoon

fish sauce

Hot cooked cauliflower rice

(optional)
Instructions
On the stovetop, HEAT coconut oil until shimmery in a dutch oven or large pot using low to medium heat.

ADD fish sauce, garlic, ginger, and onions. Cook until soft.

TURN stovetop to low or medium low.

ADD curry powder, Pineapple Thai sauce, and tomato paste. Stir, and let cook to a sticky mixture.

IN a small bowl, coat beef in 1 teaspoon salt, 1 teaspoon black pepper, and garlic powder.

TURN heat up to medium-high. Add all beef into the dutch oven. Coat thoroughly. And stir frequently until brown.

ADD beef broth, coconut milk, and water.

STIR in the potatoes and remaining salt. Let cook for about 5 minutes.

STIR in basil, bay leaves, ghost pepper, mixed vegetables, and seasoning salt. Turn to low and let simmer for at least 15 minutes (I usually let these flavors dance together for as long as possible as long as my veggies are still intact, and add any seasonings needed to taste before serving).

REMOVE bay leaves and serve alone or over your choice of rice.
You Might Also Like…
---