I love curry from all over the world, especially Thai-inspired ones like these Warm Spice, Red Curry and Coconut Braised Beef Short Ribs.
Nothing makes the house smell better than a simmering pot of spices, aromatics and coconut milk, and this does just that during the 3-hour, hands-off cook. Simply sear the meat well, toast your curry paste, gather the remaining ingredients in a pot, and simmer away. The beef becomes falling off the bone tender and redolent with warm spices.
This dish calls for a few items any well-stocked pantry should have. The bulk of the flavor comes from the curry paste, and I always have homemade in my freezer or store-bought in the pantry. Shallots, cashews, ginger and cinnamon, round things out. Feel free to sub in fresh ginger for the dried in the recipe if that's what you have around, as well as whole cinnamon sticks for a more complex flavor.
I love making this dish a weeknight supper by making it the night before and eating dinner while it cooks. It tastes great the next day and also makes great leftovers. I had some turmeric pickles in my fridge and used them to garnish (it's very rich, and some crunchy acid helps), but feel free to serve this over your favorite rice substitute or veggie puree.
Warm Spice Red Curry and Coconut Braised Beef Short Ribs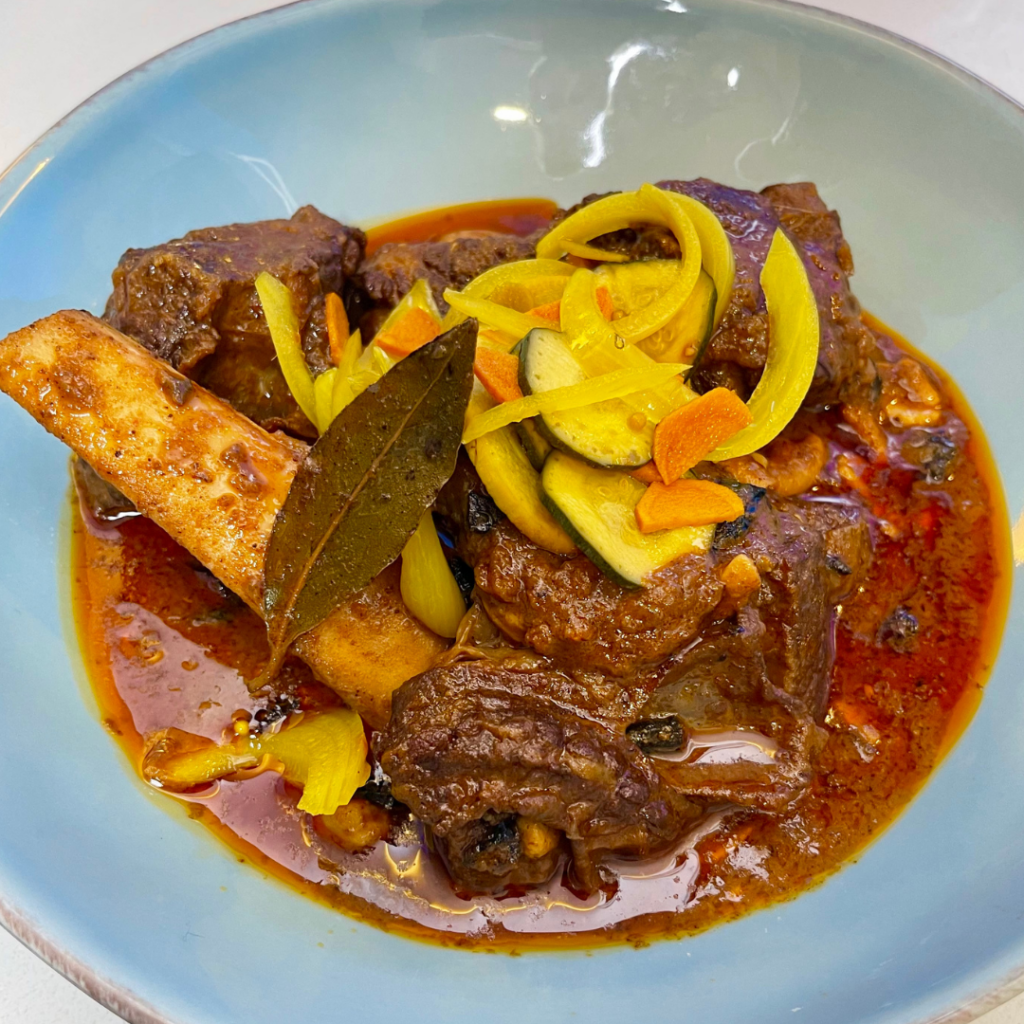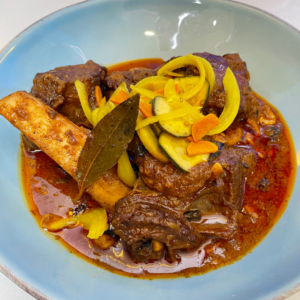 Warm Spice, Red Curry and Coconut Braised Beef Short Ribs
Cinnamon, star anise, ginger and curry flavor this braise of beef that simmers in coconut milk until tender.
Ingredients
3

lbs

bone-in beef short ribs or cubed (about 2½ inch) boneless beef chuck

1.5

tbsp

kosher salt

divided

3

tbsp

avocado oil

5

large shallots

quartered

2

tsp

ginger powder

1

cup

compatible red curry paste

3

cups

coconut milk

1.5

cups

chicken or beef stock

1/2

cup

raw cashews

2

tbsp

fish sauce

12

fresh or dried bay leaves

7

cinnamon sticks

7

whole star anise
Instructions
SEASON the beef evenly with 1 tablespoon of the salt.

HEAT the avocado oil over medium-high heat in a large Dutch oven until shimmery. Working in batches to avoid crowding, brown the short ribs, turning to sear the tops, bottoms, and sides until they're deep mahogany, about 3 minutes per side. Transfer to a plate when it's done.

REDUCE the heat under the pot to medium, then add the curry paste and remaining salt and stir well. Cook over medium heat, stirring every 20 seconds or so, until fragrant and slightly darker in color. Add the shallots and spices. Return the beef to the pot, stir, then add the cashews, bay leaves, coconut milk, stock and fish sauce.

LET IT come to a simmer. Reduce the heat to maintain a very gentle simmer (push the pot off the burner a bit if it's simmering too hard on low) and cook, covered, checking occasionally to keep the simmer very gentle, until the meat is fall-apart tender and the curry has thickened significantly to the texture of rich gravy, about 3 hours. A layer of flavorful, auburn-colored oil will cover the curry, so be sure to scoop deep and stir a bit when you serve.
Gregory Gourdet
Chef and Founder
Gregory Gourdet is a celebrated chef, best-selling author, and television personality. He is best known for his award-winning cuisine, bevy of TV appearances, and trendsetting role in the culinary boom of Portland. A native of Queens, NY, Gregory attended the Culinary Institute of America, becoming the school's first student to land an internship with celebrity chef Jean-Georges Vongerichten. For nearly 7 years, Gregory honed his culinary skills at three of Jean-Georges' trailblazing restaurants, climbing the kitchen ranks to become one of his chef de cuisines. Gregory ran the kitchen at Portland's Departure Restaurant + Lounge for 10 years, leaving in 2019 to focus on opening Kann. An avid traveler and lifelong student of food and culture, Gregory has made a name for himself by infusing methods and ingredients from all over the world, balanced together with his Haitian heritage, and creating signature flavors adored for their seasonality, boldness, complexity, and spice. He was named "Chef of the Year" by both Eater Portland and the Oregon Department of Agriculture, and is a two-time Bravo Top Chef finalist. In 2021, Gregory released his first cookbook, Everyone's Table: Global Recipes for Modern Health, the ultimate guide to cooking globally-inspired dishes free of gluten, dairy, soy, legumes, and grains. The book is a national bestseller and a 2022 James Beard Award winner for Best General Cookbook. August 2022 brought about the opening of Kann, a live-fire dinner house that showcases traditional Haitian flavors alongside dishes inspired by the cuisines of the African and Caribbean diaspora. Kann was quickly recognized by Eater and The New York Times as a "Best New Restaurant"; Esquire named Kann the #1 "Best New Restaurant in America." Portland Monthly and The Oregonian also named it restaurant of the year. Kann was most recently named a 2023 Semi-Finalist for Best New Restaurant for the James Beard Awards. In September of 2022, Gregory opened Sousòl, Kann's subterranean sibling cocktail bar. Sousòl draws inspiration from the greater Pan-Caribbean for its food and drink menu. It also features a full zero proof menu for an inclusive experience for drinkers and non-drinkers alike. Gregory sees food as nourishment and is committed to moving the restaurant industry forward in a sustainable and equitable way.