Try this Whole30 Chicken Piccata Skillet Meal for a fast, delicious one-pan dinner in under 30 minutes! A great busy weeknight dinner option that also presents well enough for guests. Not only is it Whole30, making it gluten-free, dairy-free, and grain-free, but it's also nut-free and egg-free. A tasty, allergen-friendly meal!
Our Whole30 Chicken Piccata starts with cutting boneless skinless chicken breasts into cutlets. First, we cut the chicken breasts in half horizontally and then vertically. Next, we pat them dry to help the flour stick to the chicken. Add a little salt and pepper and then toss in the flour to help create a crispy skin.
All the cooking happens in one skillet for easy cleanup! First, brown chicken cutlets in melted ghee for a few minutes on each side to crisp up the exterior. Then, add minced garlic, fresh lemon juice, chicken or bone broth, and capers to the pan to create a flavorful and simple sauce. Add the chicken back into the pan, simmer a bit in the sauce, then plate with a sprinkle of parsley, and voila! Dinner is served!
About the Ingredients: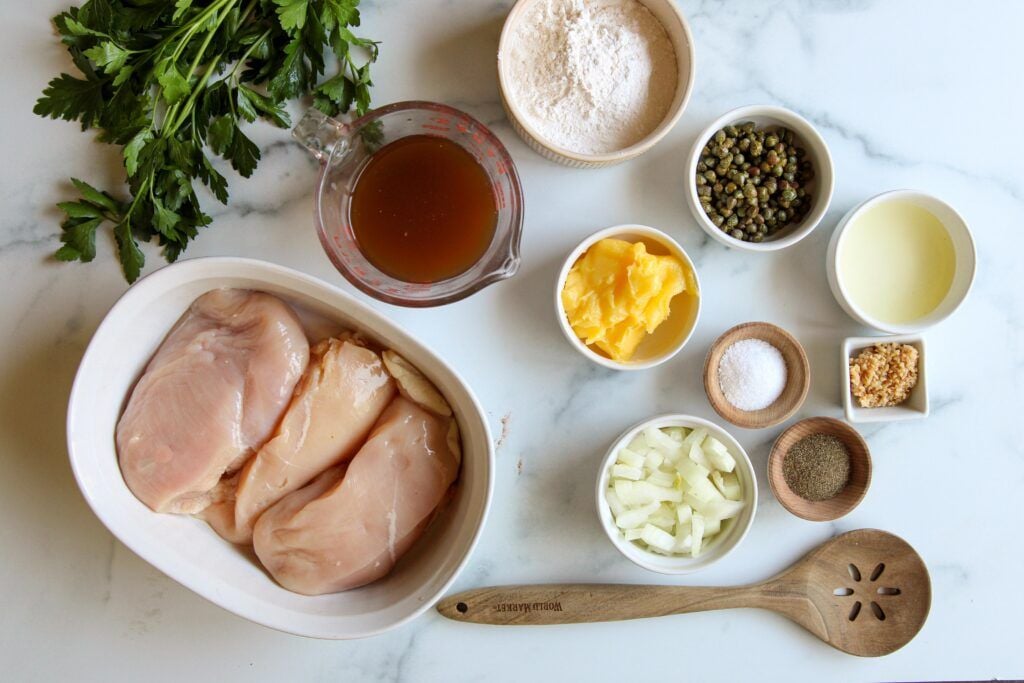 In this recipe, we use ghee as the primary cooking fat. Ghee is clarified butter that has had the milk solids removed. As such, it is allowed on Whole30. See the modification below if ghee does not work for you.
What exactly are capers? Capers are young, unripe green buds derived from the caper bush. They are primarily linked to Mediterranean cuisine. In this particular recipe, they help provide a deeper flavor profile to the dish. Typically, you can locate them in the condiment section alongside the olives.
This chicken would pair well with any roasted veggies and on top of cooked cauliflower rice or zoodles. We love it with these sides:
Modifications:
Can't do ghee? You can use a compatible vegan butter instead. Or, this also works with an equal amount of olive or avocado oil. The flavor was richer and the chicken crispier with the ghee, but modify as needed.
Garlic not work for you? You can just leave it out. We love the flavor it added, but the dish still works without the garlic.
Whole30 Chicken Piccata Skillet Meal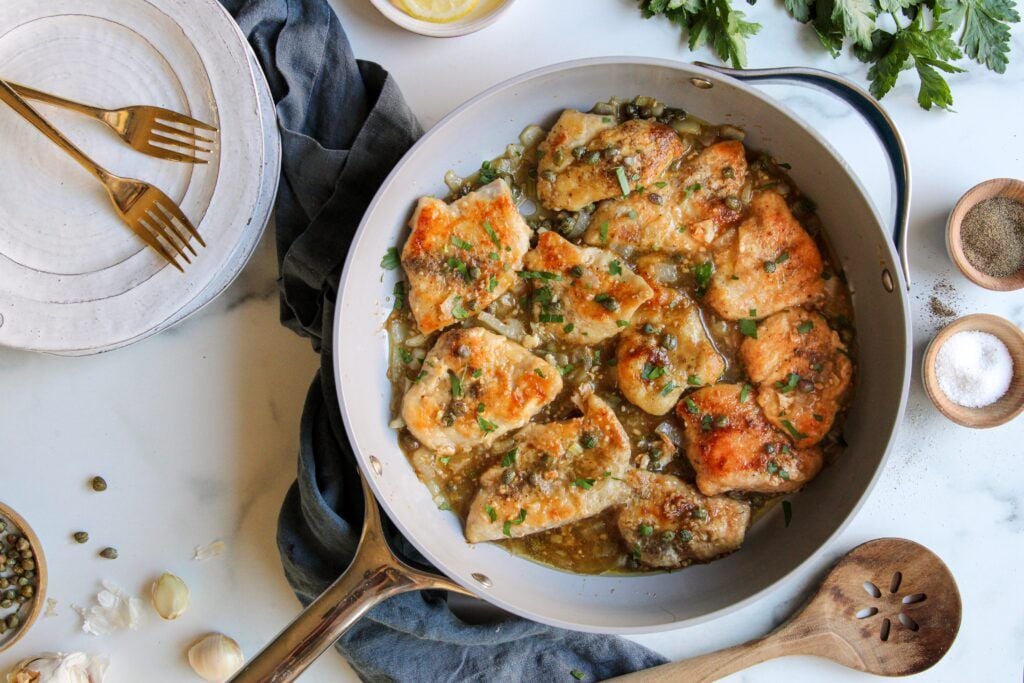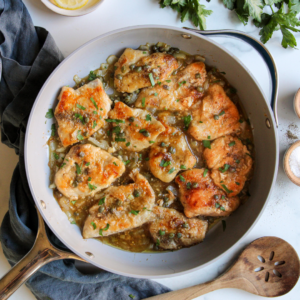 Whole30 Chicken Piccata Skillet Meal
Try this easy Whole30 Chicken Piccata Skillet Meal for a fast, delicious one-pan dinner in under 30 minutes! Gorgeous lemony-garlic goodness.
Ingredients
1.5

lbs

boneless skinless chicken breast

salt and pepper

1/2

cup

+ 1 tbsp arrowroot flour, potato starch, or cassava flour

divided

1/4

cup

+ 2 tbsp ghee, if needed

divided

2

tsp

minced garlic (about four cloves)

1/2

cup

finely chopped yellow or sweet onion (about half a medium onion)

3

tbsp

fresh lemon juice (about one large lemon)

3/4

cup

chicken broth or bone broth

1/4

cup

capers

drained

flat-leaf parsley for garnish

optional
Instructions
CUT the chicken breast into cutlets by cutting them in half horizontally and then again vertically. Pat dry so flour will stick better to the chicken when breading.

SEASON the chicken on both sides with salt and pepper. Then, toss the chicken in the flour until coated.

HEAT a large skillet pan over medium-high heat. Add ¼ cup ghee. Once melted, add the coated chicken and cook on each side until crispy and golden, about 4-5 minutes.

REMOVE chicken from the pan to a plate.

LOWER heat to medium heat. If there is no ghee left in the pan, add the additional 2 tablespoons and heat until melted (if you have a good non-stick pan, there will probably still be plenty of ghee left and no need to add more). Add chopped onion and cook for 3-4 minutes. Add the minced garlic and cook until starting to lightly brown.

WHISK the remaining 1 tablespoon flour into the broth. Add lemon juice, broth and capers to the pan and bring to a simmer.

ADD chicken back into the pan and combine until sauce is covering the chicken. Simmer for 3-4 minutes until combined.

REMOVE pan from heat and garnish with chopped parsley (optional). Serve and enjoy!
Autumn Michaelis
Recipe Creator | Whole Food for 7
Autumn Michaelis is an ACSM Certified Exercise Physiologist, with a B.S. in Exercise Science from BYU. Though exercise was her first love in the health world, nutrition has become her passion. She created the blog Wholefoodfor7, sharing easy and budget-friendly Whole30, Paleo, and gluten-free + dairy-free recipes for families. In August 2022, Autumn released the newest Whole30 Endorsed cookbook, Whole Food for Your Family. She is mom to 5 boys (yes 5!) and when not in the kitchen can be found adventuring, hiking, and tearing up the dance floor.