Our @whole30recipes Instagram feed brings you delicious, Whole30 Approved recipes all day, every day. And, in our series, The Best of @Whole30Recipes, we'll be bringing them to our blog! Each week, we'll feature a new mini-collection of our favorite recipes. This week, we're featuring recipes that inspire you to fire up your grill.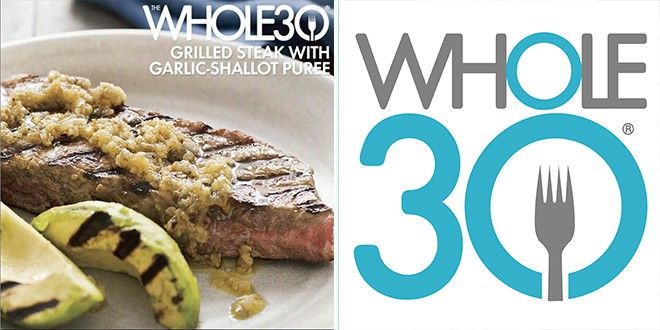 Grilled Steak with Garlic-Shallot Puree and Avocado, from The Whole30
1 teaspoon salt
1 teaspoon black pepper
2 cloves garlic, peeled
1 shallot, peeled
2 tablespoons extra-virgin olive oil
1 avocado, split lengthwise, pitted, and peeled
REMOVE the steaks from the refrigerator 30 minutes before cooking. Preheat a grill to high heat (500°F) and the oven to 350°F. Line a baking sheet with foil. MIX the salt and pepper in a small bowl and use two-thirds of the mixture to season the steaks. TOSS the garlic and shallot in 1 tablespoon of the olive oil and arrange on the prepared baking sheet. Season evenly with the remaining salt and pepper. Roast in the oven for 25 minutes, until the cloves are soft throughout. Transfer the garlic and shallots to a food processor, add the remaining 1 tablespoon olive oil, and puree. Transfer the puree to a dish, cover with foil to keep warm, and set aside. LAY the steaks on the hot grill and sear for 2 to 3 minutes. The steaks should pull off easily when they are seared. Turn the steaks over and sear the other side—the second side doesn't take as long, 1 to 2 minutes, or to desired doneness (see chart on page 154). Let the steaks rest for 5 to 10 minutes. MEANWHILE, sear the avocado halves pitted side down on the grill until lightly browned, 3 to 4 minutes. ARRANGE the avocado and steaks on plates and top the steaks with the warm garlic and shallot puree.
Find this recipe plus 100 more in our new book, The Whole30, available now.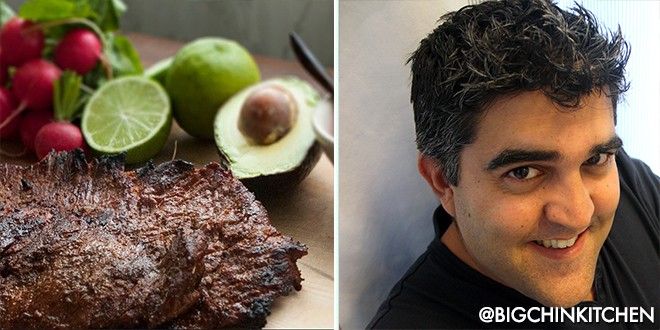 Carne Asada, @bigchinkitchen
2 limes
1 orange
1/4 cup avocado oil or olive oil
1 tbsp white vinegar
2 tsp chili powder
2 tsp paprika
1 tsp cumin
1 tsp oregano
1 tsp salt
1 tsp pepper
1/2 tsp onion powder
1/2 tsp garlic powder
1 tsp ancho chili powder (can substitute normal chili powder if you want…but the ancho brings a different depth to it)
Get a large 1 gallon freezer bag and squeeze the juice of the orange and limes into the bag. Add the oil and vinegar and mix thoroughly. Meanwhile, put all the dry spices in a small bowl and mix together. Place the flap steak on a cutting board and rub the spice mix onto both sides of the flap steak. Gently rub the spice into the meat, avoiding not to massage it in too hard. Place the flap steak into the freezer bag and seal tightly after getting as much air out of the bag as possible. Massage the citrus oil mixture into the steak thoroughly and marinade in the refrigerator for at least 2 hours. Heat the grill up to very high heat. Remove the carne from the bag and discard the marinade. Place directly on the grill and cook about 3-4 minutes per side. The grill may flare up from the oil in the marinade. No problem. This adds to the flavor of the carne. Once done, remove from the grill and rest the carne for 5 minutes. Always cut against the grain!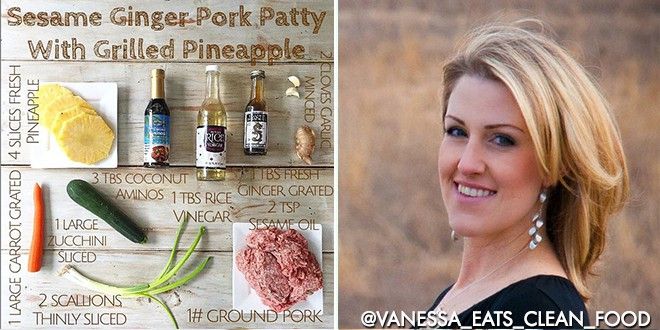 Sesame Ginger Pork Patties, @vanessa_eats_clean_food
3 tablespoons coconut aminos

2 scallions, chopped

2 cloves garlic, minced*

1 tablespoon fresh ginger*, grated




2 teaspoons toasted sesame oil, divided




1 tablespoon rice vinegar




4 fresh pineapple rings*, 1/4 inch thick




1 cup shredded carrot




1 Large zucchini, sliced thick, length-wise
*If you don't have fresh, you can use powdered ginger and garlic. Canned pineapple is fine, but FRESH is so delicious!

Preheat grill to medium-high. Combine coconut aminos, scallions, garlic, ginger and 1 teaspoon sesame oil in a small bowl. Place pork and carrot in a medium bowl. Add half of the sauce mixture to the pork and gently combine. Form into 4 patties, about 3/4 inch thick. Add the remaining 1 teaspoon sesame oil and vinegar to the remaining sauce mixture and set aside. Oil the grill rack. Grill the patties, turning once, until an instant-read thermometer inserted in the center registers 155°F, about 5 minutes per side. During the last 3 minutes of cooking, add the pineapple rings and zucchini to the grill and cook, turning once, until dark grill marks appear. Place patty over a pile of baby greens or cooked kale, and top each burger with a pineapple ring and drizzle remaining sauce on top. Serve with zucchini.
Find more recipes from @vanessa_eats_clean_food on her Instagram feed.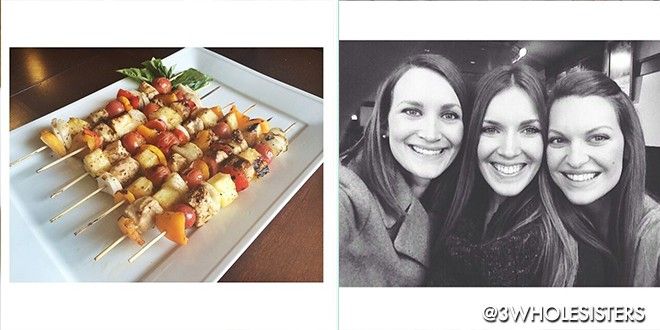 Hawaiian Kebobs, @3wholesisters
1 bell pepper (any color)
1 sweet onion
1 pineapple
1 1/2 c. cherry tomatoes
1/4 c. coconut aminos
1/4 c. olive oil
1 TBS. apple cider vinegar
3 cloves of garlic (minced)
1 tsp. chili pepper flakes
1 tsp. ground ginger
1 tsp. salt
bamboo skewers
Soak the skewers in water (to prevent them from burning). Dice the first 5 ingredients into 1 to 2 inch cubes. Combine the remaining ingredients, and divide the mixture in half. In a bowl, pour 1/2 of the marinade over the chicken and place it in the refrigerator for 1 hour. Build the kebobs by threading the veggies and chicken onto the skewers. Brush the remaining marinade on all sides of each kebob. Grill until cooked thoroughly (or until an internal thermometer reads 165* in the chicken).
Find more recipes from @3wholesisters on their Instagram feed.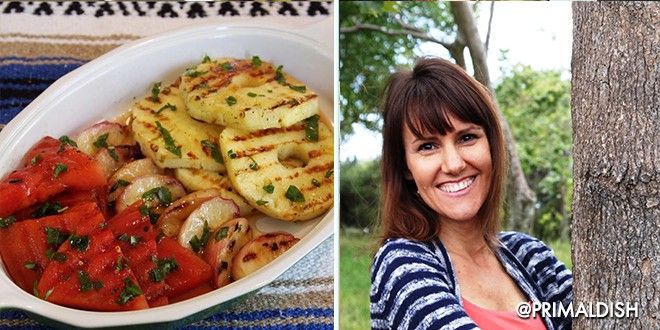 Grilled Fruit Salad, @PrimalDish
Serves 5-7 as a side
1/2 of a watermelon, cut in 1/2 inch (width) triangle slices
1 Pineapple, cored and cut in 1/2 inch (width) octagon shapes
2 Nectarines, sliced
2 Tablespoons of coconut oil
1/4 cup of basil, shredded
1/3 cup of extra virgin olive oil
Make sure you clean off your grill well (or cover with aluminum foil). Put all of the cut fruit on a tray, and brush a little coconut oil on the fruit to keep it from sticking to the grill. Once grill is hot (and clean), place fruit on grill for a few minutes on each side (until there are some nice grill marks). While on the grill you can easily mix up the olive oil and basil in a small bowl. Once fruit has some nice grill marks, carefully remove from grill and brush on a little of the basil and olive oil mixture. Enjoy!
Find more recipes from @primaldish at www.primaldish.com.
Some links in this post are affiliate links, meaning Whole30 makes a small commission on items purchased via these links. Thank you for supporting our Whole30 Approved partners.
Save
Melissa Urban
Co-Founder / CEO
Melissa Urban is a 7x New York Times bestselling author (including the #1 bestselling The Whole30) who specializes in helping people establish healthy boundaries and successfully navigate habit change. She has been featured by the New York Times, People, the Wall Street Journal, Forbes, The Today Show, and Good Morning America, and is a prominent keynote speaker on boundaries, building community, health trends, and entrepreneurship. She lives in Salt Lake City, UT with her husband, son, and a poodle named Henry.