Our @whole30recipes Instagram feed brings you delicious, Whole30 Approved recipes all day, every day. And, in our new series,  The Best of @Whole30Recipes, we'll be bringing them to our blog! Each week, we'll feature a new mini-collection of our favorite recipes.  This week, we're bringing you tips and tricks from our Whole30 Recipes bloggers.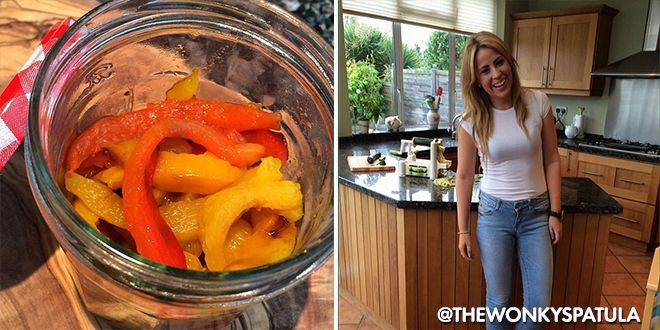 Pre-grilled peppers, @thewonkyspatula
These peppers are great in salads, as burger toppings, to munch by themselves or to throw into a quick sauce.
Take 2 or 3 sweet peppers, cut them in quarters and remove the seeds. Place on a wire rack, skin side up and grill (broil) on high until the skin has gone completely black. Remove from the oven and place in a zip lock bag leaving it sealed until the peppers are completely cooled. 
Once they have cooled remove from the bag and skin them. Cut into thin strips and place in a jar, seal and refrigerate. The longer you leave them to set before eating them the better, as a natural oil develops making them all the more flavorsome!
Infused Water, @bitssofbbskitchen
Infused waters are a fun way to switch things up and help get you out of a water rut! This is a handful of apple slices, a handful of pear slices, some cranberries and a cinnamon stick. The longer you let the water infuse the better it tastes so toss it in the fridge overnight and drink it the next day.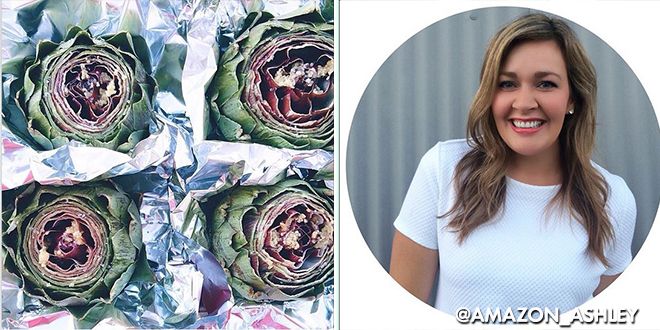 Roasted Artichokes, @amazon_ashley
Don't let your vegetables intimidate you! Here's how to roast an artichoke:
Cut across the top of the artichoke, one smooth cut across should remove all the pointed leaves. Cut off the stem so it can lay flat. Pry the leaves open and pour a little avocado oil in between the leaves and sprinkle with a little sea salt. Wrap each artichoke in tin foil and bake at 400° for 1 1/2 hours. After its done, unwrap and enjoy!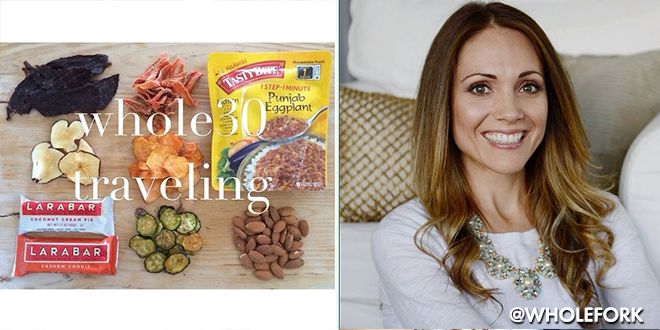 Whole30 While Traveling, @wholefork
In my family we have too many hobbies like backpacking, cycling, motorcycling, snowshoeing and even kayaking into remote locations, where we have to pack food in with us. I used to let these occasions allow me to stray from healthy eating, but I found I perform better when I just stick to whole30 especially away from home. Making a conscious decision to put my health above recreation helps me stay away from those unhealthy convenient foods. Here are a few things we pack:
Homemade beef jerky. You can choose the meat source and control the flavor ingredients, avoiding sugar and chemicals.
Ranch Carrot Chips. Pre-sliced carrot chips seasoned with garlic powder, dill and salt and dehydrated.
Zucchini and yellow squash chips. Thinly sliced zucchini and yellow squash, seasoned with salt and pepper.
Tasty Bite, Indian Punjab Eggplant. You can find some pre made meals on the shelf at certain stores like Whole Foods. Check your labels for non-compatible whole30 ingredients!
Nuts like raw almonds or cashews are always easy to pack and stay fresh.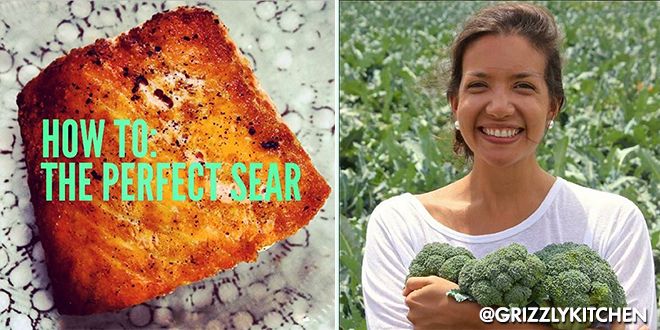 The Perfect Sear, @grizzlykitchen
Get the perfect sear on proteins of all shapes and sizes:
1. The protein MUST be super dry. If there is any sort of shimmer on your protein, blot it down with paper towels. It needs to resemble the Sahara desert.
2. Use the right type of pan. Stainless steel or cast iron works for chicken, beef, and pork, while non-stick or cast-iron is better for generally delicate and flaky fish and seafood. Scallops are the exception to the rule, though; a stainless steel pan is beneficial.
3. Make sure your pan is hot. I'm not talking about kinda medium-high whimpy hot. This is screaming hot. Are you scared that you might burn your house down? Good. That's where we want to be. Let the pan come to high heat for a minute or two by itself. 
4. Use a good amount of high heat fats. The healthy high-heat fats include ghee, coconut oil, lard, tallow, bacon fat, and other animal fats. The right amount of fat is enough to coat the bottom of the pan thinly. This is not deep frying. A few tablespoons should do the trick.
5. Do not crowd your pan. Leave 1-2" in between proteins, searing in batches if necessary.
Have a favorite from the @whole30recipes feed?  Is there a collection you'd like to see? Let us know in comments!
Melissa Urban
Co-Founder / CEO
Melissa Urban is a 7x New York Times bestselling author (including the #1 bestselling The Whole30) who specializes in helping people establish healthy boundaries and successfully navigate habit change. She has been featured by the New York Times, People, the Wall Street Journal, Forbes, The Today Show, and Good Morning America, and is a prominent keynote speaker on boundaries, building community, health trends, and entrepreneurship. She lives in Salt Lake City, UT with her husband, son, and a poodle named Henry.