This Whole30 Spaghetti Casserole is a clever combination of the ease of spaghetti, with layers like lasagna. We love that it's an easy way to feed a group and is gluten-free, dairy-free, grain-free, nut-free, AND egg-free. Plus, we also provide a Plant-based Whole30 and vegan option below!
No pasta recreations are allowed on the Whole30, per the Pancake Rule. However, single-ingredient veggie "noodles" such as spaghetti squash noodles or spiralized zucchini noodles are compatible and easy! So, for this Whole30 Spaghetti Casserole, we use cooked spaghetti squash as our "noodles" for a fantastic faux spaghetti result.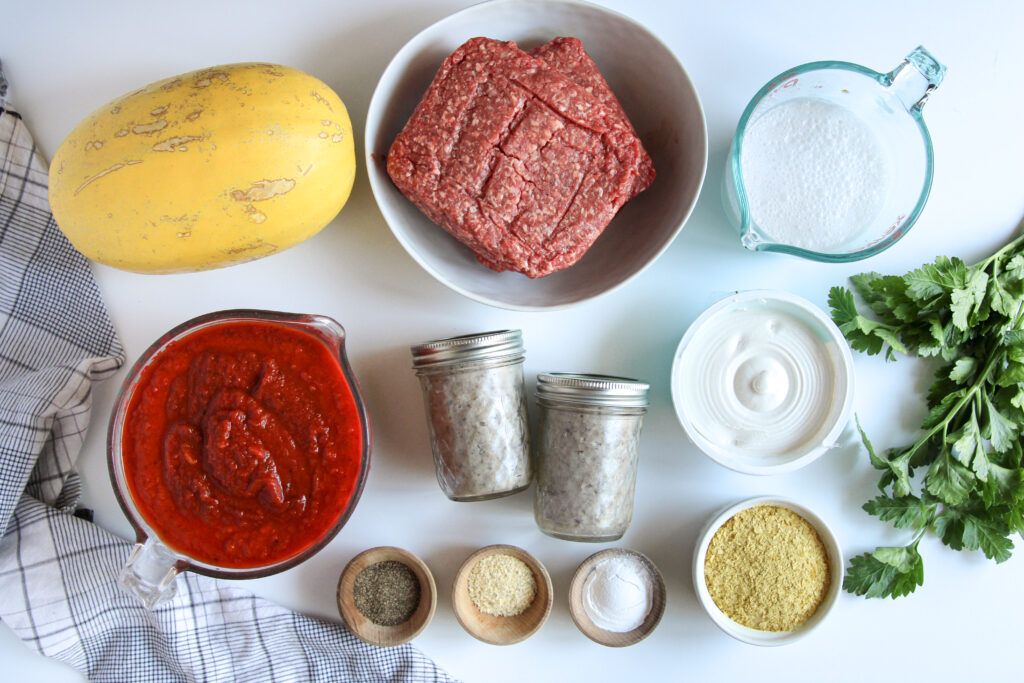 Here's our favorite way to cook spaghetti squash:
Put a whole spaghetti squash into the oven as it preheats to 400 °F. This will help it soften enough to cut.
Once the oven is preheated and the spaghetti squash is warm, cut off the ends with a sharp knife. Then, continue to slice the spaghetti squash into rounds. Scoop the seeds out of the center of each piece (we use an ice cream scoop for this).
Then place on a baking sheet lined with parchment. Brush both sides of each piece of spaghetti squash with oil. Bake for about 25 minutes, until the "noodles" pull away easily from the skin.
Need a visual demonstration of this process? Watch our Veggie Hacks YouTube video here! (Spaghetti squash at around 3:29)
Once you have spaghetti squash cooked and ready to go (you can do this 3 to 4 days in advance), building this Spaghetti Casserole is super easy. The first layer is half the spaghetti squash. Then, we mix compatible cream cheese (we love Whole30 Approved Kitehill) and a double batch of our homemade cream of mushroom soup. Add that layer on top of the spaghetti squash, with another layer of "noodles." Next, we top it with a basic red sauce and either the ground meat of your choice or compatible plant-based "meat" crumbles like Abbot's Butcher. Finally, we add one last layer of deliciousness with a homemade plant-based "cheese" sauce. You could also top with store-bought compatible vegan cheese shreds, but those can be hard to find.
Can't find compatible spaghetti sauce? We've got you covered with our easy homemade Whole30 Marinara Sauce! (Note: You will need five cups or a double batch of this sauce).
This casserole can be made a day ahead to bake the next day. And leftovers freeze great in a sealed container for up to three months. A fantastic dish for family dinners, meal prep, or make-ahead meal for a busy week!
Can I cut it in half?
Yes! This recipe makes a large 9×13 pan. If you need a smaller serving, divide the recipe in half and cook it in a 9×9 pan. Follow the recipe instructions as written.
Whole30 Spaghetti Casserole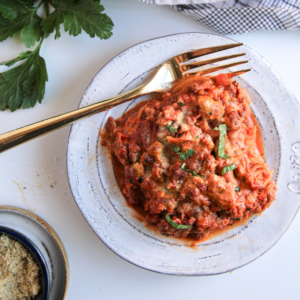 Whole30 Spaghetti Casserole
Ingredients
Casserole
1

large spaghetti squash

2

lbs

ground meat of choice

sub compatible "meat" crumbles for a plant-based version

salt and pepper

48

oz

(5 cups) compatible spaghetti sauce

8

oz

compatible dairy-free cream cheese

2

cans compatible cream of mushroom soup, or homemade equivalent

1

tsp

garlic salt or 1 tsp salt + ½ tsp garlic powder
Optional Garnish
chopped fresh Italian parsley or basil
"Cheese" Sauce
1.5

cup

canned full-fat coconut milk

1/2

cup

nutritional yeast

1

tbsp

tapioca flour

1/2

tsp

salt
Instructions
PREHEAT oven to 350 degrees F. Spray a 9×13 casserole dish with cooking spray.

COOK spaghetti squash until tender, pulling the "noodles" away from the skin. See notes above for our favorite way to cook spaghetti squash.

BROWN ground meat in a large skillet, if using. Sprinkle with salt and pepper. Once meat is cooked, add spaghetti sauce and stir until combined. Remove from heat.

MIX together the cream of mushroom soups, garlic salt and cream cheese. We did this with a hand mixer to get it nice and smooth.

MAKE the "cheese" sauce by whisking the cheese sauce ingredients together in a small saucepan. Then cook over medium heat, stirring regularly for 3-4 minutes, until the sauce gets thick and tacky. Remove from heat.

BUILD your casserole, starting with half of the cooked spaghetti squash "noodles" on the bottom. Pour the cream cheese mixture on top. Then add half the spaghetti sauce mixture. Next, add the remaining spaghetti squash noodles, spreading to cover the pan. Pour the remaining spaghetti sauce mixture on top. Finally, spread the cheese sauce mixture as the last layer on top.

BAKE uncovered for 45 minutes. Remove from oven and let cool for 10 minutes before serving.

STORE leftovers in a sealed container in the fridge for up to 1 week or in the freezer for up to 3 months.
Autumn Michaelis
Recipe Creator | Whole Food for 7
Autumn Michaelis is an ACSM Certified Exercise Physiologist, with a B.S. in Exercise Science from BYU. Though exercise was her first love in the health world, nutrition has become her passion. She created the blog Wholefoodfor7, sharing easy and budget-friendly Whole30, Paleo, and gluten-free + dairy-free recipes for families. In August 2022, Autumn released the newest Whole30 Endorsed cookbook, Whole Food for Your Family. She is mom to 5 boys (yes 5!) and when not in the kitchen can be found adventuring, hiking, and tearing up the dance floor.