Want all the flavor of a loaded baked potato in an easy casserole format? We've got you covered! This gluten-free and lactose-free Whole30 Loaded Baked Potato Casserole is easy to make and stacked with flavor. With a creamy potato base, "cheesy" sauce, bacon bits, and chives. What's not to love?

We love our baked potato casserole loaded with crumbled bacon and chopped chives. Feel free to adjust depending on your love for bacon and accessibility to Whole30-compatible varieties, though we enjoyed it best with 8 slices for optimal flavor and texture.
Substitutions:
Make this casserole dairy-free by using a compatible melted vegan butter instead of ghee.
Swap out green onions instead of chives.
Use another compatible dairy-free milk in place of coconut milk in the "cheese" sauce. As most other dairy-free milks are thinner, add an additional ½ tsp tapioca flour to thicken.
One thing that elevates the flavor? Kite Hill's Whole30 Approved Cream Cheese.
If you're looking for something to seriously enhance your Whole30 recipes, look no further than Kite Hill's Whole30 Approved lineup of Cream Cheeses and Ricotta. Since they're Whole30 Approved, you know they're an additive and dairy-free option for dipping, spreading, and stirring into your favorite dishes.

Made with California-grown almonds, Kite Hill Cream Cheeses add a velvety smooth creaminess to dips and casseroles but also make a great option for dunking veggies, filling for stuffed peppers and jalapeno poppers, or paired with a meat stick to make Melissa Urban's favorite snack. It's no wonder they're the #1 Plant-Based Cream Cheese brand!
The Cream Cheeses are available in Plain, Chive, Everything, and Garden Veggie, making them perfect condiments to add some variety to your January Whole30 snacks and meals.

Click here to save $1-off your next Kite Hill purchase! (Offer valid through 2/15/23.)
Whole30 Loaded Baked Potato Casserole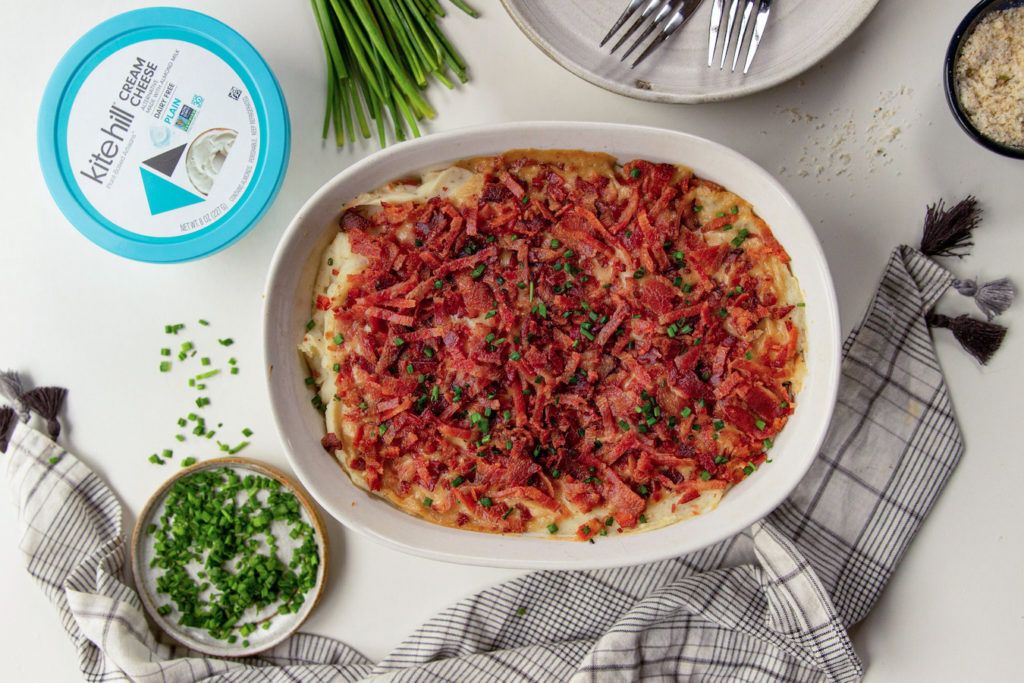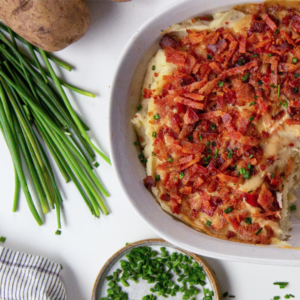 Whole30 Loaded Baked Potato Casserole
Ingredients
2

lbs

russet potatoes

peeled and cut into 1" pieces

1

tbsp

+ 1 tsp salt

1 (8)

oz

container KiteHill Whole30 Approved Plain Cream Cheese

1/4

cup

melted ghee

1/2

cup

chicken broth

6-8

slices of compatible bacon, cooked and crumbled

3/4

tsp

garlic powder

3/4

tsp

onion powder

1/2

tsp

pepper

1

tbsp

chopped fresh chives
"Cheese" Sauce
3/4

cup

full-fat canned coconut milk

1/4

cup

nutritional yeast

1 1/2

tsp

tapioca flour

1/4

tsp

salt
Instructions
BOIL a large pot of water to a rolling boil. Add potatoes and 1 tablespoon salt and boil for 15 minutes, or until potatoes are fork-tender. Drain potatoes and return to pot.

MAKE the "cheese" sauce while potatoes are cooking by whisking together all cheese sauce ingredients in a small bowl. Then heat in a small saucepan over medium heat. Stir regularly until sauce thickens, about 6-7 minutes. Set aside.

ADD cream cheese, ghee, chicken broth, garlic powder, onion powder, remaining 1 teaspoon salt, and pepper to potatoes. Mash or mix on low with a hand mixer until nice and smooth. Don't overmix if using a mixer, or the potatoes will be gummy.

SPREAD potato mixture into a medium casserole dish (9×9 square or 10×8 oval or rectangular dish). Pour cheese sauce on top, then top with crumbled bacon.

BAKE uncovered for 20 minutes or until the edges are bubbly and light brown. Cool for 5 minutes, then top with chives and enjoy!
Freeze for later
PREPARE casserole by following the directions up to the last step before baking.

CREATE an air-tight seal over the casserole by using a layer of plastic wrap and a layer of foil before storing it in the freezer. (If your casserole dish has a compatible, freezer-friendly, airtight lid, we still recommend adding a layer of plastic wrap fitted closely to the contents of the dish to prevent freezer burn.)

STORE in the freezer for up to 3 months.
Prepare Frozen Casserole
PREHEAT oven to 350 °F, remove casserole from freezer, and unwrap or remove the lid. then cover with foil to protect the top layer from burning.

BAKE frozen casserole for 25 minutes, remove foil, then bake for another 15 minutes, until the edges are bubbly and light brown, and the internal temp reaches 165°F.

COOL for 5 minutes, top with fresh chives, and enjoy!
Some links used in this post are affiliate links, meaning Whole30 makes a small commission off of purchases made via our link. Thank you for supporting our Whole30 partners.
Autumn Michaelis
Recipe Creator | Whole Food for 7
Autumn Michaelis is an ACSM Certified Exercise Physiologist, with a B.S. in Exercise Science from BYU. Though exercise was her first love in the health world, nutrition has become her passion. She created the blog Wholefoodfor7, sharing easy and budget-friendly Whole30, Paleo, and gluten-free + dairy-free recipes for families. In August 2022, Autumn released the newest Whole30 Endorsed cookbook, Whole Food for Your Family. She is mom to 5 boys (yes 5!) and when not in the kitchen can be found adventuring, hiking, and tearing up the dance floor.