This four-part slow cooker series comes from Kelly Smith of The Nourishing Home. If you'd like to submit a recipe, helpful tip, testimonial, or Whole30 article for consideration, email it to [email protected].
Kelly Smith of The Nourishing Home is a Whole30 veteran who uses slow cooking to maintain her healthy Whole30 lifestyle. She's back in today's Part 3 to share another simple and delicious slow cooker recipe, as well as some helpful tips for re-purposing leftovers for quick and easy weeknight meals.
Cook Once, Eat Twice (or More!)
Welcome back to our Slow Cooker Series. (Be sure to check out the first two recipes here.) Like many home chefs, the reason I'm such a huge fan of slow cooking is because it saves so much time, especially when you take the opportunity to plan leftovers.
That's why I'm continuing the theme of cook once, eat twice or more this week with an incredibly helpful, time-saving method for getting multiple meals on the table with less effort. It's called batch cooking, and all it means is cooking double (or triple) of a main ingredient in just one cooking session. This simple strategy ensures you'll enjoy not one, but two meals (or more)!
[Tweet "On the #Whole30 blog: Slow-Cooker Apple Cider Pulled Pork from @NourishingHome #Whole30Recipes"]
One of my favorite recipes for multiplying my cooking efforts is this melt-in-your-mouth apple cider infused pulled pork, since this recipe yields a heaping mound of meat. And once you've got a mountain of shredded pork to enjoy, the possibilities for quick and easy meals are virtually endless. (Check out a few of my favorite ways to enjoy it at the end of this post.)
Slow Cooker Apple Cider Pulled Pork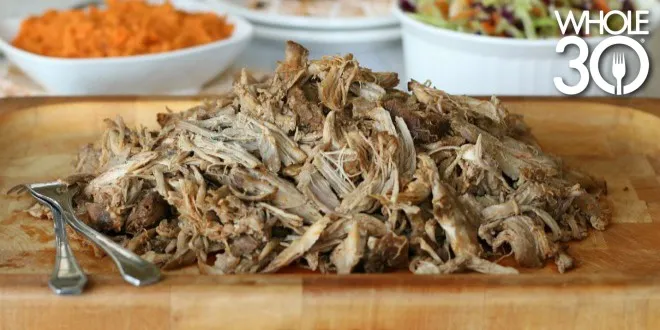 Ingredients
One 4 to 5 pound boneless pork butt (see recipe note below)
1 large sweet onion, peeled and sliced
1 1/2 cups unsweetened apple cider
Sweet Spice Rub
1 Tbsp sea salt
1 1/2 tsp smoked paprika
1 1/2 tsp garlic powder
1/2 tsp chili powder
1/2 tsp ground ginger
1/2 tsp fresh ground pepper
Instructions
COMBINE all of the spice rub ingredients in a small bowl. Sprinkle the rub evenly along the sides and top of the pork roast.
ADD the onion slices to the bottom of a six-quart slow cooker. Place the seasoned pork roast on top of the onions. Then, add the apple cider. (If the roast is too large, you may wish to cut it in half and place the halves side by side in the slow cooker.)
COVER and cook on high 7-8 hours, or on low for 8-10 hours, until the meat is tender enough to be easily shredded with a fork.
TURN OFF slow cooker once the roast is done. Carefully transfer the pork to a large platter and allow it to rest a few minutes.
POUR the cooking liquid through a fine-mesh strainer into a large bowl. Place one cup of the liquid back into the slow cooker; discard the remaining liquid and onion.
SHRED the pork using two forks. Then, return it to the slow cooker. Toss well with the reserved cooking liquid. Season to taste with additional sea salt and pepper, if desired.
SERVE the pork with your favorite Whole30-compatible coleslaw and a side of mashed sweet potatoes. (Plus, save the leftover pulled pork to make even more tasty meals, as noted below.) Enjoy!
Recipe Note: Despite its colorful name, pork butt doesn't come from the hindquarters of a pig. It's actually at the opposite end – the shoulder. However, it's a different cut than pork shoulder. Although the two are often used interchangeably in recipes, pork butt comes from the thicker section of the shoulder, which contains a higher portion of fat running through the meat. This results in an incredibly moist and tender meat that falls apart when slow cooked, making it the perfect choice for pulled pork recipes.
Multiple Meals Made Easy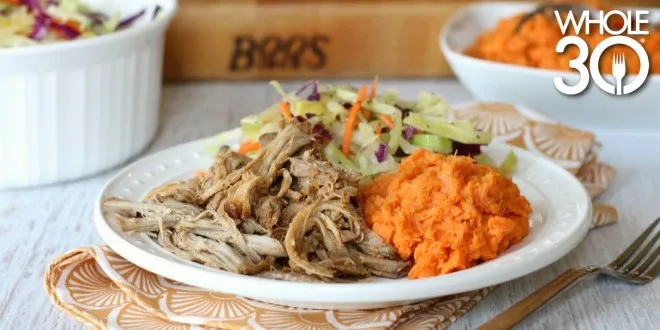 Re-purposing leftovers is an easy and frugal way to save time in the kitchen. Here are a few favorites for transforming leftover pork into quick and healthy meals the whole family will enjoy:
Pulled Pork "Sandwiches" – Serve shredded pulled pork between two sweet potato "buns" and you've got a tasty Whole30-friendly sandwich perfect for a quick lunch or dinner. (See this post for more Whole30 "sandwich" ideas.)
Pulled Pork Salad – Toss your favorite salad greens with homemade salad dressing. Then top with shredded carrot, chopped apple and leftover pulled pork. Yum!
Pulled Pork Breakfast Hash – For a hearty breakfast, simply sauté one large fine-diced sweet potato until softened. Toss in a handful of diced red onion and chopped bell pepper and continue to sauté until onion is translucent. Add leftover pulled pork and toss well to reheat and combine flavors. Top with fried eggs, if desired.
Some links in this post are affiliate links, meaning Whole30 makes a small commission on items purchased via these links. Thank you for supporting our Whole30 Approved partners.
---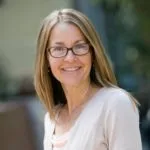 Kelly Smith is the author of the popular grain-free lifestyle blog The Nourishing Home. With a passion for healthy home-style cooking, she's on a mission to transform everyday familiar favorites into nourishing meals the whole family will love, whether they're grain-free or not. Connect with Kelly on Facebook and Instagram.
Save
Jen Kendall
Whole30 Approved Program Manager
Jen Kendall, our Whole30 Approved Program Manager, is a born and raised Floridian who now lives in Utah with her husband Quinn and their two-year-old boy Easton. She graduated the University of Florida in 2010 from the College of Journalism and Communications and has a strong interest in nutrition, health and exercise. Jen has an insatiable appetite for travel and adventure and also loves books, spending time in the kitchen cooking and experimenting with recipes, Crossfit, and enjoying as many days as possible in the outdoors year-round.