This 5-part freezer cooking series comes from Maria Barton of MariaMakes.com. If you'd like to submit a recipe, helpful tip, testimonial, or Whole30 article for consideration, email it to [email protected].
Welcome back to our freezer cooking series! (In case you missed them, check out the first two posts in the series.) Throughout the rest of the series, I'll continue to share original recipes and also show you how to adapt recipes from the New York Times best selling book, The Whole30, for freezer cooking.
This week, we're talking about one of the best types of freezer meals: the kind you make in a slow cooker. Why are they so great? They require minimal prep, and sometimes no up-­front cooking. And once they're done, you just dump the meal into large zip-­top bags, lay the bags flat, and put them in the freezer. They also offer all of the convenience when it's time to eat; simply dump everything back in the crock pot, set it, and go about your day while dinner bubbles away.
Both of the recipes I'm sharing today can be used in a variety of ways, and they make enough so you can eat them for dinner and enjoy leftovers for the next few days. ­­­­­­­­­­­­­­­­­­­­­­­­­­­­­­­­­­­­­­­­­­­­­­­­­­
[Tweet "#Whole30 slow cooker freezer meals from Maria Barton, part of our 5-part 'Freezer Cooking' series."]
Crock Pot Green Chile Chicken
This has become one of my favorite slow cooker recipes, because the best Whole30 meals are the multi­-purpose ones. The possibilities for this chicken are endless! Think chicken "tacos" in lettuce wraps, taco salads, burrito bowls, on top of a baked potato, and scrambled in with eggs for breakfast. I've also used this chicken along with broth and veggies to make a quick soup.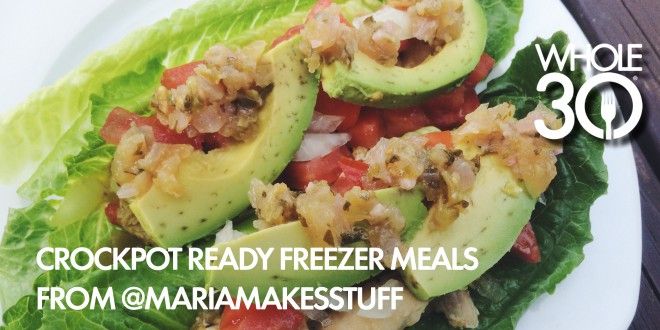 Ingredients
4 lbs boneless skinless chicken thighs or breasts
2 (12oz) jars of salsa verde (I like Trader Joe's Hatch Valley Salsa)
2 cups chopped onions, divided
4 (4oz) cans diced green chiles, drained
2 Tbsp cumin, divided
2 Tbsp chili powder, divided
2 Tbsp garlic, minced
2 tsp salt, divided
Instructions
LABEL two gallon-­sized zip­-top bags with the date and cooking instructions: "Thaw. Crock pot for 2-­3 hours (high) or 4-­6 hours (low)."
DIVIDE cleaned chicken between the two bags.
ADD remaining ingredients in no particular order. To each bag: 1 jar of salsa, 1 cup of onions, 2 cans of drained chiles, 1 Tbsp each of cumin and chili powder, 1 Tbsp minced garlic, and 1 tsp of salt.
Freezing Instructions
REMOVE as much air as possible, lay the bags flat, and freeze!
To Serve
THAW the chicken overnight. Dump ingredients into slow cooker and cook on high for 2­-3 hours or low for 4-­6 hours.
REMOVE chicken from the slow cooker and shred using two forks, then add it back to the broth in the crock pot.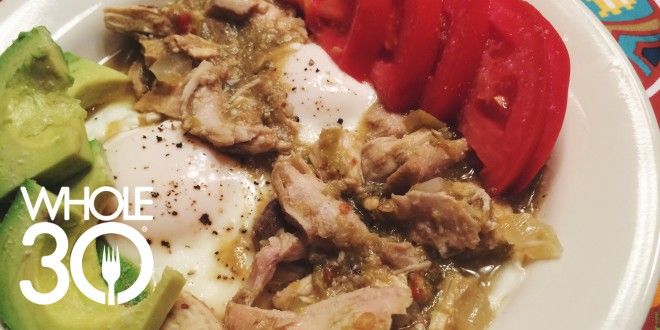 Crock pot Classic Chili
Now, for today's recipe straight from the pages of The Whole30! If you haven't yet tried the recipe for Classic Chili from page 342, there is no better time than now. I used ground beef, but you could use ground chicken or turkey if you prefer. I also added an extra can of diced tomatoes to stretch the recipe a bit. This chili is wonderful by itself, but I also love it over eggs for breakfast, or over baked sweet potatoes for an easy, complete meal. Now let's make this recipe freezer-friendly!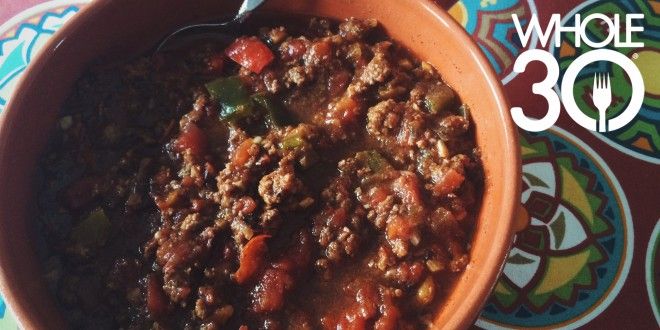 Instructions
REFERENCE pg 342 of The Whole30 for full ingredient list. Note: I doubled the recipe to get two freezer meals.
LABEL two gallon­-sized zip-­top bags with the date and cooking instructions: "Thaw. Crock pot for 6­-8 hours (low)."
BROWN the ground meat (2 lbs) along with the onions (2 cups) in a large skillet. Divide cooked meat and onions across two gallon­-sized zip-­top bags.
ADD in remaining ingredients. I used Diced & Fire Roasted tomatoes from Trader Joe's (and I doubled the amount called for in the recipe).
Freezing Instructions
REMOVE as much air as possible, lay the bags flat, and freeze!
To Serve
THAW the chili overnight. Dump ingredients into slow cooker and set to low heat, cooking for 6­-8 hours.
­­­­­­­­­­­­­­­­­­­­­­­­­­­­­­­­­­­­­­­­­­­­­­­­­­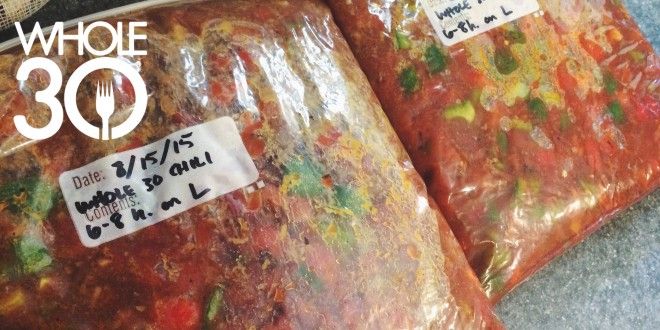 Keep an eye out for the next post in this 5-part Freezer Cooking series, Lunch to Go!
Article photos courtesy of Maria Barton.

---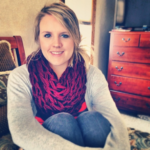 Maria Barton is a fledgling blogger, Whole30-er, home chef, DIY-er, gardener, wife, dog mom, soon-to-be former "fat kid for life." You can find more delicious recipes at http://mariamakes.com and connect with her at @mariamakesstuff on Instagram.
Shanna
Chief Content Officer
Shanna Keller, our Chief Content Officer, hails from Boise, Idaho, where she lives with her husband Alan and a poorly-behaved terrier named Olly. She has spent her career telling stories of life transformation on social, web, e-mail and print media platforms. In addition to celebrating Whole30 successes and stories online, Shanna loves to cook, read, and climb.