By Pri and Dee of Masala Paleo
Diwali's essence lies in the Sanskrit shloka, 'Tamaso ma jyotirgamaya' which means "Lead me from darkness to light." Twinkling lights, delicious food, festive clothes, decked-up homes, and most importantly, getting together with your loved ones is what Diwali is all about.
The spread for Diwali is dominated by snacks, and Samosa is one of the all-time favorite Diwali savory snacks. We created two Whole30-compatible versions of this much-loved dish — a keema/ground meat samosa bite and a potato samosa bite. We recommend you make both as they are very distinct in taste and absolutely scrumptious.
For the keema samosa bite, we used crispy smashed potatoes as the base and a spiced Indian-style keema as the topping. For the potato samosa bite, we used crispy plantain slices as a base and a spiced potato mix as the topping. We have also shared instructions for a stuffed samosa bite version made with plantain ribbons that are stuffed with the potato mix. This one needs some skill to assemble and is optional. Whichever version you choose to make, don't miss drizzling it with the deliciously tart, spicy and sweet plum chutney we specially created to add extra oomph to this recipe. Serve these Samosa bites on a platter along with other favorite Diwali snacks like Aloo Tikki!
Tips and Tricks:
If you want to make only one type of samosa, you can pick between the Keema Samosa Bites or the Potato Samosa Bites.
The plantain you pick for the base needs to be green and not ripe at all.
Ideally, the bites should be assembled close to eating so that the bases stay crispy.
You can substitute the Plum chutney with a Green chutney or Whole30-compatible ketchup.
Whole30 Samosa Bites, 3 Ways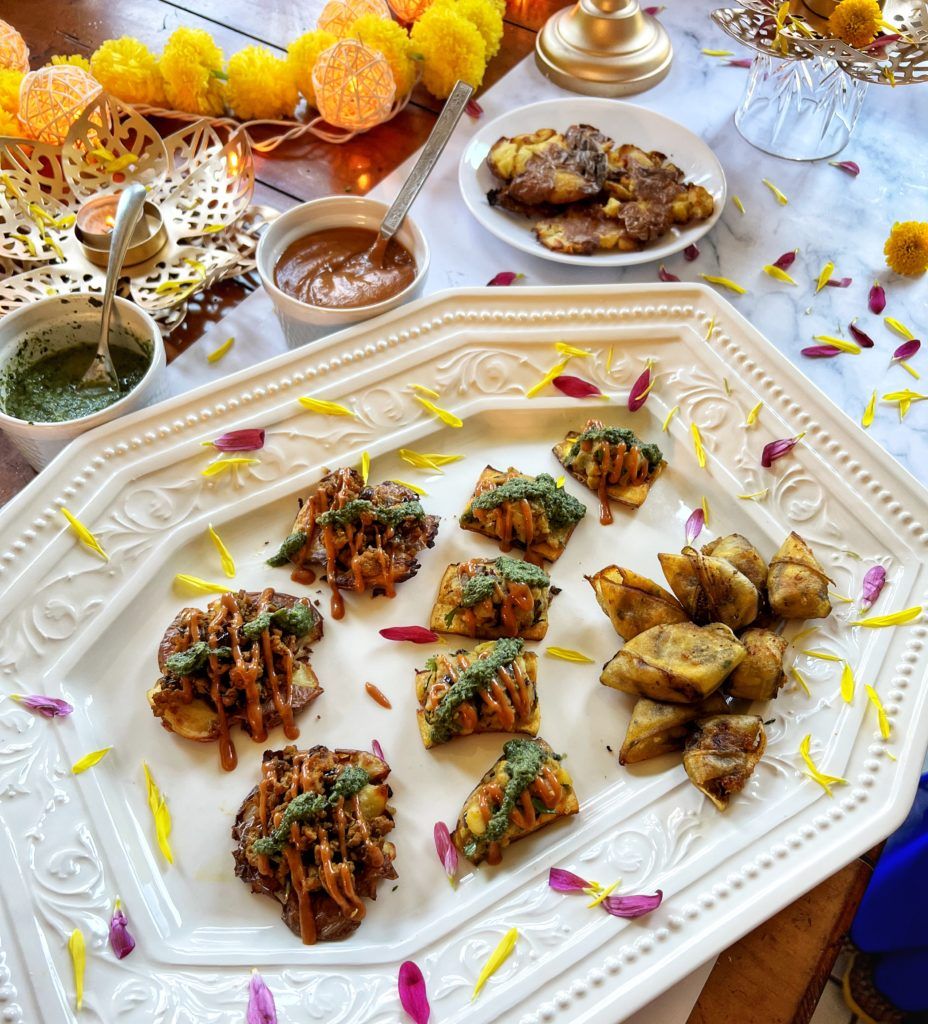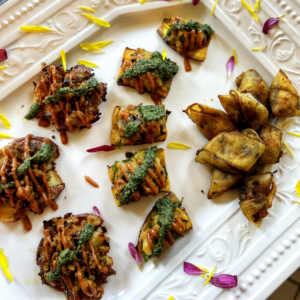 Whole30 Samosa Bites, 3 Ways
Ingredients
Plum Chutney (Can sub with a Green Chutney or Whole30 Ketchup)
1

tbsp

oil

2

ripe plums

chopped

2

soft dates

1/2

tsp

red chili powder

1/4

tsp

salt
Crispy Plantain Base
1

large green plantain

1/4

tsp

red chili powder

2

pinches of salt
Crispy Potato Base
8

baby potatoes

1

tsp

garlic

1/2

tsp

salt
Onion and Spice Mix (Halve the ingredients if you are making only one of two toppings)
1

large red onion

finely diced

1

inch ginger

finely chopped

1/2

tbsp

cumin seeds

1 1/2

tsp

turmeric powder

2

tsp

Kashmiri chili powder

sub with paprika for lesser heat

1

tsp

cumin powder

1

tsp

coriander powder

1

tsp

roasted coriander seeds (can dry roast in the microwave for 45 seconds)

optional

1/2

tsp

salt

3

tbsp

cooking oil
Potato Topping
1

large russet potato

soft-boiled

3

green chilies

optional or de-seeded for lesser heat

2

tbsp

chopped cilantro

1

tsp

salt
Keema Topping
1

lb

ground meat of choice

1/2

tsp

salt
Instructions
Plum Chutney
ADD oil to a pan and heat on medium.

SAUTE the chopped plums in the oil.

ADD the dates, chili powder and salt.

CARAMELIZE the plums and then add a cup of water.

COOK the plums till they are reduced to a thick consistency.

COOL and blend it to a thick chutney-like consistency.
Onion and Spice Mixture
HEAT oil in a pan on medium.

ADD the cumin seeds and let them bloom.

SAUTE the chopped onion and ginger till translucent.

ADD the turmeric powder, chili powder, salt, cumin powder, and coriander powder. Sauté till the spices are cooked for about 3 minutes

GRIND the coriander seeds coarsely and add to the mixture, and sauté for another 3 to 4 minutes.

SWITCH off the stove and split the onion and spice mixture into two equal portions.

RETAIN one half in the pan for the spiced keema topping.

REMOVE the other half to add to the potato topping.
Keema/Ground Meet Samosa Bites on Crispy Potatoes
ADD the ground meat to the onion and spice mixture in the pan.

BROWN the meat until dry and crumbly.

ADD the salt and mix well.

TRANSFER to a serving bowl.

BOIL the baby potatoes until fork tender (10-15 mins).

COOL the potatoes and toss them in oil.

LAYER a sheet pan with parchment paper and flatten the potatoes using a cup or glass.

SEASON with salt and garlic powder.

BAKE in a preheated oven at 450°F for 25 minutes or until the potatoes turn crispy.

ASSEMBLE the Keema samosa bite by placing a spoonful of the meat filling on top of the crispy smashed potato base.

DRIZZLE the plum chutney on the samosa bites.
Potato Samosa Bites on Crispy Plantains
BOIL the russet potato and let cool.

PEEL and mash the potato using a potato masher.

ADD half of the onion and spice mix, chopped green chilies, and cilantro to the mashed potatoes.

MIX everything together really well and let it sit to build the flavors while you prep the plantain.

PEEL just the green top layer of the plantain using a peeler while retaining the fibrous part of the skin.

CUT both ends of the plantain.

SLICE the plantain into thick rectangular slices using a mandolin or a knife and set aside.

PAN FRY the plantain slices until crisp on both sides.

TRANSFER plantain slices to a bowl.

SPRINKLE with chili powder and salt, then toss to coat well.

ASSEMBLE the Potato Samosa Bites by scooping a spoonful of the potato topping on the plantain base.

DRIZZLE with the plum chutney.
Optional: Plantain Samosa Bundles
PEEL thin long ribbons of the plantain using a peeler.

MAKE a cone-like shape using the plantain ribbon and fill it up with the potato filling.

SEAL top of the cone with one end of the plantain ribbon.

HEAT oil in a shallow pan and pan fry the potato-filled plantain bundles on high to medium heat until crisp, then flip, and fry the other side.

ONCE crisp on all sides, remove from pan.

ARRANGE the samosa bites on the plate and serve with a drizzle of plum chutney.
Priya Anavarathan and Deepshikha Ganjoo
Recipe Creators | Masala Paleo
Masala Paleo is the brainchild of Priya Anavarathan and Deepshikha Ganjoo, also known as Pri and Dee! We met virtually through a health and fitness community on Facebook and now we both are part of the amazing team that leads and runs the group. Spreading the love for fitness and nutrition to women in our community is a passion we feel very strongly about. We both ended up trying the Whole30 in our journey to heal our bodies through food. One suffering from PCOS while the other with an autoimmune disease called Hashimotos, we started being our own advocates and exploring how certain foods were affecting our bodies. The Whole 30 was an eye opening experience for us, and made us realize that eliminating certain foods from our diet helped us heal in ways that actual medicines couldn't. Now we both are strong advocates of this food philosophy. Indian food is our soul food, so we have experimented and learnt how to make our soul food Whole 30 compatible. Through our food freedom, we also focus on gluten free Indian Food. During our Whole30, we realized there were very few resources out there for Whole30 India and Gluten Free food, so we decided to share what we learnt out through a lot of experimentation with you all. With Dee being from the very north of India and Pri being from the very south, we cover Indian recipes from Kashmir to Kanyakumari and everything in between. If you thought Whole30 Indian recipes were limited to just chicken tikka masala, you are in for a treat !