Recipe by: Stephanie Kelley
Photos by: Brian Kavanagh | The Sophisticated Caveman
Wow your dinner guests with a Whole30 Charcuterie Board, filled with your favorite dips, fruits and veggies. This version includes a recipe for one of my family's favorites, Lebanese-Inspired Baba Ganoush. The trick to putting together a beautiful charcuterie board is to have a variety of colorful ingredients. Take advantage of the bulk foods section at your grocery store, and grab small amounts of dried fruit and nuts to incorporate into the dish. Finish it off with some pretty fresh herbs from the garden, and get ready for some compliments.

Try more Whole30 appetizer recipes.
Whole30 Charcuterie Board with Lebanese-Inspired Baba Ganoush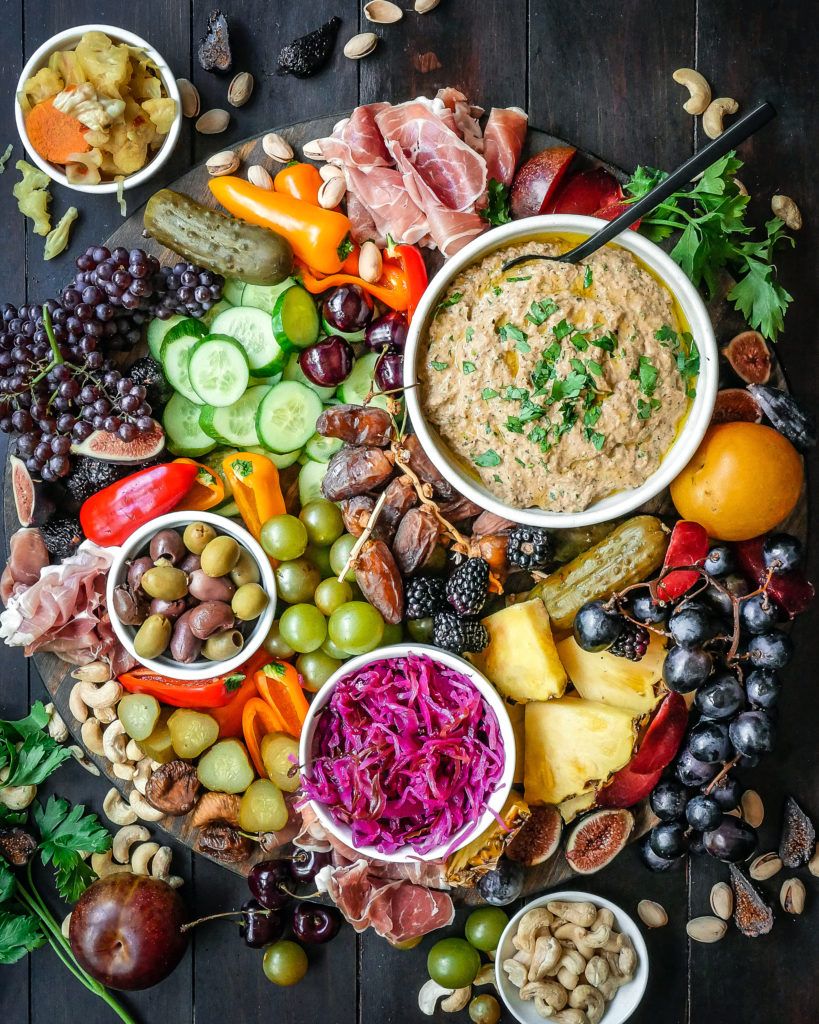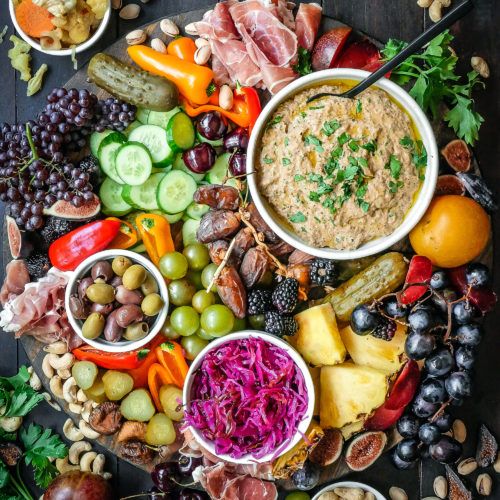 Whole30 Charcuterie Board with Lebanese-Inspired Baba Ganoush
The ingredient list below is to serve as inspiration, and items and quantities can easily be customized to reflect your tastes, and to serve a specific number of people.
Ingredients
Lebanese-Inspired Baba Ganoush
2

medium eggplant

¼

cup

tahini

2

cloves

of garlic

Juice from 1 whole lemon

1

teaspoon

kosher salt

½

teaspoon

coriander

2

tablespoons

fresh flat-leaf parsley

⅓

cup

olive oil

Sumac or smoked paprika

optional
Instructions
ARRANGE your charcuterie ingredients on a wood cutting board or large platter. You don't need a fancy board to put this together – use what you have. Get creative, and snuggle everything close together on the board. Pay attention to colors, and use small dishes and bowls to help separate the elements. Have fun with it!
Lebanese-Inspired Baba Ganoush:
SLICE eggplants in half lengthwise.

RUB the cut size with a bit of olive oil and place cut-side down on a baking sheet lined with parchment paper or a silicon baking mat.

ROAST eggplant in the oven at 450 degrees for 30-35 minutes.

REMOVE eggplant and let cool slightly before peeling off the skin with your fingers (it should come off easily).

PLACE the eggplant flesh in a metal strainer in the sink or over a bowl for about 20 minutes to let the excess liquid drain off.

STIR and press gently on the eggplant with a wooden spoon to help moisture escape.

Once the eggplant is ready, PLACE it in a food processor or blender, and add tahini, garlic, lemon juice, salt, coriander and parsley.

MIX until combined, and then drizzle in the olive oil and continue mixing until smooth and creamy.

ADD more salt, garlic and lemon juice, to taste.

GARNISH with more fresh parsley and sumac or smoked paprika

ENJOY!
You Might Also Like…
---
Recipe by Stephanie Kelley. Stephanie is Whole30's Social Media Coordinator. She lives in Denver, CO and is a wife, mom to 3 teens and a wanna-be shredding guitarist with an immense love for meeting and connecting with people. She thrives on sharing her creativity and making meaningful connections along the way.
Stephanie Kelley
Social Media Content Creator
Stephanie Kelley is a content creator on Instagram and TikTok. During the workday, you'll catch her pouring over all things social media, setting up camera and lighting equipment to create Reels and TikToks. Stephanie brings creativity and forward-thinking to everything she does, and continually challenges herself to learn new things. You can usually find her scoping out new coffee shops, creating silly TikToks, and planning her next trip with her husband and 3 kids.