Here in the U.S. we're deep into football season (or, what Whole30 co-founder Melissa Urban generally refers to as "sportsing"), and your tailgating and Sunday watch parties are in full swing. We firmly believe you can stay Whole30 compatible and make a delicious tailgating dish that everyone (even your "I'll never do a Whole30″ friends) will love.
We've teamed up with Whole30 Approved partner PRE Brands and Jenn from Pretend it's a Donut to bring you a series of delicious, Whole30-compatible tailgating recipes. And keep reading to the bottom of the article to learn more about PRE Brands, and to find out how you can win your own delicious PRE meat!
[Tweet "Two more tailgating recipes from #Whole30 and @PREbeef! #sportsing"]

Stuffed Mushrooms
Ingredients
1 lb PRE Beef ground beef
2 strips bacon, crumbled
handful of spinach, finely chopped
1 tablespoon Italian seasoning (check to be certain it's Whole30 compatible)
1 teaspoon each salt and pepper
mushrooms of choice, big enough to stuff, stems removed and saved
dash of balsamic vinegar
2 cloves garlic minced
½ yellow onion, diced
Instructions
PREHEAT oven to 350 degrees Farenheit.
HEAT some oil in a pan over med-high heat. Throw in diced onions and a few dashes of balsamic. Turn heat down to med-low and let the onions cook until caramelized, stirring occasionally.
PUT cooked onions in a bowl and set aside. Cut up bacon and cook in same skillet. Add cooked bacon to bowl with the onions.
REMOVE stems from mushrooms and chop very finely.
ADD ground beef, Italian seasoning, chopped mushroom stems, and chopped spinach to bowl with bacon and onions. Mix well.
STUFF into mushrooms and bake for 20-25 min on a baking sheet.
SPRINKLE salt and pepper over the top when finished. Serve and enjoy!

Buffalo-Beef Sliders
Ingredients
1 lb PRE Beef ground beef
1/2 cup and 1 tablespoon buffalo sauce (recipe found on page 304 of The Whole30)
1 cup shredded cabbage or pre-shredded coleslaw mix
3 red or yellow bell peppers, sliced into quarters (these will be used as the "bun")
parsley as garnish
Instructions
MIX ground beef and 1/2 cup buffalo sauce together in a medium-sized bowl.
FORM ground beef mixture into 12 slider-sized patties and grill until cooked through, flipping once.
GRILL peppers quarters until crisp-tender, with browned grill marks.
MIX cabbage (or coleslaw mix) and 1 tablespoon buffalo sauce in a small bowl.
ASSEMBLE sliders by placing a slider patty on top of a slice of bell pepper and topping with shredded cabbage mixture and parsley.
More From PRE Brands
PRE is obsessively picky about beef, in the best way. Their grass-fed, organic meat is run through a "15-point, Obsessive Pick Process" to ensure perfection in every cut of beef they sell. If you're having a hard time sourcing meat locally, give PRE beef a try! They're currently offering free shipping on any two products ordered via Amazon.
Want a chance to win some tasty PRE beef? Now through October 19, PRE is hosting a #PREgame tailgating recipe contest; the winner receives a month's supply of PRE meat!
To enter, post your best tailgating recipe (using PRE beef, ideally!) on Twitter, Facebook, or Instagram with the hashtag #PREgame. (Contest is open to U.S. residents only, ends Monday, October 19th, noon CST.)
---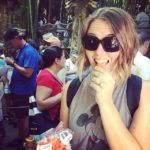 About Pretend it's a Donut: Hi, I'm Jenn and I live in the Bay area with my hunk of a husband, my five kids, and a very boisterous boxer. Mostly Paleo, sometimes Whole30 … the recipes on my blog and social media feeds are quite scrumptious and my family eats all of it! Enjoy this tasty little morsel of a blog and my Instagram feed!
Melissa Urban
Co-Founder / CEO
Melissa Urban is a 7x New York Times bestselling author (including the #1 bestselling The Whole30) who specializes in helping people establish healthy boundaries and successfully navigate habit change. She has been featured by the New York Times, People, the Wall Street Journal, Forbes, The Today Show, and Good Morning America, and is a prominent keynote speaker on boundaries, building community, health trends, and entrepreneurship. She lives in Salt Lake City, UT with her husband, son, and a poodle named Henry.