It's tailgating season; that means the return of U.S. football (or what Whole30 co-founder Melissa Urban generally refers to as "sportsing"). However, that doesn't mean you have to abandon your Whole30 to enjoy the big game.
We've teamed up with Whole30 Approved partner PRE Brands and Jenn from Pretend it's a Donut to bring you a series of delicious, 100% Whole30-compatible tailgating recipes. Bring these to your next viewing party or cold-weather cookout and we promise, your fellow fans will scarf them down faster than you can say, "touchdown!" (We'll share two recipes with you today; click here to check out two more!)
P.S. Keep reading to the very bottom for more on PRE Brands, their free shipping deal, and our #PREgame tailgating recipe contest, where you could win a month's supply of PRE 100% grass-fed beef!
[Tweet "Two perfect-for-sportsing #Whole30 tailgating recipes, featuring #Whole30Approved @prebeef."]
Mexi-Cali Dip
Ingredients
1 lb PREBeef ground beef
1 can of sliced black olives
­1 large tomato (plus some for garnish)
­2 tsp cinnamon*
­2 cups guacamole
­1 cup spinach, chopped
­1 tsp salt and pepper
*I know it sounds weird, but don't omit the cinnamon! It's the ingredient that gives the dish a special flavor.
Instructions
­SET large pan over medium high heat.
­COOK ground beef in pan until almost cooked through.
­ADD chopped spinach, sliced olives, diced tomatoes, salt, pepper, and cinnamon to the pan. Sauté together until beef is finished cooking.
SPREAD half of the beef mixture on the bottom of a a casserole dish. Top with a layer of guacamole. Finally, top the guacamole layer with the rest of the beef. Garnish with some diced tomato and a sprinkle of cinnamon.
DIP mini sweet peppers, cucumbers, or even roasted sweet potato "chips."
Bacon-Wrapped Poppers
Ingredients
­1 lb PREBeef ground beef
­1 tsp paprika
­1 tsp oregano
­1 tsp garlic powder
­1 tsp salt and pepper
16 sweet mini-peppers or jalapeños
8 slices of Whole30-compatible bacon, sliced lengthwise to create 16 thin strips
Instructions
­PREHEAT oven to 375 F.
MIX meat and spices and together.
­SLICE peppers in half and clean seeds and ribs.
­STUFF meat into peppers, making sure it is flush with the pepper. (Don't let it "muffin top.")
­PUT the pepper pieces back together and wrap bacon around the pepper. (You may need to stick a toothpick in to hold it all together.)
PLACE on baking sheet and bake for 20­-25 min.
REMOVE and dip into guacamole.
Note: Alternately, you may grill these on the bbq. Grill seven minutes on one side, flip, and grill seven minutes on the other. Repeat until cooked through.
More From PRE Brands
PRE is obsessively picky about beef, in the best way. Their grass-fed, organic meat is run through a "15-point, Obsessive Pick Process" to ensure perfection in every cut of beef they sell. If you're having a hard time sourcing meat locally, give PRE beef a try! They're currently offering free shipping on any two products ordered via Amazon.
Want a chance to win some tasty PRE beef? Now through October 19, PRE is hosting a #PREgame tailgating recipe contest; the winner receives a month's supply of PRE meat!
To enter, post your best tailgating recipe (using PRE beef, ideally!) on Twitter, Facebook, or Instagram with the hashtag #PREgame. (Contest is open to U.S. residents only, ends Monday, October 19th, noon CST.)
---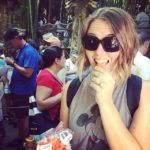 About Pretend it's a Donut: Hi, I'm Jenn and I live in the Bay area with my hunk of a husband, my five kids, and a very boisterous boxer. Mostly Paleo, sometimes Whole30 … the recipes on my blog and social media feeds are quite scrumptious and my family eats all of it! Enjoy this tasty little morsel of a blog and my Instagram feed!
Melissa Urban
Co-Founder / CEO
Melissa Urban is a 7x New York Times bestselling author (including the #1 bestselling The Whole30) who specializes in helping people establish healthy boundaries and successfully navigate habit change. She has been featured by the New York Times, People, the Wall Street Journal, Forbes, The Today Show, and Good Morning America, and is a prominent keynote speaker on boundaries, building community, health trends, and entrepreneurship. She lives in Salt Lake City, UT with her husband, son, and a poodle named Henry.